The Best Movies From Sundance 2017
Star Thrower Entertainment
Each January, the Sundance Film Festival curates a week of movies that side-stepped the Hollywood machine to remain "independent" -- the show-business code word for powerful, potent, and totally unique. These movies often go on to be small box-office successes, Netflix dominators, Oscar candidates, and the best movies of the year. Sundance 2017 is no exception. As we continue to sift through titles and unearth gems -- the festival ends on the January 28th -- here are the indies to watch out for as they take off from Park City, Utah to wherever you watch movies. (And for more Sundance picks, read our list of the breakout performances of this year's festival.)
Acacia Filmed Entertainment
13. Wind River
Cast: Jeremy Renner, Elizabeth Olsen, Gil Birmingham, Jon Bernthal
Director: Taylor Sheridan
Why it's great: Sheridan is on a streak after writing the machismo-subverting Sicario and Hell or High Water, and his directorial debut, a slimmed-down, snowy thriller, continues the streak. While tracking three mountain lions, a hunter-for-hire (Renner) stumbles upon the body of a young girl, frozen in a deserted patch of a Native American reservation. When a young FBI agent (Olsen) arrives to investigate, he's recruited to navigate the harsh Wyoming countryside (and the even harsher residents). Stoic and steady, Sheridan's mystery relies heavily on the tundra atmosphere and Renner's staunch cowboy persona. The movie lacks the deeper themes of Sheridan's previous work, but compensates with fury; when anyone in the movie takes a shot, the bullet doesn't simply fly through the air, but thunders through the canyons and plows through prey like a cannonball. Backed by Nick Cave and Warren Ellis' chilling soundtrack, Wind River flash-freezes Clint Eastwood's Western spirit and thaws it back to life in a slow-burn mystery that your dad is definitely going to watch 1,000 times.
Where you'll see it: In theaters this year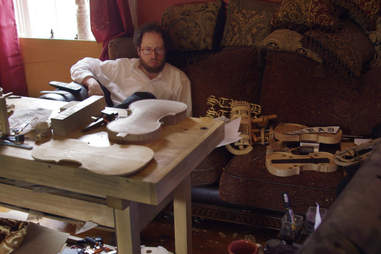 1170 Productions
12. Strad Style
Director:
Stefan Avalos
Why it's great:
A big winner of the alternative Slamdance festival, which runs in parallel to Sundance each year, is this documentary about 32-year-old Danny Houck, a reclusive man living in poverty on a rundown farmhouse in Laurelville, Ohio who dreams of building Stradivarius-grade violins. Houck scrounges up the money to hone is craft, but when he connects with violinist Razvan Stoica over Facebook and promises to build the virtuoso a legendary instrument, the wannabe must rise to the occasion of master. Carving eccentric details into the race-against-time story -- besides being an instrument-maker, Houck's also a devoted Wiccan -- Avalos's documentary builds and builds until the very last moment. It's the American dream with an Italian twist.
When you'll see it:
In theaters this year (
watch the trailer
)
3311 Productions
11. Brigsby Bear
Cast:
Kyle Mooney, Mark Hamill, Greg Kinnear, Claire Danes
Director:
Dave McCary
Why it's great:
There's a time-honored tradition of
Saturday Night Live
alumni showing up to Sundance with half-hearted attempts at dark, romantic, or dark romantic comedy.
Brigsby Bear
bucks the trend. Mooney stars as James, kidnapped by a millionaire toy maker who raises him as his own in an underground bunker. While locked up, the manchild becomes a devoted fan of "
Brigsby Bear,
" a Barney-esque educational series with a sprawling mythology that would send George R.R. Martin into cardiac arrest. The movie follows James after he's rescued, delivered back to his birth parents, and forced to figure out why the rest of the world isn't dying to see the show's big (and nonexistent) finale. By converting Mooney's alt-comedy energy into innocence, and his genre-spoofing talents into nostalgia commentary, Mooney and McCary have made a
Pee-wee's Big Adventure
for the Adult Swim crowd -- funny, sweet, and appropriately deranged.
Where you'll see it:
In theaters this year
Star Thrower Entertainment
10. Ingrid Goes West
Cast: Aubrey Plaza, Elizabeth Olsen, O'Shea Jackson Jr., Wyatt Russell
Director: Matt Spicer
Why it's great: Good news: We can officially retire Swimfan references -- Ingrid Goes West is the new standard for tech-enabled stalking. After the death of her mother, a mentally shattered Ingrid (Plaza) cashes out her $60,000 inheritance, moves to Los Angeles, and pursues Taylor (Olsen), an Instagram star who can pair avocado toast and Ralph Waldo Emerson quotes like few others. Taylor's feed contains everything Ingrid needs for the con, which spins faster and faster out of control with every double-tap like. Spicer snaps some truly frightening images along the way -- a zombified Ingrid scrolling through her feed as ants crawl over empty Corona bottles is downright apocalyptic -- but it's Plaza's unhinged take on social media addiction, funny and terrifying, that puts Ingrid Goes West in the top tier. You'll never look at your iPhone the same way again.
Where you'll see it: In theaters this year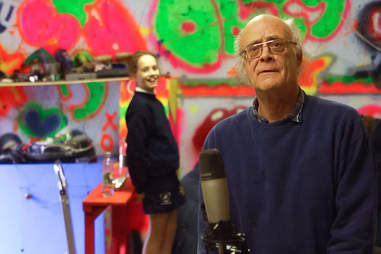 Soilsiú Films
9. In Loco Parentis
Directors:
Neasa Ní Chianáin and David Rane
Why it's great:
If the kids of Sing Street attended Hogwarts, the result may look like Headfort, a boarding school tucked away in Kells, Ireland where eccentric couple John and Amanda Leyden have taught kids from around the world for more than 40 years.
In Loco Parentis
spends a year embedded at the school, where lessons vary from traditional book discussions to the formation of an in-hour rock band. The Leydens' approach to education isn't magic, but feels like it. They foster creativity, speak to children like adults, and allow the rich flavors of Ireland to bleed into day to day activities. And at the end of the day, they smoke out the window of their office. They're only human. The documentary captures this subtle, sublime work without interference -- for once, you'll want to go back to grade school.
When you'll see it:
In theaters this year (
watch the trailer
)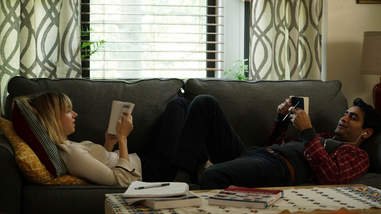 FilmNation Entertainment
8. The Big Sick
Cast: Kumail Nanjiani, Zoe Kazan, Ray Romano, Holly Hunter
Director: Michael Showalter (Hello, My Name Is Doris)
Why it's great: Nanjiani and his wife Emily Gordon adapted their real-life meet cute -- and a debilitating illness that landed Emily in a coma just months afterward -- into this moving, melancholy rom-com, a Terms of Endearment for the Trainwreck era. Fans of the comedian's stand-up or work on Silicon Valley will lap up the movie's steady stream of laughs; one taboo-busting 9/11 joke sustained 30 solid seconds of howling at the Sundance premiere. When the couple's life takes a turn for the worse, and Kumail's Pakistani heritage pressurizes the situation with demands of arranged marriage, those fans will cling to the jokes like a life preserver. Anchored by Nanjiani's sensitive performance, and bolstered by Romano and Hunter as Emily's fretting, foulmouthed parents, The Big Sick is a reminder that fate is fickle, self-determination is fickler, and we all deserve a good laugh-cry once in a while.
Where you'll see it: In theaters this year
Netflix
7. I Don't Feel at Home in This World Anymore
Cast:
Melanie Lynskey, Elijah Wood, Jane Levy, David Yow
Director:
Macon Blair
Why it's great:
This maniacal mystery wonders just how far a person can fall from a lowly "everyone fucking sucks" world view. The answer is very; after a burglar steals her laptop, antique silverware, and anxiety medication, Ruth (Lynskey), a nurse, and her rattail-sporting, weapon-obsessed neighbor Tony (Wood) hunt down the culprit. Rage powers their investigation, while curiosity plunges them way over their heads. Blair, known best for his acting work in the chilling thrillers
Blue Ruin
and
Green Room
, resists zaniness by wielding the tone like Tony's medieval morning star. A violent moral quagmire worthy of Cormac McCarthy can end with a Will Ferrell-esque punch line. Blair's not the first person to find enlightenment at the end of an amateur detective tale, but he might be the first to piece one together with cussing octogenarians, ninja stars, Google montages, gallons of Big Red soda, upper-deckers, friendly raccoons, exploding body parts, and the idiocy of humanity.
I Don't Feel at Home
is cathartic neo-noir, a ride that will surprise you at every turn.
Where you'll see it:
Streaming on Netflix
beginning February 24 (
watch the trailer
)
Oddlot Entertainment
6. Landline
Cast: Jenny Slate, Edie Falco, Abby Quinn, John Turturro
Director: Gillian Robespierre (Obvious Child)
Why it's great: Robespierre's latest, one of the funniest relationship comedies in ages, is set in the '90s, a time of pay phones, cigarette-friendly bars, and floppy disks, a time when it was harder to keep secrets. The writer-director's characters all have them: a rebellious high school senior (Quinn) flirting with boys and heroin for the first time; her soon-to-be-married sister (Slate), who questions everything after a hookup with an old flame; their mother (Falco), who works around the clock and takes flak from all involved; and their father (Turturro), a wannabe playwright who may or not be carrying on a decade-long affair (the discovery of a dirty poetry stash sends the sisters hunting for answers). Like Obvious Child did for cautious millennial daters, Landline sizes up the steady relationship, questioning and believing in its worth. The sprawling story tests Slate's dramatic chops (while feeding the former SNL star plenty of comedy gold), delivers newcomer Quinn a breakout role, and gives Robespierre the chance to whisk us around New York City with the cool of Woody Allen or Hal Ashby. Landline could be the setup for a great television show, but as a movie, it's a daring and decadent slice of life.
Where you'll see it: In theaters this year
Universal Pictures
5. Get Out
Cast:
Daniel Kaluuya, Allison Williams, Catherine Keener, Bradley Whitford
Director:
Jordan Peele
Why it's great:
Of all the current meditations on race in America, Peele's directorial debut may be the only one with a hypnosis-induced flight through the subconscious, Lakeith Stanfield as a zombified dandy, and an extended monologue about Jeffrey Dahmer's sex habits. The shorter half of
Key & Peele
proves to be
a formidable behind-the-camera talent
as he executes his gnarly vision of white-black tension, which is way too clever and fun to spoil.
Get Out
is a horror masterpiece, and if you need to hear more,
here's more
.
Where you'll see it:
In theaters on February 24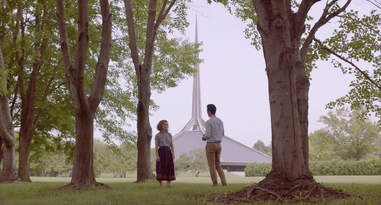 Depth of Field
4. Columbus
Cast: Haley Lu Richardson, John Cho, Parker Posey, Rory Culkin
Director: Kogonada
Why it's great: Set against the real life architecture wonders of Columbus, Indiana, this blissful drama pairs Casey (Richardson), a fresh-out-of-high-school librarian who studies town history by day and cares for her ex-meth-addict mother by night, and Jin (Cho), a Korean book translator who returns to the Midwest when his father, a prominent designer, takes ill. Together they wander the modernist menagerie of Columbus, tour guide trivia making way for intimate conversation, and eventually, arguments that challenge their worst habits. Kogonada, a video essayist with Reddit cred, composes every shot around the quadratic beauty built into the town. Towering glass office buildings to the long hallways of Casey's house provide Columbus with a Zen beauty that strengthens the foundation of its two transcendent lead performances.
Where you'll see it: In theaters this year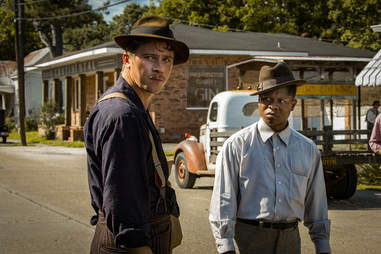 Macro Media/Zeal media/Black Bear Pictures
3. Mudbound
Cast: Jason Mitchell, Carey Mulligan, Garrett Hedlund, Mary J. Blige
Director: Dee Rees (Pariah)
Why it's great: The South's post-slavery existence is, for Hollywood, mostly uncharted territory. Rees rectifies the overlooked stretch of history with this novelistic drama about two Mississippi families working a rain-drenched farm in 1941. The white McAllans settle on a muddy patch of land to realize their dreams. The Jacksons, a family of black sharecroppers working the land, have their own hopes, which their neighbors manage to nurture and curtail. To capture a multitude of perspectives, Mudbound weaves together specific scenes of daily life, vivid and memory-like, with family member reflections, recorded in whispered voice-over. The epic patchwork stretches from the Jackson family dinner table, where the youngest daughter dreams of becoming a stenographer, to the vistas of Mississippi, where incoming storms threaten an essential batch of crops, to the battlefields of World War II Germany, a harrowing scene that will affect both families. Confronting race, class, war, and the possibility of unity, Mudbound is an urgent observation for a divided country and a spellbinding drama. It's no surprise that, after a standing ovation at the premiere, antsy fest-goers saw the movie's awards prospects. Yes, already.
Where you'll see it: In theaters this year
Sony Pictures Classics
2. Call Me by Your Name
Cast: Timothée Chalamet, Armie Hammer, Michael Stuhlbarg, Amira Casar
Director: Luca Guadagnino (A Bigger Splash)
Why it's great: André Aciman's acclaimed 2007 romance comes to life in a whirlwind of hormones, heavy petting, and apricot pulp. Fans of Guadagnino's movies will be familiar the setting, an Italian paradise where days consist of poolside lounging, feasting on cured meats, and the occasional archeological excavation. But Call Me by Your Name is a more formal affair than last year's A Bigger Splash, steady and composed so that Chalamet, a revelation as the studious, sexually blossoming Elio, and Hammer, playing Elio's father's pupil Oliver and the young man's Adonis, can steam up the screen. Thankfully, restraint doesn't inhibit Guadagnino, who still finds way to gift Stuhlbarg with a bring-you-to-tears monologue on love and two new Sufjan Stevens songs. What it does is concentrate the fire, ensuring that Call Me by Your Name burns hot from beginning to end.
Where you'll see it: In theaters this year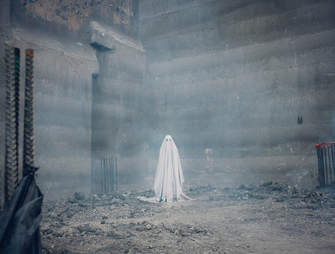 A24
1. A Ghost Story
Cast: Rooney Mara, Casey Affleck, Will Oldham, Sonia Acevedo
Director: David Lowery (Pete's Dragon)
Why it's great: That Lowery conceived this dazzling, dreamlike meditation on the afterlife during the off hours on his recent Disney blockbuster makes the revelations within even more awe-inspiring. A Ghost Story follows Affleck's musician character in the wake of a fatal accident, which leaves him as a sheet-draped spirit who haunts the home of his widowed wife (Mara). With stylistic quirks and enough winks to resist pretension (a scene where Mara devours a pie in one five-minute, uncut take is both tragic and cheeky), Lowery connects the dots between romantic love, the places we call home, and the space-time continuum -- a ghost's worst enemy.
Where you'll see it: In theaters and on Amazon Prime Video this year

Sign up here for our daily Thrillist email, and get your fix of the best in food/drink/fun.

Matt Patches is Thrillist's Entertainment editor. He previously wrote for Grantland, Esquire.com, and Vulture. Find him on Twitter @misterpatches.