The Best Movies at the 2021 Sundance Film Festival
We're not trudging through the slush in Park City, Utah, this year, but we're still watching virtually.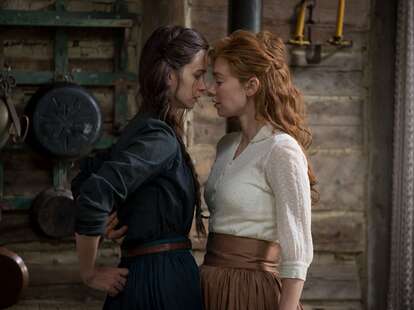 'The World to Come'

| Bleecker Street
'The World to Come'

| Bleecker Street
Like practically every other major event recently, the Sundance Film Festival was largely reimagined as a virtual affair. But that didn't mean there weren't plenty of fascinating films that would have otherwise been shown in the snowy landscape of Park City, Utah. Of course, I did not lace up my boots and trudge through slush to see what could possibly be the next big thing, but I still watched a ton from comfort of my couch.
This year's lineup included feature directorial debuts from stars like Rebecca Hall. Questlove made a documentary about the 1969 Harlem Cultural Festival, while Edgar Wright turned his attention to the band Sparks. There was a Nic Cage thriller in which he walks around in an explosive leather suit and a crowdpleaser called CODA that will certainly make you cry. Here, I'll keep you updated on all my favorites from the 2021 Sundance Film Festival.
Curious about past Sundance favorites? Check out our lists of the Best Movies from Sundance 2020 and Sundance 2019.
A Glitch in the Matrix
Release date: February 5 (VOD & in theaters)
Director: Rodney Ascher
Rodney Ascher is well practiced when it comes to making documentaries about the rabbit holes pop culture can send people down, and A Glitch in the Matrix is another haunting trip from the director of Room 237. Ascher's latest film centers on those living among us who believe that our own world is just a simulation. Using the work of Philip K. Dick, scientific studies, and, of course, The Matrix as guideposts, Ascher doesn't seek to prove or debunk simulation theory, but to investigate why people gravitate towards it and what those implications could mean. What results is a haunting trip.
CODA
Release date: TBD
Director: Sian Heder
Cast: Emilia Jones, Eugenio Derbez, Troy Kotsur, Marlee Matlin
As I was sobbing cathartic tears throughout the second half of Sian Heder's absolutely lovely drama, I couldn't help but think how well this film would have played to a crowded theater full of people during a regular Sundance year. CODA is the kind of crowd-pleaser that Sundance is known for producing, and I hope in this strange year it gets the attention it deserves. Emilia Jones plays Ruby Rossi, the only hearing member of her family. As her brother and father make their living fishing in Gloucester, her role has been both daughter and interpreter, but she starts to strike her own path, pursuing her love of singing at school. Heder deftly avoids the treacly traps the narrative could fall into, while her extraordinary cast does much of the emotional lifting. Derbez, best known as a comedian, gives a funny but enormously warm performance as Ruby's music teacher, but the standout is Troy Kotsur as her gruff, proud, and loving father.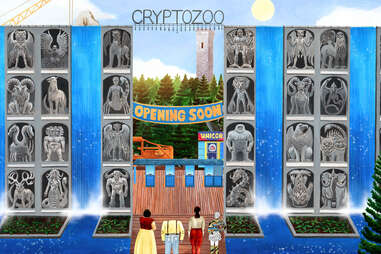 Cryptozoo
Release date: TBD
Director: Dash Shaw
Cast: Lake Bell, Michael Cera, Angeliki Papoulia, Louisa Crouse
Animator Dash Shaw has hand-crafted this gorgeous, hallucinatory film that looks like D'aulaires Book of Greek Myths come to life, and plays at times like Jurassic Park set in the 1960s with mythological beasts instead of dinosaurs. If the story feels simplistic, the absolutely stunning artwork will suck you in. Lake Bell voices Lauren Gray, an army brat who grew up outside Okinawa following WWII and has a special connection to the Baku, the Japanese cryptid who consumes nightmares. The Baku ate hers as a child and she is indebted to its protection. As an adult, Lauren seeks out cryptids to deliver them to safety in a Cryptozoo, a haven-slash-theme park. But when the army also seeks to capture the Baku and use it as a weapon, chaos ensues. Cryptozoo is graphic and heartbreaking, essentially a children's story with adult visuals, and it's easy to get lost in the beauty of Shaw's art.
Cusp
Release date: TBD
Directors: Isabel Bethencourt and Parker Hill
Cusp is the kind of extraordinary documentary you almost don't believe. Not because the subject matter is so unusual. In fact, there's something very ordinary about the material. Filmmakers Isabel Bethencourt and Parker Hill follow three teenage girls—Brittney, Autumn, and Aaloni—over the course of one summer in Texas as they hang out and party. But the intimacy with which Bethencourt and Hill are able to capture their lives, all while maintaining a lyrical quality to their images, is what makes this so astounding. The film sugarcoats nothing—nearly every girl has experienced multiple forms of trauma, whether they register them as such or not—but remains visually striking as it delves into the truths of American girlhood.
El Planeta
Release date: TBD
Director: Amalia Ulman
Cast: Amalia Ulman, Ale Ulman, Chen Zhou
The first feature from artist Amalia Ulman has shades of Grey Gardens and Pedro Almodóvar. It's an often laugh-out-loud funny piece of absurdism about a mother and daughter living beyond their means. Ulman herself plays Leo, who has moved back in with her mother (portrayed by Amalia's own mother Ale) in the seaside town of Gijón in Spain after a stint in London. In their apartment, which they seem to be occupying illegally, her mother spends her days "freezing" the names of her enemies, while Amalia considers escorting and sells her sewing machine. She's a stylist and fashion designer—or so it seems; it's occasionally hard to tell how much of what she and her mother are saying is true at any given time. In her conceptual work, Ulman has played with perception using Instagram, and she's working with the same themes here. Leo and her mother have their own sort of language that is indecipherable to outsiders. They eat tasting menus and go on shopping trips on other people's tabs. But it's their bizarrely sweet connection that makes El Planeta heartwarming even in its strangeness.
Flee
Release date: TBD
Director: Jonas Poher Rasmussen
Flee, which has already been picked up by distributor Neon, is truly unique. This largely animated documentary is a memoir come to life that is as much about the story it's telling as it is about what the act telling that story means to the subject. Director Jonas Poher Rasmussen allows Amin Nawabi to narrate his experiences at his own pace. At present, Nawabi is an Afghan refugee living in Copenhagen with his boyfriend and working with an academic, but Flee uses drawing and archival footage to describe the arduous process of escaping the Mujahideen. The documentary appears to be as revelatory for Nawabi as it is for the audience watching it. Flee is not just about what Nawabi endured, but about the psychological tolls of a childhood constantly on the run.
Judas and the Black Messiah
Release date: February 12 (HBO Max & in theaters)
Director: Shaka King
Cast: Daniel Kaluuya, LaKeith Stanfield, Jesse Plemons, Dominique Fishback
Arguably the biggest title premiering at Sundance is this historical drama with significant Oscar buzz about the murder of Black Panther chairman Fred Hampton, portrayed in extraordinary fashion by Daniel Kaluuya, and the FBI informant (Stanfield) who led the killers to his door. Shaka King's film is simultaneously both radical in tone and tense in execution, shifting perspective between Hampton and William O'Neal, a car thief played with jittery energy by Stanfield, who is offered lenience if he provides J. Edgar Hoover's bureau, intent on quashing the Black Power movement, with information on the leader and orator. Judas and the Black Messiah avoids any of the sentimentality that can typically invade true stories, helped by Stanfield's deft work as a man who slowly realizes the danger of his lack of politics.
Night of the Kings
Release date: March 5 (VOD)
Director: Philippe Lacôte
Cast: Bakary Koné, Issaka Sawadogo, Steve Tientcheu
This film from Philippe Lacôte, also the Ivory Coast's official Oscars submission, layers fables on top of fables to document a night inside a notorious prison in Côte d'Ivoire. The place, known as MACA in Abidjan, is very much real and the site of frequent violence, but there's a mystical quality that hangs over Night of the Kings' tale of warring factions and political upheaval. In Lacôte's telling, the correctional facility is lorded over by Blackbeard, the reigning "dangoro," whose power is being threatened by a group of his lackeys as he grows ill. As a last grasp at control, he anoints a new arrival the "Roman" and orders him to tell a story upon the appearance of the red moon. The terrified young man's life is at stake as he weaves the narrative of Zama King, the saga getting more fantastical as he continues. As Roman speaks, his rapt audience uses dance and song to act out Zama's trials. It's a hypnotic combination of magical realism, choreography, and true life terrors. (Watch the trailer)
Passing
Release date: TBD
Director: Rebecca Hall
Cast: Ruth Negga, Tessa Thompson, André Holland, Bill Camp
There's a delicacy to actress Rebecca Hall's directorial debut, Passing, an adaptation of Nella Larsen's 1929 novel about two childhood friends who reunite in adulthood and find their lives in a state of contradiction. Irene (Tessa Thompson) is living in Harlem as part of the upper echelon of Black society with her husband and two children; Clare (Ruth Negga) has been passing as a white woman and is married to a racist man. A chance meeting brings them together after years apart and ignites mutual insecurities, especially when Clare begins to infiltrate the life with which Irene previously thought herself content. Filmed in black and white and featuring a stunning jazz score by Dev Hynes, Hall keeps the tension between her protagonists at a simmer, the roiling frustrations and desires lingering just beneath the surface. Both Thompson and Negga are extraordinary, playing their characters' internal emotions through glances and subtle shifts in their tone of voice. Hall's film has style in spades, but it's all in service of the tricky feelings underneath the pretty people and parties.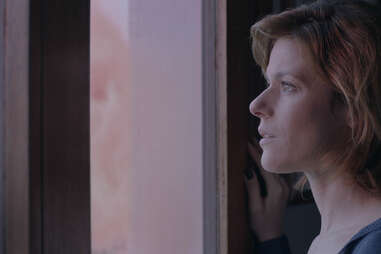 The Pink Cloud
Release date: TBD
Director: Iuli Gerbase
Cast: Renata de Lélis, Eduardo Mendonça
Brazilian director Iuli Gerbase's feature is both a brutal drama about accepting circumstances and an eerie premonition. A title card before the film begins reveals that it was written in 2017 and filmed in 2019. If that had not been stated, one would have to assume it was made in reaction to the COVID-19 pandemic. Giovana (Renata de Lélis) and Yago (Eduardo Mendonça) have just met and slept together when an alarm blares telling everyone to get inside. A pink cloud of toxic gas is hovering over the Earth. Anyone who is exposed dies within ten seconds. Suddenly Giovana and Yago are forced into quarantine together, and their one night stand now becomes a life partnership. Gerbase uses the color of the threat in nearly every frame, the gorgeousness of it slowly becoming more and more oppressive as Giovana finds her optimism more far fetched and makes choices based on her situation. It's a devastating fantasy and a little too real.
Prisoners of the Ghostland
Release date: TBD
Director: Sion Sono
Cast: Nicolas Cage, Sofia Boutella, Nick Cassavetes, Tak Sakaguchi
Here's your weirdo Nicolas Cage movie of the festival, one where he screams the word "testicle." Cage has teamed up with Japanese director Sion Sono for Prisoners of the Ghostland, which defies easy categorization. Putting it most simply: It's an absurdist samurai Western ghost story with shades of Mad Max that involves Cage being locked into a leather suit affixed with explosives at his neck, arms, and balls. Your mileage may vary on this one. The screenplay by Aaron Hendry and Reza Sixo Safai is definitely less interested plot or deep thematic meaning than at throwing a bunch of styles and set pieces into the air and seeing where they land. But, hey, if Nicolas Cage screaming the word "testicle" is your jam, then this one is for you.
Rita Moreno: Just a Girl Who Decided to Go For It
Release date: TBD
Director: Mariem Pérez Riera
If you, like me, know Rita Moreno's biography well, this documentary from Mariem Pérez Riera won't really tell you anything new. If you don't, it offers a great primer on the legendary performer, specifically diving into the challenges she faced as a Puerto Rican woman in a white, sexist system. And no matter what your familiarity is with Moreno, it's a pleasure to sit in her company for an hour and a half as she regales you with stories of her incomparable life.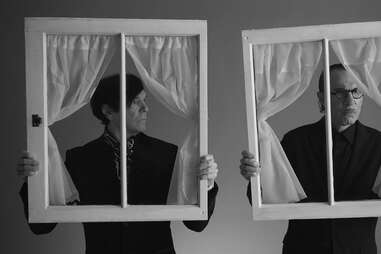 The Sparks Brothers
Release date: TBD
Director: Edgar Wright
I knew practically nothing about the band Sparks, made up of the brothers Russ and Ron Mael, going into Edgar Wright's loving and long documentary, but I emerged a fan, which is some of the highest praise I can give a film like this one. Wright sets out to explain the underground phenomenon behind Sparks, which has weaved in and out of the public eye since the early 1970s. The director methodically goes through the Maels' discography, highlighting their pop experiments and deeply amusing and bizarre lyrics. It's meticulous and also enormously funny, featuring insight from the Maels themselves as well as devoted fans like Flea, Weird Al, and Mike Myers. (Wright has a great time with the chyrons identifying these talking heads.) There are animated recreations, recreations acted out by the elder Maels, and tons of archival footage. Mostly, you leave feeling a towering affection for these weirdos and their weirdo music, which is, I assume, exactly what Wright intended.
Street Gang: How We Got to Sesame Street
Release date: TBD
Director: Marilyn Agrelo
There's so much to love in director Marilyn Agrelo's warm survey of the creation of Sesame Street, from the footage of Frank Oz and Jim Henson goofing off when the cameras were still rolling to the tender reminder of the way the show handled the death of Will Lee, otherwise known as Mr. Hooper. Based on the 2008 book by Michael Davis, it's an origin story detailing how the men and women behind Sesame Street set out to make a new kind of children's television program, one that used techniques from advertising to push education, as well as one that was more interested in reaching minority and low income audiences than well-to-do suburban children. It's a largely rosy portrait, mentioning more complicated topics but then quickly moving past them, but any annoyance with its good nature is quickly forgotten. As a history lesson about one of the most important pieces of pop culture to ever grace the airwaves, it will have you smiling and singing. (It's also worth mentioning that it was produced by HBO Documentary Films. HBO now broadcasts Sesame Street in a controversial move that pushed the show farther away from its public television roots. The documentary does not go into that.)
Summer of Soul (...Or, When the Revolution Could Not Be Televised)
Release date: TBD
Director: Ahmir "Questlove" Thompson
The footage alone would be worth recommending The Roots' drummer Ahmir "Questlove" Thompson's directorial debut. These recordings of the 1969 Harlem Cultural Festival, a weeks-long musical event that happened the same year as Woodstock, have been unavailable for public consumption until now, an example of a Black historical artifact being buried. The archival material is incredible, capturing unparalleled performances from Stevie Wonder, Nina Simone, The Staples Singers, Mahalia Jackson, Sly and the Family Stone, and so many more acts. Thompson frequently lets the music speak for itself, but also uses it as a guide through the place and the period, showing how Black artists were responding and evolving during the era. Summer of Soul is thoroughly joyous and also enormously vital.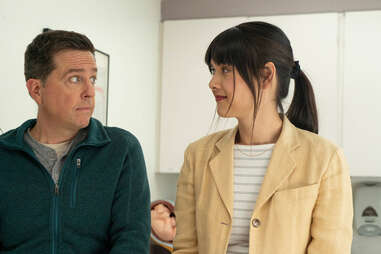 Together Together
Release date: TBD
Director: Nikole Beckwith
Cast: Patti Harrison, Ed Helms, Julio Torres, Anna Konkle
If you only know comedian Patti Harrison from her confrontational standup or gloriously weird turns on the likes of I Think You Should Leave, then her work in this mild comedy from director Nikole Beckwith will feel like a revelation. Harrison stars as Anna, who is serving as a surrogate for Matt (Ed Helms), intent on becoming a single father. At first, Matt's obsession with making sure Anna is doing everything correctly verges from annoying to psychotic, but these two lonely souls soon form a tender bond. Any slightness to the screenplay is overcome by Harrison's wonderful performance, which meshes humor and sweetness as Anna reluctantly allows herself to be cared for by Matt.
We're All Going to the World's Fair
Release date: TBD
Director: Jane Schoenbrun
Cast: Anna Cobb, Michael J Rogers
The disturbing and fascinating We're All Going to the World's Fair plays like if Eighth Grade, a previous Sundance selection, was filtered through a Creepypasta lens. Director Jane Schoenbrun uses ASMR and the stuff of YouTube k-holes to take her audience into the world of Casey, a lonely teen girl. The film opens as Casey, portrayed by newcomer Anna Cobb, attempts "The World's Fair" an online challenge, which involves watching a video. It's unclear what exactly "The World's Fair" is supposed to do outside of transporting the viewer into a horror game, but others who have played report and documented physical changes like the inability to feel or a body turning into plastic. Casey goes in looking for a nightmare. She's a girl who still relies on a sloth toy for comfort, but also uses horror movies as an outlet. "The World's Fair" is her chance to live one out, and as she wades deeper and deeper into its lore, she grows more disconnected from reality.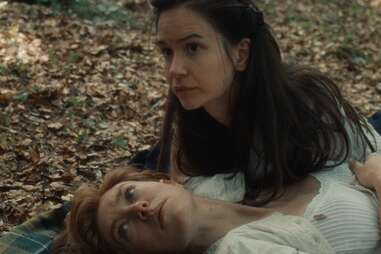 The World to Come
Release date: February 12 (in theaters), March 2 (VOD)
Director: Mona Fastvold
Cast: Katherine Waterston, Vanessa Kirby, Casey Affleck, Christopher Abbott
The quiet, calm narration of Katherine Waterston's Abigail carries the viewer through this period romance between two women in an isolated corner of New York during the 19th Century. But for as meditative as her voice is, there's a turmoil that rages through Mona Fastvold's film like the storm that appears in the first act. At times, Daniel Blumberg's magnificent score sounds like screams, and even in moments of peace there's creeping anxiety. Abigail has resigned herself to a life of discontentment with her husband Dyer (Affleck) when their new neighbors Finney (Abbott) and Tallie (Kirby) arrive. Abigail and Tallie become fast friends. Tallie is worldly and self-assured, even as she steals away from her pompous spouse who has a violent streak. Their long afternoons talking turn into physical expressions of love, but Fastvold is less interested in how that may have been taboo in the era, than in how the threat of isolation is always just around the corner for these women. (Watch the trailer)
Need help finding something to watch? Sign up here for our weekly Streamail newsletter to get streaming recommendations delivered straight to your inbox.