Here Are All the 2017 Super Bowl Movie Trailers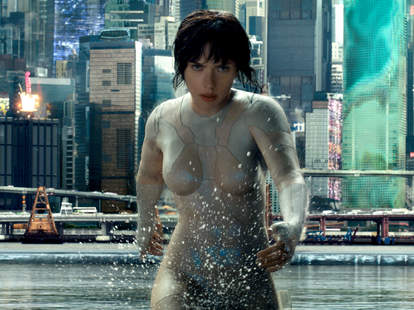 Super Bowl Sunday is the time for athleticism, national pride, and crass commercialism -- and if you don't think that's Hollywood's Christmas, you need to binge-watch the Rock's entire filmography immediately. This year, squeezed between hyper-aggressive Wendy's ads and sexy Mr. Clean dance numbers, some of 2017's most highly anticipated movies were condensed into 30-second snippets. In the "Big Game" spots -- the NFL legally bars studios from dubbing anything a "Super Bowl" preview -- the special effects are flashy and the stars are lit. Enjoy all the movie trailers that debuted during Super Bowl LI below, loopable for your escapist pleasure.
Transformers: The Last Knight
Mark Wahlberg and director Michael Bay returns for the fifth installment of the robots-in-disguise franchise, which somehow ties Arthurian legend to a modern, intergalactic invasion. Despite being a box-office juggernaut, none of the Transformers have earned praise from critics -- could The Last Knight turn things around? It does have Anthony Hopkins pontificating on pseudo-science nonsense, which we love.
Release date: June 23
Guardians of the Galaxy, Vol. 2
The latest tease for Marvel's science fiction sequel introduces us to a few of the new characters joining the gang of a-holes, including Mantis (Pom Klementieff), an insect-like humanoid who will suffer a rock to the face at some point in the movie. Not the worst thing that could happen in this weird and wonderful universe.
Release date: May 5
The Fate of the Furious
Vin Diesel's rowdy, revved up automotive action series is so ubiquitous with viewers (at least the Super Bowl ones), the studio doesn't even bother touting the title in this 30-second spot. It does try to tease the plot -- this time, Diesel's Dominic Toretto is evil! -- but don't bother parsing it. This trailer is all about explosions, flying fists, and NOS-juiced stunts. 
Release date: April 14
Ghost in the Shell
Based on the best-selling manga and popular anime feature, this Scarlett Johansson vehicle hopes to overshadow claims of white washing with radical visuals and robo-intrigue courtesy of director Rupert Sanders (Snow White and the Huntsman). The movie dares to fit Johansson in the original's iconic, somewhat salacious white body suit, so at least it as faithfulness going for it.
Release date: March 31
Logan
You know the third (and final?) Wolverine movie is Hugh Jackman's "serious" entry because a whispy cover of Amazing Grace plays against the clawed superhero slashing bad guys with R-rated rage. As far as superhero movies goes, this is Hamlet. OK, OK, we kid because we love -- director James Mangold returns to the series after nailing The Wolverine so we're genuinely pumped for Logan.
Release date: March 3
Pirates of the Caribbean: Dead Men Tell No Tales
The next installment of the high-seas adventure series reunites Johnny Depp's Jack Sparrow with Orlando Bloom's Will Turner and Geoffrey Rush's Captain Barbossa, with the trio facing off against Javier Bardem's Capitán Salazar, who looks like The Crow version of Edward Scissorhands. This time they're chasing the "Trident of Poseidon" -- eh, can't be as bad as the fourth movie, can it? Yes, there was a fourth movie.
Release date: May 26
Life
The latest hyper-realisitic, space-set disaster movie sees a bunch of beautiful people (Ryan Reynolds, Jake Gyllenhaal, Rebecca Ferguson) discover the first signs of extraterrestrial life in a patch of Martian dirt. But they make one big mistake: underestimating single-cell lifeforms. Turns out it's insane in the membrane.
Release date: March 24
John Wick: Chapter 2
The sequel to Keanu Reeves's pristine gun-fu movie only have five more days to wait before it rampages through theaters. This final trailer serves to remind that they're going to be five painstaking days.
Release date: February 10
The Handmaid's Tale
This spring, Hulu makes a serious play for your attention with a glossy adaptation of based on Margaret Atwood's best-selling dystopian drama. Set in a totalitarian society where women treated as government-owned property Mad Men's Elisabeth Moss stars as Offred, a fertile woman forced into sexual servitude searching for answers to this cruel and impossible fate. At a delicate political moment in American history, The Handmaid's Tale looks like urgent and bingeable commentary.
Premiere date: April 26
Sign up here for our daily Thrillist email, and get your fix of the best in food/drink/fun.
Matt Patches is a Senior Editor at Thrillist. He previously wrote for Grantland, Esquire.com, and Vulture. Find him on Twitter @misterpatches.