The 15 Most Outrageous Super Bowl 50 Moments
Timothy A. Clary/AFP/Getty Images
In-between sensational commercials and movie trailers, the Denver Broncos and North Carolina Panthers spent the Super Bowl playing an actual football championship. The game provided drama, the halftime show added spectacle, and the chaos of life ensured that the 50th anniversary game would be remembered the next morning. Here are the highlights to relive:
Lady Gaga owns the National Anthem
The singer, donning star-spangled boots and a diamond-encrusted earpiece, belted out the game-opening number with the kind of confidence that only a Golden Globes win for American Horror Story can give.
CBS
Cam jams to Gaga
There was an immense amount of pressure on Cam Newton's shoulders. First, it was the frickin' Super Bowl. The Carolina QB is also a regular target for NFL fans and the media, who don't take kindly to his "self-absorbed" behavior. Whatever. The camera loves him, and Newton knows his angles. We all win. As seen in this early moment, where the player lost himself to Lady Gaga's melodious act. Powerful.
 
The early, ugly fumble
The Panthers-Broncos face-off was a close game nearly to the very end. But one play early on had even newbies gasping. Watch, as the Broncos score a key touchdown in a most accidental fashion.
CBS/Taraji P. Henson/Instagram
Empire's Taraji P. Henson misidentifies Coldplay as Maroon 5
And in the process, sums up most of our feelings about Coldplay.
Steve Granitz/Timothy A. Clary/AFP/Getty Images (EDITED)
The love for 1993 Michael Jackson
Beyoncé has a history of paying tribute to Michael Jackson while performing, and she paid homage to the King of Pop once again during her halftime performance by wearing a gold-embellished military jacket that was almost an exact copy of the one that MJ wore during his own Super Bowl halftime show in 1993. Of course, the pop star modified the look by making it pants-less. Because Beyoncé lives in our future, and in the future, we don't wear pants. It's a beautiful place to be.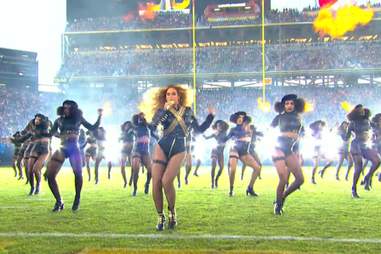 CBS
Beyoncé beyoncés the Beyoncé out of "Formation"
Beyoncé's new mic-drop single "Formation" opens with the lines "I came to slay, bitch." Appropriate, because she quickly overshadowed Coldplay's Technicolor snoozefest. She also followed up the halftime show with an ad announcing her forthcoming Formation World Tour, so Super Bowl 50 was basically one big Beyoncé marketing campaign. We ain't mad about it.
That Oscars-esque tribute montage
Perhaps to relieve viewers' eyes from the Lisa Frank fever dream that was Coldplay's set decoration, the Super Bowl cut abruptly to a montage of past halftime performers (resulting in a panicked second where we thought Bruce Springsteen had come out to join Beyoncé, Chris Martin and Bruno Mars in the weirdest musical team-up ever). We guess they chose to do this because it's the 50th anniversary, but then why didn't they include all the past halftime shows? What about Left Shark, Elvis Presto, and JT and Janet Jackson? The people demand a "wardrobe malfunction" replay!
CBS
The Bruno Mars vs. Beyoncé dance-off
Doesn't matter who you are, where you come from, or how you live your life. There's only one way to describe this music titan showdown: YAAAAAAAS.
This guy
When Mark Ronson drops the beat, you dance!
Beyoncé's superhuman balance
You can have your laser vision, Superman. We'll envy this move from now to eternity.
CBS
Coldplay channels its inner-John Lennon
The recently-divorced Chris Martin concluded his performance by getting the audience to spell out "believe in love" across the bleachers using rainbow-colored sheets of paper, because "we believe in conscious uncoupling" had too many letters.
#SuperBowlBabies baffles, trends on Twitter
By far one of the weirdest ads of the night was an ad for the NFL featuring "Kiss from a Rose" crooner Seal and a chorus of "Super Bowl Babies," kids purportedly born nine months after their parents' teams won the Super Bowl. Naturally, the ad launched a #SuperBowlBabies hashtag (and presumably a lot of parental phone-calls from distressed November babies). "In the end when our team won, mom and dad looked at each other, one thing led to another that night," the Super Bowl-spawn sing in spooky unison. Ah! Is there such a thing as fetal guacamole syndrome?

Clete Blakeman is the first Super Bowl referee named after a George Constanza alias

— Matt Goldich (@MattGoldich) February 7, 2016
Meme MVP: Clete Blakeman
While the game itself was a bit of a snooze, Twitter found a way to distract itself by crushing on "hot" ref and former Nebraska backup QB Clete Blakeman, who has a very appropriate name for a football-referee-turned-internet-meme (and who kind of looks like a young John Malkovich).

Does Eli Manning understand how football works?
When it became clear the Broncos had Super Bowl 50 in the bag, the crowd went wild. Everyone except Peyton Manning's brother, the New York Giants' current quarterback, who should know when the game's over? And should be excited? A little?

After a huge win, Peyton Manning hugs... the owner of Papa John's?
The Broncos QB kept composed after defeating the Panthers 24-10. "I want to go kiss my wife and kids, I want to go hug my family," he told CBS sports anchor Tracy Wolfson immediately after his big win. "[And] I'm going to drink a lot of Budweiser tonight." If that wasn't enough of an anti-"I'm going to Disney World" moment, Manning proceeded to beeline to Papa John's CEO John H. Schnatter for a hug. Weird. But logical: according to sources, Manning owns several Colorado-based Papa John's locations.
Sign up here for our daily Thrillist email, and get your fix of the best in food/drink/fun.
Follow the Thrillist Editors on Twitter @ThrillistEnt.