How Much Does a Super Bowl Ad Cost This Year?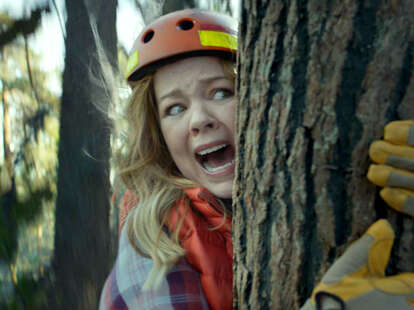 Just like Buffalo chicken lasagna and other insane snack recipes, the Super Bowl and buzzworthy commercials just go together. Some would argue that the ads are even more exciting than the big game itself. When else do you get to see Jeff Goldblum hanging out with Lil Wayne and riffing on The Jetsons?
The massive viewership comes at a premium, of course. This year, on average, airtime for a 30-second spot during the Super Bowl runs for as much as $5 million, according to The New York Times, up from $4.8 million last year and twice the cost of an ad just 10 years ago. A Super Bowl LI slot is also 17 times higher than one was in 1992, and 133 times the 1967 cost of $37,500 a pop, the first year a Super Bowl was held.
But $5 million alone does not a gangbuster, Goldblum-assisted masterpiece make. The success of a Super Bowl ad doesn't just boil down to your time slot, but also to the stars you cast, the production value of the spot, and the public relations campaign you choose to drum up around the spot. "There's become more of a game around the game in terms of ensuring that really pays off in a big way," said Mary Scott, president of the marketing agency UEG, in an interview with the Times. Brands looking to get exposure in a crowded playing field, she said, additionally spend at least 25% of that $5 million on promotions related to the ad.
In the age of social media, that's why you might see several different iterations of the same ad or campaign across channels like Twitter, Facebook, Instagram, or YouTube -- and earlier than ever before. Skittles and others, for example, have already released their Super Bowl LI commercials to the world. To the players in the Super Bowl's money game, every penny's presumably worth it. Each year, the Super Bowl reaches a massive, globe-spanning audience. Last year, in a decline from the previous year's ratings, it still reached 114.4 million people for the third-largest broadcast TV audience in history (not counting live streaming or YouTube clicks).
The first ad to air on Super Bowl Sunday will feature Star Wars: The Force Awakens' Adam Driver in a Snickers commercial "playing a very hungry cowboy." Money well spent.
Super Bowl LI will be played in Houston this Sunday, February 5, and kickoff is scheduled for 6:30pm on FOX.
Sign up here for our daily Thrillist email, and get your fix of the best in food/drink/fun.