All 47 Super Bowl LIV Commercials, Ranked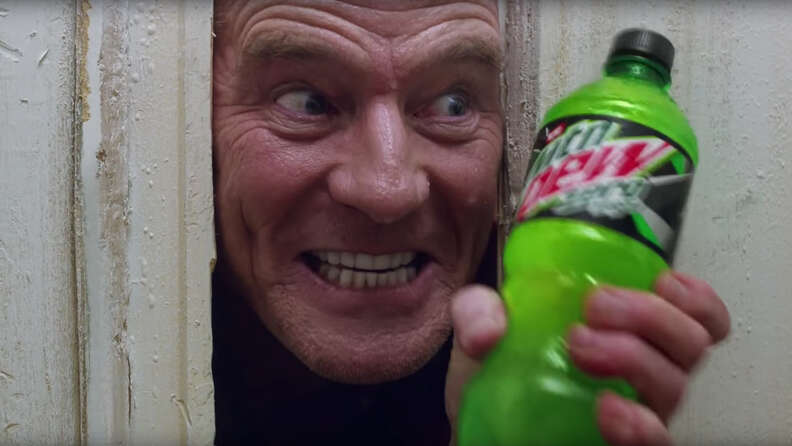 Heeeeere's... Bryan Cranston

| Mountain Dew
Heeeeere's... Bryan Cranston

| Mountain Dew
What makes the a Super Bowl commercial truly stand out? If there was an exact formula, a secret ingredient that would guarantee your product would sell and everyone on social media would praise you, companies wouldn't have to go to such absurd lengths to desperately reverse-engineer viral moments. They wouldn't have to hire celebrities, stage elaborate stunts, or try to make you cry. They'd just follow the formula and rake in the cash.
But there's no easy trick. That gives us plenty of terrible, dull, and cringe-inducing spots to sort through every year. To be as thorough as possible, we sat through every Super Bowl commercial that aired during the Big Game and ranked them all, from the funny ones you'll actually remember to the ones you thought you hallucinated after halftime. (Note: We left out movie/TV trailers, political campaign ads, FOX promos, commercials for the NFL, previously aired spots, anything from the pre-game or post-game, and the local advertisements that pop up periodically during the broadcast.) Grab your soft drink beverage of choice -- no pressure here -- and read on.
47. New York Life Insurance
If an ad opens with "the ancient Greeks had four words…," it might be time for a bathroom break. This New York Life Insurance commercial uses plenty of gauzy, Terrence Malick-lite visuals to celebrate different types of love and… the virtue of selling people life insurance? Calm down, NYLI.
46. WeatherTech
Pets do make a difference and Scout, the dog in this commercial, is very cute. But WeatherTech seems to have an annual Super Bowl ad now and it's still unclear what they do based on the ads. The company's name sounds ominous, doesn't it? Especially when this ad is soliciting donations and the fine print says "All donations go directly to the University of Wisconsin School of Veterinary Medicine." Again, cute dog. Strange ad. At least any money the $6 million ad generates won't go to the yacht-owningfounder of WeatherTech.
45. Discover
Does this feel like a Super Bowl commercial? As all the characters say in the spot, no. It was probably expensive to get the rights to clips from Austin Powers, Clueless, Friends and School of Rock, but this credit card ad lacks spectacle, real star power, or wit.
44. Little Caesars
With its attempt at cleverness and a celebrity cameo (by Rainn Wilson), Little Caesars' Super Bowl commercial hits all the expected buttons. But its core conceit, that people might describe anything anymore as "the best thing since sliced bread," let alone Little Caesars pizza, rings false. Ultimately, we can't get excited about this spot's cliche-based humor, although the chaos ostrich is a nice touch.
43. Hulu
No, this was not some big announcement about Tom Brady's future in the NFL. It was just an ad for Hulu. This is what Disney money can get you.
42. Quibi
Who is the target audience for Quibi, the puzzling new streaming service founded by former DreamWorks executive Jeffrey Katzenberg? According to this pretty average ad, it's for bank robbers. While we appreciate the Den of Thieves vibe, this commercial didn't exactly showcase what will make Quibi's shows stand out in an increasingly crowded space when the service launches on April 6.
41. Porsche
Porsche can't compete with the Fast and Furious saga, which had one of the night's most exciting trailer debuts (for Fast 9). If you're not going to have Vin Diesel or cars shooting off of cliffs, don't even try.
40. Turkish Airlines
The sentiment behind Turkish Airlines' spot was nice at least: everyone should have the chance to travel the world. But turning three people's first times abroad, to remote locations no less, into a dramatically shot stunt? The imagery of indigenous people as a thing to "discover" by equating them to something as foreign as the moon felt unsavory.
39. Facebook
There are few brands we'd like to see ads from right now less than Facebook, and its weak effort here to push Facebook Groups as anything other than a place for Boomers to post Fox News memes, with the overused Twisted Sister song "I Wanna Rock" playing, didn't do anything to help its case.
38. Amazon
This mildly dystopian ad finds Ellen Degeneres and Portia de Rossi asking themselves, "What did people do before Alexa?" It turns out the powerful ordered their maids around, demanded entertainment from their court jesters, and sent carrier pigeons to untimely deaths. An odd commercial that serves only to make Alexa users look like jerks.
37. Reese's
Ah, yes, the quantity over quality approach. This candy spot tries to shove so many groan-worthy gags in one commercial that you might not notice how corny it is. At least the Take 5 looks pretty tasty.
36. Procter & Gamble
In what was touted as the "first interactive Super Bowl ad," a bunch of spokespeople from the larger Procter & Gamble expanded universe tried to clean up a mess at a party. But who will clean up the mess of this ad? This one came late in the game and it was hard to really follow what was going on. Is this like The Avengers but with Mr. Clean, Sofia Vergara, and the butt-wiping bears?
35. Olay
It's never a great sign when a commercial has to use on-screen text to label all the random celebrities that appear in the ad. This spot for Olay, the skincare giant (owned by Procter & Gamble), has a space theme and a positive social message, plugging Girls Who Code towards the end. But it just moves too fast, trying to cram too much into 30 seconds. It's a relief when the eject button gets hit at the end.
34. Sabra
Sabra put a bunch of different celebs, including WWE veteran Ric Flair, T-Pain, Jaleel White, Scary Spice, and Chester Cheeto, in bold monochromatic rooms and asked them how they 'mmus. Fine aesthetic, bad catchphrase!
33. Hyundai Genesis
"Somebody had to make luxury fun," says John Legend towards the end of this Hyundai Genesis commercial as he drives away in an SUV from a fancy party. So, is it actually fun? Chrissy Teigen does her best with some jokes about party-goers early on, calling out the "lady who goes to Asia once and thinks she's spiritual" and the "guy who leans on everybody for some reason." But this is mostly just a bland car ad.
32. TurboTax
TurboTax looks desperate to make the bendy knee dance in this ad THE dance for when you file taxes. It's clearly an effort to start a new TikTok trend, a la "Renegade," but we have a hunch that it won't stick. (Also, if you make less than $60k, you can file your taxes for free.)
31. Audi
Arya Stark and Elsa from Frozen, two girls who just want to break free from the rules of the patriarchal society. Now they come together for... Audi? Maisie Williams, the erstwhile Night King killer, belts out "Let It Go" to prove that Audi's cars are sustainable. The ad doesn't make a ton of sense, but Williams has a nice voice.
30. T-Mobile
Black-ish star Anthony Anderson teams up with his mom for this ad celebrating T-Mobile's nationwide 5G technology. If you've seen a phone commercial before, you know what this one is all about. Lots of calling back and forth. Honestly, phone companies shouldn't be barred from buying Super Bowl ad spots.
29. Verizon
More 5G technology and more phone company stuff. This clip is the opposite of the T-Mobile ad: It features Harrison Ford delivering very serious voice-over images of first-responders in dangerous, heroic situations. Mostly, it feels a bit hollow.
28. Walmart
Here's the big news: 2016's Arrival is apparently a big enough movie to get parodied in a cheesy Walmart ad that references a bunch of science-fiction blockbusters. Also, the people who made this commercial really love Mars Attacks. Fair enough!
27. Toyota
Another forgettable genre-y ad. This one features Cobie Smulders driving an SUV and rescuing a bunch stock characters in high-stakes scenarios, like a guy at an exploding chemical plant and a cowboy saving his family.
26. General Motors
More cars! Vroom vroom. Good for LeBron James and his new flashy car deal repping the electric Hummer in this garden variety car spot.
25. Michelob Ultra Pure Gold
Change the world by buying a six pack?? Every beer company would love you to think so, and Michelob Ultra Pure Gold promises if you buy their beer, they'll (magically??) transform six square feet (per six-pack) of America's farmland to organic. We stan an eco-conscious beer company.
24. Budweiser
Americans, we're annoying! We know that about ourselves, constantly in competition with one another, visiting out of nowhere, making noise all over the place. The worst, right? Budweiser's Super Bowl commercial makes the American stereotype a little nicer, interspersing inspiring footage of Americans protesting, playing sports, winning races, and generally coming together to make the world a little bit better.
23. Coca-Cola
This ad for Coke's new energy drink product takes a lot of suspension of disbelief. It implies that Martin Scorsese wouldn't be awkwardly hanging out at a party just waiting for Jonah Hill to arrive. If anything, the opposite would be true. And while this Wolf of Wall Street reunion does make us happy, it will also have some people wondering whether Mr. Marvel Movies Aren't Cinema himself has sold out.
22. Google
While the majority of Super Bowl commercials aim for laughs, every year there are at least a couple that make a play for your tear ducts. Enter: Google. Their devastating spot tells the story of an elderly man using Google to remember details about his wife Loretta. We're not crying. You are.
21. Pop-Tarts
Look, Pop-Tarts knows what the main attraction is. Sure, it's fun to see Queer Eye's Jonathan Van Ness sprucing things up, but really he's just there to show off the new product: Pretzel Pop-Tarts. Regardless of who the company hired to shill these, we would still be excited to try them.
20. Michelob Ultra
The Super Bowl Michelob Ultra ad imagines what it's like for Jimmy Fallon to train with John Cena -- the worst thing in the world, unless you've got an ice cold beer in your hand and the support of The Roots and a bunch of our greatest athletes. It's pretty fun, but let's be honest: running still sucks.
19. Heinz
When you can't pick a genre, why not do all of them? The new Heinz commercial gives us four ads for the price of one, plopping its characters into a creepy diner, a haunted house, a space bar, and a James Bond-style villain lair. But at least one thing's consistent: they all love Heinz's classic ketchup. Who doesn't?
18. Pringles
This Rick and Morty ad for the chip brand comes with an expected meta twist: Rick quickly realizes he's trapped in a Pringles commercial after Morty suggests stacking different chips to create "flavor combos." It's a decent introduction to the show's sensibility for the viewers who don't know how to find Adult Swim in their cable package. At least it wasn't for Szechuan Sauce.
17. Hyundai
Massachusetts-born celebrities Chris Evans, John Krasinski, and Rachel Dratch go wild with the Boston accents in this car-centric clip, which vaguely recalls Dratch's "Boston Teens" sketches from SNL with Jimmy Fallon. (Fallon doesn't pop up here, but David "Big Papi" Ortiz makes a cameo towards the end.) Somewhere, Matt Damon and Ben Affleck are texting each other that their car commercial would've been better.
16. Cheetos
"Can't touch this" takes on new meaning in this MC Hammer-starring commercial for Cheetos. When your hands are full of Cheeto dust you can't touch anything! (That's why we prefer the Cheetos-with-chopsticks method, but that would negate the joke of this ad.)
15. Hard Rock International
The Hard Rock hotel chain played some chaotic spy games in this Michael Bay-directed ad, which was edited a few days after Kobe Byrant's untimely death. The company won't reveal what part of the original commercial was "perceived as insensitive," but in this version, Jennifer Lopez has her diamond glass stolen by a masked figure in yellow, who is unmasked to be her fiancee, former Yankees star Alex Rodriguez, who is unmasked yet again to be DJ Khaled who wants to be her hype man. Bay set it to look like a heist out of Ocean's Eleven while J.Lo chases the perp through the glitzy Vegas-esque hallways, so it's not like it's a new idea, but for putting the halftime performer in a glamorous action role, we'll consider the Hard Rock Cafe & Hotel an option when we're in need of a horrible, sugary blue alcoholic drink and a pillow to rest our heads on after.
14. Pepsi
Super Bowl ads love zero sugar content, and Pepsi is no different, introducing a sleek all-black look for their Zero Sugar cans, flaunted by a hip-hop dream team of H.E.R. and Missy Elliott remixing the Rolling Stones' "Paint It Black." Look, if Missy Elliott handed it to us, we'd drink literally anything.
13. Jeep
Are you charmed by celebrities mining their most famous roles for brands? Or does it all seem rather crass? Well, that will determine your reaction to Jeep's entry into this fray, in which Bill Murray is Groundhog Day's Phil Connors once again. Sure enough, the clock hits 6 a.m., the Sonny and Cher song starts to play, and Phil realizes he's once again trapped in a time loop complete with an appearance from Stephen Tobolowsky as Ned Ryerson. This time, however, Phil Connors has a Jeep, so he's not as mad about the whole thing. He steals the little rodent and goes on all sorts of adventures.
12. Tide
Charlie Day, doing his Charlie Day thing, goes through an existential crisis after Schitt's Creek's Emily Hampshire gets sauce on his white shirt in this ad for Tide "power pods." Emily says he can just wait to do laundry "later," but what does later mean? It means after the game. He can chill. Mostly we're just glad to see Stevie Budd getting that spon-con cash.
11. Squarespace
Unclear if this is an ad for Squarespace or just a ploy to get Winona Ryder in a future season of Fargo, but we'll take it either way. The bundled up star of Stranger Things -- or Heathers, if you want to go old school -- is all bundled up in Winona, Minnesota building a website about...Winona, what else? The catch: Winona Ryder is actually from Winona, Minnesota, and the website she builds is functioning. (Apparently, some actual residents of the place aren't all that happy.)
10. SodaStream
In a Super Bowl with a handful of science-fiction flavored ads, this SodaStream spot, which also features a cameo from Bill Nye the Science Guy, stood out for its high-concept premise and its goofy twist. Plus it has a clear lesson: if you're going to Mars, don't invite a guy named Mark. Simple.
9. Planters
Nobody knew if Planters would really air Mr. Peanut's funeral, the ad teased in a pre-Super Bowl video that killed off the 104-year-old mascot, in the wake of Kobe Bryant's death. Presumably with some editing, the peanut company went ahead with it, and lo, from a tear shed by Kool-Aid Man a new nut was born: Baby Nut, reincarnated with the consciousness of Mr. Peanut (along with the unfortunate hashtag #babynut). Given the hand wringing over how this one would go over, it ended up feeling tonally appropriate. Plus, Mr. Clean and Kool-Aid Man showed up to mourn their dear mascot friend. One of the weirder ads all night.
8. Bud Light Seltzer
Honestly, the pairing of Bud Light Seltzer and Post Malone makes perfect sense. Both are hilarious concepts. In this commercial, the little people in Posty's brain -- all with his face tattoos -- try to decide between purchasing the White Claw rip-off or just plain old Bud Light. But when you're as rich as Post, why not go for both?
7. Kia
Yes, it was another car commercial trying to be inspirational. But this Kia ad, which featured Las Vegas Raiders' running back Josh Jacobs, was one of the better "poignant" spots of the night, finding the NFL player driving a version of his younger self. Always good to have a little time travel in your car commercial.
6. Avocados From Mexico
"Do avocados have heads?" The surreal ads from Avocados From Mexico often double-down on silliness, but this parody of the Home Shopping Network gets downright metaphysical at times, suggesting that the green fruit requires "skin to skin contact," enjoys music, and needs protection from bears and humans in an "avocado yurt." With Super Bowl commercials, there's good-weird and bad-weird. This is good-weird.
5. Mountain Dew
You gotta hand it to them: for their commercial, Mountain Dew painstakingly -- and impressively! -- recreated the climactic scene of The Shining, tapping Bryan Cranston to don Jack Torrance's maroon sweater and crazy hair to bust down the bathroom door on a shrieking Tracee Ellis Ross. Mountain Dew promises its "Zero Sugar" is just as good as the original, but we'll still take the real Shining over a Super Bowl ad, thanks.
4. Doritos
We have to hand it to the marketing team at Doritos: Pairing perpetual cowboy Sam Elliott with Lil Nas X is nothing short of ingenious. Elliott and his mustache have a dance off with the "Old Town Road" singer for some Cool Ranch Doritos. Don't miss the very expected cameo at the end.
3. Microsoft
Instead of showing off a new computer or an XBOX controller, Microsoft uses its Super Bowl ad time to shine a light on Katie Sowers, an offensive assistant coach for the 49ers and the first female coach for a team in the Super Bowl. (She's using some Microsoft-branded tablet in the clip, but it's not especially noticeable.) As a 60-second biopic, the ad is swift and effective, letting Katie tell her story in her own words.
2. Rocket Mortgage
We always thought Jason Momoa's big beefy physique was almost *too* big and beefy, and during the Super Bowl our suspicions were confirmed. Some of us take off our pants and put on leggings when we get back home after a day on the town -- Jason Momoa removes his biceps and Atlantean torso, revealing the skinny little dude underneath all the prosthetic muscle. We knew it was too good to be true!
1. Snickers
Parodying "We Are the World" style charity singles, this candy bar spot is an ideal mix of silly and topical, referencing the rise of the surveillance state and parents naming their children after produce without being too obnoxious about it. What really pushed it over the top and made it the best commercial of the night? The Luis Guzman cameo at the end. He's right: "The Snickers hole… it's working!" At the very least, it helped us forget the #babynut for a moment.
Need help finding something to watch? Sign up here for our weekly Streamail newsletter to get streaming recommendations delivered straight to your inbox.