14 Super Bowl Halftime Show Facts No One Else at Your Party Will Know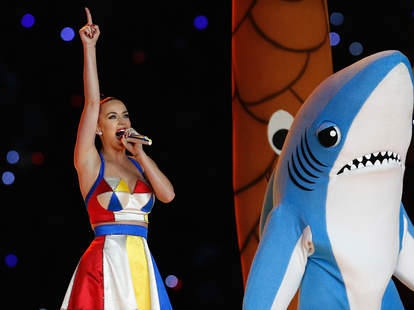 Christian Petersen/Getty Images
Much like your recipe for that Buffalo chicken dip you totally botched that one time, the Super Bowl halftime show has gone through a series of changes. What started as a showcase for collegiate marching bands has turned into a star-studded celebration featuring talented-yet-sagging necks. With Super Bowl LII approaching kickoff, we've dug up the strangest, most important facts from what has become the largest cross-section of entertainment and athletics in America. It's time to bring more to the party than artisanal pickle chips, though you should probably bring those, too.
This article was updated on 2/1/2018.
NKOTB got bumped for Desert Storm
The Super Bowl halftime show as we know it took a few years to get off the ground. Marching bands filled the void between halves until 1984, and the first pop act didn't get booked until New Kids on the Block got the nod in 1991. But due to ABC's decision to break away to its coverage of Operation Desert Storm at halftime -- Super Bowl XXV took place on January 27, 10 days after aerial and naval bombardment in the Persian Gulf began -- the late-'80s boy band got bounced to after the show.
The only non-football athletes to perform at halftime? Figure skaters.
The theme of the 1992 halftime show was "Winter Wonderland" and featured a "Frosty the Snowman" rap, a performance by Gloria Estefan, and Brian Boitano and Dorothy Hamill skating on sheets of Teflon. Though it may seem a marginal detail, Boitano and Hamill remain the only non-football-playing athletes to perform at halftime, having participated in the last show before a major change.
In 1992, 22 million people changed the channel
Even in 1992 figure skating was considered lame, and then-upstart fourth network FOX exploited that by airing a special live episode of In Living Color during halftime that drew 22 million viewers away from CBS' tame Super Bowl festivities. The NFL got the hint and, the following year, quashed any and all counter-programming attempts by coaxing Michael Jackson to perform.
Michael Jackson's 1993 performance got higher ratings than the game itself
Following the Winter Wonderland debacle, Michael Jackson was booked to perform at halftime in 1993, giving the Super Bowl its first-ever increase in ratings at halftime. For the next 11 years, a conscious effort was made to attract top pop talent -- an effort that cooled off considerably following Michael's sister Janet's decision to flash the world for 9/16ths of a second in 2004, as the NFL turned to comparatively predictable classic-rock acts.
Outkast could have prevented Nipplegate
Think of how different Super Bowl halftime and American culture might have been had Janet Jackson's nipple not sprung for daylight in 2004. Apparently, André 3000 and Big Boi had been approached to play at halftime that year, but declined when they were told they'd need to perform edited versions of their hits "Hey Ya!" and "The Way You Move." Exactly one week later, Outkast would win a Grammy for Album of the Year, beating, among others, Nipplegate participant Justin Timberlake.
The 2004 halftime theme was "Rock the Vote"
Oh, the irony! Janet Jackson's "wardrobe malfunction" rocked zero votes but it did rock the NFL and America's fragile eyeballs. Not coincidentally, 2004 was the last time the halftime show had a theme, and that's likely for the best. For instance, 1995's theme, "Indiana Jones and the Temple of the Forbidden Eye," a tie-in with a Disneyland attraction, featured actors not named Harrison Ford and Karen Allen suiting up as Indy and Marion Ravenwood to plunder the Vince Lombardi Trophy from a lost temple, where they also encountered Patti LaBelle and Tony Bennett. This actually happened.
Elvis Presto, an Elvis impersonator and magician, headlined the 1989 halftime show
If a Harrison Ford-less Indiana Jones performance doesn't sound bizarre enough for you, let's go back to 1989. That's the year that an Elvis Presley-impersonating magician named Elvis Presto headlined the halftime show, and attempted to perform a 3D magic trick for viewers at home. It somehow went worse than it sounds.
Diana Ross sang the most songs
Only Michael Jackson, Diana Ross, and Paul McCartney have taken the halftime stage entirely by themselves, without a band or special guest performers. The difference? McCartney performed four songs and Jackson did five, while Ross performed a medley of 10 hits. By contrast, Katy Perry, Lenny Kravitz, and Missy Elliott performed nine songs between them in 2015.
Janet Jackson originally had U2's post-9/11 spot
As far as impressive feats go, file this one next to Diana Ross'. Janet Jackson was set to perform at the 2002 halftime show. But when the singer canceled her tour, and the Super Bowl gig, after September 11, NFL league executives looked for a replacement. They settled on U2 after seeing the band perform a 9/11 tribute at a Madison Square Garden show, and the resulting halftime show projected a tribute to those lost in the attacks onto the Metrodome ceiling. Bono was asked the following year to join a "We Are the World"-esque superstar lineup, but he declined.
Only seven pop acts have played halftime more than once
Had Bono accepted in 2003, he would have become the only artist to perform in consecutive years. Not counting multiple appearances by trumpeter Al Hirt, clarinetist Pete Fountain, and singer Carol Channing, only five acts have performed at halftime more than once: Gloria Estefan, Nelly, Justin Timberlake, Stevie Wonder, and Up with People, who played halftime five times between 1971 and 1986. Last year, Beyoncé and Bruno Mars brought the number up to seven.
Only three artists have played halftime in their "hometown"
Think of the term "hometown" loosely as few American cities have NFL teams, few get to host the Super Bowl, and even fewer actually play in the city they represent. With all that though, three artists have come within a short drive of performing in their hometowns. Gloria Estefan was 16.1 miles away from Miami Gardens (Miami, 1999). Travis Tritt was 20.6 miles from Marietta (Atlanta, 1994), and Usher was 21.3 miles from Dallas (Arlington, 2011).
Elijah Wood sang in 1994
Improbably, the future Frodo was on hand to take part in a country-music hootenanny, in between the releases of his movies The Good Son and North. But considering the scale of the Super Bowl and the halftime show, you'd think Hollywood would try to horn in like that every year. But it's rare. The theme of the 1984 halftime show, produced by Disney, was "Salute to Superstars of the Silver Screen." In 1987, Mickey Rooney and George Burns turned up during the Super Bowl's "Salute to Hollywood's 100th Anniversary." The kinda Blues Brothers (with Jim Belushi and John Goodman joining Dan Aykroyd) headlined the 1997 show. Edward James Olmos served as a narrator in 2000's "Tapestry of Nations" theme. And in 2001, Ben Stiller, Adam Sandler, and Chris Rock starred in a pre-recorded skit that featured Sandler as a tie-dye-wearing choreographer by the name of DJ "Stanley Steamer." To Chris Rock's credit, he's in the clip for less than 10 seconds.
The ratings record has been broken in three of the past five years
It was big news when Madonna broke the ratings record in 2012 with 114 million viewers, but the Queen of Pop was outdone two years later when Bruno Mars attracted 115.5 million viewers. Katy Perry made Mars look like Left Shark amateur hour in 2015 with 118.5 million viewers, while Super Bowl 50's halftime triumvirate of Coldplay, Beyoné, and Bruno Mars dipped back to 115.5 million. Do we think Lady Gaga can get us to 120 million? Well, do we?
The record for most pianos at a halftime show: 88
Assuming that Chris Martin plays the piano at some point on Sunday (pretty fair assumption, right?), he will be the first to play the instrument since Paul McCartney in 2005. Another fair assumption: He won't come anywhere close to breaking the record for most pianos at a halftime show, which goes to Chubby Checker and the Rockettes, who performed alongside 88 grand pianos back in 1988. The theme that year? "Something Grand."
Sign up here for our daily Thrillist email, and get your fix of the best in food/drink/fun.
Ted Simmons is a contributing writer at Thrillist who wishes it were the Giants and Kanye West playing the Super Bowl. Lives on Twitter and Instagram @tenchanters.