Here Are All the Super Bowl Movie Trailers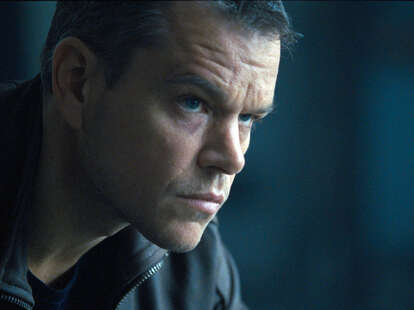 Universal
Universal
In addition to attractive ads featuring celebrities drinking Coca-Cola products and commercials for cars that unexpectedly make you cry, Super Bowl Sunday is a huge day for movie trailers, as studios shell out serious ad bucks to promote their upcoming blockbusters and give sneak peeks at long-awaited sequels. Here's a look at the movie trailers that aired during Super Bowl 50, updated as they come in.
Cap and Iron Man face off against each other in the trailer for the Captain America flick (and 13th entry in the Marvel Comics Universe), premiering May 6th, which we reviewed here.
10 Cloverfield Lane
Fans get a little more information about J.J. Abrams surprise March 11th Cloverfield follow-up (but not too much, obviously) in this spooky Super Bowl spot.
Gods of Egypt
Gerard Butler plays the Egyptian god of darkness and Nicolaj Coster-Waldau (aka Game of Thrones' Jaime Lannister) is his rival Horus in this historical fantasy epic, slated for release February 26th.
Deadpool
Marvel's new flick, starring Ryan Reynolds as the titular sardonic anti-hero, hits theaters this Friday.
The Jungle Book
You'll recognize a lot of famous voices in the trailer for Disney's Jungle Book remake -- out April 15th -- which stars Bill Murray, Idris Elba, Scarlett Johansson, Lupita Nyong'o, Ben Kingsley and Christopher Walken as your favorite anthropomorphic jungle characters.
Eddie The Eagle
We got a brief respite from superhero trailers with this look at Eddie The Eagle, an inspirational sports flick about the first British ski jumper to make the Olympics, out February 26th.
Jason Bourne
In perhaps the most exciting trailer reveal of Super Bowl 50, fans finally got a first look at the much-anticipated fifth Bourne movie (reuniting Matt Damon and his Bourne Supremacy and Bourne Ultimatum director Paul Greengrass). We also learned its simple but effective title: Jason Bourne. The adventure continues July 29th!
Independence Day: Resurgence
The twenty-years-in-the-making Independence Day sequel, starring Jeff Golblum and Bill Pullman and franchise newcomers Liam Hemsworth and Jessie Usher, is hitting theaters on June 24th. Prepare for explosions!
Teenage Mutant Ninja Turtles: Out of the Shadows
Raphael, Michelangelo, Leonardo, Donatello and fifth Ninja Turtle Megan Fox are back for more reptilian action on June 3rd.
X-Men: Apocalypse
We also got a closer look at the much-anticipated X-Men: Apocalypse, out May 27th, featuring a cover of Coldplay's "Don't Panic" (just in case you didn't get your fill at the half-time show).
Batman v Superman: Dawn of Justice
Is it a commercial for Turkish Airlines or a covert, in-world tease for the upcoming superhero showdown (opening March 25th)? Both, really.
Alice Through the Looking Glass
Disney's Alice in Wonderland sequel, starring Mia Wasikowska, Johnny Depp, Helena Bonham Carter and Anne Hathaway, comes out on May 27th.
The Secret Lives Of Pets
What do your pets do when you're not around? Toilet bowl-chugging contests, butt-sniffing circles, and rowdy dance parties, according to the new animated comedy opening July 8th. We knew they were up to something!
Sign up here for our daily Thrillist email, and get your fix of the best in food/drink/fun.
Anna Silman is a staff writer at Thrillist and an alum of Salon and Vulture. She always cries during trailers. Find her on Twitter: @annaesilman.