Super Bowl Predictions from the Big Easy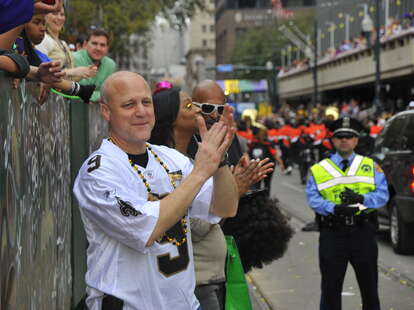 Nobody knows Super Bowls like New Orleans: XLVII is its tenth, tying it with Miami, and, more importantly, further distancing it from Jacksonville. Thrillist asked a motley krewe of proud New Orleanians their predictions for Sunday's game, starting with the man in the picture above, Mayor Mitch Landrieu. Actually, starting with Director of Communications Ryan F. Berni, who said "We welcome both teams to the city, but the Mayor has picked the San Francisco 49rs." Diplomatic, yet decisive. Nice.
Here's the rest of, well, everybody. The ordering does not reflect civic importance; rather, positioning was decided by the most democratic of factors: when we received the photos.
Chris Lee, Supagroup, married to Sean Yseult: 1. Commissioner Goodell will get food poisoning after his first meal in New Orleans. 2. From then on he will have his food shipped from New York City. 3. Goodell is pelted with rocks, garbage, and curses anytime he leaves his hotel, eventually having to hole up there in fear for most of the two weeks. 4. Goodell gets ill again from NY kitchen Whodats spicing up his food with their "DNA". 5. The Ravens, after falling behind early, knock SF QB Kaepernick out of the game with a shoulder injury. Alex Smith then throws three INT's, two for Ravens TDs, and the Ravens win 35-28. 6. An emaciated Roger Goodell hands the trophy to Ray Lewis, faints, falls off the platform, and vows to get even with the Saints...again! 7. Whodats everywhere rejoice.
Sean Yseult, White Zombie, Star & Dagger, married to Chris Lee:I believe the Ravens will win, because I love Edgar Allen Poe and so would our fair city. I'm sure he drank here at some point in his life. New Orleans has its own mojo, and I'm sure it will embrace and lend power to any team from his hometown with the balls to name themselves after one of his stories. Football and dark literature; that's a winning combo for me!
Chris Schultz, Voodoo Ventures & Flatstack, and Lionel Milton, Artist, co-creators of Mardi Brah:
Chris:I think most people in New Orleans are going to be rooting for Baltimore because SF took care of the Saints two years ago. But even with the Ray Lewis emotion, the 49ers have the talent and I can get behind them because they ain't the Falcons.
Lionel:San Fran! Colin Kaepernick's first playoff games were played like I thought a healthy RG3 would play! It was like watching Madden in real life! He's like the Eminem of New School QB's!
Ross Hinkle, Liveset:24-21 San Fran. As saints fan, I hate the Niners, but I'm rooting for them because of the growing connection between Silicon Valley and the NOLA start-up scene -- San FraNOLA is one example. And I have SF friends who are die-hard fans.
Connie Uddo, Director, Hike for KaTREEna; Director, St. Paul's Homecoming Center: The Baltimore Ravens will win, because of the way they dominated New England in the 2nd half, compared to San Francisco just skimming by Atlanta. Ray Lewis will be center stage. Beyonce will be totally fun and great and get everybody going. The fact that it is in New Orleans will guarantee everybody a hell of a good time no matter what the game brings. Le Bon Temps Roule!!
Ruthie Frierson, Founder, Citizens for 1 Greater New Orleans; Attendee, Super Bowl II (Lombardi's last game):The game is a toss up! It's a WIN for our city!!
Trey Lanaux, fifth generation owner + manager of Langenstein's:Baltimore. I'd like Ray Lewis to win in his last season. I also predict Roger Goodell will need more security than the president.Photo Credit: Sara Essex Bradley Photography
Elon Hornsby, Musician: The Ravens. I really didn't want the Falcons to play in our dome, so the 49ers were the lesser evil, but that doesn't mean they should win in our dome either. And: It is going to be an awesome halftime, thanks to the presence of Beyonce. Photo Credit: Imagine It Photography
Tom Drummond, Better Than Ezra, Krewe of Rocckus: Doesn't really matter as long as the Atlanta Dirty Birds didn't make it to the big game, but I think San Francisco is hot right now and will pull it out. They're on a roll but you never know. It will definitely be interesting with Harbaugh vs Harbaugh. I think if there was ever going to be a brother vs brother hyped Super Bowl that everybody would have assumed it would have been Eli vs Peyton. Too bad the NFL can't have every Superbowl in NOLA. It's the best city for it. Everything you want to do is in walking distance and easy to get to.Photo Credit: Rick Olivier
Jason Nicosia, Co-founder, Connect for a Cause:I'm predicting a San Francisco for the win because New Orleans has got love for our West Coast pals. I also predict that Roger Goodell gets verbally assaulted.
Lindsey Hamlin, Executive Director, Louisiana Technology Council: 49ers, 31-17. They have a more youthful, complete team, and the TecmoBowlers agree.
Chris Trew, Comedian:Baltimore: 49 San Francisco: Nevermore. Since this NFL season is completely ridiculous, the only logical ending for it is a completely ridiculous final score. Take it to the bank! On a Sunday! Banks are closed on Sundays but that's the only logical day to take what I am saying to the bank. Also, Beyonce will have a wardrobe malfunction, except her entire torso will fly off revealing metal insides. Jay-Z will be pretty upset.
Zach Kupperman, Co-founder, Gentology.com:49ers 27, Ravens 21. Jim has beaten John in everything his entire life. Also, New Orleans will break the record for most alcohol consumed by a host city.
Ti Martin, Chef, Commander's Palace:The 49ers will win by 10, even though I have a soft spot for Ray Lewis. I also predict that during the halftime show, President Obama will join Beyonce on stage and they'll do "The Bump," a dance in case you are too young to know, while New Orleans' beloved Mayor Mitch Landrieu serenades the crowd with "When the Saints Go Marching In".
Robert LeBlanc, Founder, LeBlanc and Co.:My prediction: Baltimore Ravens. Ed Reed is coming home to play in the Super Bowl [Reed's from nearby St. Rose] and I just think it will be hard to beat him and the Ravens on his home ground. I think between that and it's being Ray Lewis' last game, they will be a team possessed. I also predict that Barry Kern, who builds most of the Mardi Gras floats featured in our parades, will build a float for the winning team so that they and their fans will decide to stay for an extra week to celebrate that victory throughout Mardi Gras.
Laura Cayouette, Actress, Treme & Django Unchained, Author, Know Small Parts:I predict (hope) the Ravens will take it. I'm a down to my black-and-gold toes Saints fan but I grew up a Redskins fan in Maryland and I feel the guilt of that. Somehow rooting for the Ravens doesn't feel like cheating on the Saints. Besides, they named their team after a Poe poem. Any writer/football fan can appreciate that. I also predict even more people will fall in forever-love with our city, its culture and its people.
John Michael Rouchell, Songwriter: I have to pick the Ravens in the upcoming Harbaugh Bowl. I think the margin that separates one professional athlete from another is so small. Ray Lewis's inspiration and motivation will be the difference. I also really hope Beyonce plays "Get Me Bodied", a song where she borrows from New Orleans bounce. Probably too much to ask.
Leah Chase, Queen of Creole Cuisine, via her daughter, Stella:She doesn't want to pick a winner. She's staying neutral...until the Saints are playing again!Photo Credit: Southern Foodways Alliance's Pride & Joy, a new film about Southern food culture
Big Freedia, Queen Diva of Bounce Music:I'm not a football girl (just happy Atlanta didn't win), but my prediction is the 49ers will take it. I just think they're a better team this year, plus I'm partial to the Bay Area. They have the Best Big Freedia fans ever!
Travis Laurendine, Volnado:34-27 49ers, because of the SanFranNola Magical Connection. Additional Prediction: Silicon Valley's start-up elite stay celebrating 'til Mardi Gras, then open satellite offices in New Orleans, thanks to Louisiana Tax Credits and general cheapness, plus The Music, Food & Women.
Jeremy Davenport, Musician:I'd like to see Ravens win. The fact that this will be Ray Lewis' last game is so poetic. I'm a cornball for this type of drama!
Ann Tuennerman, Founder, Tales of the Cocktail:Ravens win! I am a proud public school educated girl from NOLA. I went to Abramson High School and Jacoby Jones is a proud Commodore and Abramson Graduate. Commodore Pride! New Orleans loves when company is coming, and we will be gracious to Roger Goodell and show people the best New Orleans has to offer.
John Besh, Chef, Restaurateur:This is going to be a good game! My heart wants the Ravens to win as I'm not completely over our upset last year that kicked us out of the playoffs. The 49ers are far too strong on both sides of the ball, so I'll have to go with them by a field goal. That being said, the Ravens are playing with an attitude that I haven't seen since the Saints run in 2009!
Rene Louapre, Co-founder, Hogs for the Cause:The Ravens will win by a last-second, NFL-record-setting field goal because this NFL season has had so much drama any other finish would be unbelievable. As far as the highlight, as a Saints fan, I hope it's when the NFL reveals that the winner of the game has to turn around and play the Saints the next day. In reality, it will probably be the field goal.
Alex Rawls, Publisher, MySpiltMilk.com:It's probably poor sportsmanship to root for an injury, but since the 49'ers knocked the Saints out of the playoffs last year with a helmet-to-helmet shot on Pierre Thomas that obviously left him unconscious and caused a fumble, I'm looking for Ray Lewis to go mountain goat with Frank Gore and knock him woozy. If the Niners can still win after that, they deserve at least my respect if not a Super Bowl. My pick: Baltimore Ravens.
Emeril Lagasse, Chef, Bam! Proponent:It's been great seeing the 49ers and Ravens fans starting to roll into our city. I think the real winners of the Big Game are the fans who are visiting New Orleans for the first time. For a party like the Super Bowl, it doesn't get better than this -- especially with our world-renowned food.Photo Credit: Anders Krusberg
Ryan Evans, Employment Unknown:24-20 Ravens, because Maryland blue crabs are from Louisiana…power food, bro. Also, Roger Goodell will be the first NFL Commissioner to not show up for a Super Bowl. You know why.