All the Details on Apple & Nintendo's Surprise 'Mario' Game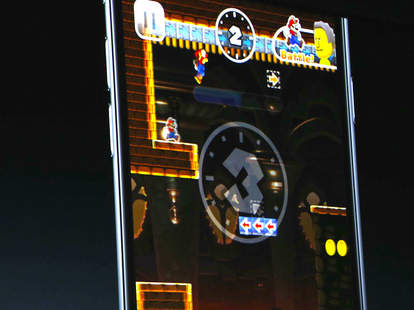 Apple's 2016 keynote presentation sent devotees into a tizzy after announcing an iPhone 7sans headphone jack. Thankfully, legendary video game designer Shigeru Miyamoto, a.k.a. "the father of Mario," was there to calm their nerves. Miyamoto appeared on the Apple stage to shock the audience with a brand-new, iOS-exclusive side-scroller.
"We want as many people as possible to enjoy playing as Mario," he told the keynote crowd via a translator. "They'll be doing it first on iOS in a new game called Super Mario Run."
Super Mario Run will be Mario's first appearance on mobile platforms and, as Miyamoto stressed, the first game starring the character that can be played with one hand. As he put it, whether players are on the subway or eating a sandwich, they'll be able to breeze through the latest races designed for this NES redux.
While the mechanics and design emulate New Super Mario Bros. for the Nintendo DS, Miyamoto and his team have streamlined the controls to fit the iPhone's interface. In early levels, Mario will automatically run to the right of the screen, with players controlling his jumps with varying screen taps. The keynote demo showed later levels where players could control Mario's direction and even wall-jump to higher ground.
Super Mario Run's standout feature is the "Toad Rally" mode, which will allow players to challenge their friends (or strangers, if you want to be that guy) in a head-to-head mode. Racing ghost of speed-runs past, players race to collect coins and "impress Toads" with fancy maneuvers, racking up points to beat -- and, c'mon, shame -- Super Mario Run players around the world.
As of the keynote, there is no release date or price tag for Super Mario Run, though Miyamoto ensured the audience it would arrive to the Apple Store in time for the holidays. Apologies to all families who thought they were getting their loved one's attentions back this December.
Sign up here for our daily Thrillist email, and get your fix of the best in food/drink/fun.