How to Beat Your Friends at 'Super Mario Run'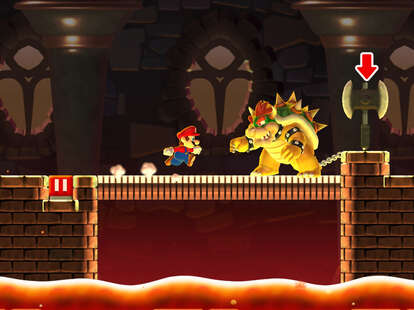 Super Mario Run will feel familiar to anyone who lost days to the original 1985 side-scroller, any of the Game Boy imitations over the last decade and a half, or anyone who nabbed an NES Classic Bundle before the holiday rush. The new iPhone game, overseen by franchise mastermind Shigeru Miyamoto, updates the easy-going action for the Temple Run generation.
Instead of controlling Mario's speed and ascension around the Mushroom Kingdom, Super Mario Run players simply tap the screen with varying degrees of pressure to control the timing of his jumps. Jump to collect coins, jump to kill enemies, jump to avoid obstacles, jump to grab the flagpole in a painful display of victory: The game is Mario through and through.
Sound simple? Too simple? As Bowser would say, "BWA HA HA HA HA HA." Here's how Super Mario Run rises above mind-numbing mobile entertainment along with a few tips on how to best the early challenges.
Surviving your first round
Once you navigate through required login screens and a basic tutorial, Super Mario Run drops you into a iPhone-scaled Mushroom Kingdom decimated by the villainous Bowser, whose oppression of the Toadstools and grabbing of Princess Peach are all too recognizable in the final days of 2016. (Sad!) The game directs you towards "Tour" mode," the traditional Mario-style run-and-jump, and you'll want to stick around there even as arrows point out all the other options at your disposal. The last thing you want to do is dart over to challenge mode with half-assed Super Mario Run skills.
The single-hand tap-tap-tap play is easy to learn and difficult to master. A short tap makes Mario hop. A sustained tap causes Mario to jump a few stories in the air. Tap a second time when he's afloat and his jump will get a few more seconds of air time -- crucial to certain long-distance jumps. If Mario jumps into a wall, players can tap again for a parkour back-and-forth, allowing the hero to scale vertical pathways.
Features Mario fans won't recognize
The surroundings, and how players can use them to their advantage, are a different story. Mario fans will recognize the lush backdrops, pipe dreams, and question-mark boxes scattered around the game's 24 levels (Nintendo gives you three for free and the rest for $9.99). New additions include pause boxes (red cubes labeled with ❚❚), which freeze Mario and give players a chance to recalibrate their directional strategy; zip boxes, which propel Mario further than before; and reverse boxes, which can send Mario flying backwards with a single tap -- key to picking up every last coin, a must-do, given the locked portions of the game.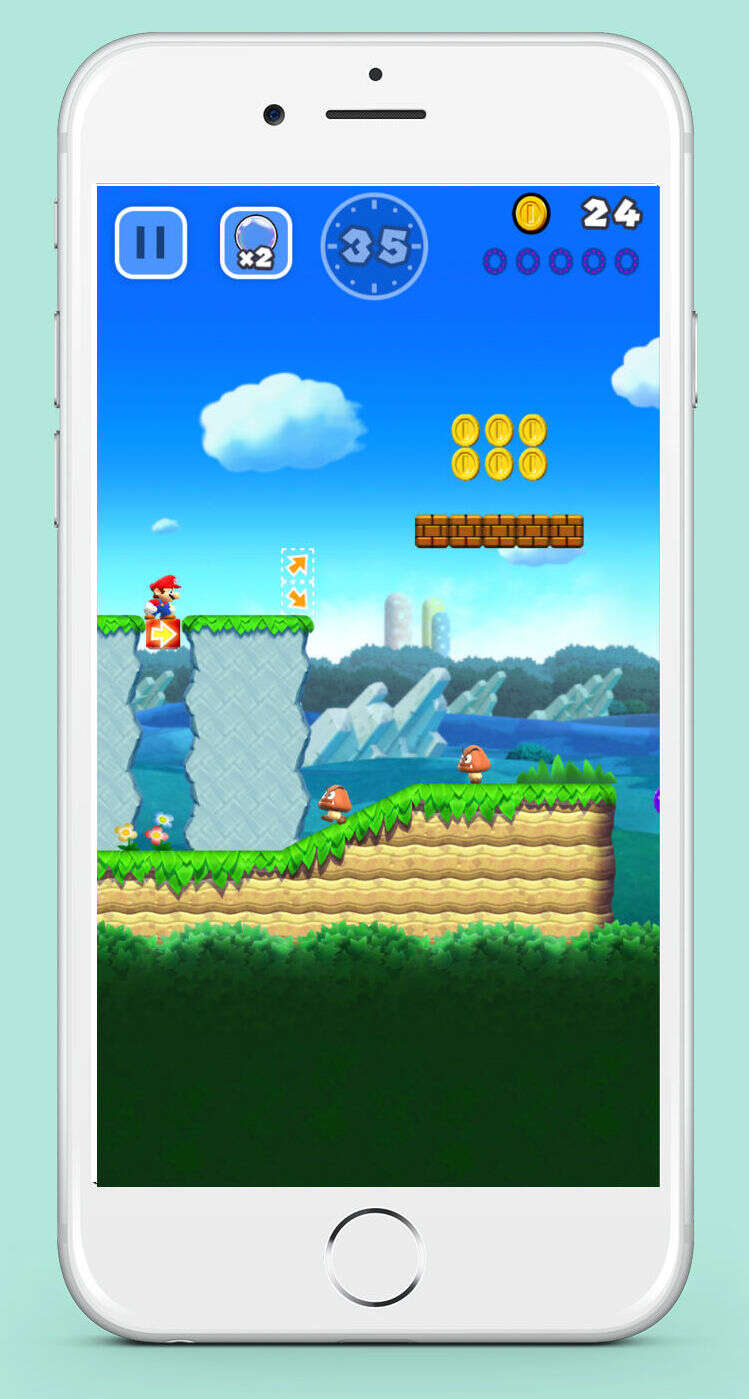 Challenge your friends
Super Mario Run's second major mode is "Rally," a challenge mode where players can take on their friends or people around the world. This is where the game's dirty secret comes in: Uou need a signal (Wi-Fi or cell) to play Super Mario Run. Miyamoto says the decision to make the game commuter-unfriendly was to combat piracy. Bummer for the airplane-bound.
There are two objectives to Rally mode: gather coins (duh) and gather Toads. As the story goes, Bowser has run all the Mushroom Kingdom underlings out of town. It's up to Mario to convince the little dudes to come back by impressing them with his moves. On a Rally map, players need to gather more coins from their opponents and perform high-flying tricks to attract more Toads.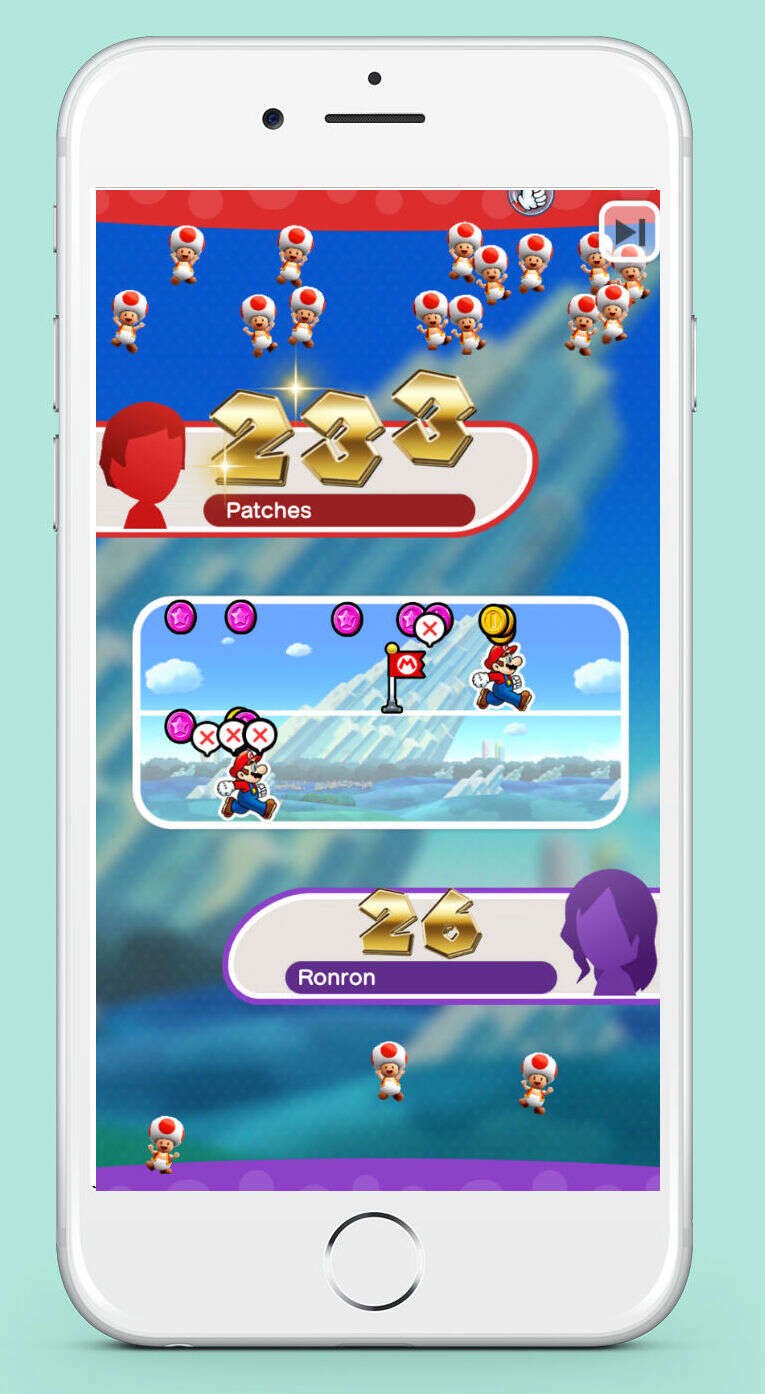 The winner goes home with both bundles. This is one part of the game where looking back is a bad idea: the more coins you pile up during a run, the better the chances of accumulating a "Coin Grab" bonus, where the gold comes raining down. Your opponent will be hot on your tail trying to pull off the same tricks.
Rally games require rally tickets, which players can pick up by either completing the colored coin challenges within Tour mode, buying them as part of in-game purchases, or completing bonus games in Mushroom Kingdom. Speaking of which...
Building out the 'hood
The third element of Super Mario Run is about fueling the Mushroom economy with your hard-earned coin. All the gold Mario steals in "Tour" mode, and the Toads he recruits in "Rally" mode, can be used to build houses and in-world stores on the home map. Right off the bat, players have the chance to build a "Bonus Game House," which rotates prize-filled challenges in and out every eight hours. Other construction projects include the Rainbow Bridges, which opens up the map for more builds down the road.
Discover more secrets within Super Mario Run? Leave them below, and we'll keep hunting as we finally swap Pokémon Go out for something... with an objective.
Sign up here for our daily Thrillist email, and get your fix of the best in food/drink/fun.
Matt Patches is a senior editor at Thrillist. He previously wrote for Grantland, Esquire.com, and Vulture. Find him on Twitter @misterpatches.