Evan Lockhart/Thrillist
Evan Lockhart/Thrillist
The Accidental, Slightly Controversial, but Mostly Fun History of the Super Soaker
For nearly a century, water guns were, more than anything, ineffective: as prone to dribbling the water pathetically down your wrist as spraying your target, even though they were no more than a few feet away. Then came Lonnie Johnson's Super Soaker. Even in its earliest iteration, it was unlike anything the world had ever seen. Powerful, simple to use, effective, but most importantly -- fun.
"When it first came out, the performance was so mind-blowing," says Tim Walsh, a game inventor and toy historian. In the toy industry, the original squirt guns were so insignificant and ubiquitous that sales weren't really tracked, he writes in Timeless Toys. But Super Soakers weren't just the next new toy to play with; they launched a whole new category that changed the entire industry. G.I. Joe and Barbie had similar impacts: they opened up whole new markets for action figures and more broadly conceived dolls by defying the notion that boys didn't play with "dolls" and girls only wanted to coo over glass-eyed babies. "That's what the Super Soaker did," Walsh says.
It didn't take long for the Super Soaker to become the water gun of choice (or wow Michael Jackson), a role it's held for the past 27 years. Quite a feat for a toy that happened entirely by accident.

Lonnie Johnson's been tinkering his whole life.
Born in 1949 in segregated Mobile, Alabama, he dreamed of becoming a famous inventor, even earning himself the childhood nickname "the professor." He built his own go-kart engine from junkyard scrap and often cooked rocket fuel in one of his mom's saucepans. By his senior year of high school in 1968, Johnson had developed a three-and-half-foot-tall remote-controlled robot he named Linex.
He graduated with degrees in mechanical and nuclear engineering from Tuskegee University, joined the Air Force as the acting chief of the Space Nuclear Power Safety Section at the Air Force Weapons Laboratory, then moved to NASA's Jet Propulsion lab in 1979 where he was working as a systems engineer for the Galileo mission to Jupiter. It was then, in 1982, already having several patents to his name, that he had his Eureka moment.
One of his pet projects was an environmentally friendly heat pump that used water instead of Freon. One day, tinkering as he often did, Johnson hooked up a nozzle to the bathroom faucet. When he turned on the water, it sprayed clear across the room. "The stream of water was so powerful that it set up air currents in the bathroom," he told CNBC. "I thought to myself, 'This would make a neat water gun.'" It doesn't take a rocket scientist to build a toy, but it certainly doesn't hurt, either.
Johnson rejoined the Air Force in the following months to work on the B-2 Bomber, better known as the Stealth Bomber, and developed the toy alone in his spare time using PVC pipes and plexiglass. There he was: working on one of the most advanced military weapons of all time by day, and playing with a water gun by night. Lonnie's 6-year-old daughter, Aneka, was one of the first to test it out. "To be the only kid on the block to have a water gun that was bigger than a water pistol was awesome -- no one could touch me," she says. "Everyone ran from me."
It took nearly a decade to get the Super Soaker in stores. Despite interest, Lonnie's home-brewed invention went through a series of false starts with different companies. But traction finally came in 1989 when Johnson landed a meeting in Philadelphia with Larami, a company known for knocking off popular toys. In his presentation, Johnson shot a stream of water across the room and knocked water cups off the table, eliciting a "wow" from Larami's president, Myung Song. "That was all it took," Johnson says. "He was impressed."
The toy hit stores as the "Power Drencher" in 1990. It sold well, despite a lack of advertising. But it soon ran into another snag: Another toy inventor was selling a type of water gun that included "drencher" on the toy's packaging, Song told Johnson over the phone. During that call, to avoid having to pay royalties, the two landed on a new name: the Super Soaker.

On a functional level, Super Soakers are fairly simple: pumping the gun pressurizes air in the water-filled reservoir. Squeeze the trigger and the valve opens, and that compressed air, desperate for a place to go, escapes and sends water screaming down the barrel and through the nozzle. The first model, the Super Soaker 50, claimed to shoot up to 50 feet. "They live up to their name -- they're soakers," says Deborah Ryan, a professor of toy design at Otis College of Art and Design and a former toy designer herself (she worked on the infamous rollerblade Barbie, aka "fire-starter Barbie").
While certainly strong, Super Soakers create a sense of power in a way that's divorced from actual power. They allow kids to channel playing battle, something that has always been part of kids' play, in a way that's, generally speaking, safe. You can pump the gun hard enough to wear out your arm, spray the living hell out of someone, and all is still well. The inverse is just as true: When someone returns that favor, it's not that bad!
This social interaction is essential. "Super Soakers require engaging with someone else," says Christopher Bensch, vice president and chief curator at the Strong National Museum of Play in Rochester, New York, which oversees the National Toy Hall of Fame. (In 2015, the Super Soaker was inducted into the Hall of Fame alongside Twister and the puppet.)
The sort of active, outdoor, unscheduled play that Super Soakers foster is increasingly rare these days, Bensch says. There are no more sandlot pick-up games of baseball -- they're all hyper-organized instead. "Super Soakers encourage that kind of dynamic with kids putting together a water battle," Bencsh says. "It's that kind of social transaction that is a meaningful kind of growth for kids: It allows them to create the rules of engagement, be a good opponent to the degree your friends want to keep playing with you, and all those kinds of transactions that make open-ended social play a valuable part of the growing up experience."
Super Soakers are also portable, sustainable, and easy to use. In that latter way, they're the ultimate equalizer. Someone might have a slightly bigger gun, but another kid might be faster. Ultimately, everyone's roughly the same skill level.
Perhaps the smartest thing Super Soakers did? "It's my opinion, but it was for adults," says Walsh. "When it came out, it appealed immediately to adults. When I think of crazes in the toy industry, like the hula hoop or Beanie Babies, it's the adults that ruin it. They're buying it for themselves as well as the kids."
Count Whitney Houston among that group. In the early 1990s, Song got a call from Houston's camp saying that she loves playing with Super Soakers while she's on tour and they needed more guns than they could find in stores. Song told the late singer that they were manufactured in Hong Kong, and there wasn't anything he could do.
"As he was explaining this to me, I said, 'You told Whitney Houston no?'" Johnson said to Song after hearing about their exchange. Righting the error, Song had a bunch of guns shipped in, and Johnson eventually met Houston in Philadelphia to personally deliver the Super Soakers backstage at one of Houston's concerts.

As beloved as they were by all ages, Super Soakers weren't without controversy.
In Boston in 1992, a water gun fight escalated, resulting in a real shooting that killed 15-year-old Christopher Miles. A similar case left two wounded in New York. Super Soakers filled with bleach were used in drive-by shootings in both Boston and Los Angeles.
It was a difficult era. From the late 1980s to 1993, gun violence was the highest it had ever been in the country. In 1993, there were 18,253 gun-related homicides alongside 1.5 million nonfatal firearm crimes. (Homicides have been nearly halved today, while nonfatal firearm crimes have decreased by nearly 75%.)
Super Soakers became a target. Boston's Mayor Raymond L. Flynn asked the city's retailers to stop selling the product. Parents and psychologists banded together, calling to remove the gun from stores because they encouraged violent play.
"Larami is surprised by the fact that so much attention is being placed on our water toy instead of the gun that was used to kill Christopher," a spokesperson said at the time.
For their part, Super Soakers from the very beginning attempted to intentionally distance themselves from such associations. Where previous toy guns were intentionally designed to mimic their real-life counterparts, the word "gun" is purposefully absent from the Super Soaker's title and packaging. They're painted neon colors -- an early effort to explicitly not look like a gun. That was, in part, a response to fatal police shootings in the '80s where officers had mistaken toy guns for real ones.
Stances on either side ultimately didn't have an effect: Super Soakers continued to sell out in stores across the country.

America's favorite toy was released during not only the country's most violent time, but also one of its most prosperous. While the 1990s began in recession, 1992 kicked off the country's longest streak of continuous GDP growth ever. Suddenly a $10-14 Super Soaker, though nearly 10 times the price of a squirt gun, didn't seem so daunting.
Backed by a big TV advertising push in 1991, 20 million Super Soakers were sold that year. Performance is what set Super Soakers apart, and ads captured just that, focusing on their ability, not just the feeling of using one.
"A lot of times in the toy world, you see kids having such a great time that they look they're about to faint from excitement," Walsh says. But with the Super Soaker, you believed it. Plus, the commercials weren't promising an experience that the toy didn't deliver. "It felt very good to have it in your hands and have the water go that far -- you can feel the kick back when the water shot out."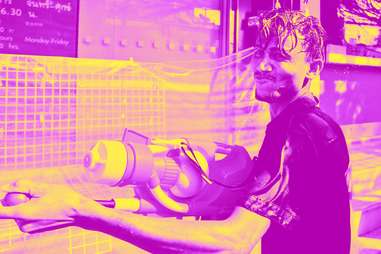 By 1998, Super Soakers were the top-selling summer toy in the world, with sales over $200 million. They've since grossed over a billion dollars, and dominated pop culture, from sports locker rooms post-wins, Leonardo DiCaprio having arguably the best summer of all time, on stage at music festivals, or, say, a certain SNL skit depicting a certain press secretary.
Or, take it from Chris Reid, a Boeing engineer and perhaps the foremost collector of Super Soakers in the world, with some 450-475 individual Super Soakers, 350 or so that are unique. (Forgive Reid for losing count. He had kept a dedicated spreadsheet for years, but within the last year he's gotten married, had a kid, and moved into a new house. While slightly less organized, he hasn't stopped collecting.)
"They're universally recognized as this symbol of fun times, childhood, joyful afternoons in the backyard," he says. "They take you back to some good ol' days."

Like any toy in a society that thrives on capitalism, Super Soaker continues to release new lines and models. But at its core, the newer iterations don't seek to reinvent the wheel, instead making aesthetic changes to keep up with the times or mere tweaks. After all, there are natural safety limits to water pressure and speed.
The 1996 Super Soaker CPS 2000 Mark 1 highlighted just that. New technology, a constant pressure system, resulted in a separate, rubber-lined compression chamber that allowed water to constantly stay pressurized when shooting. It was so powerful that the gun recoiled and was said to cause physical harm, albeit along the line of skin irritation and bruises. While later toned down, the original model is among the most coveted for Super Soaker collectors.
To be sure, though, there have been other upgrades, from spec aspects, like the amount of liquid Super Soakers could hold or distance they could spray, to matters of presentation, such as glow-in-the-dark models or, say, this year's HoverFlood, essentially a helicopter that acts like a flying sprinkler.
For his part, Lonnie Johnson's moved on from Super Soakers but is still focused on inventing, holding over 100 patents now. His latest initiatives aim grand: Where Super Soaker's impact was global, Johnson hopes his newest efforts' effects are generational, planet-saving even.
"The impacts of global warming will be so enormous that we just can't afford to take the risk of moving forward without doing something to try to improve the potential future that we're facing," Johnson says. "If the crisis is upon us, it'll be too late to do anything."
He has two major projects in the works. The Johnson Thermo-Electrochemical Converter is a new type of engine that converts heat into electricity with twice the efficiency of current mechanical engines, he says. It was named one of Popular Mechanics' top 10 innovations of 2008 and NASA recently approached Johnson to do a detailed review of the technology. His other project is an all-ceramic battery that uses glass as an electrolyte instead of liquid, which Johnson says can hold two-to-three times the energy of a lithium ion battery.
Resources remain a major challenge. Johnson's sunk much of his own funds into the projects, including money from a $73 million settlement from Hasbro over a royalty dispute in 2013. (Hasbro bought Larami in 1995, largely because of the success of Super Soakers.)
Even though the work requires chasing a lot of rabbits down holes where success isn't at the bottom, he's determined to find a solution. "I have kids; I'd like them to grow up in a world better than the world I was born into," he says. Thinking back to Aneka's childhood reign of the block, it's safe to say he's already done it.
Sign up here for our daily Thrillist email and subscribe here for our YouTube channel to get your fix of the best in food/drink/fun.
Matt Schur is a writer and editor living in Chicago. Follow him at @martyontheblock.