Thom Yorke's 'Suspiria' Soundtrack Is Haunting Even If You Haven't Seen the Movie
Tilda Swinton in Suspiria

| Alessio Bolzoni/Amazon Studios
Tilda Swinton in Suspiria

| Alessio Bolzoni/Amazon Studios
Last Friday, Luca Guadagnino's eagerly anticipated horror movie Suspiria, a remake of Dario Argento's blood-drenched 1977 Italian classic, debuted in only two theaters. Though it raked in an impressive $89,903 per screen average, that's still... not many theaters. If you read reviews, watched the trailer, and stared at the GIFs of Tilda Swinton on an infinite loop for the past months but have the misfortune of living outside of New York or Los Angeles, you couldn't fall under the film's spell. This upcoming weekend, the movie will expand into wider release, but we have a suggestion for anyone hoping to add a slow-drip of terror to their workday: Listen to the soundtrack before you see the movie.
Currently available to purchase or stream on platforms like Spotify and Apple Music, the Suspiria soundtrack, which was composed by Radiohead frontman Thom Yorke, is 25 tracks long and totals around 80 minutes of music. Unlike this fall's chart-topping soundtrack hit A Star Is Born, this one won't make you burst into song at your desk. It won't get your head nodding like the Black Panther soundtrack from the spring either. No, the Suspiria soundtrack chases a mood that's far more slippery -- and diabolical -- than any high-profile film score this year.
Even for fans of Yorke's adventurous solo work -- like 2006's electronically nimble The Eraser and 2014's sketchbook-like Tomorrow's Modern Boxes -- the Suspiria soundtrack is an eclectic, intimidating work. It finds Yorke and his collaborators, which include producer Sam Petts-Davies, orchestral conductor Hugh Brunt, and Yorke's 17 year-old son playing drums on two tracks, experimenting with haunting sonic textures. Is it creepy? Yes, but we've got all the information you'll need to calm your nerves before listening below.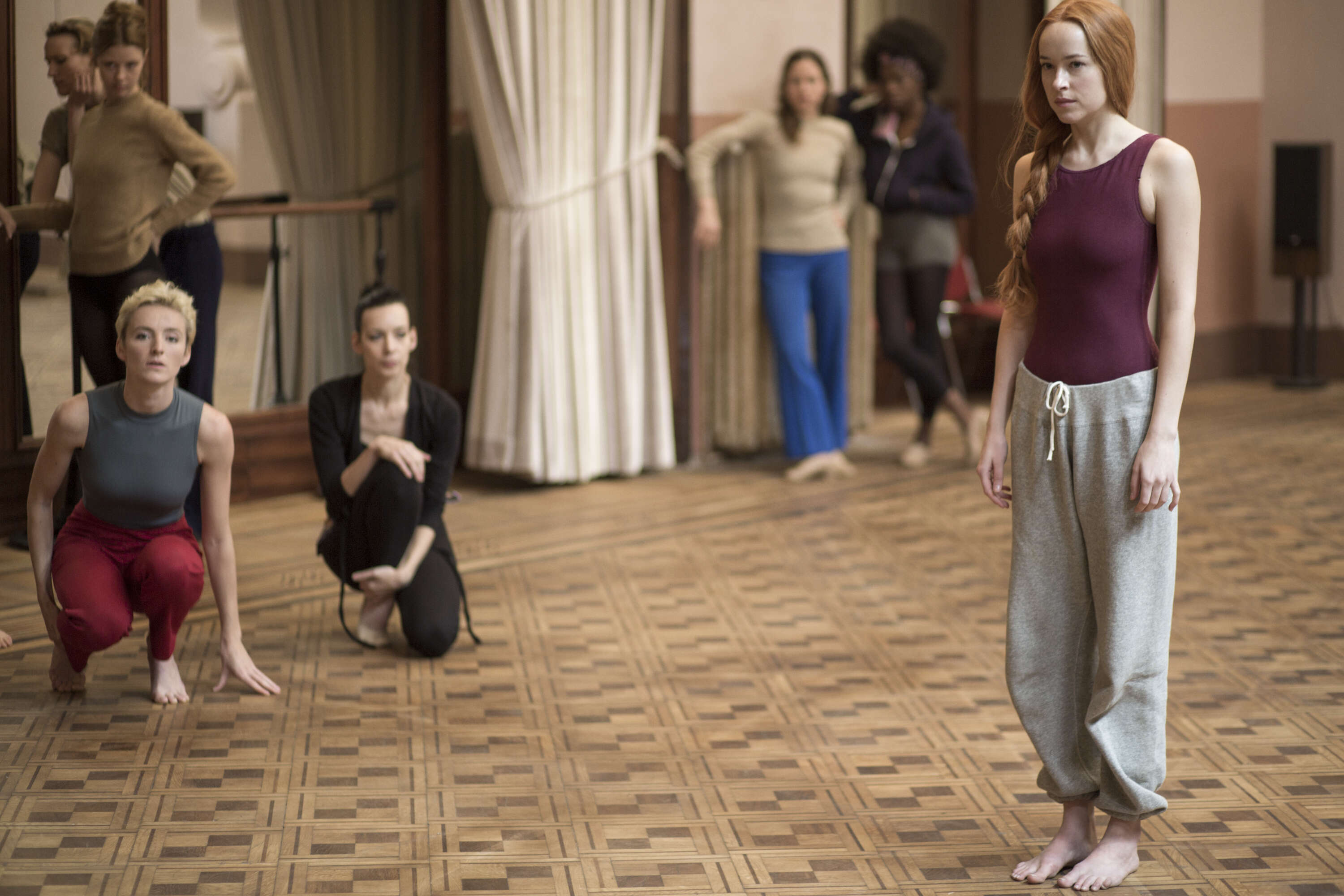 How did Thom Yorke get involved with Suspiria?
Thom Yorke had never recorded the soundtrack for a film until this one. While Radiohead's music has popped up in movies before -- OK Computer's "Exit Music (For a Film)" was famously recorded for Baz Luhrmann's Romeo + Juliet in 1996 -- and the group's guitarist Jonny Greenwood has been celebrated for his film score work for Paul Thomas Anderson, Yorke has been more reluctant to commit himself to a larger film project. He told the BBC that he was offered the chance to score David Fincher's Fight Club, but was simply too exhausted from recording OK Computer to commit. "They sent me the script and Ed and Brad Pitt wrote to me and said, 'We really think you should do this,'" he recalled in the interview. "I went 'Nah, I can't.' I couldn't. I wouldn't have been able to do it then, but every time I see the film I go 'Oh…'"
Enter Luca Guadagnino. The Italian director behind last year's Best Picture-nominated romance Call Me By Your Name and 2016's stylish drama A Bigger Splash clearly knew music would be essential to the film's story, which follows young American dancer Susie Bannion (Dakota Johnson) in 1977 as she enrolls at West Berlin's Tanz Dance Academy run by Madame Blanc, a mercurial figure played by Guadagnino's frequent collaborator Tilda Swinton. (That's only one of Swinton's multiple roles in the film.) In a statement following the announcement of Yorke's involvement last fall, Guadagnino described the situation as "a dream come true."
What does Thom Yorke's Suspiria soundtrack sound like?
Let's be clear: There are sections of the Suspiria soundtrack that sound like they could be from a more traditional Thom Yorke solo record or a recent Radiohead album. The beautiful piano-driven single, "Suspirium," is filled with Yorke's oft-imitated falsetto wails, and many tracks feature the type of potentially unnerving string arrangements you might remember from Radiohead's 2016 record A Moon Shaped Pool and the pitter-patter electronic beats Yorke has explored on his solo releases for over a decade now. He hasn't completely abandoned his lyrical obsessions, particularly the feelings of alienation and paranoia. This is still a Thom Yorke record -- it's melancholy and mischievous in equal measures.
What's new is the scope and sense of play Yorke brings to the material. In interviews, he's mentioned taking inspiration from the film's time period and European setting; there are touches of krautrock and musique concrète to be found in the 80 minutes of music. While some tracks, like the achingly pretty "Unmade," have the shape and rigor of Radiohead songs; others, like the wisp-like "Klemperer Walks" or the pulsating electro-squiggle "A Light Green," feel like snapshots or half-ideas. Occasionally, sound effects from the movie pop up in the mix, like on the gruesome "The Hooks." It's not exactly calming.
Then there are the songs that truly have a menace to them. Yorke's ability to get under your skin is most apparent in some of the lengthier tracks on the record, like the piercing centerpiece "Volk," which uses Can-like drumming to upend a terrifying exercise in synth terror. It's the type of song you won't want to go jogging to because you'll become convinced you're being followed -- possibly by a hook-wielding coven. Similarly, the nearly 14-minute "A Choir of One" turns long, drawn-out vocal drones into a sinister mood piece.
How different is Thom Yorke's Suspiria soundtrack from the original score?
Very -- perhaps by design. When Yorke signed on to make the music for Guadagnino's remake of the cult favorite, the pressure was on. The score for the original Suspiria was written and performed by the Italian prog-rock band Goblin, who had previously worked with Argento on his film Deep Red, and it's become one of the most celebrated horror scores of all time, often sitting near the top of horror movie music lists. Members of the group still tour and play the score during screenings of the film, spreading the gospel of their 1970s work to legions of horror fans.
Yorke was a fan of the original soundtrack and knew he had big shoes to fill. According to an interview with Billboard, Yorke was initially "intimidated about the fact that it doesn't matter what I do, that people are probably are going to react badly to it because it's not the original," but he got less "hung up on that" as he worked on the music and it became its own unique project.
Though Yorke uses many of the same tools as Goblin -- both love a spooky synth and indecipherable vocals -- he goes about creating his Suspiria soundtrack in his own way. There's an icy and aloof characteristic to anything Yorke creates; even his most emotionally vulnerable tracks often have a removed quality to them. The sense of hedonistic abandon and wonton excess that you hear in Goblin's score, particularly in the famous main theme and in the track "Witch," is absent from Yorke's more restrained compositions. He can never quite let loose.
Do you need to see the movie to enjoy the Suspiria soundtrack?
I saw Guadagnino's movie before I heard Yorke's soundtrack, but a part of me wishes I had experienced it the other way around. Guadagnino's film, which adds layers of political material to Argento's original story and sucks the movie of its vibrant colors in favor of more muted tones, has proven to be divisive with critics and audiences, and it's likely Yorke's ever-present music will annoy some viewers. At times the specter of his high-pitched voice, so familiar from years of listening to Radiohead, felt like an anachronistic tear in the movie's fabric. Why is this guy crying out in the background? What's he babbling about?
Still, I could appreciate the music in the movie, and I found it even more effective as its own strange, beguiling work of art. Freed from the context of Guadagnino's images and the larger cultural baggage of reworking Argento's original film, Yorke's music takes on its own power and stands on its own twitchy legs. Like the best soundtracks, Yorke's Suspiria invites you to not only remember bits and pieces of the movie you watched, but also to conjure your own evocative tableaus. The screams call out; the storm rumbles on. If you listen to it enough, you might dream up something even scarier than you'd ever find in a film.
Sign up here for our daily Thrillist email and subscribe here for our YouTube channel to get your fix of the best in food/drink/fun.