'Swamp Thing,' One of Last Year's Best and Scariest Shows, Is Now Airing on The CW
The doomed DC Universe show was canceled before it even had a chance.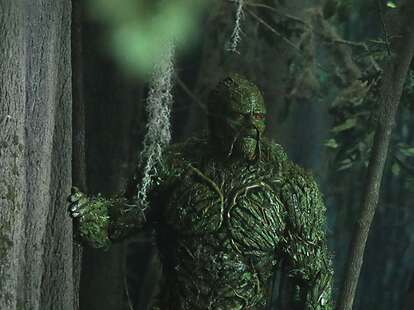 Resurrection is par for the course for many of the world's comic book heroes, but it's not every day that we hear of a TV show getting the same second chance. Swamp Thing, one of DC Universe's first original titles, was the streaming service's buzziest and most expensive project, which, depending on who you ask, seemed to have doomed it from the start. The James Wan-produced show adapted one of DC's darker, creepier heroes, planting him in the dank, muggy bayou of Marais, Louisiana where a plant-borne virus has just taken root amongst the town's citizens. Now that it's making its broadcast debut on The CW starting Tuesday, October 6, it's a perfect watch for those of us still in self-imposed quarantine, and an appropriately creepy show that fits right into the spooky holiday season.
But first, what happened with Swamp Thing, exactly? Before the show was even done filming, its crew were told to pack up the story in ten episodes, instead of the originally planned 13. Shortly after the first episode dropped on DC Universe in May 2019, the streaming service announced it had been canceled, and fans who were thrilled at the prospect of a superhero show that leaned more into the realm of horror were left to mournfully watch the rest of its nine episodes knowing a second season wasn't in the cards.
No one can say exactly what it was that made the company want to get rid of Swamp Thing so abruptly -- one likely explanation is a paycheck misprint, in which a couple of zeroes were accidentally taken off of the show's total cost. Between gory, gooey effects and an entirely practical (and enormous) Swamp Thing suit worn by star Derek Mears, the show no doubt cost a chunk of cash to pull off, and it's likely that a site as new as DC Universe was at that point balked at the prospect of footing such a large bill. What makes it all so unfair is that the show is actually really good.
There's something in the swamp that borders the sleepy bayou town of Marais that causes the plants themselves to rear out of the bog and defend it. When a mysterious pathogen starts spreading through the town, a group of CDC scientists, led by Abby Arcane (Teen Wolf's Crystal Reed), sets up camp in town to study it. She connects, briefly, with Alec Holland (Andy Bean), a disgraced biologist working for power-hungry businessman Avery Sunderland (a thickly drawling Will Patton), also trying to find the source of the disease. Shortly after they meet, Alec is violently murdered, his body lost underneath the waters of the swamp -- but something big, green, and leafy seems to have taken his place.
Swamp Thing, truly, has everything: an Outbreak-style small-town epidemic; a lowly stuntman who makes a deal with the devil to become a movie star; people injecting themselves with neon green goop and graphically growing vines out of their skin; "Oh, it's that guy!" actor Kevin Durand as mad scientist Jason Woodrue (the role he was born to play that isn't Elon Musk); a whirlwind romance between a woman and a knot of greenery that thinks it was once, maybe, a human being. It's also incredibly gross -- like, seriously guh-ross -- with scenes of leafy, goopy body horror in nearly every episode that sets it apart from the other comics-based TV shows, while also making a strong case for practical effects in genre TV. Swamp Thing himself is literally a guy in an enormous green costume rather than a computer-generated effect, which makes him even more real, tangible, and frightening. Even the timely environmentalist angle to the show reads as a biologist's greatest fantasy of a green space that can communicate, feel emotion, and protect itself.
Swamp Thing is an oddity that feels kind of like a miracle -- the kind of show that, granted, tends not to last very long. But, between its sheer quality and the fanbase that swiftly grew following its high profile cancelation, Swamp Thing carved out a niche for itself, and it coming to television this month (albeit with its episodes cut down a few minutes each to fit between commercial breaks) is a green-tinted silver lining to this otherwise dreary season. The CW has made it clear that their airing of the series is merely a broadcast debut, not an official pickup, but our fingers -- and our many vine-y limbs -- are crossed.
Need help finding something to watch? Sign up here for our weekly Streamail newsletter to get streaming recommendations delivered straight to your inbox.
Emma Stefansky is a staff entertainment writer at Thrillist. Follow her on Twitter @stefabsky.