The Definitive Guide to Crushing It at SXSW 2016
Hutton Supancic/Getty Images
Hutton Supancic/Getty Images
When the South by Southwest festival takes over Downtown Austin each year, the already-bustling Texan city transforms into the mecca of Stuff To Do. But SXSW can be a tricky, overwhelming game to play. There are concerts, movies, and live events wrangling talent from every walk of life. There are high-caliber bars, restaurants, and food trucks that are always in high demand. How should a fest-goer maximize his or her fest experience? We have you covered with this category-by-category breakdown that'll help you plan accordingly.
... if you want the best BBQ wait-to-quality ratio
Eating at the acclaimed Franklin requires lining up at 7am and waiting as long as it takes to watch 20 bands (i.e., five hours). Luckily, Micklethwait comes damn close in terms of quality, walking distance from the fray of Downtown, and reasonable wait times. An hour is worth great meat.

... if you're not scared of pizza food comas
Pizza falls into three camps in Austin: NY style (Home Slice, Hoboken), Neapolitan style (Bufalina, Backspace), and the square, Detroit-style pies served by Via 313. There are two trailers (Violet Crown on E 6th, Craft Pride on Rainey), as well as brick-and-mortars in South Austin and near the UT campus. These pizzas will destroy your evening in the very best way. Pro tip: call in your order before arriving.

... if you need food late
The best all-night option Downtown is 24 Diner. It's known for its chicken and waffles (as well as surprisingly gigantic salads), and understandably slammed once the bars close. Other diner options include Magnolia's comfort food, the classic Star Seeds, and the healthier Kerbey Lane, but for less-traditional eats like samosa-slinging donut shops, check out our late-night food guide.

... if you want to patronize Austin's most famous chef
Paul Qui received the key (!) to the city when he won Top Chef, and ever since, reservations at his eponymous fine-dining spot, Qui, are hard to come by. If you're feeling lucky, try snagging a seat at the bar. For a safer bet, head to one of his East Side King food trailers scattered throughout the city.

... if you want to really eat like an Austinite
Breakfast tacos are the best antidote to a hangover. Most coffee shops in town stock a steaming-hot supply of tin-foiled migas. For some of the best, head to Tacodeli. If you're in East Austin, follow this breakfast taco crawl.
... if you need to stay hydrated
There's this thing called Topo Chico. What looks like a normal bottle of sparkling water is actually a heavenly gift from a natural spring in Northern Mexico. Austinites drink it by the case-load. The comically large bubbles give the same mouthfeel as beer, without the energy drain.

... if you're a beer nerd
Austin's craft beer boom has monopolized the taps at most bars. Austin Beerworks' Pearl Snap is the city's signature Pilsner, Live Oak hefeweizen is perhaps the city's most OG craft beer (that comes with an orange), and the new kid on the block is Blue Owl Brewing, which is boldly canning a line of delicious sours. For the full brewery experience, stop by Real Ale, Hops and Grain, and Jester King.

... if you're cheap
Lone Star is the national beer of Texas. In Austin, it flows (and tastes) like water. Only carpetbaggers order PBR.

... if you're looking for a good cocktail
Despite boasting a murderers row of expert don't-call-them-mixologists, fancy cocktails are hard to come by at SXSW, due to corporate buyouts, smaller bar capacity, and long waits for a drink. Newer cocktail spots like The Roosevelt Room and The Townsend should be safe havens, hidden parking garage bars like Small Victory and Garage will likely opt out of live music, and off-the-beaten-path watering holes on North Loop, like drink.well and The Tigress, are well outside the chaos of Downtown.
... if you want to see something potentially mind-melting
Erykah Badu hasn't performed often in the last five years, so any opportunity to catch the queen of neo-soul is a blessing. Fresh off her freewheeling But You Caint Use My Phone mixtape from last year, she'll be headlining the Vans 50th Anniversary show at the Mohawk, along with chillwave favorites Neon Indian, R&B innovator Kelela, and the shambling lo-fi Spanish rock outfit Hinds. Start lining up now. (March 16th)

... if you just want to rock
Sometimes you just want to drink a few beers and listen to jams. Luckily, Thee Oh Sees, who headline the Panache showcase at Hotel Vegas, have plenty of jams -- seriously, like over 10 albums' worth. The San Francisco psych-rock warriors will be joined by equally gnarly Austin heavyweights OBN IIIs. (March 18th)

... if you like Dr. Dre
Many music fans were first introduced to multi-hyphenate Anderson .Paak last year when he outshined bigger names on Dr. Dre's guest-filled Compton. The California-based singer, rapper, and producer sounds even better on his own. His latest record Malibu is packed with fascinating, genre-bending moments that will be thrilling to see him reproduce live at the Hype Hotel with his band, The Free Nationals. (March 18th)

... if you want to expand your horizons
Music festivals are like tasting platters: the best approach is to test out something you're not familiar with. Curious about world music? Check out Imran Aziz Mian Qawwal, Mai Nimani, Wahid Allan Faqir, and Overload at SXSW's Music of Pakistan showcase at the Victorian Room at The Driskill. (March 16th)

... if you want to expand your hip-hop horizons
Wanna know what rap music sounds like abroad? Head to the Hip-Hop from Asia showcase at Palm Door on Sixth, featuring Korean rap crew Illionaire Records. (March 17th)

... if you want to expand your krautrock horizons
Yes, you have krautrock horizons. Go see Faust at the Hotel Vegas Patio. (March 17th)

... if you want to test out your new earplugs
Whether you're a metal fanatic or a total noob, the folks at long-running extreme-music hub MetalSucks have got you covered. The site's annual showcase of the best in doom, thrash, and heavy sub-genres that haven't even been coined yet will blow the doors off Austin's Dirty Dog. Expander kicks things off on Wednesday, and bands with incredible names like CONAN, Lord Dying, and Toothgrinder follow. British prog-metal stompers Monuments headline. (March 16th, 17th)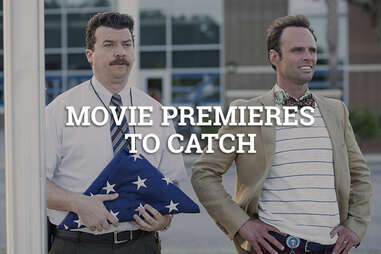 ... if you want to revel in immaturity
Jody Hill and Danny McBride, the team behind Eastbound & Down, debut Vice Principals, their latest HBO creation. It's the story of -- you guessed it -- two high school vice principals (McBride and Walton Goggins) engaged in an epic power struggle. Imagine Kenny Powers in charge of students' futures. (Premieres March 11th)

... if you want to laugh, cry, and break through the nonstop partying as a reminder you're human
Comedian Mike Birbiglia's Sleepwalk with Me was a hilarious, introspective look at sleep disorders. We expect the same observational humor from his latest, Don't Think Twice, chronicling what happens when America's biggest sketch-comedy show plucks a run-of-the-mill improv group's key members. (Premieres March 13th)

... if you want a hyper-violent roller coaster of an action movie
Hardcore Henry hijacks gaming's first-person shooter POV for a maniacal shoot-'em-up. The movie doesn't make a lick of sense, and the grungy visuals look ripped from the decade-old Far Cry, but damn, does it move. (Premieres March 13th)

... if you want to trip on history
Orange Sunshine explores the Brotherhood of Eternal Love, a California surfer clique that also happened to be the most robust LSD- and hash-distribution operation of the 1960s. The documentary will open your red, watery eyes. (Premieres March 14th)

... if you want to see your life in the movies
9 Rides takes place inside an UberSUV, rolling out over the course of one night. Shot using two rigged iPhones, it's the movie for those who think their dramatic lives are worthy of the big screen. (Premieres March 15th)

... if you want to watch the festival's signature brand of weird
SXSW is a rowdy festival -- on the streets, in the bars, and especially in the multiplexes. The right movie, combined with Alamo Drafthouse's signature drinks, will have the audience collectively rolling over with delight. The Master Cleanse, a fantastical drama movie about a spiritual retreat gone horribly wrong, sounds like the right kind of devilish to fit the equation. (Premieres March 13th)

... if you want the reliability of a classic
J.J. Abrams' company Bad Robot recently restored Phantasm, Don Coscarelli's demented horror movie, in pristine 4K high-definition. All the better to see the villain's silver sphere slice and dice unsuspecting victims. Just to be clear: Abrams loves this movie so much, he snuck a reference into Star Wars: The Force Awakens. You'll know why Captain Phasma is chrome as soon as you plant yourself in a SXSW theater. (Premieres March 14th)

... if you want a peek at a new Walking Dead companion
Seth Rogen wrote and directed Preacher, AMC's deeply disturbed supernatural comic adaptation. There may be some humor to it... but not much. The "Preacher" is a vigilante dealing with the evils of humanity. Using a gun. (Premieres March 14th)

... if you need post-toke entertainment
Comedian and marijuana bon vivant Doug Benson joins Master Pancake, Austin's leading film-interrupting team, for a live commentary/verbal assault on Leprechaun 4: In Space. (March 17th)
... if you want to flex your sports knowledge
The post-game interview is a terrible avenue for insight. That's why SXSW started its SXsports program. At "Direct from the Source: Athletes Unfiltered," New York Giants wide receiver Odell Beckham, Jr. and UFC fighter star Ronda Rousey talk about life in the athletic limelight, and the difficulty of communicating with fandom. (March 13th)

... if you want to feed your Mr. Robot addiction
"Coding on Camera" will test the hacking knowledge of Rami Malek, Christian Slater, and series creator Sam Esmail, who all believe authenticity is the gateway to getting you hooked. (March 13th)

... if you want to hear Anthony Bourdain rip the food world a new one
The world-traveling chef started the long-form culture site Roads & Kingdoms in 2015, with hopes of steering food media in a new direction. He sits down with the site's editor-in-chief to give onlookers a taste of his vision. (March 13th)

... if you want to center yourself after a week of partying hard
Andy Puddicombe is a meditation teacher and former Buddhist monk. He takes the SXSW stage for "Why Happiness Is Hard and How to Make It Easier," an exploration of happiness that will lead you to a brighter, hangover-less future. (March 15th)

... if you want to get metaphysical
J.J. Abrams is back, this time with The Jinx filmmaker Andrew Jarecki for a panel on... why eyes are so important. Seriously. In the era of social media, looking is a thing of the past. These two emotion specialists discuss the topic during "The Eyes of Robots and Murderers." (March 14th)

... if you're in desperate need of motivation
The founders of SoulCycle gather to tell you why they rule on the "Creating a Movement" panel. If you don't feel motivated to hit the bikes after this panel, you may already be dead. (March 15th)

... if you want to witness the future of food porn
On "Meet Nom," Steve Chen, co-founder and CTO of YouTube, will talk about how users' platform hack became the next step in foodie video's evolution. (March 14th)

... if you want to laugh and laugh and laugh
Abbi Jacobson and Ilana Glazer, the stars of Comedy Central's Broad City, take the stage to talk about whatever the hell they want. (March 12th)

... if you want to see why we're pushing the envelope
Thrillist's own Ben Lerer speaks on the future of Internet communication on "Theory of Media Evolution." Go! Learn! (March 11th)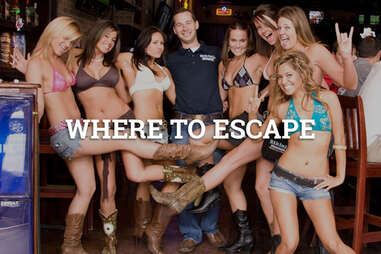 ... if you need a quick bite, a beer, and a creepy view
Bikinis Sports Bar & Grill is not the classiest establishment in town, and we know you will not find this breastaurant on many other recommended lists. But during SXSW, it serves as an entrepreneur-free, bar-food oasis, planted directly in the eye of the storm. There isn't a faster sit-down lunch within a three-block radius. Plus, girls in swimsuits, if that's your thing.

... if you're a barbecue pilgrim
Forty-five minutes south of Austin lies the tiny town of Lockhart, which boasts the adorable Main St and three of the best old-school barbecue joints in the state. It's a chance to see a slice of Texas while eating a slice of some of the best barbecue in existence. Kreuz's, Smitty's, and Black's all have their virtues, but for its consistency (and beef rib) we'll recommend Black's.

... if you're a hop-head
Jester King needs no introduction to beer obsessives. The farmhouse brewery has earned just about every accolade we can give it, from crafting some of the wackiest fermented bombers in history, to serving wood-fired pies worthy of a 30-minute drive. Most nights, you'll find a bluegrass band paired with the pints.

... if you need to be washed clean
Barton Springs is Austin's crown jewel, and if the temperature is over 80 degrees, a quick swim is an absolute requirement. Here's a quick guide to this frequented attraction.

... if you're more into history than music or film
Austin doesn't have the same caliber of museums as Dallas or Houston, but we do boast Lyndon B. Johnson's recently renovated presidential library. Highlights include an unsettling Vietnam wargame simulation, telephone recordings between MLK and the president, and a robotic, joke-telling LBJ.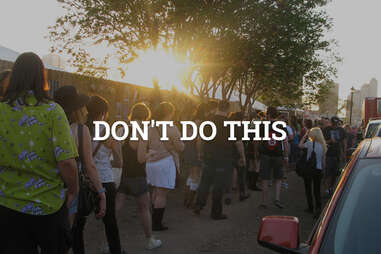 ... if you hate traffic
Do not, under any circumstances, try to drive around Downtown. Half of the streets are blocked off, and even natives can easily find themselves stuck in a 30-minute traffic trap. Uber, Lyft, Car2Go (which has special drop-off valets), pedicabs, and B-cycle bike rentals are all solid alternatives to wasting an hour in traffic.

... if you hate lines
Waiting to get into venues at SXSW is unavoidable, but the most beastly of all is the FADER Fort. The RSVP-only event is legendary for hosting surprise performances from huge artists and serving up free drinks. But even picking up a wristband typically takes at least two hours. Expect another two hours of waiting to enter.

... if you don't have thousands of dollars to spend on a pass
The $2,000 price tag of a platinum badge is outside most budgets, but the free portion of the festival can be just as fun, with bands playing sponsored parties that only require an RSVP. To avoid having to dig through endless event listings, pay RSVPster a small fee to put you on the guest lists for all the best parties.

... if you have bad heartburn
Late-night pizza pit stops are inevitable. Despite a few killer Downtown options, many of the slice-slingers require you bring your own side of TUMS. We ranked them all here, but if you can't make it to Hoboken or Via 313, consider a food truck instead.

... if you want to actually see music
SXSW used to be a venue-hopper's paradise, but in recent years long lines have made it difficult to bounce between shows, even with an official badge. The best way to have a stress-free night is to pick a venue with a bill that seems promising and stay put, otherwise you risk spending the entire night standing in line.
Now go get 'em, SXSW-er.
Sign up here for our daily Thrillist email, and get your fix of the best in food/drink/fun.
Follow the Thrillist Entertainment editors on Twitter: @ThrillistEnt.