Note: This article contains major spoilers from the first season of the FX drama Taboo, an amazing show that everyone should be watching.
Taboo is a simple show: if you enjoy watching Tom Hardy outsmart stuffy British men with the ancient art of grunting, you'll love it. If the sight of mud, blood, and shit makes you queasy, you probably bailed after the first episode. So, it makes sense that the finale of the eight-episode Season 1 was doggedly ridiculous. Hardy's character may have been named James Keziah Delaney, but he could've been called Bugs Bunny. All he needed was a carrot.
But did we just watch Delaney trick his enemies for the last time? While Taboo hasn't been a massive ratings hit in the U.S. -- and the U.K. tabloids have suggested the show might have costed Hardy a few coins  -- the star and his co-creator Steven Knight have indicated they have plans for additional seasons. Delaney hasn't even made it to Nootka Sound yet. We have to see Nootka Sound!
So, if there is a Nootka-bound second season, what questions does the show have to answer? What lingering plot threads need to be resolved? What relationships need to be blown up like a vat of gunpowder? Let's take a closer look at the bloodbath finale of season one and see where all the bodies are buried:
Recommended Video
Thrillist's Best (and the Rest): The Truth Behind the Saddest Cookbook Ever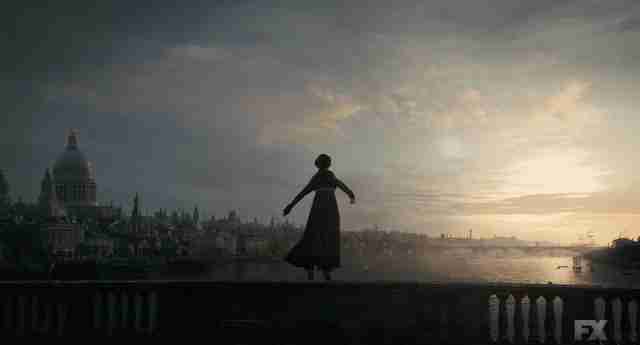 Did Zilpha really die?
It appears she did. The finale opens with a letter from Zilpha Geary, Delaney's recently widowed half-sister. Despite pursuing Zilpha aggressively for most of the series, going so far as to invade her erotic dreams Freddy Krueger style, we learn Delaney was only in it for the chase. He wanted nothing to do with his bereaved family member and told her as much, sending her into a deep depression, described in her final correspondence with him. "Dear James," she writes, "At last I have found myself out of the cave I've been living in."
Unfortunately, she quickly trades that cave for an icy bath in the Thames. Zilpha jumps and lands in the water in a way that's clearly meant to echo the dream-like opening credits sequence. It's possible she's gone on to an aquatic heaven, where her soul can finally swim with the fishes. But this is also a TV show: if you don't see a corpse, the character could still be alive. Plus, Tom Hardy is magic. Never forget that. 
At first, Delaney thinks she's still breathing. After freeing himself from last week's torture session, our leading man makes his way back home and receives Zilpha's bleak missive. When Lorna Bow tries to comfort him, he bristles. (Doesn't she know Delaney has a psychic sex connection with his half-sister?) "If she were dead I would know it," he says. "I would hear her and I would feel it, as if there were a door open in this very house. If she was in the river she would sing to me and I would hear her." Perhaps she'll haunt him in some of those elliptical flashbacks next season. Now she can interrupt his sleep and see how he likes it.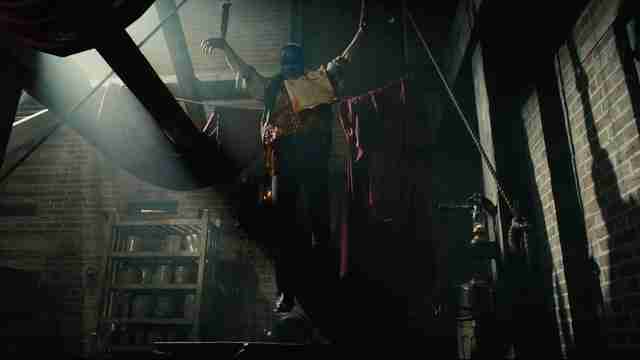 What Americans can you trust?
The final episode wasn't a particularly patriotic affair despite ending on an American flag being hoisted high above Delaney's new boat. For one thing, Michael Kelly's yellow-toothed spy character reveals himself as a double-agent working on behalf of the dreaded East India Company. In exchange for safe passage to America, he demands Delaney sign over Nootka Sound. Unsurprisingly, Delaney does not like this.
In fact, he doesn't like it so much that he stabs the Yankee spy with a pen, dips his head in blue dye, cuts out some of his internal organs, and leaves him hanging like a Blue Man Group scarecrow in his own flag-making lair. It's a sad moment for the bad dental hygiene spy. I could never remember his character's name, but he wasn't meant to go out like this. As, Tobias Fünke might say, he blue himself.
The guy from House of Cards wasn't the only duplicitous American to make an appearance in the episode: Carlsbad, Delaney's magic partner from Episode Three, also re-emerged. In one of the episode's best sequences, Lorna Bow drops by the mysterious female spy's house to offer her a deal on some "powder" she's looking to sell. Annoyed, Carlsbad pulls a knife on her, but the two women quickly make a deal in a winning exchange that ends with Bow saying she's Delaney's mother. It's a great scene, and a potential lesson for season two: Tom Hardy doesn't have to be in every minute of the show. Seriously, let him brood in his trailer sometimes.
Who got killed in the big battle?
The second half of the episode focused on a skirmish between Delaney's League of the Damned and the red-coat-rocking British army, who were looking to keep them from setting sail. (Think of it as the Taboo-verse version of the Battle of Blackwater, but with way more busted-looking muskets.) As a piece of filmmaking and storytelling, it was impressive: the crazy gunpowder-doctor finally got to blow up his precious cargo, the compass-tattoo man shot a bunch of people, and Delaney basically acted like a steampunk version of Neo in The Matrix. Wild cowboy gunslinging.
But who were the casualties? Despite taking a significant blast to the face and getting dragged all the way to the boat, it appears that Tom Hollander's Dr. Cholmondeley survived, albeit with a severe facial burn that will probably ruin his chances with the ladies going forward. Helga is dead. Lorna Bow, Godfrey, and Delaney's cute son are still breathing. Atticus lived but his brother-in-law died. Brace got kicked out of the League of the Damned and sent back to Delaney's house to keep the rats company. So many casualties.
Then there were the people who died outside of the battle, specifically the two East India Company stooges and Jonathan Pryce's villainous Stuart Strange. In yet another move out of a Bugs Bunny cartoon, Strange opened what he thought was an important document and ended up redecorating his office with his innards. Or at least that's what I assume: like Zilpha, we don't see his corpse. Perhaps in a second season, the justice-seeking lawyer Chichester can look into this mail-bomb case.
Where is Delaney headed next?
This is a tough one. While all signs indicate that Delaney will be headed to Nootka Sound, where Season 2 will hopefully find him frolicking the chilly countryside in peace, Hardy and Knight ended the episode with a curveball. When Atticus suggests they might be headed to America, Delaney says he needs to go to the Azores to see a man named Colonnade. Who exactly is this mysterious Colonnade and why is it so important Delaney sees him?
It will likely be a long time before we get a clear answer -- and the show's creators are just as stingy with specifics as the show itself. "We're onto the next stage," said Hardy in a recent interview with Entertainment Weekly when asked about the line. "The key really is Colonnade. When he says, 'We are Americans,' James is very ambiguous with how much information he's going to give."
If Colonnade is actually "the key" as Hardy suggests, will he help unlock some of the show's other mysteries? Will we finally find out more about Delaney's mother? Will we discover who the mother of Delaney's son is? Or what Delaney's many crimes in Africa were? And, seriously, where does Delaney get his top-hats? I'm going to float a theory here: Colonnade is the hat-maker who designs all of Hardy's stylish headwear. It would be silly, confusing, and strange. But, then again, that pretty much describes the appeal of Taboo. And that's what keeps us watching.
Sign up here for our daily Thrillist email, and get your fix of the best in food/drink/fun.