A Starter Kit for Taika Waititi's Movies, Shows, and Paparazzi Photos
The Kiwi director has a lot more to his name than a couple Thor movies.
Unison/Paladin
Unison/Paladin
Since breaking onto the scene a little over a decade ago, New Zealand director Taika Waititi has taken Hollywood and at least one of its major franchises by storm, injecting his unforgettable, inimitable brand of dry humor and heartfelt storytelling into both film and television. Even if you've never seen anything he's been a part of (and, actually, you probably have), you've heard his name, whether it's associated with a couple of Kiwi indies that had improbably great success here in the States, or with a certain God of Thunder.
His celebrated career has already had its share of some real misfires (Holocaust-set satire Jojo Rabbit and, depending on your mileage, Thor: Love and Thunder), and his less-than-great recent run has caused more than a few fans to begin to sour on him, but it's tough to overshadow the greatness of the director's best projects. With Waititi signed on to a Star Wars movie, a Time Bandits TV show, and an adaptation of Moebius and Alejandro Jodorowsky's mind-bending comic series The Incal, we figured it's time to give everyone who doesn't already know him and crash-course of his greatest hits.
Flight of the Conchords (2007)
Before moving to films, Waititi bopped around the New Zealand television industry for a few years, directing a few short-running series and guest-directing four episodes of HBO's Flight of the Conchords, which starred Bret McKenzie and Jemaine Clement (a future collaborator of Waititi's) as fictionalized, heightened versions of themselves as singer-songwriters trying to make it. Conchords was also co-created by James Bobin, who is credited with creating Sacha Baron Cohen's characters Ali G, Borat, and Brüno, which should give you some sense of the comedy pedigrees Waititi was working alongside even this early in his career.
Boy (2010)
Waititi's second feature was his first to break semi-big overseas, first on the festival circuit, and then in its US release. The film about a young boy named, simply, Boy (James Rolleston), who meets his estranged father (Waititi) who really wants nothing much to do with him, is probably the most tonally and stylistically subdued project in Waititi's oeuvre—but that doesn't mean that there weren't flashes of the wry and bombastic filmmaker he would soon become just underneath the surface.
What We Do in the Shadows (2014)
The first massive hit for Waititi came with What We Do in the Shadows (a feature version of his previous short, What We Do in the Shadows: Interviews with Some Vampires), a mockumentary-style film that followed a crew of vampires (Jemaine Clement, Jonathan Brugh, and Waititi) sharing a flat in modern-day Wellington, New Zealand and doing their best to "blend in" with society. It's absolutely hysterical, and, for a few years, became The Thing that Waititi was known for. Plus, it was popular enough that it got its own spinoff television series on FX, which follows a similar format with all new characters. (It's also the flashpoint of Waititi and Clement's friendly beef: every time an outlet credits Waititi for the show, he always needles Clement, who is actually credited as the series creator).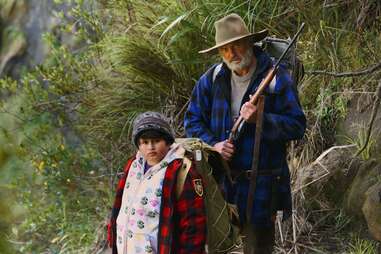 Hunt for the Wilderpeople (2016)
Right before he was tapped for the Marvel movie that would cement his place on the map, Waititi directed Hunt for the Wilderpeople, a sort of successor to Boy in that it, too, is about a young boy searching for a reluctant father figure—though Wilderpeople is a lot more stylistically bold. Starring Julian Dennison as Ricky Baker and Sam Neill as his foster uncle Hec, the film follows the two unlikely comrades as they seek refuge in the New Zealand bush from the national manhunt that has been called after their disappearance. This film in particular is a showcase for Waititi's talent for expertly pinging back and forth from intensely sad to unbelievably funny, a signature style that's all his own.
Thor: Ragnarok (2017)
If you're here, you probably already know about this one, but it's important! Marvel's third Thor movie was nothing less than a cultural reset for the franchise, as Waititi brought his style and humor to reinvigorate a superhero whose solo films had been some of the less loved in the MCU. Ragnarok is hysterically funny, taking the trappings of a self-serious Norse god and remixing them into a beefy intergalactic dudebro who loves getting into brawls as much as he hates taking any responsibility for himself. Thor was always funny, but Waititi made him hilarious, and the rest of Marvel's series followed suit after the glowing response from both the critics and the fans.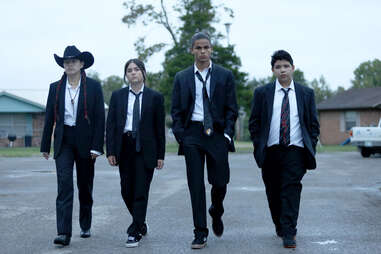 Wellington Paranormal (2018–2022) and Reservation Dogs (2021– )
In the ensuing years, Waititi has often lent his production talents to a number of projects, including hilarious What We Do in the Shadows spinoff Wellington Paranormal, a police procedural X-Files spoof about a couple of New Zealand cops who keep finding themselves embroiled in supernatural crimes; and Reservation Dogs, co-created by Sterlin Harjo, a comedy drama following four teens living in the American Indigenous communities of rural Oklahoma and starring a majority Indigenous cast and creative team (Waititi himself is part Māori, the indigenous community of New Zealand). Both are groundbreaking in their own right: Wellington Paranormal offering an off-kilter humor to the current television sphere, and Reservation Dogs providing access and representation for what is still one of our country's most underrepresented communities.
Acting roles
If you feel like you've been seeing Waititi everywhere, even if you haven't kept up with his directorial work, you'd be right. The man works hard (arguably too hard, if you look at the overwhelming lineup of his directing and producing projects that have been announced or are already in production), and when he's not directing or writing or producing, he dabbles around with acting. He casts himself in his own stuff all the time (Korg in the Thor movies, Viago in What We Do in the Shadows, Adolf Hitler (yikes) in Jojo Rabbit), but is also called upon by other directors to add his signature sardonic humor to more projects. He voiced the droid IG-11 in The Mandalorian, played the megalomaniac tech bro villain in Free Guy, had a cameo in The Suicide Squad as the original Ratcatcher. Most recently, appeared as Mo Morrison, one of the unlikely sidekicks in Disney's Toy Story spinoff Lightyear.
The pap photos (2021)
During some downtime from shooting Thor: Love and Thunder in 2021, Waititi was spotted cozying up with his girlfriend Rita Ora and Thor star Tessa Thompson at his home in Sydney, setting the internet absolutely on fire. After the initial photos were blasted around the world at lightning speed, Waititi was unfazed, telling the Sydney Morning Herald, "I think in the world of the internet, everything goes away pretty quick. And also, is it that big a deal? No, not really. I was doing nothing wrong. It's fine." Maybe the most interesting part of it all is that there wasn't any scandal—or maybe that the only reason it was such a big deal was because by that point, we'd all been locked inside our homes for a whole calendar year.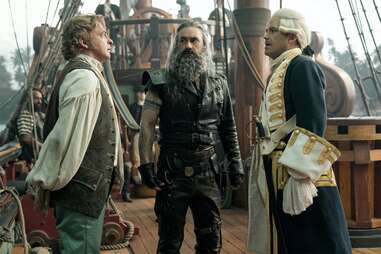 Our Flag Means Death (2022)
Waititi is no stranger to sleeper hits, and the HBO series Our Flag Means Death, a comedy spoof set aboard a pirate ship captained by the worst pirate of all time, seemingly came out of nowhere, gathering together a rabid fanbase in mere weeks. Upon its release, those who were skeptical were told to keep sticking with the series as it gets good in its back half, once an actual will-they-won't-they romance develops between pirate captain Stede Bonnet (Rhys Darby) and his nemesis Blackbeard (Waititi, who mainly acts in this series after also directing the pilot). Unexpected? Sure. But that's the sort of thing we've come to expect from any project involving Waititi and his sneaky sense of humor.