Taran Killam: The 5 'SNL' Sketches I'll Miss the Most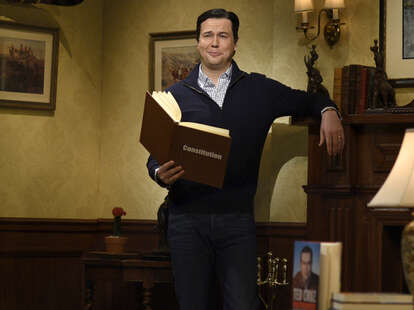 Yes, Taran Killam's tenure on Saturday Night Live came to an unceremonious close over the summer, but weep not for the talented comedian. His very busy post-SNL schedule begins with today's theatrical and VOD release of Brother Nature, an odd-couple comedy he co-wrote and co-stars in with his SNL pal Bobby Moynihan that's reminiscent of the Chris Farley-David Spade team-ups of yore.
We asked Killam about the movies that inspired Brother Nature, what's up with the Arnold Schwarzenegger movie he's directing, and, of course, SNL.
You played more than 100 characters on SNL. Which ones will you miss the most?
The Undercover BossKylo Ren sketch Bobby [Moynihan] and I did with Adam Driver last season was one of the best experiences I had on the show. It was a perfect blend, not just because Bobby and I are Star Wars nerds, but the SNL film crew is too, so the quality of set and costume and production design was off the charts compared to other things we do. We shot until 6 in the morning, but it was so fun, you didn't feel how late it was.
I always liked doing "J-Pop America Fun Time Now!" with Vanessa Bayer. Those were the loopiest, giggliest, late-nightiest writing sessions I'd have, and I loved performing with her. We had a pretty good time researching J-pop and K-pop and listening to songs that under no other circumstances we would've ever heard but have 700 million views.
When Jay Pharoah and I did Eminem and Lil Wayne on "Weekend Update," that got a really great reaction. They were going to cut it after dress rehearsal, but it went over so well, it stayed in the show. That was a cool thing Jay and I came up with in the dressing room we shared, so it's special for that reason.
And I really loved doing Jebidiah Atkinson. That came from Seth Meyers and the "Update" crew. They called me on Saturday morning of a show day and said, "We've got a funny idea for you." We did a mini-read-through during rehearsal, and it was so much fun. That's what makes SNL unique: you can think of something the day of the show and produce it and put it up, and it'll be on live TV across the country. And I just love Seth. He's the one who called me to tell me I'd gotten the job on SNL, and when he left, it changed my dynamic with the show. I think there's a real big hole there.
I'll always remember the first Merryville Brothers sketch we did, the animatronic ride from hell. Jim Carrey was a hero of mine growing up, and we got an applause break the first time we did it. I looked to my right and there was Bill Hader, whom I love and respect; and to my left there's my hero, Jim Carrey, giving me a thumbs-up. It was a really special moment.
Do you have bittersweet feelings about leaving SNL?
I did six years on SNL, and I was very proud of the work I did. I had a really good time, and I'm very glad to have the time I have now to focus on the projects I'm working on.
Like Brother Nature. What movies inspired you during filming?
My favorite movies are ones that have you laughing hysterically one minute and feeling genuine human emotions the next, like The Great Outdoors, What About Bob?, and Planes, Trains & Automobiles. My favorite part of Planes is when Steve Martin has laid into John Candy, and he says, "I like me. My wife likes me." It breaks your heart. And I certainly think Tommy Boy has that same balance. It's one of the funniest comedies of all time, but the scene when he's talking to his [late] dad at the end in the sailboat is heartbreaking. It makes me cry every time I see it.
You're also directing and co-starring with Arnold Schwarzenegger in the upcoming movie Why We're Killing Gunther. Is it possible to be around him and not slip into his accent?
It requires hard work and a strong will. I had the will of Hal Jordan. It slipped out once, and his stand-in, Dietrich, who's a great guy, said [in Ah-nuld accent], "No, no, no, you don't want to do that!" And I was like, "Yes, thank you for reminding me. I will curb it!"
Is it intimidating to direct Arnold?
He's the greatest bodybuilder of all time, one of the biggest movie stars of all time, and the biggest governor of California of all time. He's intimidating, but he was gracious enough to even consider this project, let alone like it and agree to do it. Very quickly, he said [in Ah-nuld accent], "Tell me what you want. I want to do what it is that you're trying to do here." He was a pro and knew his lines and was truly a dream to work with.
What can you tell us about Mating, your upcoming Showtime series?
It's an anthology series, so it would be a different cast every season. It tackles what it is like to date in this modern, digital, social media world we live in. I play a guy who got married very young and is recently divorced, and has to deal with how much the dating scene has changed in the last decade.
So you'll be doing a lot of nudity?
Yeah, baby, you're going to get a look at them balls!
Sign up here for our daily Thrillist email, and get your fix of the best in food/drink/fun.
Bruce Fretts is a contributor to Thrillist Entertainment.