'Saturday Night Live' Cuts Taran Killam and Jay Pharoah from Roster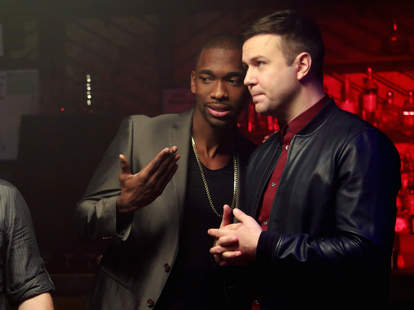 Dana Edelson/NBC/NBCU/Getty Images
Between American politics behaving like American Ninja Warrior, Hollywood finding itself in a daily Twitter Thunderdome, and the general feeling that we could all use a good laugh, Saturday Night Live's 42nd season could be the its biggest yet. But when the sketch comedy series returns in the fall, it'll be down two major players, an NBC press representative confirmed to Thrillist: Jay Pharoah and Taran Killam.
Killam, who ends his SNL run after six seasons, is known for characters like the 1860s newspaper critic Jebidiah Atkinson and Mokiki, guru of the Sloppy Swish. He regularly impersonated Fox & Friends co-host Steve Doocy, and spoofed Marco Rubio during the Republican primary this Fall. Pharoah, another six-season vet, was SNL's master of disguise, inhabiting Jay-Z, Will Smith, President Obama, GOP candidate Dr. Ben Carson, and series alum Eddie Murphy during his time on the show.
"I don't know that the end of something that you've committed that much time and energy to is ever going to feel 'great,' Killam tells Uproxx. Saturday Night Live players sign seven-year contracts, and the actor assumed he would be back for one last year. NBC representatives for SNL and producer Lorne Michaels declined to comment on the cuts to Thrillist, and in the interview, Killam admits he's also in the dark. "I had sort of had it in my head I would make this upcoming year my last year, but then heard they weren't going to pick up my contract. I was never given a reason why, really."
Killam and Pharoah's departure is both a shock and par for the course. SNL will enter the 42nd season without Pharoah's President Obama, a comedic loss that deserves an obituary. The show will lack Killam's "Generic White Dumb Handsome Guy," a finely tuned and perpetually relevant spoof for which the actor rarely earns credit. 
But Michaels, the executive producer for 38 of Saturday Night Live's 42 seasons, also knows what he's doing. An SNL firing is traditionally quick and shadowy; last year, Michaels unceremoniously dropped 27-year-old Brooks Wheelan ("I was hired because they hired so many new cast members, and I feel like I was let go because they hired too many new cast members," Wheelan admitted to The Wrap). Even Adam Sandler remains unsure why Michaels axed him after five successful seasons. "We kind of understood because we did our thing," Sandler told The Daily Beast. "It hurt a lot at the time because we were young and didn't know where we were going, but it all worked out."
Saturday Night Live is a constant experiment. Michaels tinkers with the ensemble and writing staff to keep the show evolving. He's tight-lipped over specifics, though the broad strokes are transparent. "I see my specific talent as moving [the show] forward," Michaels told Marc Maron on his recent WTF appearance. "Getting the best out of everyone that I can, encouraging a climate in which brighter ideas prevail and in which chance is part of it, and encouraging people and discouraging people."
While there are cast pillars, like Kenan Thompson, who will enter his 13th season this year, Michaels is known to seize opportunities when they come along, and swap when necessary. They're brusque because he doesn't expect them. Michaels told Maron that, while current cast member Leslie Jones is the "the real thing," she wasn't on his mind when casting two years ago. "What you say you're looking for, that's just the brochure. You don't really know until you see it."
The silver lining: Pharoah and Killam's abrupt farewell could open the door for new casting, or merely be Michaels way of paring down the cast, With boasted 12 main and four featured players -- sprawling by SNL standards. There's a diverse and overflowing comedian talent pool for Michaels to draw from (may we suggest Ali Wong, John Early, Natasha Rothwell, Ian Karmel, Claudia O'Doherty, and/or Henry Zebrowski?) the pre-election moment could be an urgent time for the producer to "move the show forward." 
Thankfully, Pharoah and Killam have bright futures ahead: Pharoah is currently on tour and will voice characters in a handful of animated movies; Killam is readying to direct Arnold Schwarzenegger as a notorious assassin in the original comedy Why We're Killing Gunther. Sentiments sound bittersweet.
"I'm so proud of things I created on that show and things I got to perform that other people wrote," Killam tells Uproxx. "The biggest takeaway for me are friends and adoptive family members who I will know the rest of my life and can't believe the good fortune to have crossed paths with these people that I don't think otherwise would have."
Sign up here for our daily Thrillist email, and get your fix of the best in food/drink/fun.
Matt Patches is Thrillist's Entertainment Editor. He previously wrote for Grantland, Esquire.com, Vulture, The Hollywood Reporter, and The Guardian. Find him on Twitter @misterpatches.