'Star Wars' Fans Are Losing Their Sh*t Over This 'Rogue One' Character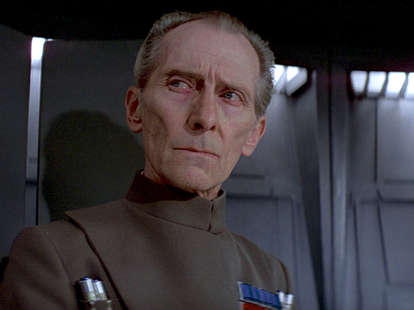 LucasFilm
LucasFilm
Warning: This article is about a major Rogue One character and contains minor plot spoilers.
There's plenty to dissect in Disney's latest Star Wars installment, like the heroine Jyn Erso, the sassy robot K-2SO, and the surprising amount of carnage. But we're here to talk about the most controversial move in Rogue One: the return of Grand Moff Tarkin.
Peter Cushing, the actor who played this Imperial goon in the original Star Wars (here's a pivotal scene) -- wasn't asked to take part in Rogue One for a pretty good reason: He passed away in 1994. But rather than cast a look-alike actor for the role, the Rogue One team decided to re-create Tarkin with some extremely expensive CGI. And not just for a quick cameo, either -- CGI Tarkin plays a significant role in the movie.
Predictably, while some have applauded Tarkin 2.0 as a breakthrough in film technology and as a necessary link to the movie that started it all, way more people are pissed off about it.
Critics have been especially harsh on this character choice. Our review noted that Tarkin's appearance is the "one CG moment [that] sticks out like a sore thumb." But plenty more sites have piled on. Jeremy Smith at Birth.Movies.Death. wrote, "The f/x are so on point here that you can't help but lament the CG awfulness of Moff Tarkin, who looks like he wandered in from 2001's Final Fantasy: The Spirits Within."
David Edelstein at Vulture went a step further, writing that "Cushing has come back from the dead as a sneering, third-rate villain. Even his Baron Frankenstein would be horrified by this kind of grave-robbing. And you can bet it's a sign of things to come. I'm already scared that, as I write this, some Alec Guinness impersonator is clearing his throat."
As the Edelstein slam reveals, the anti-Tarkin crowd isn't just mad because the man looks a little weird. Debates have already begun about what this means for the future of movies. Are actors doomed to be trotted out for new movies decades after their deaths? Worse, are up-and-coming actors set to lose jobs to computer graphics?
Of course, Tarkin isn't the only CGI job in Rogue One. Princess Leia also appears in the film's final minutes, and she looks nothing like she did in The Force Awakens. That's because the Rogue One digital wizards dropped 1977 Carrie Fisher -- double buns and all -- into the ending, which directly sets up the events of the original trilogy.
There's been less controversy surrounding this move, partially because it's so brief and partially because so many fans have cheered the connection. But Leia shouldn't get too comfortable. She's got at least one vocal critic.
Sign up here for our daily Thrillist email, and get your fix of the best in food/drink/fun.
Kristin Hunt is a frequent contributor to Thrillist Entertainment.