I bought friends on the Internet. Here's how.
Need a ride? A stranger will give you one via Uber.
... A place to stay that's not a hotel? A stranger from Airbnb.
... A dream fulfilled? A stranger on Kickstarter.
... A hella twee totebag with a TARDIS on it? A stranger from Etsy.
Uber, Airbnb, and Kickstarter are all part of the new "sharing economy" -- places where people share their existing resources using modern technology, and get paid to do so. But there's one resource I've found lacking in this new economy, and it's friendship.
So I decided to buy some friends.
Why would you pay for friendship?
Let's be clear: I'm not talking about paying for someone to date me. Or even bone me. There are plenty of ways to pay for both, or get them for free. Dates are especially easy to score these days. I posed as a cupcake on Tinder and discovered that myself. But new friends are hard to come by. Meetup.com tries to provide a friend service, but it's in groups. I wanted that sweet, sweet, one-on-one friend action. Because I'm selfish. And scared of large groups.
A friend of mine is a professor in his 30s, and he teaches at a school in the middle of nowhere. He's got friends spread out all over the country, but none where he lives. I remember him saying to me once, "It's not like you can go up to a dude in a bar, and be like, 'Hey, wanna be friends?'" Exactly. But now you don't have to, because there's TaskRabbit.com.
What the hell is TaskRabbit?
It's intended to be used as a service to hire a stranger (who has passed a background check) to clean your apartment, assemble Ikea furniture, or help you move. Basically, for a set dollar amount per hour, you get to make someone your bitch. "Pick up my dry cleaning!" you can say to one TaskRabbit, as another feeds you grapes you bought because they were on sale.
I made two friends over the course of two weeks.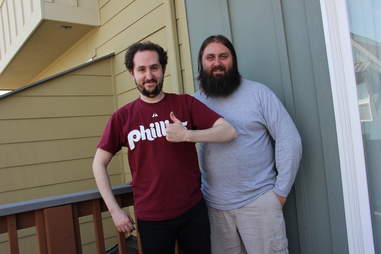 Lee Breslouer
Friend #1: The Guy Who Might Have Murdered Me
Since I had just ordered a rug online for my living room, I thought I'd kill two birds with one stone: I'd hire a guy to help me "install" the rug, and then become his friend after. I knew rearranging the room and putting in the rug would take about a half-hour, though I hoped our friendship would last a lifetime. And I figured since I charged him for an hour, he'd have to hang with me for at least a half-hour.
He arrived on time at my front door. Big dude with a beard, as promised by his photo on the site. I take him upstairs. We quickly realize I don't have a box cutter handy to cut the rug out of its plastic packaging. He goes to his car to get one.
When he walks back into my house, I'm confronted with a guy who's probably got 100lbs on me, who I do not know, and he's holding a very sharp box cutter. He has a beard that says either, "I'm friendly!" or "Shaving is a waste of time when you have so much murdering to do". I wonder if making friends with strangers was ever a good idea, and how soon Dateline will do a story on my stabbing, warning average Americans about the dangers of the sharing economy.
Luckily for me (and unfortunately for Dateline), he cuts open the package and we put in my rug. It looks good. My parents will later point out to me that I installed it wrong, but whatever. I thought we did a good job. While we roll out the rug, we make small talk and I discover he doesn't watch pro or college sports, nor does he drink beer. I do not think our odds of getting along are any good. Sports and beer were invented specifically so middle-class white men would have things to talk about.
Ok, now this is where it gets weird. I paid him to install my rug, but there are 40 minutes left of the hour I already paid for. I have to slyly tell him he's stuck here since I paid for his time.
This is what I said instead, "Now you have to hang out with me for an hour."
I'm not the smoothest guy. And he does not react well. He's polite, he says "sure". But when I reiterate that we're hanging out for 40 more minutes (I initially forgot we had taken 20 minutes to install the rug), his real reaction comes next.
"Oh man," he says, disappointment dripping from his voice.
Sh*t. This feels less like I'm going to make a friend and more like I just made a hostage.
After that, I try to get him to open up about himself. We talk about Denver in general, since we both live in the area. He mentions he's from Washington, and notes they have a lot of breweries up there. He's trying to connect with me, I can feel it.
Once we realized we were stuck with one another, we relaxed. I learned the following things about him in 40 minutes.
1. He understands how DLP screens work (like Oculus Rift's VR helmet).
2. He did 13 years as an avionics technician in the Navy and has been all over the world.
3. He sometimes misses the people, but not the Navy.
After genuinely engaging with one another, the hour's up. I tell him why he had to stay an extra 40 minutes becoming my temporary friend. He thinks it's funny and strange, which is the correct reaction. I walk him downstairs to the door, but then forget to give him a business card.
I run up the stairs to get one. I should mention at this point that I have slippery wooden floors.
And I mention that because when I get to the top of the stairs, I wipe the f*** out. My butt hits the hardwood quick. I'm lucky I didn't bang the back of my head on the floor and pass out.
I'm in pain, but I try not to show it. I'm mostly thankful I didn't hurt myself more.
He laughs.
"What did you do?" he asks.
I make light of it. I tell him his new task would've been to take me to the ER had I landed another way. But it's not a joke. He would've taken me. Because that's what friends do, even if you're paying them to be there.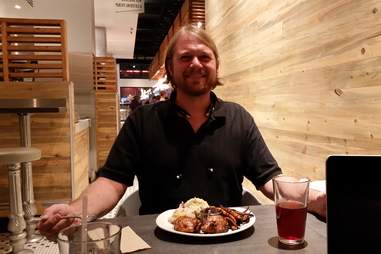 Lee Breslouer
Friend #2: The Weed Connect
For my second friend, I wanted to do something less job-like. I wanted to have dinner with a guy.
So I lured him (lure is the right word, I told him I'd buy him dinner under the pretense that we'd help plan a surprise birthday party for my girlfriend -- like I'd ever do something that nice for someone else!) to a Denver restaurant.
Dinner was not uncomfortable for even a second. This guy turned out to be something like The Most Interesting Man in the World.
He's been a commercial fisherman. He grew up in Texas, but has traveled for three to four years of his life all over the world. He's hitchhiked to the Syrian border (they didn't let him in). He's worked for a brewery. Now he works with a company that sells cannabis tours in Colorado.
He talked about an interesting thing that happens when you meet people traveling. I'll let him tell you.
"You meet people in regular life, and there's all these burdens and obligations and social norms from their peers and the people that know them. All that sh*t's gone when you're traveling. You're not thinking about work, your friends, your boyfriend/girlfriend, or that party you're going to."
That's what's interesting about hiring someone to talk to you. I was trying to make a connection with the person sitting across from me who I knew nothing about. Add to that the simple fact that when you pay for something, you inherently try to get your money's worth. I was present.
The conversation flowed. The hour passed by quickly.
Before I told him that I was writing about our dinner, I asked him what he thought about his night of getting paid to have dinner with someone (and strangely talking very little about the birthday party I was planning).
I tried to feel him out, "This is weird, what we just did, eh?"
"Not really, I feel like we're friends now," he replied.
I could have high-fived him. I felt the same way.
Lucy Meilus
Conclusion
Like most of America, I listen to Marc Maron's WTF podcast. He sits across from another person and they talk for an hour or two. Marc has said in interviews that podcasting has made him a better person. Just because he sits and talks to someone with no distractions, often with no agenda. They're just having a conversation about their lives, their interests.
Sitting across from a stranger and talking for an hour was a worthy experiment. If I had just moved to a new city and didn't know anyone, paying a person from TaskRabbit to talk to me for an hour would be a great option. If I were lonely, I'd do the same thing. But I'm not, because I have a ton of real friends! I'm very popular!
In a modern world where making a connection is seemingly as easy as opening up your laptop or looking on your phone, actual connection is rare. Online connection is a facsimile of real connection. Real, face-to-face connection is an undervalued commodity in this world.
By forcing someone to sit in front of you (by paying them), you're putting yourself in a situation where you can get real connection. And while it's sad that you have to use a website like TaskRabbit to pay for a friend, maybe one day there'll be an Uber for friends.
I'd likely sign up for it. You can never have too many friends.
Lee Breslouer writes about food and drink for Thrillist, and is strangely not a people person. Follow him to everlasting friendship at @LeeBreslouer.