Taylor Swift Gets Jury Duty, Jurors Freak Out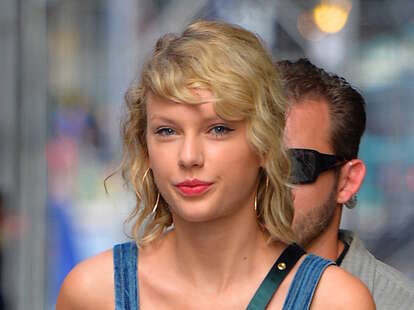 Robert Kamau/GC Images/Getty
Sunday night's MTV Video Music Awards featured an array of impressive performances, particularly from Rihanna and Beyoncé, and some rambling speeches, mostly from Kanye West. Noticeably absent from the Moonman festivities was one pop music's most controversial names: Taylor Swift. It was like watching the season finale of your favorite show but one of the main characters was missing. So where was Swift last night?
Sadly, not in a secret lair somewhere, plotting her next move against Kim Kardashian. While some speculated Swift sat out the ceremony because she's not currently promoting a project -- believe it or not, 1989 came out way back in 2014 -- the truth was more mundane: according to reports that have surfaced on social media, Taylor Swift is currently on jury duty in Nashville.
Don't believe us? Take a look at the posts below.
Celebrities: they really are just like us! In addition to attending awards shows, getting caught in social media skirmishes with other celebrities, and engaging in PDA-filled but possibly staged relationships with popular actors from Marvel movies, they also go to jury duty. Of course, this revelation comes with a whole set of important questions like:
Did Taylor Swift watch the boring jury tutorial video with everyone?
Did she bring her own lunch or go grab Panera with her fellow jurors?
Why does Taylor Swift still have a Nashville driver's license after professing her love for New York City?
Has Taylor Swift been watching The Night Of?
What is Taylor Swift's favorite Law & Order spinoff?
Did she ask lots of wire-tapping questions?
Is this all just promotion for a new video or album coming later this year?
America demands answers -- and more jury selfies.
Sign up here for our daily Thrillist email, and get your fix of the best in food/drink/fun.
Dan Jackson is a staff writer at Thrillist Entertainment, and he got called to jury duty this summer but Taylor Swift was not there. He's on Twitter @danielvjackson.