Taylor Swift's 'Reputation' Is Already the Most Controversial Album of the Year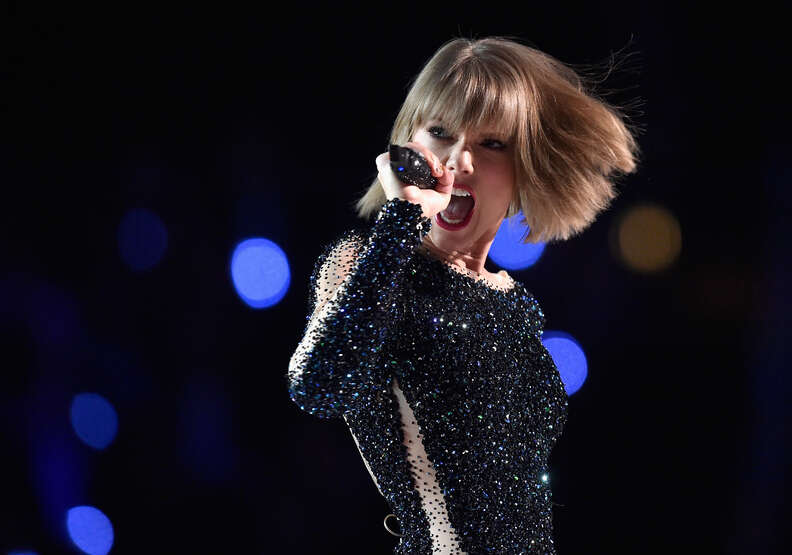 Kevork Djansezian/Getty Images
For many years, the event album has been in decline. While there are a handful of records from this year that have generated public excitement and strong reviews, like Drake's More Life, Kendrick Lamar's Damn, Lorde's Melodrama, or Jay-Z's 4:44, they haven't conquered the zeitgeist in the same way as blockbusters of the past. In the absence of a major release from Beyoncé, Rihanna, or Adele, the pressure is on for Taylor Swift, who will release her sixth studio effort Reputation on Friday, to deliver an electro-shock to what remains of the monoculture. Unsurprisingly in 2017, the record is already endlessly divisive.
Ever since it was announced back in August with the conspicuous wiping of posts from the 27-year-old pop star's social media accounts and subsequent deployment of symbolically loaded snake imagery, Reputation has been engulfed in controversy. Despite quickly soaring to the top of the Billboard Hot 100, the first single, the Right Said Fred-sampling "Look What You Made Me Do," was viewed as a disappointment by many critics. Pitchfork deemed it a "half-assed airing of grievances," while New York Magazine described it as, "The worst music of her career." Clearly, the Reputation roll-out was going to be bumpy.
Does Taylor Swift have the power to bring people together? There's always a possibility that the follow-up to 2014's multi-platinum and Grammy-winning 1989 will end up being a great unifying force in the culture, forging an alliance between the obsessive, code-cracking Swifties and the exhausted, joke-making Taylor-haters. But it doesn't look like she'll be able to shake off the many controversies surrounding Reputation.
Taylor Swift is now a political lightning rod
In the current political climate, where the President of the United States is a former reality television star, it's challenging for celebrities to maintain a removed, non-partisan image. Years ago, famous public figures could refrain from speaking out on hot button topics -- Michael Jordan's possibly apocryphal "Republicans buy sneakers, too" comes to mind -- but the tectonic plates of pop culture have shifted under our feet and created a fraught landscape where the lines between politics and entertainment are often obliterated. (If they were ever truly "there" to begin with.) You're either voting for future Senator Kid Rock or joining #TheResistance with Captain America.
Perhaps no other artist has struggled to navigate this new era more than Taylor Swift. Besides posting a benignly patriotic get-out-the-vote Instagram photo on election day, which some interpreted as a coded endorsement of Hillary Clinton, she sat out last year's election cycle, facing growing criticism for her "silence" along the way. According to this line of argument, her lack of civic engagement displays a callousness to the urgency of the present political moment. "Taylor Swift does not owe anyone her opinion on Trump, or racism, or anything," wrote journalist Kelsey McKinney back in October 2016 following the release of Trump's campaign-defining Access Hollywood tape. "But silence is not an apolitical action, as much as Swift seems to suggest that it is."
Where some of her pop peers, like recent Swift rival and Clinton campaign surrogate Katy Perry, have realigned their music and image to the demands of the moment, Swift has stayed the course. Judging from the singles that have been released so far, Reputation will contain songs about romance, friendship, and, increasingly, her contentious relationship with the media. For some, that's simply not enough. The thinking goes that Swift -- a celebrity with 104 million Instagram followers, 73 million Facebook likes, and 85 million Twitter followers -- should be using use her platform to mobilize her young fans around important issues. If "Look What You Made Me Do" is an example of Perry's self-described "purposeful pop," the clues are so hidden they're invisible. At least, to most people.
Swift is caught between the alt-right and the ACLU
For Swift, the larger problem in recent months has been the way some white supremacists and figures on the emergent alt-right have embraced her work. While the idea of Neo-Nazis rallying around the blonde-haired singer is hardly new -- The Washington Postcovered the issue in a story from May of 2016 -- the controversy reached a fever pitch this week when it was revealed that Swift's attorney had sent an aggressive letter to PopFront, a small leftwing website, calling for the publication to remove a blog post that criticized themes of "white anger" and "white supremacy" in the lyrics and video for "Look What You Made Me Do." The article, which was written two months ago by editor Meghan Herning, ends by echoing the idea that Swift's silence around these issues is "calculated" and that she needs to "state her beliefs out loud for the world."
The subsequent legal action speaks volumes about Swift's perilous PR approach. "It appears to be a malicious attack against Ms. Swift that goes to great lengths to portray Ms. Swift as some sort of white supremacist figurehead, which is a baseless fiction masquerading as fact and completely misrepresents Ms. Swift," wrote Swift's attorney William J. Briggs, II in the letter. "PopFront is substantially liable to Ms. Swift for defamation."
Herning is now being represented by the ACLU, which released the letter from Swift's attorney and came out in support of the editor. "Intimidation tactics like these are unacceptable," said ACLU attorney Matt Cagle in a press release, which also included a cheeky Swift lyrical reference. "Not in her wildest dreams can Ms. Swift use copyright law to suppress this exposure of a threat to constitutionally protected speech."
But there's more than just her politics to get angry about...
The decision to come after an upstart independent publication like PopFront -- their Twitter account still only has 242 followers a day after this story broke -- fits with the ongoing narrative of Swift perhaps overplaying her hand in battles with the press. It's unlikely that many people are legitimately convinced she's a white supremacist, but the attempt to shut down criticism through legal means doesn't exactly help her case. Approaching the issue through these back channels will likely only provide more fodder for conspiracy theorists online.
Her awkward handling of the situation is similar to her misguided response to the Kim Kardashian and Kanye West conflict that ensnared her in a tabloid story last year. The reaction to that incident, which involved a Swift-referencing line off West's Life of Pablo record, will likely be a lens through which many listeners view Reputation. One "Look What You Made Me Do" line -- "I don't like your little games/Don't like your tilted stage" -- was widely interpreted as a not-so-thinly veiled shot at West, who made a tilted stage the centerpiece of his most recent tour. Even the announcement of her new mobile app called "The Swift Life," which was unveiled in October, was seen as an attempt to steal a page from the Kardashian playbook. It's likely Reputation will only power further speculation about the perceived animosity between the two stars.
That's the tricky thing about this record: It's shaping up to be more than just a political football in our ongoing culture wars. It's also a generator of celebrity gossip, an example of increasingly bizarre corporate tie-in's in pop music, a study in how to irritate your fans through Ticketmaster, and a source for potential copyright lawsuits. Whether you're into politics, tabloids, business, or the American legal system, Reputation offers something for you to get angry -- or, to put it in social media terms, engaged -- about. If outrage is the currency of the moment, Swift could open her own bank and Reputation, a record seemingly designed to spur meta-conversations about her public persona, looks like a savvy investment.
Even if the record ends up being a dud with many pop critics, who appear to have soured on Swift's brand of self-aware memoir, it's commercial success is pretty much guaranteed. It's an event album that can't be contained by a release date, a tracklist, or a streaming service. It's airborne.
Sign up here for our daily Thrillist email and subscribe here for our YouTube channel to get your fix of the best in food/drink/fun.