Taylor Swift's 'Reputation' Calls Out 'Hiddleswift,' Kanye West & Kim Kardashian
Last night, Taylor Swift's Reputation arrived after months of feverish anticipation and occasionally ridiculous debate. While many fans who rely on streaming music services have yet to hear the record (the album is only available as an in-store purchase or iTunes download until next week), those who laid down $13.99 were treated to a record defined by steely tenacity. In the face of increased public scrutiny -- on everything from her politics to her relationships with other celebrities -- Swift has doubled-down on her most valuable asset: herself.
Far from killing off the "Old Taylor" in favor of an entirely new Chris-Gaines-like persona, the 27-year-old artist has remained true to the same songwriting instincts that powered her early hits. She's still penning tracks filled with personal musings, barbed asides, and literary flourishes. The changes are more noticeable in the music, which is an often disjointed mix of trap-indebted beats and icy synths, than in the lyrics. (She does swear on record for the first time on "I Did Something Bad" when she sings, "If a man talks shit, then I owe him nothing.")
The album's first single "Look What You Made Me Do" may have suggested this was going to be a full-on Trump-ian assault on the media -- basically, Fake News: The Album -- but it turns out the concept of "reputation" is given a thoughtful work-out here that stretches the term beyond the realm of music blogs, message boards, and tabloids. She approaches the idea holistically. Is your public honor tied to your sense of self? How do you judge character? What does one do about haters? The initial single, along with its over-the-top video, was a fake-out. Call it the musical version of clickbait. Swift is more interested in the deep-dive.
Reputation has collaborations and diss tracks
But that doesn't mean the album is completely devoid of gossip, biting remarks, and drama. "I swear I don't love the drama, it loves me," she insists on "End Game," her awkward-yet-fascinating collaboration with Atlanta rap lothario Future and R&B muppet Ed Sheeran. Even when Swift is climbing out on a stylistic limb, like she does on many of the Max-Martin- and Shellback-produced tracks on the record, she does so with a sense of assurance and control. She falls on her face with the grace of a tightrope walker.
She also pokes at her ongoing conflict with Kim Kardashian and Kanye West with similar precision. The most noteworthy moments of finger-pointing and blame-shifting occur on "This Is Why We Can't Have Nice Things," one of four captivating Jack-Antonoff-produced songs that close out the record. Over skittering drums and plinking piano keys, she lays into some conspicuously unnamed fake friends. "There I was, giving you a second chance," she sings. "But then you stabbed my back while shaking my hand / And therein lies the issue / Friends don't try to trick you/ Get you on the phone and mind-twist you."
It's hard to interpret the reference to "the phone" as anything other than an allusion to the fateful recording Kardashian released on her Snapchat last year. Later in the song, she makes a reference to Kanye West's fractured relationship with Jay-Z when she sings, "I'm not the only friend you've lost lately." She even concludes the song with a "toast" to her real friends, which feels like a pointed call-back to Kanye's "Runaway" where he made a "toast to the douchebags." If you hoped Reputation would abandon the underdog narrative in favor of some more measured introspection, it's hard not to be disappointed by the track. The tone is celebratory, like a champagne bottle being popped. The aftertaste is sour.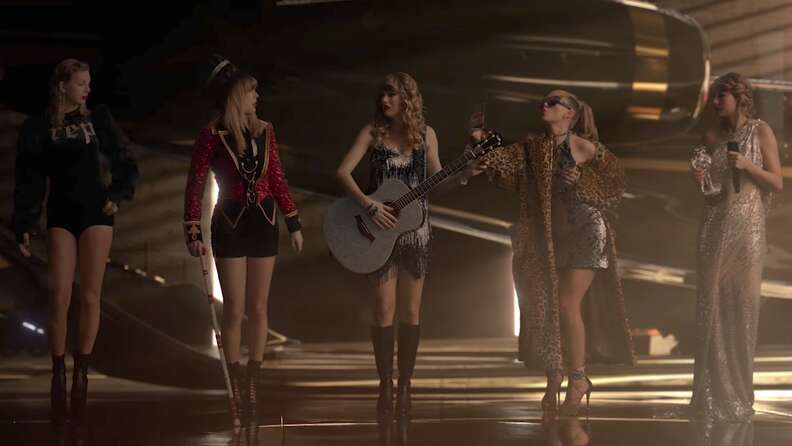 Yes, Reputation has a "Hiddleswift" song
The best song on the album appears to have more to do with a totally different incident from Swift's public life: her whirlwind romance with Thor star Tom Hiddleston. "Getaway Car," which resembles the 1989 stand-out "Out of the Woods" in both its musical and lyrical content, is a woozy and transcendent bit of pop-mythology worthy of Bruce Springsteen or U2. The song describes a love triangle where Swift makes an impulsive move from one lover (presumably Calvin Harris) to another (presumably Hiddleston). "We were flying, but we'd never get far," she sings. "Don't pretend it's such a mystery/Think about the place where you first met me."
It's such an immediately bracing song that you wonder why she didn't release it as a single. Much of the Reputation roll-out has attempted to sell the idea of Swift making a heel turn and abandoning elements of her past. The album cover, with its black and white photography and newspaper print headlines, has a sneering, villainous quality. (The opener "...Ready For It?" feels like self-conscious taunt.) But as a songwriter she's most compelling when she's exploring psychological gray areas. Her best album, 2012's country-pop turn Red, was packed with moments of rich ambiguity and fascinating contradictions. Reputation needs an "All Too Well" to go along with its many riffs on "I Knew You Were Trouble."
The last song on the record "New Year's Day," a hushed piano tearjerker, actually points in a promising direction. In the same way "Getaway Car" looks at emotional culpability through the lens of a noir-like crime spree, the final track ruminates on the excitement of a new love by chronicling the quiet morning after a blow-out party. She crafts a portrait through images of "girls carrying their shoes down in the lobby" and "candlewax and polaroids on the hardwood floor." It's that perfect Swiftian combination of bespoke intimacy and plainspoken truth. No matter what additional sonic risks she takes in the future, her reputation as a pop mastermind is safe.
Sign up here for our daily Thrillist email and subscribe here for our YouTube channel to get your fix of the best in food/drink/fun.