Everything We Know About Apple TV+'s 'Ted Lasso' Season 2
When is our favorite cheerful football coach coming back?
One of the most unexpected delights on TV in 2020 was Apple TV+'s Ted Lasso, a fish-out-of-water comedy based on an ad campaign. Jason Sudeikis plays the title character, a jolly Kentuckian and American football coach who is hired to coach the AFC Richmond football club in the English Premier League by its new owner Rebecca (Hannah Waddingham), whose initial mission is to humiliate her ex-husband (Anthony Head), the ex-owner, by destroying his favorite team. By the end of the first season, nearly everyone on the team is won over by Ted's optimism, including Rebecca. The first season of Ted Lasso goes by all too quickly, so you've probably wondered, "Will there be more?" The answer, thankfully, is yes. Let's fill you in.
Has Ted Lasso been renewed for Season 2?
Yes! Apple showed confidence in the series—even before it started gaining a fan base—by renewing the show early into its run, way back in August 2020.
Has Ted Lasso been renewed for Season 3?
Also, yes! Somewhat amazingly, the streaming service has already given Ted Lasso a third season. So get ready for plenty more of his adorably dorky puns.
When will Ted Lasso Season 2 be released?
Thankfully, it sounds like the show will actually return quite soon. Apple TV+ shared a video in February 2021 teasing what to expect in the year, and more Ted Lasso is on its slate. It sounds like the streamer is aiming for a summer 2021 release, which seems feasible, considering it was announced that production on Season 2 was already underway in mid-January 2021. That's what happens when you believe in yourself.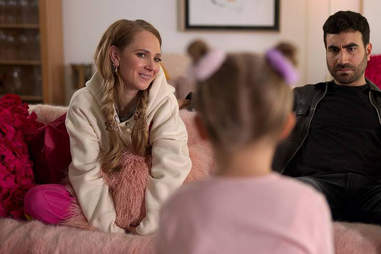 Apple TV+
How many episode will Season 2 have?
In
an interview with Collider
, cast member Juno Temple revealed that Season 2 was shooting more than the 10 episodes Season 1 had. The website reached out to Apple, which clarified that the second season would have 12 episodes "because the season's story required it."
What can we expect from Season 2?
The finale of the first season offers an opportunity for both Ted and Richmond to reset when they lose their match to Manchester in a heartbreaker, which also has a lasting effect on the club's status. The loss means it is relegated from the Premier League to the Championship League, and, like Ted, we don't entirely understand this facet of British sport, but it basically means that he and the Richmond players will have to work very hard to get back to the top league. Instead of firing him, Rebecca, who grew to regret her sneak attacks on Ted, has him keep his job with an acknowledgement that there's a lot of work to do going forward.
Was Ted Lasso nominated for any awards?
Yes! Good for our guy! It was nominated for Best Television Series, Musical or Comedy at the
Golden Globes
. Sudeikis also got a Best Actor nomination from the Globes and the SAG Awards. The whole ensemble also was recognized by the SAGs. Go, Richmond!
Need help finding something to watch? Sign up here for our weekly Streamail newsletter to get streaming recommendations delivered straight to your inbox.