Cowabunga! A 'Teenage Mutant Ninja Turtles' Porn Parody Finally Exists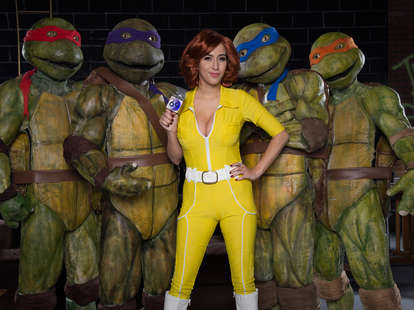 Wood Rocket
Wood Rocket
There's now a Teenage Mutant Ninja Turtles porn parody that you can enjoy in the comfort of your own underground sewer lair. Following in the rich tradition of recent viral hits like PornHub's Fuller Holes, this new parody asks an important question: What if you took a non-porn thing and made it a porn thing? Ten Inch Mutant Ninja Turtles is what you get.
As is often the case, the SFW trailer doesn't have anything explicit in it, unless you are turned on by puns -- so many puns. The short clip has ridiculous puns on character names -- Dongatello, Michelangeblow, Master Sphincter, Casey Bones -- along with deep cuts for turtle obsessives, like a "secret of the ooze" joke you probably made when you were young and blissfully unaware that one day your favorite children's cartoon would become porn. "It's like Fifty Shades of Green," says Master Sphincter, because a How Green Was My Valley joke probably wouldn't land.
The movie comes from the studio WoodRocket, which has produced videos like Strokémon and Game of Bones, and features performers like Chad Alva and, of course, April O'Neil, as yellow-jumpsuit-wearing reporter April O'Neil. At one point in the trailer, O'Neil just says, "Trump, Trump, Trump," a reference to yet another thing that also exists.
Yesterday you probably didn't know that a XXX version of Teenage Mutant Ninja Turtles existed, and yet here you are, reading an article about it on the internet. What will tomorrow bring? You can watch the very green and very NSFW movie for free here. Turtle power.
Sign up here for our daily Thrillist email, and get your fix of the best in food/drink/fun.
Dan Jackson is a staff writer at Thrillist Entertainment and is glad Krang isn't in this. He's on Twitter: @danielvjackson.