What the Hell Is Going on with Christopher Nolan's Next Movie, 'Tenet'?
It's now supposed to hit U.S. theaters on Labor Day, but will it?
Warner Bros.
Warner Bros.
Blockbuster movies have mostly been put on hold since early March in the wake of the coronavirus pandemic. Currently, the number one movie of 2020 at the box office is Bad Boys for Life, a sequel that came out in January. (Sonic the Hedgehog is number three.) And while we really have no idea when this will all be over and lockdowns will lift in film hubs and big cities like New York and Los Angeles, as recently as May studios were still holding out hope that people would want (and would be able) to return to movie theaters this summer. Driving this optimism was Tenet, the latest mysterious offering from Christopher Nolan. But as virus cases have ticked up across the country the likelihood of Tenet actually debuting seems more and more far-fetched.
There are now even more question marks surrounding this movie, which already had a lot of question marks surrounding it. Not only do we have really no idea if this movie will actually come out when it is supposed to, we also have very little sense of what it's even about.
But... what's Tenet going to be about?
According to the official synopsis, "the world of international espionage." Whatever that actually means is unclear. In the first trailer, released in December, Clémence Poésy's character explains to John David Washington's that they're trying to stop a World War III that is "worse than" nuclear holocaust. The word "tenet" seems to to be code in the context of the film, but we assume the title is also symbolic in some way, given that a tenet is also a belief.
Who is in the cast of Tenet?
This one is easier. Tenet stars John David Washington, Robert Pattinson, Elizabeth Debicki, Kenneth Branagh, Aaron Taylor-Johnson, Clémence Poésy, and, of course, Nolan fave Michael Caine. But who are they playing? Your guess is as good as mine. From the trailer, we can deduce that Washington is a spy of some sort. Pattinson drives a car and wears fancy scarves. Poésy is wearing a lab coat. Branagh is on a boat. There's been speculation that Elizabeth Debicki's character is one of Nolan's classic dead wives. (He loves a dead wife. See: Inception, Memento, The Prestige, etc.)
Is there time travel?
This is one thing we can say for sure: No, there is no time travel. In a recent (and wild) GQ profile of Robert Pattinson, he revealed that his character is "not a time traveler." He added: "There's actually no time traveling. [laughs] That's, like, the one thing I'm approved to say." There is, however, time inverting.
But could there possibly be some wonky stuff about time?
Definitely! In the latest trailer, Pattinson's character asks if Branagh's, a Russian, is performing "time travel." Washington replies. "No. Inversion." After all, this is a Christopher Nolan movie. He loves to play with time shit -- see: Memento, Interstellar, Dunkirk -- and the Tenet footage features a shot of a car flipping over and then seemingly flipping itself back. Regardless, you can bet that it will not be a straightforward action movie. In that same GQ profile, the writer asked Nolan if Pattinson was fucking with him by saying he had no idea what the plot of the movie was. Nolan responded: "Yes, he's fucking with you, because he had a complete grasp of the script. But a complete grasp of the script, in the case of Tenet, is one that understands and acknowledges the need for this film to live on in the audience's mind, and suggest possibilities in the audience's mind. And he was very much a partner in crime with that." It's going to live on in our minds. Cool.
Is it going to be structured like a palindrome?
Given the name, that's what some people think! But both trailers highlights palindromic events (like that car flip mentioned above), so that also might be how the concept ties in. But again, who knows!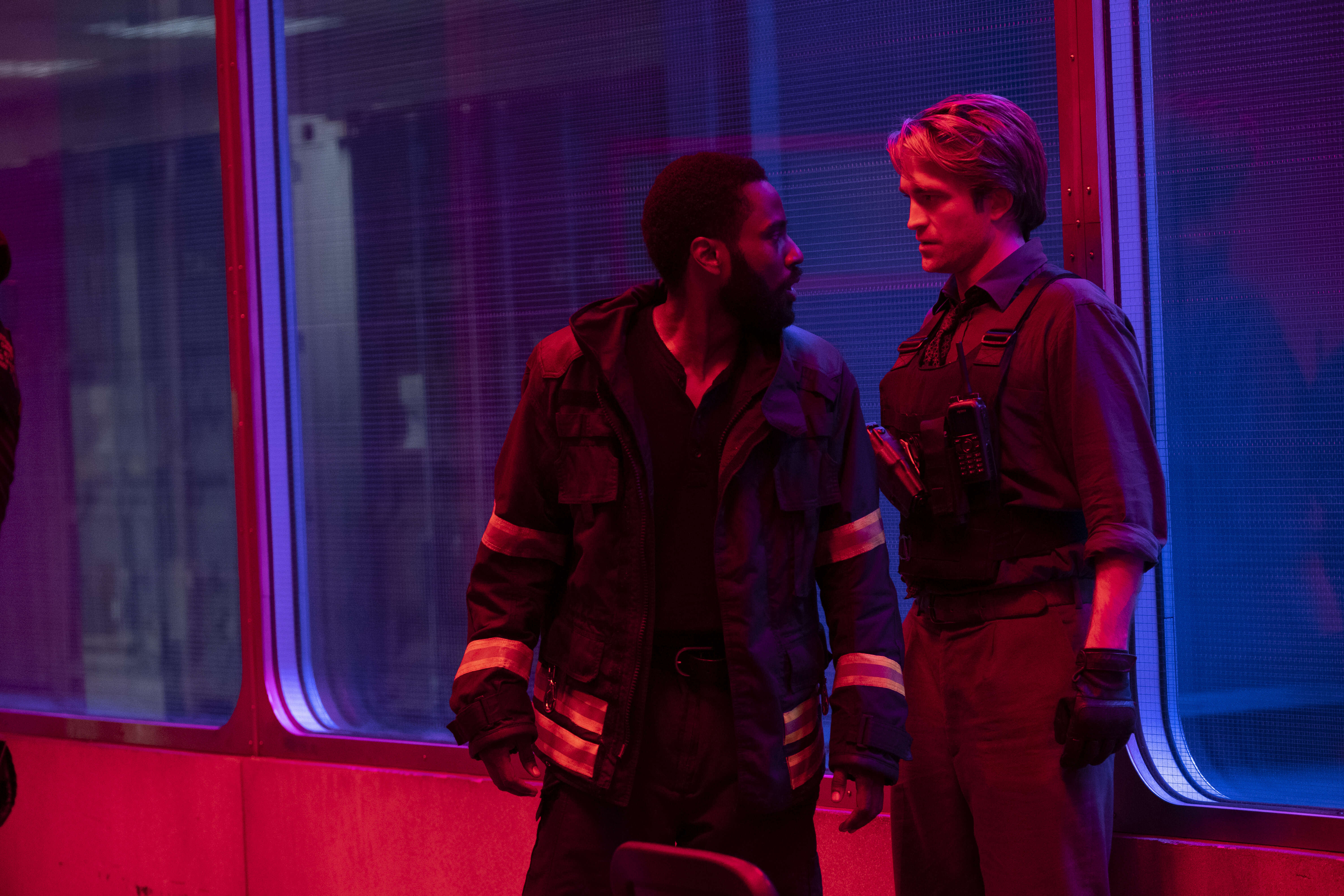 So, when is Tenet coming out?
I know, I know. I'm excited too. But here's the tricky thing: Tenet was initially due in theaters July 17. While other studios rushed to shift around release dates for their big summer fare, Warner Bros. parked on the planned date for Tenet and held firm. Now, it almost feels like Tenet is playing a game of chicken with the global pandemic. On June 12 the studio announced it was pushing its debut back to July 31. Then, on June 26 with cases mounting across the country, Tenet was pushed again to August 12. Finally, on July 20, the Monday after Tenet was supposed to have come out originally, Warner Bros. said that it was delayed again. This time no date was announced. The following Monday a new plan emerged. Tenet would drop internationally August 26, and then hit select theaters in the U.S., presumably the ones that are open, on September 3.
People have been watching Tenet closely. In an interview with Indiewire, an anonymous studio distribution president called Tenet the "the canary in the coal mine if it goes" with the rest of the industry is banking on its release. It seems like that canary chirped. After Tenet announced its first move, news broke that Warner Bros.' Wonder Woman 1984 would be shifting to October. Disney initially moved Mulan, supposed to come out in March, from July to August 21 before taking it off the calendar entirely.
Will it skip theaters and go straight to VOD?
Probably not. Christopher Nolan loves and believes in movie theaters, going so far as to publicly diss Netflix (which he later apologized for). When theaters started shutting down due to the coronavirus, he wrote an opinion piece for the Washington Post arguing for the sanctity of the theatrical experience. "When this crisis passes, the need for collective human engagement, the need to live and love and laugh and cry together, will be more powerful than ever," he wrote. "The combination of that pent-up demand and the promise of new movies could boost local economies and contribute billions to our national economy. We don't just owe it to the 150,000 workers of this great American industry to include them in those we help, we owe it to ourselves. We need what movies can offer us." In other words: Perhaps Tenet can save us all.
Has anyone seen Tenet?
As of August 21, officially, yes! That's when the embargo broke on reviews, all of which came from critics based outside of the U.S. The reaction? Decidedly mixed. Writing for the New York Times, Jessica Kiang said it "is undeniably enjoyable, but its giddy grandiosity only serves to highlight the brittleness of its purported braininess." Catherine Shoard at The Guardian compared it to Team America: World Police -- unfavorably. Indiewire's headline branded it a "humorless disappointment." But considering that there are reviews to begin with, all signs point to the plan unfolding as WB intended with an August 26 overseas debut followed by something in the states.
Need help finding something to watch? Sign up here for our weekly Streamail newsletter to get streaming recommendations delivered straight to your inbox.