10 Things You Didn't Know About Vaping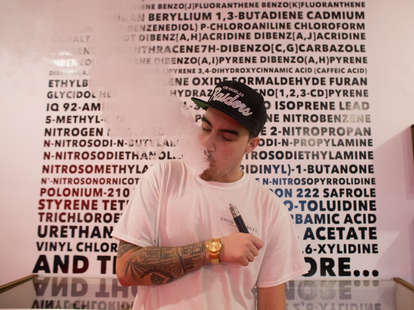 You know what an e-cigarette is. The battery powered nicotine delivery device that's seemingly exploded into a three billion dollar global industry. Vape? It's the e-cigarette evolved into an entirely new sensory experience packed with thousands of flavor combinations and unique delivery devices that look more at home in a sci-fi movie than the back of a gas station. And its enthusiasts run the gamut from those just looking for an alternative to smoking to true artists. Want to know what it's like to smoke a single malt scotch? Read on to find out.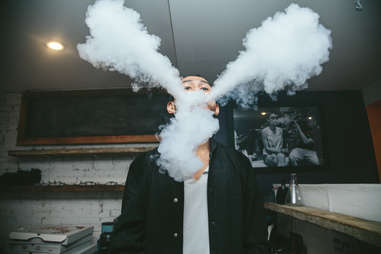 1. Vaping ain't the same as an e-cigarette
Both use battery-heated air to vaporize an "e-liquid", but the similarities stop there. While e-cigs most often resemble cigarettes in appearance, vapes come in all shapes, sizes, & designs and include thousands of different flavor combinations.
2. And the e-cigarette is making way for the vape
For the first time since they hit the market, the sale of e-cigarettes at convenience stores dipped in May of 2014 (they went down 10.4%). Why the decline? Bonnie Herzog, Wells Fargo analyst, argues that more people are going the route of the vape in lieu of the e-cig. Why the switch? Think back to your beginning drinking days. You've probably long since replaced watery beers with more complex beverages. Early adopters of e-cigs are expanding their palate and exploring the more multifaceted flavor profiles of the vape.
3. Vapers are very much not down with ol' Big Tobacco
Vaping enthusiasts, in spirit and practice, aim to move away from Big Tobacco (owners of many popular e-cig brands). Far away. The Henley vaporium in Manhattan's SoHo has gone so far as to carry a vape with the words "F**k Big Tobacco" written around it, which pretty well condenses the vape world's attitude. Plus, it's punchy.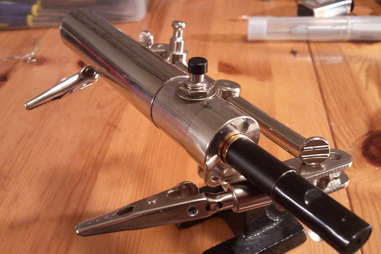 4. And people make serious investments in it
Seriously, check out this accessory that someone purchased for $3,000.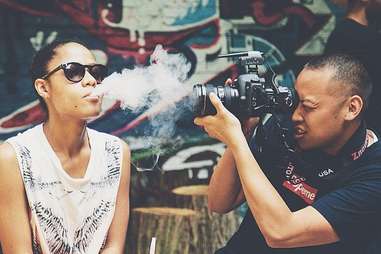 5. Some flavor-makers have elevated vaping to art
Daniel Walsh, who puts his sage e-liquid skills to work at FlavorZ, is something of a cult hero. He says that "vape is a pure art form, there can be no convincing or explaining. Either it tastes good or it doesn't". Daniel is among those tapped by NJOY for their Artist Collection, a flavor series featuring the most talented e-liquid-gurus on a new sensory frontier.
6. And they have some pretty far out tastes
Flavors range from blueberry to marshmallow to single malt scotch (and every palate-pleasing combos in between). Got a fruity sweet tooth? Daniel selected a dessert flavor called Paramour for NJOY's artist series that's a blend of peach and pear with a light spice backing. And it's dope. That is all.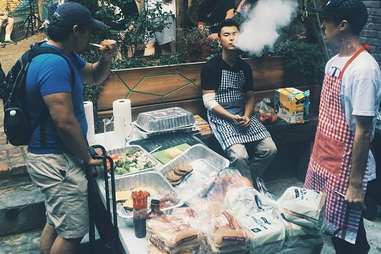 7. A pretty colorful vape culture has emerged
In the vaping world, a kooky, DIY spirit abounds. Even if you don't make your own "mod," -- slang for vape gear made from repurposed materials, like game controllers -- vapes demand a lot of tinkering. There are large gatherings of vapers, called "vape meets", in which enthusiasts swap new gadgets, flavors and hopefully cool nicknames like "Smokey Bear".
8. Some gnarly old English dudes say vaping could save thousands of lives
A study published in the British Journal of General Practice (by a research team from University College London) argued that vaping could save as many as 6,000 lives per million smokers each year. Nice.
9. It's actually competitive sometimes
Within the vape subculture is a sub-subculture – the controversial "cloud chasers". Cloud chasers adjust their gear to produce much, much more vapor than one would inhale casually. They take extravagant drags, letting the vape billow for distance and, yes, girth, then measure the results against each other. Check out some competitors right here.
10. There's a vape-themed mix tape
It's called Cloud Chasing, Volume 1 and all the songs are about vaping. Seriously.