'That Summer' Is an Eye-Opening Prequel to One of the Most Famous Documentaries of All Time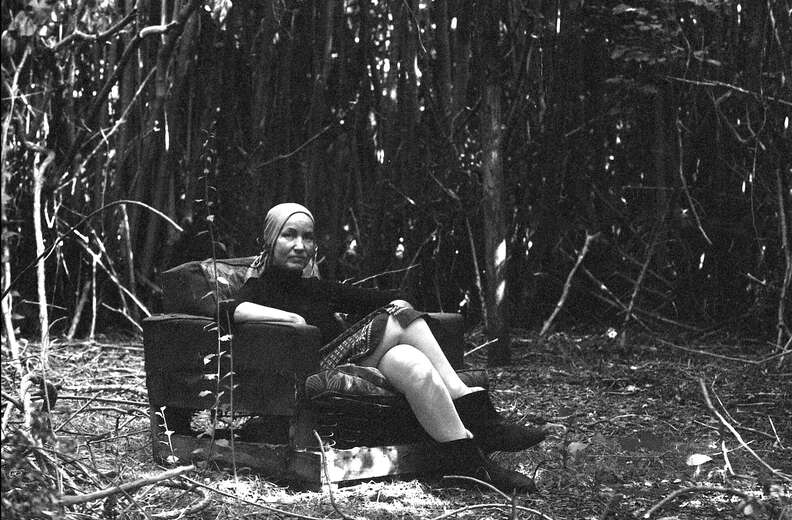 Courtesy of Peter Beard
Courtesy of Peter Beard
There is no franchise like Grey Gardens. Not for documentaries, anyway. The classic 1975 Maysles brothers film about the eccentric mother and daughter pair known as Big Edie and Little Edie and their derelict Long Island estate called Grey Gardens has spawned a companion-piece sequel, a Broadway musical, and a narrative remake for HBO starring Jessica Lange and Drew Barrymore. There are spoofs. There are coffee table books. And, in a way, Grey Gardens has even inspired cosplay, uncommon with nonfiction cinema, thanks mostly to Little Edie Beale becoming an icon for fashion designers and drag queens. Now, with the documentary That Summer, there's also a prequel.
"I think it's very cruel to bring up the past," says Little Edie in the new documentary. "[To] dig up the past I think is about the most cruel thing anybody can do. Because you always find some awful blot. Or something that will embarrass someone." Ironically, That Summer is doing exactly the thing she admonishes: digging up old footage, presenting seemingly uncut reels of film shot in 1972 ahead of the making of Grey Gardens that's been hidden away for the last 45 years. There's no blot or embarrassment in what's been exhumed, though. Nothing that we haven't encountered in the other films. Well, no, wait, there's the nonchalant moment where Big Edie Beale tells her daughter that she "shouldn't have had incest with her uncle."
Her uncle is John Bouvier III, father of First Lady Jacqueline Kennedy Onassis, and it was Jackie O.'s sister, socialite Lee Radziwill, who funded the project that has now resulted in That Summer. Radziwill and legendary photographer Peter Beard hired Albert and David Maysles to make a documentary about her family, particularly focused on their time and residences in the East Hamptons section of Long Island. In addition to the clips of the Beales at Grey Gardens, we see Radziwill interviewing neighbors about her father, the stockbroker John Vernou Bouvier III. One man is hesitant to talk to her about Bouvier's reputation as a ladies man, yet that's all he can think of. Later, in a new voice-over recorded for That Summer, Radziwill says, "Without memory, there's no life." But what if the only memories are focused on just one notorious part of a life?
With Grey Gardens, which the Maysles brothers would go on to make on their own after Radziwill shelved the project, the memory of Big Edie and Little Edie Beale is of two reclusive women living in a filthy, decaying home. The HBO movie starring Lange and Barrymore helped flesh out their lives with flashbacks to their early days as part of New York's elite before they isolated themselves at their East Hampton estate. That Summer fills in the gap of the period when the Beales then became famous in the media for being the poor relatives of Jackie O. who were living in a nearly condemned home, and for Aristotle Onassis, Jackie O.'s husband after JFK, and Radziwill coming to the Beales' rescue, funding renovations of the mansion and helping with other bills.
The Grey Gardens of That Summer is a much busier place than we see in the Maysles brothers' documentary -- there are visits from the county health inspectors who threaten to evict the women, reporters and a lawyer who came to their defense, and contractors hired to make plumbing and roof repairs. Radziwill's children, Prince Anthony and Princess Anna Christina, also show up for a bit where they feed bread to the raccoons. Yes, there are moments that will feel familiar to Grey Gardens fans: More raccoons. More cats. More Little Edie singing. More best costumes for the day. More bickering. And there are also wonderful new things for fans to embrace, such as the story of "the Disappointed Chair."
Grey Gardens might show us a more calm time, during the Beales' reclusive everyday life at their crumbling home after the "sons of bitches" in the local government left them alone, but That Summer offers interesting context by illustrating part of a known, but never seen background to the women's story. Watching the footage, put together by Swedish director Göran Hugo Olsson (The Black Power Mixtape: 1967-1975), is akin to having access to that first incarnation of Nanook of the North, which Robert Flaherty accidentally lost in a fire before basically remaking the whole thing as the landmark documentary we know today. That's not to say Grey Gardens now feels staged the way Nanook does (and was), but there's a sense gained here that the Maysles' film was less extemporaneous than it looks.
The bookending scenes with Peter Beard aren't as effective as they could be. The introduction, in particular, shows Beard leafing through a book of his photographs of Andy Warhol and Mick Jagger and others, plus African wildlife, without explanation. Eventually it becomes clear that this is all set up for how Beard and Radziwill got together and came up with the idea for the project in the Hamptons. The audience for this film isn't going to be as interested in it sometimes being a documentary on Beard and his involvement, and we don't need so much new footage shot in his Montauk home. But his voice-over narration, just like Radziwill's, is consistently terrific in its recall of the experience meeting and filming the Beales and their "flying submarine spaceship" of a home.
Because That Summer is so closely connected to Grey Gardens, it doesn't exactly work as a standalone effort. But because Grey Gardens is such a big deal, the new film can exist separately enough. For any other set-up to a documentary, this sort of thing would best be served as an extra on the Criterion Collection home video release. Yet as with any franchise with a sizable fandom, supplements, especially of the prequel or production history variety (and in this case, it's both), are in demand by the devout completists. Fans of Grey Gardens and the Beales are going to want to see the unseen footage, and for the most part, they won't leave disappointed.
Sign up here for our daily Thrillist email and subscribe here for our YouTube channel to get your fix of the best in food/drink/fun.
Christopher Campbell is a freelance film editor and critic and the founder of the documentary review site Nonfics. Follow him for opinions of all sorts of movies @thefilmcynic.