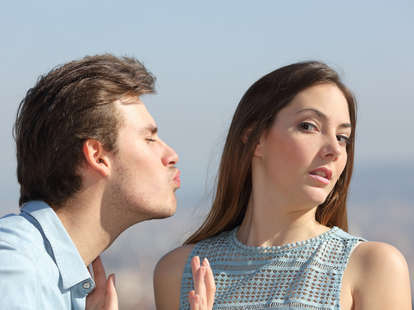 Shutterstock
Shutterstock
Negotiating the line between playful flirting and creepy Pepe Le Pew can be difficult at times. Americans don't have much of a reputation when it comes to chewing the fat with potential sexual partners.
However, some cultures take the pawing, catcalls, kissing noises, and all around flirtatious behavior to new levels. Flirting comes naturally to some nationalities; so natural that they take it to the extreme, scaring away potential mates through boldness and bad behavior.
To identify these uninhibited nations, we asked the online audience at Reddit and Quora for their stories. In addition, we read up on statistics regarding online flirtations, sexual harassment, and sexual activity in general (just because). Countries were then ranked based on how aggressively they flirt. Extra points were given to those countries where the women are also getting in on the action. Here are our top 10:
10. Russia
It's hard to imagine "I will break you" as a great pickup line, but hey, to each his own. These stone-faced, vodka-slugging, modern-day Cassanovas are surprisingly some of the most sexually active and flirtatious countrymen. The Russians get our nod, however, not because of their game on the streets, but because of their game under the sheets. Also, their online activity.
According to the number of "flirtatious interactions initiated per month" on Badoo.com, a social networking and dating site, Moscow beat out some big towns to earn the title of "second most flirtatious city" in the world. It was also named the third most sexually active country in a study conducted last year. Who knows, with the dating landscape changing from bar scene to iPhone screen, the Russians may just be the irritating, chatty flirts of tomorrow.
9. Dominican Republic
The DR comes in at number nine thanks to the flirtatious feats of both genders. Dominican women were ranked the third most flirtatious online, beating out a number of countries known for great love-making. They are not afraid to initiate and they do so frequently. Meanwhile, the country has a lot of sanky-pankies, or dudes who try to engage in romantic relationships with tourists to score their cash. And if there's one thing sanky-pankies must constantly do to grab the attention of new visitors, it's flirt.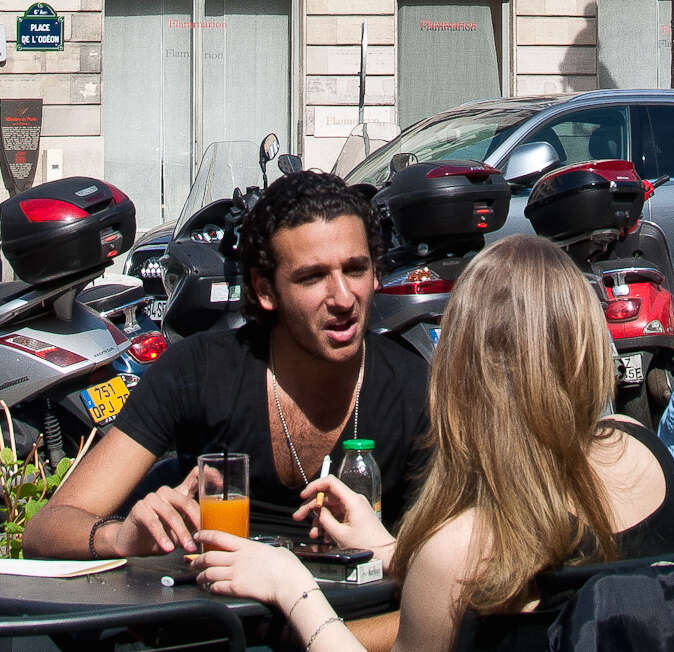 8. France
Everyone's favorite super-lovers, the French are well known for their aggressive flirtation. Sure, if you're an American tourist sitting at a café on the Boulevard du Montparnasse, chances are you won't mind a few men commenting on your "beautiful eyes." If you're a local, however, it's not quite so charming. A recent study found that 100% of Parisian women questioned had experienced some form of sexual harassment while commuting on the Metro. Yep, 100%. That's like, all the women.
7. India
Indian men have a bit of a reputation, to say the least. Indian women, on the other hand, are more demure; which is why the men seem to feel the need to make their presence known -- kissy noises and catcalls are not out of the ordinary. One Quora user commented on the fact that they take the idea of the "chase" a little too far, thinking they are in a Bollywood movie and the woman will eventually say, "yes." No, no she won't.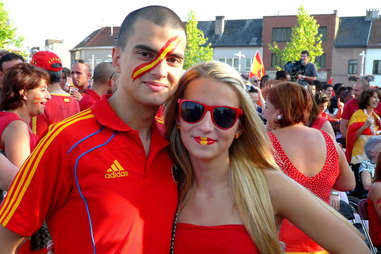 6. Spain
The "Latin lover" is a term often thrown around. And it's true, Spanish dudes can be incredibly flirtatious. But Spain makes the list because of its women. Data collected by Badoo.com shows that Spanish females are the world's most flirtatious online; in fact, Spanish women initiated conversation more than any other country. So, men, either be weary of the saucy Spanish woman who always wants to surf the Internet, or you know, get on the next flight to Spain.
5. Colombia
Latin Americans are often known for their openness to love, life, and affection -- it's in their blood. But sometimes their flirtation goes a little too far. Colombia hits the middle of the list because its major city, Bogota, topped another not-so-lighthearted list: worst public transportation systems for women. Yeah, a survey conducted by Reuters examined sexual harassment complaints on public transit routes in some of the world's busiest cities, and Bogota's was the worst. Not cool.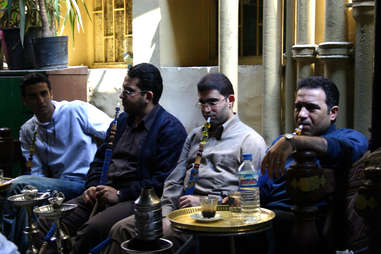 3. Egypt
It may seem a little out of nowhere on a list full of European teases, but Egyptians can be pretty aggressive with their come-ons. Smithsonian Magazine reported that 99% of women in Egypt have been sexually harassed in some way. Again, that's a whole lot of women and a whole lot of way-too-aggressive flirtation. Calm down, dudes.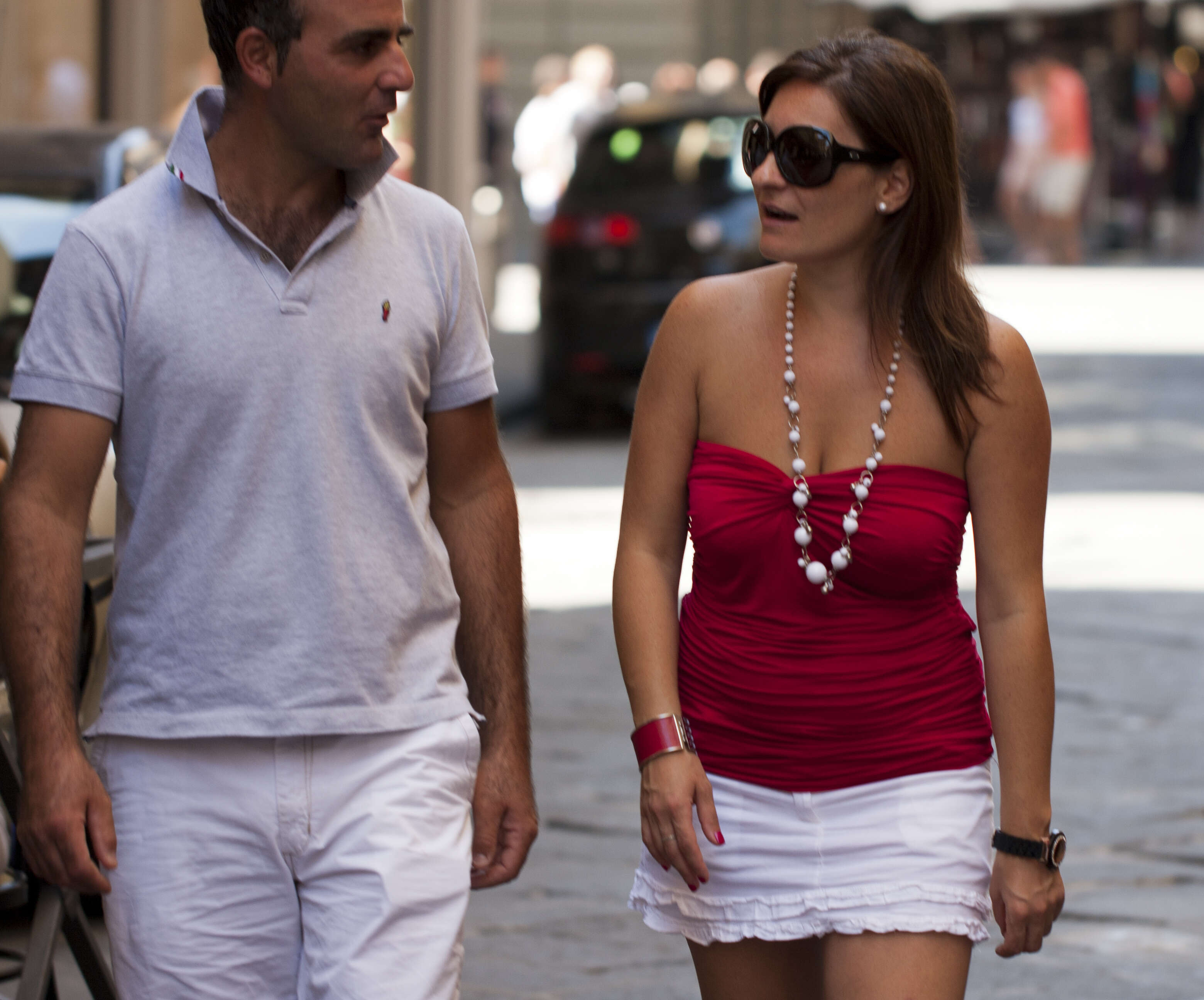 2. Italy
Two words: "Ciao, bella." Italians are known worldwide for their sexy behavior and casual interactions can go from 0 to 100 quickly, at least according to Elle Ide in her article for the Telegraph about "The Sofa Rule." Apparently, if you are sitting on the sofa alone with a member of the opposite sex, well, that's grounds to make a move. Who knew?
Despite all this, Italians take our number two spot because of the American-Italian love affair. We blame Fellini for making Italians seem so attractive during our Intro to Film class. But, whatever the reason, Americans have a thing for Italians. And Italian dudes know it, which creates a very, very flirtatious backdrop. Throw some strong emotion and Italian hand gestures into the mix and we've got a recipe for disaster.
1. Greece
Turns out a down economy doesn't affect the confidence level of Greeks at all. Nope, not only has Athens been named the world's most flirtatious city, but Greece as a country was dubbed the most sexually active nation.
Dr. Simon Hardy, author of the journal article, The Greeks, Eroticism and Ourselves told the Telegraph that the Greeks may have perfected their flirting skills way back in the day during those ultra-sexual symposiums. You know, when they were just talking about philosophy. Obviously, they enjoy using these skills. They flirt more than any other people and have more sex than any other people and they basically invented rhetoric, which is pretty handy when trying to turn a "no" into a "yes." If you are visiting Greece soon, be on guard, you may get yourself into a sexy situation before you can say, "Aristotle."
Sign up here for our daily Thrillist email, and get your fix of the best in food/drink/fun.
Kara King is a production assistant at Thrillist and learned a lot about flirting from Austin Powers. Follow her cheesy lines at @karatillie.