13 Brilliant 'This American Life' Episodes You Can Hear Right Now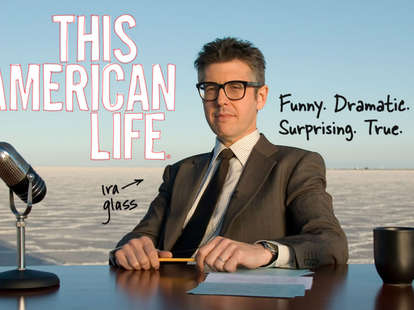 Chicago Public Media
Chicago Public Media
During its 20-year run, Ira Glass' This American Life has earned many broadcasting awards, boosted countless careers, and spawned at least one hit podcast (Serial). The weekly program is entirely worth your time -- but with nearly 600 episodes produced to date, where to start? Sample the 13 standouts in our guide to the very best of TAL's very best and you'll see why we're convinced that the program's signature cadence has permeated just about everything worth a damn in modern storytelling.

Original air date: 7/27/2000
The gist: A brilliant and unexpected look at American expat life in France's capital city.
Why it's great: The episode kicks off with Glass checking in on one of TAL's favorite guests, David Sedaris, who flips the script on what it means to live abroad. Sedaris haunts places you won't find on anyone's bucket list, including taxidermist studios and hardware shops. The final act introduces the writer Janet McDonald, who, like Richard Wright and James Baldwin, fell in love with Paris while contemplating what it means to be African-American. As McDonald explains it, being black and being American are often two different things. In Paris, a person can just be.

Original air date: 11/16/2001
The gist: Adam Beckman and his family search an abandoned house in a sleepy Massachusetts town and find eerie clues left scattered across its floorboards.
Why it's great: While TAL is typically broken into three acts, each with distinct characters and plots surrounding one theme, some of its best follow one story for the entire hour. Don't listen to Glass when the singular "House on Loon Lake" is "a real-life Hardy Boys story, or maybe an episode of Scooby Doo." He's lying. This episode amounts to a spine-tingling fright, not a young adult novel. After the Beckmans discover newspaper clippings from decades earlier, personal letters with echoes of heartbreak and breakdown, and the chilling image of a doll's scorched head, curiosity turns to obsession.
Original air date: 8/9/2002
The gist: A group of male inmates at a high-security prison in Missouri rehearse and perform a production of the final act of Shakespeare's Hamlet.
Why it's great: Listening as a group of hard-nosed criminals wrestle with the complexities a four-century-old masterwork brings unexpected appreciation to a play many of us might dismiss as high school required reading. In "Act V," a motley crew of misfits and malefactors find reckoning and redemption through iambic soliloquies, the meanings of which transcend age, class, and criminal rap sheet. The play isn't professional -- there were no lavish sets or polished performances -- but hearts beat inside the chests of these men, many convicted of heinous acts. Get ready to fall for Big Hutch as Horatio, and his razor-sharp criticism of a Hamlet plot hole.

Original air date:10/7/2005
The gist: The stories of people who, when all hope was lost, found a way to keep living -- physically, emotionally, and spiritually.
Why it's great: Survival instincts are on full display in this episode that begins with a plane full of passengers seemingly bound for certain death, who circle for several hours before an emergency landing attempt. Though we know the jet safely descended, Glass' survivor interviews make for a nail-biting segment. The crux of "Back from the Dead" focuses on those affected by Hurricane Katrina. In true TAL fashion, the reporting does not endeavor to take on the totality of the disaster, focusing instead on the individuals on the ground, people who rode out the storm in trees and now live in tents, broken communities that look to the outcome of a high school football game to regain a sense of normalcy and hope. Long after the tide washed back, we have these stories to remember this dark and devastating chapter of American history.

Original air date: 5/08/2008
The gist: Adam Davidson and Alex Blumberg translate the economic gobbledygook of the 2008 financial crisis and tie it to actual people with motives, desires, and fallibilities.
Why it's great: Davidson and Blumberg's reporting on the real estate bubble stands as a monument to narrative audio's ability to help listeners follow the facts of an intricate story. "The Giant Pool of Money" couldn't be split into soundbites or packaged up for the five o'clock news. It's custom made for longform listening. Even the bad actors, such as Glen Pizzolorusso, a 20-something college graduate who made $1 million a year selling bogus mortgages, jump out as colorful and relatable. Leave it to TAL to understand that we can't talk about the recession around the dinner table without first knowing the people who nearly drove us into the abyss.

Air date: August 24, 2007
The gist: A celebration of the cliché of heartbreak from every angle.
Why it's great: A charming, vulnerable Starlee Kine (now the host of Mystery Show) decides that the best way to get over a recent breakup is to write her own breakup song, and seeks guidance from none other than Phil Collins. As the story evolves, Kine echoes what we all fear to be true about breakups: that we secretly enjoy the sadness. The episode ends with three short acts about divorce, including a recording of an 8-year-old asking questions about her parents' breakup that her adult self attempts to answer. Forget Adele -- this is the antidote for heartbreak.

Original air dates: 1/6/2012 and 3/16/2012 (note No. 454 is now only available in transcript form)
The gist: Mike Daisey performs an excerpt from his one-man show, The Agony and the Ecstasy of Steve Jobs, which chronicles his eye-opening visits to Apple factories in China in which he spoke to workers about working conditions. Later, host Ira Glass sits down with Daisey after evidence surfaces that details in the story were fabricated.
Why it's great: In its 20-year run, This American Life has only once had to issue a retraction. While many media outlets -- newspapers and radio programs alike -- might have issued a "regret the error," Ira Glass made the decision to turn the debacle into a radio show. "Retraction" not only vies to get the story right, digging into some of the allegations regarding underage workers and dangerous conditions inside factories, but it also pulls back the curtain on how stories are vetted and fact-checked at TAL. Glass is candid about the show's role in failing to thoroughly follow up on sources, but also confronts Daisey for exploiting his staff's trust. In one of the most gripping discussions ever recorded regarding the role of facts in journalism, Daisey argues for the emotional truth -- the "truthiness" of his version -- while Glass insists, no, facts are facts. Though the story about the story overshadows the very real problems at Apple factories, TAL wins the day by proving its integrity to listeners.
Original air date: 8/17/2012
The gist: A memorial for writer and TAL legend, David Rakoff, showcasing his effortless wit and candor.
Why it's great: In 25 This American Life appearances spread across 16 years, writer David Rakoff brought glibness and repartee by the truckload. But beneath his acerbic exterior was a timidity and tenderness that listeners fell in love with. Rakoff died of cancer in 2012, and Glass devoted an entire show to his best moments, a collage of the man at his wittiest, his most self-deprecating, and his most human. We hear about his experiences as a shy, gay teenager working on a chicken farm in the company of men who refer to him as "she," and overhear an interview snippet recorded years before while talking to Fresh Air's Terry Gross, when Rakoff describes being "the kind of fellow who is beloved by all yet loved by none." Even if you haven't had the pleasure of falling in love with this longtime contributor over the tenure of his career, you will here. At the end of the episode, in a recording from just a few weeks earlier, as cancer strangles his voice, listeners witness Rakoff's stubborn perseverance and will to live.

Original air date: 10/5/2012
The gist: Inspired by Nietzsche's quote, the episode covers Tig Notaro's relentless misfortune, a New Zealand shark attack, misfiring neurons, and a stabbing.
Why it's great: After the success of Tig Notaro's first TAL appearance, Ira Glass asked if the comedian would talk about her mother's sudden death, her recent breakup, or even her bout with C. diff, but Notaro didn't see anything funny about her own suffering. Four months later, after receiving a cancer diagnosis, Notaro heeded Glass' advice and opened a set at LA's Largo with, "Good evening. Hello. I have cancer." TAL dropped a segmented version of what became her groundbreaking, iconic set at Largo, Live, the same day that Louis C.K. started selling a recording of it on his website, demonstrating TAL as a cultural force, not only for its exquisite, exacting taste, but for its incredible reach.
Original air date: 2/15 and 2/22, 2013
The gist: A two-part investigation into the gang-related shootings of 29 current or former students from Chicago's Harper High School in a single year.
Why it's great: Three TAL reporters spend five months reporting on Chicago's Harper High School and learn that the common myth that people volunteer to be in gangs isn't true of these students, who are automatically assigned gangs depending on their home address. To understand the systemic violence, TAL switches points of view between staff, students, and parents, and when the show zooms all the way in on Devonte, a student who accidentally shot and killed his brother, we're transported into the thick and ever-present grief that haunts the school's halls. TAL's impressive reporting earned a Peabody Award and raised $250,000 for the school. Even the Obamas got involved.

Original air date: 11/1/2013 (updated from Episode No. 61, which aired 4/25/1997)
The gist: From a small-town production of Peter Pan where everything -- everything -- goes wrong to a house call by police officers that devolves into a comedy of calamities.
Why it's great: In this classic multi-act episode -- updated from one that aired in TAL's third year -- Glass treats listeners to uproarious anecdotes about things falling apart. What separates this from a rehashing of everyone's best dinner party stories is the inquiry at the center of it: what ingredients are needed to elevate one of life's curveballs to true-blue fiasco? The stories have momentum, a sense of social balance careening toward disaster, whether it's a playhouse filled with belly-laughing theatre-goers, or a bloodied homeowner's discovery of charred squirrel remains.
Sign up here for our daily Thrillist email, and get your fix of the best in food/drink/fun.
Eric McQuade, Laura Standley, and Devon Taylor run The Timbre, a site dedicated to the emerging art of podcasts. Follow the site on Twitter @timbretweet.