It's the 4th of July, the day Will Smith stopped an alien invasion with Harry Connick, Jr. It's also the occasion to sit back as a country and think about how undoubtedly spectacular it is to be born American. And what better way to recognize why the USA is so darn spangled than to celebrate all the awesome stuff we've made and continue to make?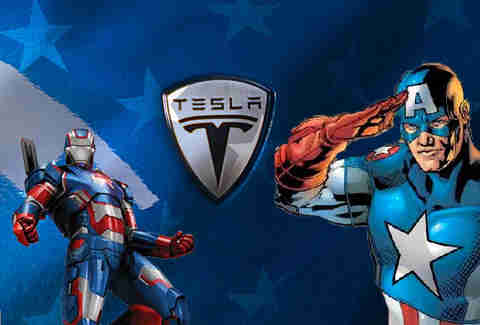 Tesla
 
Named after the 1980's rock legends (Mechanical Resonance is still so dope) and definitely not a 19th century inventor, Tesla (in just the 11 years it's existed) has permanently disrupted the auto business by creating the first successful totally electric car, and cutting out dealerships by building a direct-to-consumer business model that makes buying a vehicle as easy as buying a bologna sandwich… provided that the bologna sandwich costs $57,000. Tesla represents the never-ending need for America to innovate, invent, and have business titans with names that sound like Venusian crystal barons. Thank you, Elon Musk.
 
Jack Daniel's
 
Nothing is more American than having two first names. Except maybe whiskey. Good thing JD covers those bases easily. When Jasper "Jack" Daniel was left a Civil War orphan, preacher/moonshiner Dan Call took him in and taught him everything he needed to know about making hooch. Now, Jack Daniel's sells 11 million cases of the bottle that bares Jasper's name in a single year.
 
REI
 
Their first store? A co-op opened in 1937 to give weekend warriors access to great equipment at easy prices. Their original CEO? The first American to summit Mount Everest. Their custom travel division? The first ever to run carbon neutral trips. As the only country to land a person on the moon, we're no strangers to historic firsts, and neither is REI. From humble beginnings, this all-American retailer did $2 billion in business last year (United States = also about those dolla, dolla bills ya'll).
 
Weber
 
Operating as a metal works company for the first six decades of its existence, Weber didn't stumble upon the product that would make them a global giant until the '50s (the most American decade ever!). Built for personal use by a part-owner of a sheet metal shop in Chicago, the original kettle grill quickly became a sensation in spite of bearing the uninspiring moniker "George's Barbeque Kettle". Good ol' George launched Weber's barbeque division and soon after bought out the entire company, and they've been fueling America's home grilling fire ever since.
 
TGI Fridays
 
We take good things and make them better. That's American and that's TGI Fridays. In 1965, Alan Stillman opened the first Fridays in New York and took the simple idea of a drinking hole and turned it into the first singles bar. In 1974, TGI Fridays took a staple food and made it into the quintessential, cheese-smothered snack: the potato skin. In 2014, they want to do what they've done best for the past 50 years: transform the end of your workday from something good into a story worth telling for the next 50 years.  
 
Gibson
 
Where would France be without us bailing them out in World Wars I through X? (That's the Roman numeral for "2", right?) Where would musical legends Chuck Berry, Jimi Hendrix, Eric Clapton, Dave Grohl, and hundreds of others be without a Gibson guitar? From a guy (Orville Gibson) selling mandolins out of his workshop in 1894 to the company that's made the most famous riffs in history possible, Gibson is the brand that exemplifies America's unique ability to make the world a better place through helping others, basically like a much sexier Edward James Olmos in Stand and Deliver.
 
Harley
 
From the Great Depression to a couple of bad decades later in the century, Harley has gritted out the tough times and emerged as one of the most recognizable symbols of American coolness. Dennis Hopper and Peter Fonda sparked a Hollywood revolution after riding Harleys in Easy Rider. Bridget Bardot sparked something entirely different in dudes everywhere when she penned an immortal ode (and more immortaler music video) to the motorcycle company. There are few things in the world more of an American icon than Harley. Okay, maybe the original declaration of independence… maybe.
 
Levi's
 
They're the first company to sell blue jeans, the pants that have outfitted the most badass and American of professions ever: lumberjacks, gold miners, cowboys, and pretty much every other non-monster based Halloween costume character. Levi's is so influential that the founder (Levi Strauss) has his own museum… in Germany, which he left when he was 18 to come to, duh, the USA. And in 2013, the company did the most American thing humanly possible: got a football stadium named after them. The 49ers for the next 20 years play in the house of Levi's.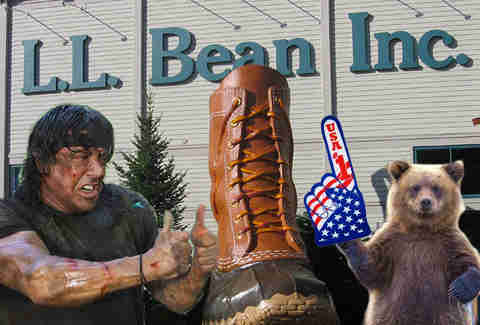 L.L. Bean
 
Because your dad has a coat and a pair of boots from the Bean, and dads are American. Plus, the clothing and outdoor gear company has a flagship store sitting in Freeport, ME on the same site where Leon Leonwood Bean started the whole thing in 1917. It's open 24-hours a day and they don't even have locks. That's the kind of goodwill and trust that builds a billion dollar business which, again, is solely based on dads.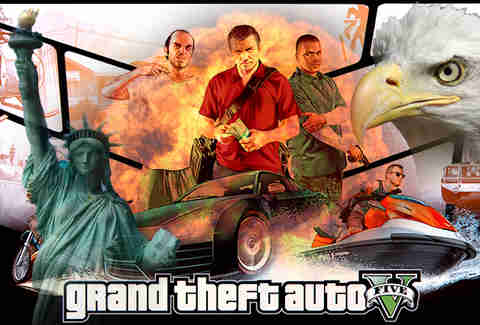 Rockstar
 
Forget Jazz as the great American art form -- it's video games. We invented 'em, and we've turned them from childhood distraction into epic narratives and cultural touchstones. And there's no better example of this than the work of Rockstar. You know, the company that created Grand Theft Auto, the series that's featured voice work from Burt Reynolds, Dennis Hopper, Samuel L. Jackson, and (oh yes) Phil Collins. And you're not really art nor American until you've inspired controversy. Guinness World Records counted over 4,000 articles connecting GTA to real world violence and corrupting America's youth… and that was in 2009, before GTA V sold over 11 million copies in its first 24 hours on sale.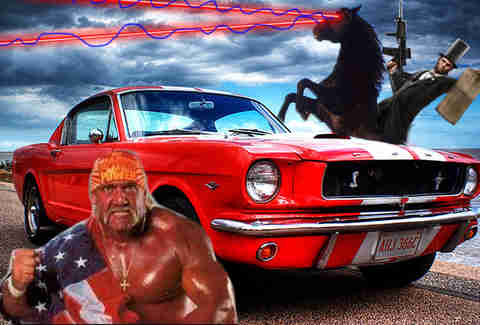 Ford
 
The guy who the company is named after (Henry Mitsubishi, duh) invented the freakin' assembly line! That's the most American thing this side of Fat Elvis. The Ford Motor Company incorporated in 1903 and has been an engine of American ingenuity and just plain awesomeness (the Mustang! The Bronco! Other horse themed conveyances!) ever since. They even export American dominance: Ford engines won 176 Gran Prix races between 1967 and 2003.
 
Under Armour
 
British spelling of "Armor" aside, Under Armour is an all American story. From just a 23-year-old kid in his grandmother's basement, to selling out of the trunk of a car, to running a billion dollar company, founder Kevin Plank has lived and breathed (in incredibly tight shirts) the American dream. Also, protecting this house is, like, literally the most important thing America does. Where "This House" = "The World".
 
Upper Deck
 
If baseball is the American pastime, then Upper Deck was its most chic ambassador. You know who else was a chic ambassador? Ben Franklin. And nobody's more awesomely American than Ben Franklin. Founded in 1988, the upstart company immediately started a frenzy, selling out their inaugural line halfway through the season. The secret to their success was bold, American moves like featuring a prospect with zero at bats on the first card they ever printed. That prospect? Ken Griffey, Jr. These days, Upper Deck's card sets focus on the NFL, NBA and NHL, but the company continues to prove itself a true national treasure by partaking in the only pastime more American than baseball: ongoing litigation with the MLB!
 
John Deere             
 
While suburb dwellers delicately manicuring their lawns to the perfect height with a Deere tractor definitely screams USA, this company does way more than keep the country looking like a Norman Rockwell painting. They're one of the largest manufacturers of agricultural equipment in the world. Since 1837, John Deere has provided farmers with the gear that's produced the miraculous bounty of food we lovingly cram in our mouths every single day. Without John Deere, your double cheeseburger would like only be a single. Shed one single American tear for that thought.