The 20 Most Dysfunctional Families in TV History
<strong>The Lyons family of 'Empire' is dysfunction personified |</strong>&nbsp;James Dimmock/Fox
<strong>The Lyons family of 'Empire' is dysfunction personified |</strong>&nbsp;James Dimmock/Fox
It takes a special kind of TV show to accurately depict the gritty inner workings of a screwed-up family while still making us want to watch. Here are 20 series -- be they comedic, dramatic, or animated -- whose dysfunctional kin have kept us laughing, crying, and cringing along with their rancor and strife.

The show:All in the Family (CBS, 1971-'79)
The dysfunctional clan: The Bunkers
How dysfunctional were they? Archie (Carroll O'Connor) neglects his attentive wife Edith (Jean Stapleton), throws around racial slurs, refers to his adult daughter Gloria (Sally Struthers) as "little girl," and insists on calling his son-in-law Michael (Rob Reiner) Meathead. He also ends unwinnable arguments by blowing Bronx cheers in your face. When your household is dominated by a crotchety old bigot like this, dysfunction is clearly the only way the family unit can function.
The show:Arrested Development (FOX/Netflix, 2003-present)
The dysfunctional clan: The Bluths
How dysfunctional are they? Michael (Jason Bateman) may be a straightforward do-gooder (most of the time), but the rest of the Bluths are so nuts that their sitcom's opening-credits sequence is actually dedicated to disentangling their familial chaos. There's drunk mom Lucille (Jessica Walter), treasonous pop George Sr. (Jeffrey Tambor), delusional illusionist Gob (Will Arnett), narcissistic sis Lindsay (Portia de Rossi), disturbingly childlike Buster (Tony Hale), and occasionally incesutous cousins George-Michael (Michael Cera) and Maeby (Alia Shawkat). Not even an analrapist like Tobias (David Cross) could sort this lot out.

The show:Dallas (CBS, 1978-'91)
The dysfunctional clan: The Ewings
How dysfunctional were they? It's been said that Dallas creator David Jacobs patterned the Ewings after the mendacious Pollitt clan in Tennessee Williams' Cat on a Hot Tin Roof, then set them up against the rival Barnes family, Romeo and Juliet–style. That's pretty messed up! No wonder nobody knew who shot J.R. (Larry Hagman) in Dallas' infamous third-season cliffhanger; literally everyone had a motive. Spoiler alert: It was his sister-in-law Kristin Shepard (Mary Crosby), who also happened to be pregnant with his baby.

The show: Empire (FOX, 2015-present)
The dysfunctional clan: The Lyons
How dysfunctional are they? The Lyon family's troubles read like a greatest-hits compilation of deceit and despair: Lucious (Terrence Howard) is a former drug dealer battling ALS. Cookie (Taraji P. Henson) spent 17 years in the slammer after taking the fall for her now-ex-husband's trafficking. Eldest son Andre (Trai Byers) suffers from bipolar disorder. Gay middle son Jamal (Jussie Smollett) must contend with a homophobic father. Youngest son Hakeem (Bryshere Y. Gray) is so pissed at his dad that he sleeps with his ex-fiancee Anika (Grace Gealey). And that's just the first season. Sorry Cookie, but God is definitely withholding his blessings from your brood.

The show: Everybody Hates Chris (UPN/CW, 2005-'09)
The dysfunctional clan: Chris and co. (They were sans appointed surname.)
How dysfunctional were they? Any show whose very title parodies the cutesy-poo shenanigans and geriatric clowning of Everybody Loves Raymond is going to offer, by default, a bleaker (if just as funny) familial outlook. Growing up in lower-class Brooklyn in the 1980s, Chris (Tyler James Williams, as co-creator Chris Rock's ostensible doppleganger) can't catch a break -- not from his loud and suspicious mom Rochelle (Tichina Arnold), his cheapskate workaholic pop Julius (Terry Crews), his underhanded younger sister Tonya (Imani Hakim), or his idolized brother Drew (Tequan Richmond). Not dispiriting enough? Nearly every episode ends with a chorus of voices taunting, "Everybody hates Chris!"

The show:Family Guy (FOX, 1999-present)
The dysfunctional clan: The Griffins
How dysfunctional are they? The dysfunction in the Griffin household arguably emanates from its youngest member upward. Villainous toddler Stewie (Seth MacFarlane) repeatedly attempts world (if not family) domination through the construction and deployment of mind-control devices, fighter jets, clones, rocket launchers, and lasers. He's particularly obsessed with killing his mother Lois (Alex Borstein) and hating on Matthew McConaughey. Of course, Stewie's pathological worldview could just stem from the fact that life doesn't get any better for the older Griffins, especially adolescent outcasts Meg (Mila Kunis) and Chris (Seth Green), and neglectful, borderline-alcoholic dad Peter (MacFarlane). What the deuce?
The show:Game of Thrones (HBO, 2011-present)
The dysfunctional clan: The Lannisters
How dysfunctional are they? The House of Lannister is, literally, the most royally screwed family on this list. Brother Jaime (Nikolaj Coster-Waldau) and twin sister Cersei (Lena Headey) are lovers with an illegitimate child. However, Cersei also takes her cousin Lancel (Eugene Simon) as a lover for a spell -- until, that is, another one of her brothers, Tyrion (Peter Dinklage) discovers that Cersei and Lancel are sleeping together, at which point Tyrion forces Lancel into serving as his spy. As Tyrion might say, look at the fun we're having!

The show: Gilmore Girls (WB/CW, 2000-'07)
The dysfunctional clan: The Gilmores
How dysfunctional were they? Teenage Rory (Alexis Bledel) and young mom Lorelai (Lauren Graham) may have had one of the most enviable parent-child relationships in TV history. (Seriously, has your mom ever gushed to you about her love for The Bangles?) But free-spirited Lorelai's strained, passive-aggressive rapport with her own mother, prim and proper Emily (Kelly Bishop) and stoic father Richard (Edward Herrmann), was as prickly and vexatious as a scratched PJ Harvey record.
The show: The Honeymooners (CBS, 1955-'56)
The dysfunctional clan: The Kramdens
How dysfunctional were they? Today, nobody would be advised to stick by a spouse who regularly issues such violent-yet-cartoonish threats as, "One of these days... Pow! Right in the kisser!" Yet the irascible marriage of Ralph Kramden (Jackie Gleason) and wife Alice (Audrey Meadows) seemed to thrive off its very cantankerousness. Ralph needed Alice to tolerate his petulant antics just as Alice relied on Ralph's harebrained schemes to reaffirm her role as the emotional anchor of their twosome. Welcome to the modern-day template for the codependent relationship.

The show: It's Always Sunny in Philadelphia (FX/FXX, 2005-present)
The dysfunctional clan: The Reynolds
How dysfunctional are they? "We immediately escalate everything to a 10," declares Dennis Reynolds (Glenn Howerton) in a seventh-season meta-monologue that accurately characterizes the shameless, base, vengeful schemes that he and "The Gang," including twin sister Sweet Dee (Kaitlin Olson) and dad Frank (Danny DeVito), cook up on a weekly basis. "Somebody comes in with some preposterous plan," he continues, summing up the Reynolds way. "Everyone's just talking over each other with one idiotic idea after the another. Until finally, we find ourselves in a situation where we've broken into somebody's house -- and the homeowner is home."
The show:Mad Men (AMC, 2007-'15)
The dysfunctional clan: The Drapers
How dysfunctional were they? As quintessential depictions of family dysfunction amid the pre-counterculture, overly idealized version of 1960s suburbia go, Mad Men is like a John Cheever story come to life. It's hard to decide which member of the Draper family is most damaged: Philandering workaholic/alcoholic Don (Jon Hamm); emotionally frigid, depressed matriarch Betty (January Jones); or tempestuous, troublemaking daughter Sally (Kiernan Shipka). It's definitely not little Bobby, whose greatest transgression may be that he was played by, like, four different kid actors over the course of the show.

The show: Malcolm in the Middle (FOX, 2000-'06)
The dysfunctional clan: The Wilkersons (We think.)
How dysfunctional were they? The titular middle child of this sitcom's ostensibly surname-less brood is both an off-the-charts genius and a relatively normal everykid compared to the screwballs who make up the rest of his overbearing family. When mom Lois (Jane Kaczmarek) isn't busy shaving dad Hal's (Bryan Cranston) furry back, she's seemingly preoccupied with emasculating him and their sons. In retaliation, oldest son Francis (Christopher Masterson) becomes arguably her biggest enemy, torturing her by marrying an Alaskan native named Piama (Emy Coligado) and pretending that he's an unemployed ne'er-do-well. Now that's love.

The show: Mama's Family (NBC/syndication, 1983-'90)
The dysfunctional clan: The Harpers
How dysfunctional were they? This spinoff of The Carol Burnett Show focused on disgruntled family stalwart Thelma Mae Crowley Harper (Vicki Lawrence), who opened her home (and thus invited all manner of vintage hijinks) to her dimwitted son Vint (Ken Berry) and two kids from his first marriage after he wed second wife Naomi (Dorothy Lyman) and lost all his money in a bad business deal. A kind of down-south riff on All in the Family, Mama's Family epitomized, for better or worse, what happens when white trash meets southern Gothic.

The show:Married… with Children (FOX, 1987-'97)
The dysfunctional clan: The Bundys
How dysfunctional were they? Offering an odious rebuke of the picture-perfect families monopolizing the sitcom landscape, Married… with Children's blue-collar Bundy family incurred the ire of the Parents Television Council, as the group declared it the least family friendly show on TV for both the 1995-'96 and '96-'97 seasons. Those badges of dishonor came separate from Michigan mom Terry Rakolta's 1989 boycott of the show, which she launched after watching an episode where dad Al (Ed O'Neill) leers at a naked model while enlisting his friend Steve (David Garrison) to help him buy a bra for wife Peggy (Katey Sagal). Rockwellian, the Bundys were not.

The show: Raising Hope (FOX, 2010-'14)
The dysfunctional clan: The Chances
How dysfunctional were they? Your mother is named Virginia Slims (Martha Plimpton), and the baby you didn't know you fathered with a serial killer (Bijou Phillips) is named Princess Beyoncé. Congrats, Jimmy Chance (Lucas Neff)! Your family is truly defective, and your family name is truly ironic, because your life doesn't stand one.

The show:Revenge (ABC, 2011-'15)
The dysfunctional clan: The Graysons
How dysfunctional were they? Victoria Grayson (Madeleine Stowe) strong-armed wealthy Conrad (Henry Czerny) into marrying her by faking a pregnancy. Then she cheated on him with David Clarke (James Tupper), only to enlist Conrad's help in framing David for a plane crash he didn't cause. When Victoria felt compelled to come clean, Conrad instead promised unlimited political donations to the prosecutor who got David sent to prison. Later, Victoria had David's daughter Amanda (Emily VanCamp) institutionalized by promising to ferry a steady stream of deep-pocketed clients to her court-appointed psychiatrist. By the way, this is all just the backstory in place before Revenge's first episode even aired. The fun is seeing who even survives.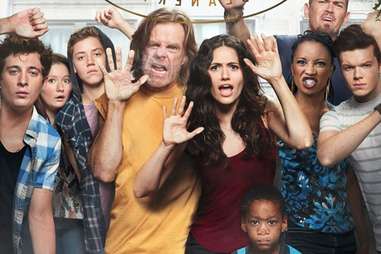 The show:Shameless (Showtime, 2011-present)
The dysfunctional clan: The Gallaghers
How dysfunctional are they? Single father-of-six Frank Gallagher (William H. Macy) loves to do about four things: Get drunk, get high, pontificate on the political issues of the day, and scam the system to keep his family (barely) afloat. All that leaves little time to actually, you know, care for his kids, thus leaving most of the actual child-raising to eldest daughter Fiona (Emmy Rossum). The rest of the family compensates with all kinds of unhealthy internalizing and/or lashing out, from the self-destruction demonstrated by 20-year-old genius "Lip" (Jeremy Allen White) to Debbie's (Emma Kenney) impatient quest to lose her virginity.

The show:Six Feet Under (HBO, 2001-'05)
The dysfunctional clan: The Fishers
How dysfunctional were they? When death -- be it that of your father (Richard Jenkins) or just the random dude you're preparing for burial -- is a quotidian occurrence in your family, then yeah, your family is probably pretty messed up. The Fishers' funeral-parlor business may have kept them living and working under one roof, but the fissures (hey!) that kept mom Ruth (Frances Conroy), sons Nate (Peter Krause) and David (Michael C. Hall), and daughter Claire (Lauren Ambrose) emotionally distant from one another made for some powerful explorations of decaying family dynamics.

The show:The Sopranos (HBO, 1999-'07)
The dysfunctional clan: The Sopranos
How dysfunctional were they? From a business standpoint, the Mafia family headed by Tony Soprano (James Gandolfini) runs like a well-oiled stripper pole at the Bada Bing! But emotionally speaking, fugghedaboutit. Tony's a serial philanderer and tough-as-nails father who also personally offed his nephew Christopher (Michael Imperioli), as well as about a half-dozen other members of his mob. Meanwhile, wife Carmela (Edie Falco) strives to fabricate a facade of normalcy for her son A.J. (Robert Iler) and daughter Meadow (Jamie-Lynn Sigler), except for when she's flaunting her wealth around her financially strapped friends or flirting with her own marital infidelity. Fungool!
The show:Weeds (Showtime, 2005-'12)
The dysfunctional clan: The Botwins
How dysfunctional were they? Father knows best? More like mother knows bud (har). On this dope dramedy, Nancy Botwin (Mary-Louise Parker) makes the mistake of turning to pot-dealing in order to prop up her family's finances after the sudden death of her husband Jonah (Jeffrey Dean Morgan). As the Botwins' chances at a normal life go up in smoke, Nancy's two sons Silas (Hunter Parrish) and Shane (Alexander Gould) spliff -- sorry, split -- and relocate to Denmark once she's finally sent to the slammer. Definitely a sticky, icky situation.
Sign up here for our daily Thrillist email, and get your fix of the best in food/drink/fun.
Rose Maura Lorre is an American journalist living in Montreal whose own dysfunctional family makes The Osbournes look like The Andy Griffith Show. She writes mostly about TV and food, which is sort of like saying your beat is "Netflix and chill." You can find her on Twitter @rosemauralorre.