<a href="http://www.shutterstock.com/gallery-564025p1.html?cr=00&pl=edit-00">Helga Esteb</a> / <a href="http://www.shutterstock.com/editorial?cr=00&pl=edit-00">Shutterstock.com</a>
Celebrities get away with a lot of things you and I can't. Like drag racing down a residential street. Or bringing a gun to the airport. Or wearing meat as clothing.

Another thing: giving their children names that would, were their parents not famous, absolutely ensure a solid decade of bullying. And while calling your kids Apple and Lyric Roads may seem a little silly, these 21 names demonstrate just how detached from reality famous parents can be.
21. Blue Angel (The Edge)
Paparazzi be damned, The Edge had no idea what harassment was until he started getting calls from Navy recruiters.

20. Blue Ivy (Beyoncé Knowles & Jay-Z)
Pretty sure this was both a horrible-smelling fragrance from J-Lo and a 2am "feature" on Skinamax.

19. Destry (Steven Spielberg)
Easy there Lewis Carroll, this isn't even a word.

18. Free (Barbara Hershey & David Carradine)
STOP ASKING ME FOR CHOCOLATE BARS!!!!!

17. Moxie Crimefighter (Penn Jillette)
This kid gives up her lunch money without even being asked. OR... she patrols the cafeteria and makes sure other kids get their money back after getting bullied.
16. Rumer Willis (Bruce Willis & Demi Moore)
No, no. It's actually true. This is spelled with an "o."

15. Zuma Nesta Rock (Gwen Stefani)
You know you've fallen off the Hollywood A-list when you gotta name your kid after a restaurant just to get a table.

14. Diezel (Toni Braxton)
We hope he grows up to dance ballet.

13. Moroccan Scott (Mariah Carey)
Sounds like he was the North African guy in a fraternity with four other dudes also named Scott.

12. Bluebell Madonna (Geri Halliwell)
Just begging for a nasty case of listeria/herpes.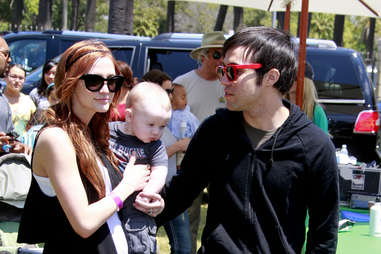 11. Bronx Mowgli (Ashlee Simpson & Pete Wentz)
Will go on to start an old-school, hip-hop group with underground DJ Brooklyn Baloo.

10. Cash Van (Dave Haywood)
Just a waaaaay creepier version of Cash Cab. You don't wanna know what happens after you answer that third question wrong.

9. Pilot Inspektor (Jason Lee)
Poor kid's first outfit was a TSA onesie.

8. Royalty (Chris Brown)
Sadly, in America, the offspring of a model and a pop star is more or less what passes for royalty. Nia Guzman, underrated social commentator.

7. Jermajesty (Jermaine Jackson)
You tried to incorporate your name into something regal. What you got is a name that sounds like Tony Montana addressing the Queen of England.
6. Royal Reign (Lil Kim)
Disappointed to learn this wasn't Shawn Kemp's 25th kid. Remember, he was the Reign Man.

5. Kyd (David Duchovny)
Thank you, David, for making life THAT much easier for crusty old boxing coaches.

4. North West (Kimye)
Only the greatest creative mind of our generation could name his child after... a defunct airline! Or a direction, that's true too. Go ahead and bet the GNP of Bolivia that his next one is named South.

3. FiFi Trixibelle (Bob Geldof & Paula Yates)
Bob and Paula were really hoping she'd be a Pomeranian.

2. Diva Thin Muffin (Frank Zappa)
Shout out to Frank Zappa for coming up with the worst collection of baby names in celebrity history (raise up Dweezil and Moon Unit), but naming a girl Diva makes it hard to convince anybody she's... sorry... down to Earth.

1. Tu (Rob Morrow)
Dooming your child to a lifetime of procrastination. "Just do it... Tu Morrow. No, I mean NOW, not tomorrow, Tu Morrow. Dammit."
Sign up here for our daily Thrillist email, and get your fix of the best in food/drink/fun.