5 Types of Cyclists You Meet on an NYC Bike Path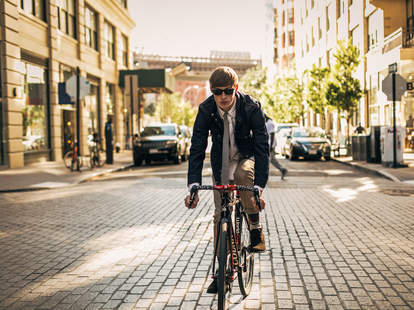 If you've spent any amount of time on NYC's streets, you've shared the road with cyclists. There's an entire spectrum of bike riders that ranges from "mostly acceptable" to "the worst beings that exist", and you've likely seen them all.
Some cyclists appear to be the key to a utopian transportation future: These are the bike heroes, the pedal-pushers who know all the correct hand signals, follow laws of the road, and wear a helmet even though it musses up their perfect work coif. On the other end of the spectrum are demon-possessed mad persons with death wishes for themselves and for everyone in a four-block radius; psychotic d-bags with little or no regard for pedestrians, baby strollers, or morals.
Here are five types of cyclists you'll meet in the NYC grid.

The Safety First Guy
You'll likely see this guy riding in the bike lane, looking very smug about his $1000 ass padding budget. He rocks spandex everything and a gargantuan helmet because he's probably a dad and wants to set a good example for Junior/be alive to see his kids grow into safety-obsessed adults. WHATEVER. CONGRATS ON YOUR MIRACLE.
You'll spot him cruising through Park Slope, the Upper West Side, or another regularly street-cleaned, cupcake-saturated neighborhood. He's probably on his way to junior's PTA meeting, or junior's soccer game, or junior's MATHlete tournament (CONGRATS TO JUNIOR, TOO, WE GUESS).
Not to say he doesn't know what's up. When he's heading to work, he carries a convertible messenger backpack, and he can strap it on while he rides then use it as a messenger bag at the office. And while he may have gone overboard on the headgear, he still wants to fit in at PTA, so he rocks a Levi's Commuter Hooded Trucker Jacket. It's designed with an on-off snap closure for easy removal and a packable hood for chillier rides through Midtown or Bushwick, where he goes to feel young again.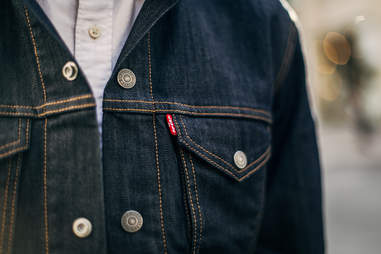 The Tourists
Tourist-Citibiker dude can frequently be seen flying/wobbling down the wrong side of the street with a map clutched in his fist and an iPad tucked in his armpit, all while he snaps a selfie of himself "holding" the Empire State Building in the palm of his hand.
He's probably heading to Central Park, doing his best Frogger impression as he crosses Houston during rush hour, or practically peeing himself with excitement (and because he doesn't know where good public toilets are) in line at Magnolia. He's SUCH a Carrie. This dude is the reason we escape to the Hamptons every summer weekend. But no hard feelings. We're thanking him from our yachts.  
But the guy tries to fit in and dress like a New Yorker. He's got buttery suede Marc New York Stanton Chukkas locked into those bike pedals. He's rocking a pair of Levi's Commuter 511 Slim Fit Jeans or Trouser Pants, which almost offsets the branded bicycle deathtrap he's riding. (Besides, if he gives up, Levi's performance fabrics work just as well on a double-decker bus seat as they do a bike seat.) Both pants come with reflective tape inside the cuffs for increased visibility and a hip holster that holds a bike lock, and they're water-resistant and dirt repellant too.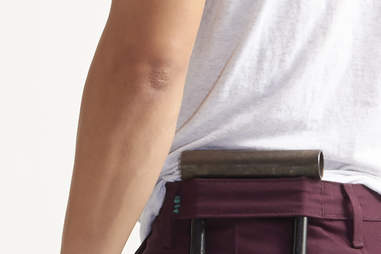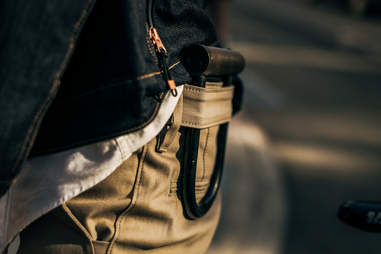 The Millennial
You'll probably see this guy at 3 am on Bedford Ave. On a $1000 fixie. He accessorizes himself with forced pretension and such a cool smoking habit. Because said fixie doesn't come with sensible hand brakes, you'll probably then see this dude crashing into shrubberies, pedestrians, and to the Endless Summer taco truck (THE HUMANITY!). You'll try to avoid him, but he rides his bike everywhere because, duh, it's better for CO2 levels, man.
What? What's that you say? We're Millennials too? We shouldn't barf all over our own generation? Fine. Here's a compliment. Though this miscreant constantly tries to roll cigarettes atop his cute bike, at least he looks awesome in a rugged, trendy, and perfectly-Kurt-Cobain-esque flannel from Free Nature paired with Levi's Commuter Collection Cargo Pants. Homeboy's got extra pockets for his iPhone, wallet, flask, and a copy of Infinite Jest. 
The Delivery Guy
Almost get taken out at the knees by some strange creature whizzing past you with a pizza strapped to his back and a couple of tubs of pho cradled in his basket? That's a delivery guy (not to be confused with his close relative, the Bike Messenger). It's the guy every New Yorker loves to gripe about, until he's delivering you a ramen burger in the Snowpocalypse (moment of silence...) and you're crying with relief/hunger at his feet.
Often seen swerving between buses and gridlocked cabs, his bike comes with 200+ gears and probably a jury-rigged motor or two. He shows those gears off by whizzing past everyone on the road (or, more likely, the sidewalk) with reckless abandon. While he'll never remember to pack extra hot sauce, he'll still manage to get you your food before you have even gone to the ATM. Because he disobeys every traffic signal. Every time.
 
The Wall Street Commuter
See that strange, tube-like contraption hanging off a strap over his shoulder? That's his foldable commuter bike, which is a bizarre thing that exists, and not the steampunk pogo stick you thought it was. See that wad of hundreds in his other pocket? That's what he makes in an hour. Dude works 25 hours a day, 8 days a week, but still has time to hit up his local Equinox, then get some leg work in on his ride to work.
He never sweats. He spends his weekdays influencing financial policy around the world and his weekends drinking at Le Bain and counting his bars of gold. But he buys suits he can live in, suits that are on trend, cut perfectly and are of super high quality. He stows his cash in a canvas messenger because he's a bro on the go. With a handsome details and a wool flap, the bag works for the board room, Le Bain, and the company jet.