Entertainment
Sponsored by

These Nintendo Switch Games Will Bring Your Whole Crew Together
Sponsored by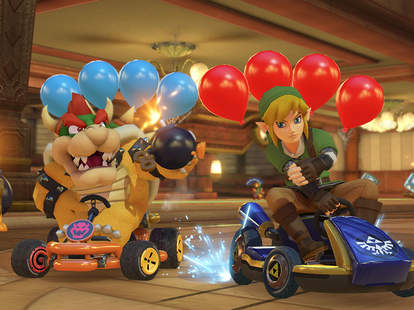 The Nintendo Switch™ system changed the gaming world in many ways, but maybe the most revolutionary feature of the system is that you can play however and whenever you want. Play on the way to work. Play on a Saturday night with your friends. It doesn't matter: Nintendo Switch does both, and with plenty of game genres to choose from, there's something for every gamer, and every way they play. So whether you're trying to figure out what to do at your next house party, or how to settle the next bar tab, here are our favorite multiplayer Nintendo Switch games to play no matter where you are. And if you want to take these games home yourself, scroll to the end of the article for a chance to win 'em all.
Super Smash Bros.™ Ultimate
The alpha and omega of multiplayer games, the Super Smash Bros. arsenal has been the go-to for 20 years. It's a great excuse to hang out, a way to settle scores, a party game, and an intense, high-level competitive battle. Super Smash Bros. Ultimate is the latest in the series and it delivers in a big way, with more characters than ever. We'll always recommend Ganondorf, but no judgement if you live in a Bowser-loyalist household. Find who feels right to you.
Cuphead
If you love early hand-drawn animation and running for your life, we have the game for you. Cuphead is a grueling game that masks a diabolical challenge with a lush, old-school look. And now you can play it with a friend. Slogging through a zillion bossfight deaths isn't so bad with a buddy there, right? Pretty soon you'll be gracefully parrying attacks and saving each other's lives like a pro.
Mario Kart™ 8 Deluxe
There's a highly specific joy that comes with lapping someone in Mario Kart, and hitting your best friend with a blue spiny shell never gets old. Mario Kart 8 Deluxe is the latest edition of the Mario Kart series, boasting the largest roster and the most karts and tracks. Plus, Nintendo has revamped some Battle modes, like the explosive Bob-omb Blast, so you can just get down to blasting your friends when you're done with the racing stuff.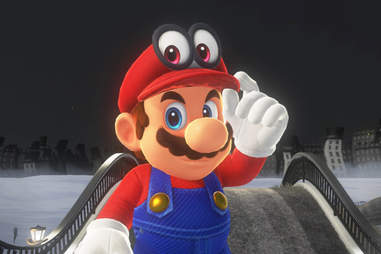 Nintendo
Super Mario Odyssey™
In the Super Mario Odyssey game, Mario returns to embark on a massive, globe-trotting 3D adventure. But the big difference you'll notice is who your partner can play. They'll control Cappy, who, yes, is a hat, but stay with us. Not only can Cappy can interact with objects and perform attacks, but he lets Mario control certain objects and enemies -- incredibly useful throughout the game, especially when you need to get to some especially tough Power Moons a little more gracefully (you'll see).
Mortal Kombat 11
The Mortal Kombat series is a classic in the fighting-game world for its intense, high-speed combos and parries, and the latest iteration, Mortal Kombat 11, managed to turn that up even higher with both new characters and returning fan favorites. Our favorite part: You can customize your own fighter, and then connect two Nintendo Switch systems to get your own full screen -- perfect for seeing those brutal fatalities in action.
NBA 2K19
The latest from the 2K franchise continues its legacy, as 2K19 remains the gold standard for finally shutting down your friend's trash talk. 2K19 offers a number of great single-player modes, including franchise management and playing as a coach (MyLEAGUE and MyGM, respectively). No matter how you play, one thing stays the same: dunking in someone's face in 2K19's stunning graphics still cuts deep.
Super Mario Party™
One of the world's greatest board game as video game series is Mario Party™, and the Nintendo Switch's version uses the hardware in incredibly creative ways. Like the rest of the series, Super Mario Party is all about the minigames, and the Joy-Con™ controllers let you virtually chuck darts, paddle boats, and wait tables (it's cool, we promise) in endless new fun ways. Another fun feature is Toad's Rec Room, where, if you have an additional game, you can put two Nintendo Switch systems next to each other and combine them to make one screen. It's almost enough to make you not flip out when someone steals your stars.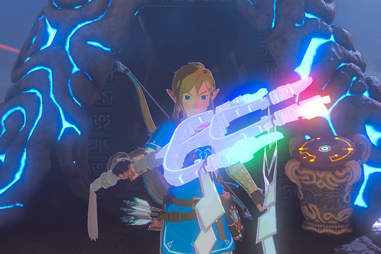 Nintendo
Bonus: The Legend of Zelda: Breath of the Wild
Ok, so there aren't any traditional multiplayer game modes for Legend of Zelda: Breath of the Wild. But this is a rare instance where the multiplayer action happens off-screen. Puzzle solving with a friend on the couch is sure to bring back old memories of slogging through the Water Temple (but less frustrating), so even though only one player is controlling the character, both of you are securing Link's destiny. Plus, the open world is so endless that it provides an unlimited number of opportunities to see who can get the best bomb-and-bow combos. Even though it's not yet a two-player, the collaboration needed to win still makes it feel like one.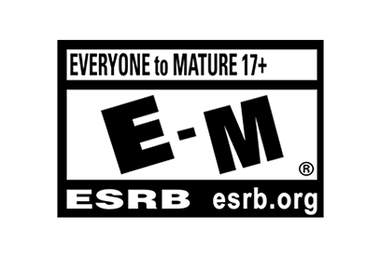 Play Your Way
If you want to experience these games with your friends, this is your opportunity to enter for a chance to win a Nintendo Switch prize package, including a Nintendo Switch system and all of the games mentioned here, sponsored by Nintendo. Tag @thrillist in a tweet with "#MyWayToPlay is ___________ #SweepstakesEntry" and let us know your favorite way to play.
NO PURCHASE NECESSARY. Void where prohibited. Open to legal residents of the U.S. (incl. DC), ages 18+. Sweepstakes begins 12am PT midnight on July 3, 2019 and ends at 12am PT midnight on July 17,2019. To enter, Tweet your favorite way to play Nintendo Switch as stated in Official Rules. One winner will receive one Nintendo Switch system (ARV $299.99), one Super Smash Bros. Ultimate game (ARV $59.99), one download code for the Cuphead game (ARV $19.99), one Mario Kart 8 Deluxe game (ARV $59.99), one Super Mario Odyssey game (ARV $59.99), one Mortal Kombat 11 game (ARV $59.99), one NBA 2K19 game (ARV $59.99), one Super Mario Party game (ARV $59.99) and one The Legend of Zelda: Breath of the Wild game (ARV $59.99). Total ARV of all prizes: $739.91. Odds of winning depend on number of eligible entries. Details and restrictions apply. For Official Rules, visit https://switch.nintendo.com/sweepstakes-rules/. Sponsor: Nintendo of America Inc., 4600 150th Ave NE, Redmond, WA 98052.