Netflix's Hip-Hop Comedy 'The After Party' Is An Unapologetically Corny Throwback
Netflix's latest teen comedyThe After Party, an aspirational music industry story about a struggling SoundCloud rapper and his chattering manager, is dedicated to the memory of one of its producers, Lee 'Q' O'Denat. The founder of the enormously popular and endlessly controversial website WorldStarHipHop, Q died of a heart attack in San Diego at the age of 43 last year, leaving behind an online empire that the Fadersuccinctly described as a personification of "all the charms and contradictions of hip-hop culture." The company's logo is proudly displayed at the start of The After Party, and the actual website, which often features fist-fights and brawls, proves instrumental to the film's freewheeling plot. 
The dedication is a kind tribute, but unfortunately The After Party lacks both the youthful energy and unfiltered realness that earned WorldStarHipHop its reputation. Written and directed by Ian Edelman, the creator of HBO's New York dramedy How to Make It in America, the Netflix released feature, which was also produced by the film and television division of events giant Live Nation, follows aspiring lyricist Owen (the real-life rapper KYLE) and his manger Jeff (Sex Tape's Harrison Holzer), two high-school best friends with dreams of major label rap stardom. They want to live out the fantasies they've seen on the internet.
Netflix
In its opening stretch, The After Party goes to great lengths to establish its hip-hop bona fides. After an amusing opening, which finds Owen -- who performs under the name OH! -- rapping for a record label intern in the bathroom, we get a scene that's clearly meant to flex the movie's musical knowledge. A "serious" student of the genre, Owen dutifully lists his top five rappers as Kendrick Lamar, J. Cole, ASAP Rocky, Chance the Rapper, and Pusha T; a goofy white guy who styles himself like the fourth member of Migos, Jeff lists his top five as OH!, Quavo, Lil Uzi, Lil Wayne, and Lil Pump. In one of the movie's many cameos, New York rap elder-statesman Jadakiss appears as a train conductor who attempts to school the boys on Rakim, but the guys end up knowing all the words to 1986's "Eric B. is President." See, the filmmakers seem to be saying, they're not as lame as they look.
The same can't be said of the movie's plot, which hinges on a contrived ticking-clock set-up and drummed-up emotional stakes. Before a performance hosted by radio and TV personality Charlemagne, Owen smokes a blunt with Wiz Khalifa and ends up projectile vomiting during his set, earning the tasteless nickname "Seizure Boy" as clips of his performance spread across the internet. He's quickly a viral punchline and a topic of conversation in rap's larger digital ecosystem. Embarrassed, Owen decides to join the marines like his father (an effective but underused Blair Underwood) and abandon his rap game goals.
A persistent and well-funded rich kid, Jeff can't accept this, so he arranges for Owen to rap for a record label executive backstage at a French Montana concert in Manhattan. More interested in sleeping with Jeff's sister Alicia (Teen Wolf's Shelley Hennig), Owen tags along for the ride and the expected After Hours-lite hijinks, including a car and motorcycle chase, ensue. In between Brooklyn loft parties and strip-club detours, we get lots of groaners like, "I'm gonna Venmo the shit out of you girl" and "He's deader than dubstep." At one point, Owen impresses Alicia with his knowledge of French New Wave cinema by proclaiming, "Obviously, Breathless is my shit."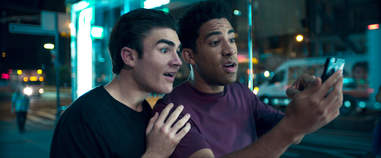 Netflix
The soundtrack might feel sourced from Rap Caviar, but the narrative structure is lifted from the '80s and the early '90s. The combination of daddy issues, romance, and hedonism plays like a perfunctory remix of Ferris Bueller's Day Off, Risky Business, and House Party, the freewheeling classic starring Kid 'n Play. At its best, The After Party is a mildly clever study of hip-hop's ongoing generational shifts. As KYLE himself points out in a recent interview with Complex, this is a movie about teenagers where "everybody that was involved were all a little older, they're in their 40s and stuff, so they come from a totally different era of hip-hop."
That divide is represented in the cameos: DMX shows up as a strip club patron with an erection, but there are also appearances from Young M.A., Ski Mask the Slumpgod, DJ Khaled, Tee Grizzley, A Boogie Wit Da Hoodie, and Desiigner, who shows up to talk about his love of otter videos. Fans of specific artists might enjoy these moments as they unfold in the background, but Jeff and Owen's misadventures are always foregrounded. Despite lively performances from the two leads, especially KYLE, their friendship isn't particularly compelling. Plus, the casual sexism and gay-panic jokes that pepper Edelman's script don't make the duo especially easy to root for.
And that's too bad because the tricky dynamic between a manager and a musician, particularly when money and loyalty are involved, is a great topic for a comedy. FX's Atlanta, one of the best shows on TV, artfully examines the complex relationship between Donald Glover's Earn and Brian Tyree Henry's Paper Boi, teasing out the push-and-pull of their evolving situation. On a broader level, the series paints a simultaneously surreal and grounded portrait of the music industry, one filled with two-faced opportunists and working-class artists trying to get by. The After Party is less interested in those contradictions. Instead, it's content to laugh at the flashy surface.
Sign up here for our daily Thrillist email and subscribe here for our YouTube channel to get your fix of the best in food/drink/fun.