Jesse Eisenberg's Killer Performance Is the Big Reason to See 'The Art of Self-Defense'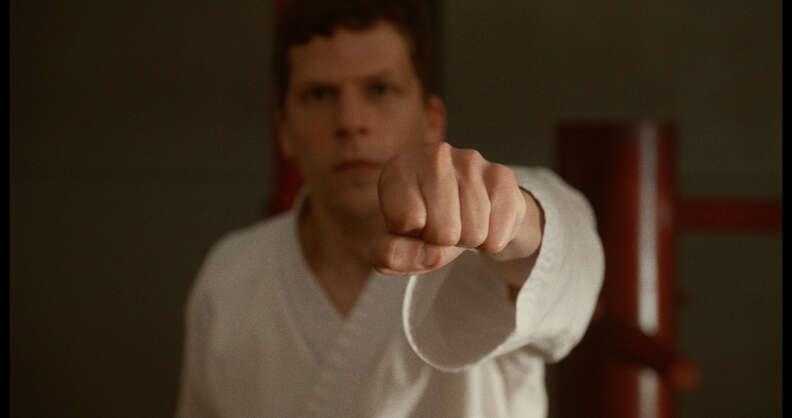 The Art of Self-Defense, the latest feature from writer-director Riley Stearns (Faults), is a movie that rarely goes on the attack. In splitting the difference between a fragile male-ego comedy like Foot-Fist Way and a button-pushing violent satire like Fight Club, the film ends up feeling like it's moving in a crouched position, often countering viewer expectations in clever ways but rarely landing its larger thematic punches. At the very least, Stearns, a deliberate and thoughtful filmmaker, is taking big swings. Luckily, he also has a not-so-secret weapon: a fascinating, note-perfect lead performance from Jesse Eisenberg.
Cunning and precise, Eisenberg is the type of actor who elevates almost any movie he appears in. From his early roles playing precocious teenagers in whip-smart indie comedies like Rodger Dodger and The Squid and the Whale to his likely career-defining part as Mark Zuckerberg in David Fincher's Facebook saga The Social Network and his recent scenery-chewing take on Lex Luthor in Batman V. Superman: Dawn of Justice, he's often playing prickly, nervy outsiders. (One of his most underrated recent movies, Kelly Reichardt's eco-thriller Night Moves, is currently streaming on Netflix.) In The Art of Self-Defense, he plays the adrift, isolated young-ish man Casey, an accountant with an interest in learning to speak French and no friends (or family) in sight.
One night, Casey leaves his nondescript apartment in an unnamed city to purchase food for his small dog and he gets beaten up -- seemingly out of nowhere -- by a group of goons on motorcycles. It's a brutal, humiliating encounter, a variation on the classic Death Wish revenge set-up, and, after a brief comical detour to a gun shop, it eventually leads Casey to a karate class taught by an instructor who tells his students to call him Sensei (Alessandro Nivola). While under Sensei's self-mythologizing guidance, Casey also meets the only woman at the gym, Anna (Imogen Poots), and begins to turn his life around by embracing a ridiculous, hyper-macho ideology of force.
The world of The Art of Self-Defense is designed to reflect, reinforce, and mock Casey's self-loathing conception of himself. When he checks his old school answering machine -- the sets are filled with anachronistic, era-less production details -- the device tells him, "You have only one new message. No one else left you a message." Similarly, his territorial coworkers, who he eventually bests in physical combat for a seat in the break room, trade neanderthal banter that could be lifted from a sketch on Netflix's dude-skewering comedy I Think You Should Leave With Tim Robinson. When Sensei asks him what music he listens to, Casey cites "adult contemporary" as his favorite genre, an obviously silly answer; Sensei tells him he needs to get into metal instead. From the jump, Casey is not meant to feel like a "real" person.
And yet, even in this heightened and bizarre universe, Eisenberg is giving a grounded, emotionally lived-in performance. Throughout Casey's journey, Eisenberg finds new levels of anger to play, tapping into the sputtering rage and festering resentment that always lurked beneath the surface in roles like his Social Network star turn. As a writer and director, Stearns strips away many of the more charming aspects of Eisenberg's persona: There's little of the sarcastic wit from Zombieland or the dashing intelligence of the Now You See Me franchise. The movie encourages Eisenberg to engage with a particularly dangerous strain of masculine ugliness.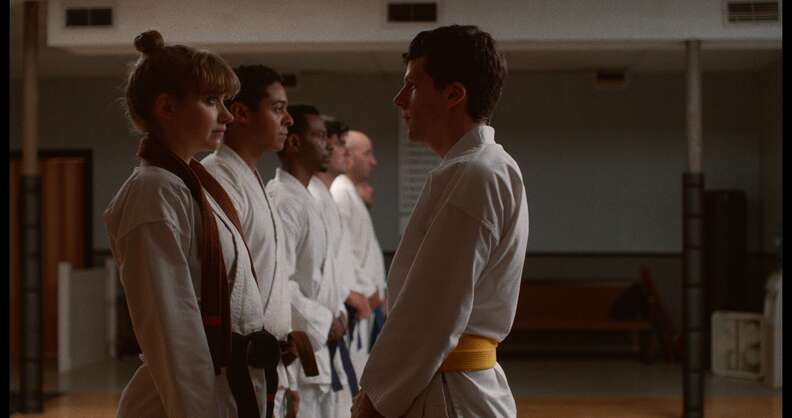 It's easy to picture other actors playing Casey -- Michael Cera or Daniel Radcliffe could have fit right into the movie's mildly quirky, suspiciously blank milieu -- but it's hard to imagine another performer going quite as deep as Eisenberg goes here. It's the type of lead role you wish he would get more chances to do; he can be funny and moving, often in the span of a single shot. He makes Casey a tricky audience surrogate and a complicated object of scorn, allowing the viewer to identify with his feelings of emasculation and recoil at his flashes of wanton cruelty.
It's such a carefully modulated performance that it's disappointing the movie around him grows so muddled as it moves toward a violent, shocking conclusion. I won't go into the details of the ending here, but I found it unsatisfying, an attempt to succinctly wrap up a story that would probably work better if it were allowed to more fully self-destruct. There's a neatness to the narrative's construction, an insistence that the loose ends get tied up and the side-plots get paid off, that grates. Stearns is playing a game of tonal chicken with the audience, but Eisenberg refuses to blink as the tension rises or wink as irony starts to suffocate the characters. He's in it to win.