Everything We Know About 'The Baby-Sitters Club' Season 2
Are we heading back to Stonybrook anytime soon?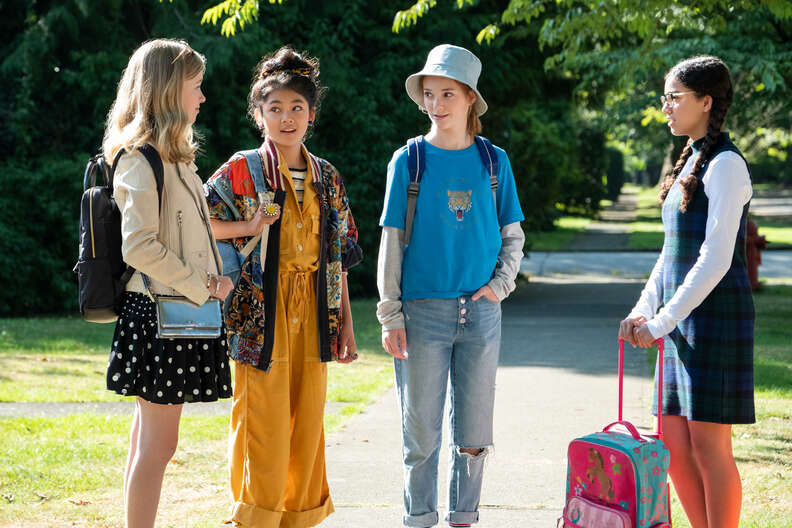 When Netflix's adaptation of The Baby-Sitters Club hit the streaming service in early July 2020, it turned out to be a thoroughly modern interpretation of Ann M. Martin's bestselling classic book series, giving life to familiar storylines while adding its own creative twists. The show got rave reviews from critics and held strong on Netflix's Top 10 list for weeks after its release, so it's safe to assume that we'll be heading back to the suburbs of Stonybrook in no time. Here's everything we know so far about where The Baby-Sitters Club will go from here.
Will there be a Season 2 of The Baby-Sitters Club?
Yes! In October 2020, The official Netflix Australia and New Zealand Twitter account (oddly) confirmed a renewal with a video post of the whole cast lip-synching the original theme song from the '90s HBO show.
When the series stopped publishing in 2000, 213 Baby-Sitters Club novels had been written, so the show has plenty of plot fodder to choose from in subsequent seasons.
In September 2021, Netflix released the first trailer for Season 2, which teases plenty of surprises and life-changing events for the Stonybrook kids.
When will Season 2 come out?
In September, Netflix also confirmed that the second season of the show will drop on Monday, October 11. Mark your calendars!! Preferably with your glitter pen of choice.
What will Season 2 be about?
The Baby-Sitters Club is about to welcome two new official members! The trailer reintroduces Mallory Pike (Vivian Watson) and Jessi Ramsey (Anais Lee), who will have a much bigger part in the new season. Show creator Rachel Shukert confirmed on Twitter and later to Variety that Jessi will be a much more frequent presence in Season 2. In an interview with Vanity Fair, when asked about hopes for a following season she replied, "There's so many. I love how Kristy evolves in her new family. I always have really loved Mary Anne and Dawn—as their parents get closer, how that kind of changes their relationship."
As the trailer teased, love is in the air for Mary Anne, and Stacey is feeling the stress of a lot of responsibility on her shoulders, plus Mary Anne and Dawn's families are combining, which is bound to cause a few wrinkles in the friend group. And are those whispers of a baby on the way for Kristy's family??
The cast has also voiced their hopes for what could happen in the new season: Shay Rudolph said she hoped her character Stacey doesn't move back to New York like she does in the books, and Sophie Grace hoped her character Kristy ends up coaching Kristy's Krushers, a softball team from the books.
Who is in the cast?
We can safely assume that all of the core cast will return for another season of The Baby-Sitters Club. That includes club founder Kristy Thomas (Sophie Grace), members Claudia Kishi (Momona Tamada), Stacey McGill (Shay Rudolph), Mary-Anne Spier (Malia Baker), and Dawn Shafer (Xochitl Gomez), and their various parents, inducing Kristy's mom Elizabeth (Alicia Silverstone), as well as her new stepdad and step-family, Mary-Anne's helicopter dad Richard (Marc Evan Jackson), and Claudia's grandmother Mimi (Takayo Fischer).