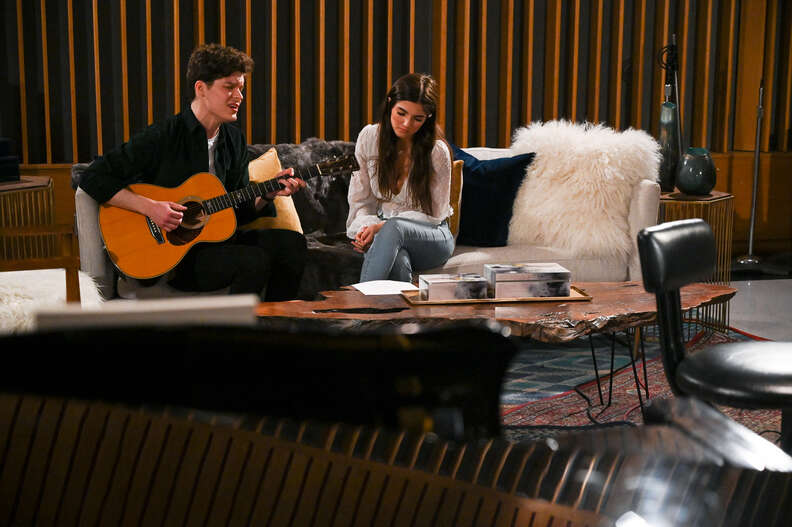 The Wild New 'Bachelor' Show 'Listen to Your Heart,' Explained
Fact: It's inspired by Lady Gaga and Bradley Cooper's 2019 Oscar performance.
Even if you don't watch the show, you probably know the basic mechanics of ABC's The Bachelor/ette. It starts with one single man or one single woman tasked with whittling down a list of suitors by going on a series of carefully calibrated dates, booting one or two out of the mansion once a week until finally choosing between two marriage proposals at the end of the show. It lasts for months, and ABC has pretty much bogarted Monday nights from every other television channel, snatching two hours per week from every programming block in which to air whatever tearful drama they can squeeze out of that week's date footage.
Following the last season of The Bachelor, ABC announced that they had invented a new dating series, The Bachelor Presents: Listen to Your Heart, in which a number of single people would live together in the Bachelor mansion, pairing off and eventually singing duets in an Idol-style competition, presumably winning a marriage proposal (and a record deal??) by the end. (According to an interview with Chris Harrison in Parade, Lady Gaga and Bradley Cooper's sexually charged performance at the 2019 Oscars inspired Bachelor/ette producers who were watching.) Whereas a show like The Bachelor is plenty straightforward, Listen to Your Heart seemed much more complex, and it had us wondering: How exactly do the contestants navigate this show? After last night's premiere, we have the answers.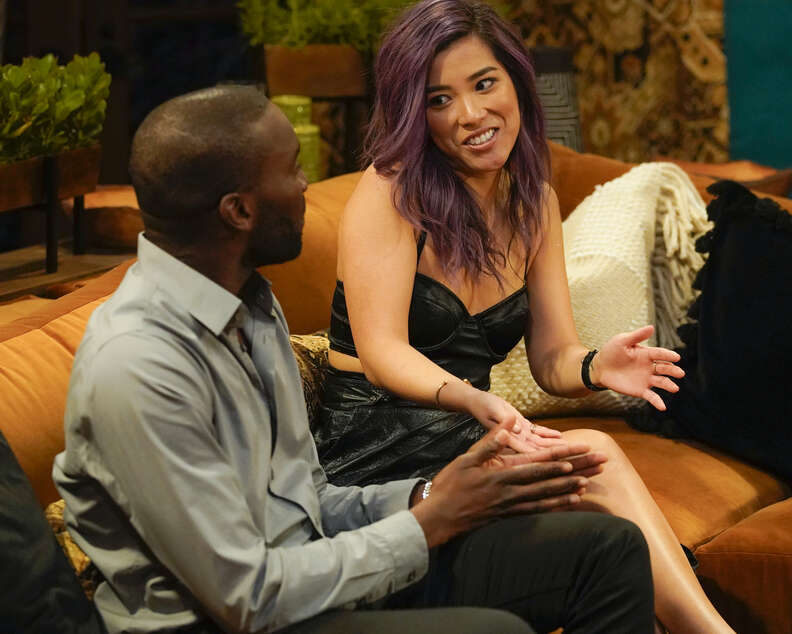 What kind of people are involved?
Singing people. Yes, the entire show is basically a series about a bunch of horny theater kids living in a big house together, where the main goal is to couple up with another hot singer to win the competition.
The premiere started out with eight women and 11 men, which meant that at the end of the episode, four men would be eliminated. (This is, like every season of The Bachelor/ette, a heterosexual show.) Instead of greeting a Bachelor contestant on the steps of the mansion, they greet Chris Harrison, the Mephistopheles of the entertainment world, who, as with every season of The Bachelor, is also hosting this show.
Do they go on dates?
Yes. The contestants are periodically sent Date Cards, a Bachelor staple, which name one contestant out of the group and demand they choose someone to go on a date with. This can get hairy, as it did in the premiere episode, if someone tells another contestant they'd like to go on a date with them and then, at the moment of truth, chooses someone else, as Matt (32; neo soul) did to Rudi (24; R&B and pop). Rookie move, Matt.
Are there Rose Ceremonies?
Yes. Like The Bachelor, each episode -- up to a point -- will end with a Rose Ceremony, where the gender with the least amount of representation (in the premiere, there were four fewer women than men) will hand off the roses to the other, after which those who have not coupled up with anyone will be sent home. If you've ever watched Love Island, it's basically like that.
What's kind of funny about Listen to Your Heart is that, even during the cocktail parties, the passion is very Free People instead of ballgowns and tuxes. A bunch of the guys during the premiere ended the show toasting in chambray button-downs and shearling jackets.
Where does the singing come in?
All over the place. During the first cocktail party, when all the contestants were flirting and getting to know one another, they periodically gathered around the grand piano that had been wheeled into the Bachelor mansion for just such an occasion and sang "Stand By Me."
The contestants also occasionally sing on their dates. During the premiere, Jamie (21; pop country) and Ryan (28; jazz, funk, pop, R&B) went on a date to Capitol Records in Los Angeles and recorded a cover of "Gravity" with the producer who produced the John Mayer original.
Later on in the show, when the final set of couples are the only ones remaining, the show will switch gears, pitting the couples against each other in a duets competition which will be judged by actual professional singers, from Jason Mraz and Kesha to Jewel and Taye Diggs. There will also be some Bachelor alums judging, including JoJo Fletcher and Jordan Rodgers, and Kaitlyn Bristowe and Jason Tartick.
The good news is that everyone on the show CAN SING, so there won't be any painfully off-key non-singers to weed out, but your mileage may vary depending on how much patience you have for soft indie boy tremolo.
How do you win?
You couple up with a member of the opposite sex, you form a real relationship with them, and then you sing the best out of everyone else together. It's very unclear what the winners will receive since the show hasn't actually confirmed anything yet, but a recording contract could be on the table, along with everlasting love.
What do you think?
Need help finding something to watch? Sign up here for our weekly Streamail newsletter to get streaming recommendations delivered straight to your inbox.
Emma Stefansky is a staff entertainment writer at Thrillist. Follow her on Twitter @stefabsky.