The 6 Weirdest Entrances From 'The Bachelor' Season 23 Premiere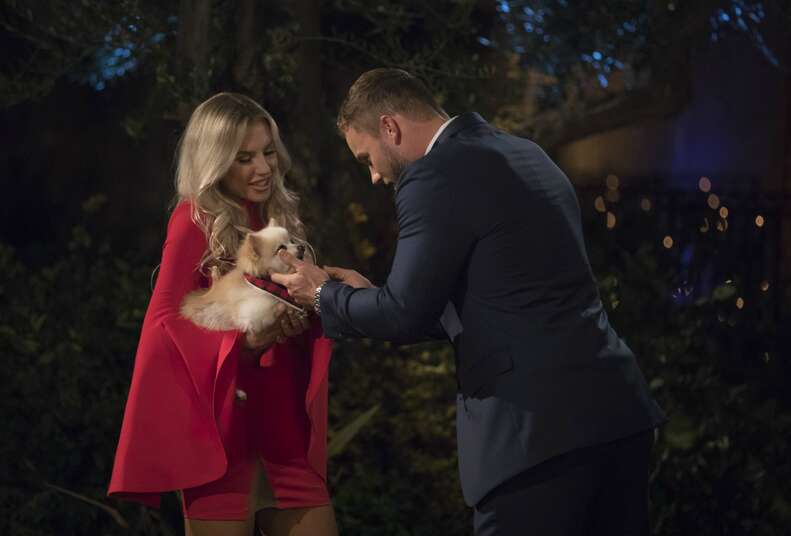 Here's the thing: Every premiere of any Bachelor season ever is extremely boring. All it is is a bunch of women or a bunch of men arriving in a bunch of limousines at a very nice, large house, where they each get to share a few moments with the man or woman who will be the object of their affections for the next couple of months. The other thing is that, because humanity's original sin cursed us all to a life of suffering and indignation, every Bachelor premiere must always be three freakin' hours long. Last night, god of chaos and misery/host Chris Harrison bounced the episode back and forth from various Bachelor parties happening live right at that moment all across the country to the actual premiere, where Colton Underwood was made to stand and receive a bevy of women all doing their best to make a good first impression.
Because the first impression is, arguably, the most important part of surviving The Bachelor, along with looking good in a swimsuit and convincing yourself that game show love is real. Many contestants who received the First Impression Rose at the conclusion of the premiere went on to win the season -- last season's Bachelorette Becca Kufrin gave her First Impression Rose to Garrett Yrigoyen, and now they're happily engaged. The fact that the first rose of the season is so important, combined with how dull it can be to watch one man meet 30 women one right after the other, means last night got very weird, very fast.
There was a sloth

One thing about Colton Underwood is that he's a virgin. Have you heard that Colton Underwood is a virgin?? Colton Underwood, our new Bachelor, is a virgin. Yep, that's right: a virgin, is Colton Underwood. The Bachelor is obsessed with the fact that Colton Underwood has never had sex, and, it seems, so is everyone else. Because he clearly likes to take his relationships slowly, one of the contestants, Alex D., arrived in a full sloth costume. And she… kept it on for most of the night.
There was a fake Australian

Even before the premiere aired, everyone was obsessed with Bri, whose fake Australian accent was teased on The Bachelor's official Twitter account a few days before the episode. "So nice to meet you," she said, rolling the "o" around in her mouth. "That's a nice accent. Where are you from?" poor, unassuming Colton asked. "The accent -- it's Australian," Bri replied. SNEAKY.
For everyone hoping she'd keep the ruse going for at least a few more episodes, it unfortunately didn't last the night. During their few minutes of one-on-one time, Bri confessed that the accent was just a fun "icebreaker" she likes to play around with. Crikey, mate.
There were nuts

Sometimes, a little wordplay is what gets the conversation going on a first date. In a fit of word association, Erika McNutt arrived clutching a bag of assorted legumes to remind Colton of her name. Apparently, her creative friends back home often call her "Nut" or "The Nut" because of her wild, spontaneous personality.
"I love a good nut," said Colton, graciously receiving the bag. Don't we all?
There was a dog daughter

Every good story needs an equally good villain, and no franchise knows this better than The Bachelor. Last night's premiere gave us a clear standout in the form of Catherine, who looked and acted like the 2019 version of Meredith Blake from The Parent Trap in her scarlet dress and bleach-blonde hair. To complete the teen-movie villainess tableau, she brought her Pomeranian "dog daughter" Lucy with her, which she left outside to hang out with Chris Harrison while she swanned around the mansion, stealing Colton repeatedly from other girls and generally acting her part with expert, evil zeal. She's not here to make friends, etc. Naturally, she got the final rose of the night. We stan.
There was a police car
For some, a limousine is just not good enough. Last night, the Bachelor mansion was lit up by the flashing blue and white lights of a real police cruiser, hailing the arrival of Tracy, a wardrobe designer. What do clothes have to do with the cops, you ask? "I'm the fashion police," Tracy joked, wielding a pair of handcuffs and bestowing them on Colton. "I'm saving these for the Fantasy Suite," he -- who, remember, is a virgin -- said after she left. Yeah, yeah.
There was a Disney princess

Probably the most elaborate entrance of the night was a sparkling, horse-drawn carriage carrying Erin, a self-described "Cinderella" (really, that was what was listed for her occupation on her official bio), who stepped out of her ride in an equally sparkly gown and left a strappy silver high heel for Colton on the steps. "Come find me before the clock strikes midnight," she said, charming even the contestants peeking from inside the mansion. "Wow…" Erika breathed. "I really coulda done more than a bag of nuts."
Sign up here for our daily Thrillist email and subscribe here for our YouTube channel to get your fix of the best in food/drink/fun.
Emma Stefansky is a staff entertainment writer at Thrillist. Follow her and her pithy
Bachelor
tweets on Twitter @stefabsky.