Welcome back to the 52nd Bachelor episode in the last 24 hours! We're still in Iowa, that state whose sunsets make Britt want to live in a town of 13 total men who own the same pair of boots. I'm dropping lots of specific numbers in these first few sentences. And even though this is Hometowns Week, now Chris is going on a date with Becca, also in Iowa, and she is not from Iowa. I'm so confused. 
The Becca date
For this one, Chris and the producers are pulling out all the stops. This honestly might be the most elaborate date I can remember. Helicopters? Bentleys? Mountaintops? Palaces? Don't need 'em! Becca is the lucky girl who scored the date to... Chris's $600/week Airbnb in Des Moines!! They go there, amidst domestically made kitchen appliances and two whole couches, and... talk! God, she's a lucky girl. 
The entire date takes about three minutes. Becca talks about her old relationships in which she didn't have sex. Her last relationship in which she didn't have sex was four years, off and on, and she's never been in love with anyone. Does she think she would say yes if he proposed to her today? No! Well that seems fine, because that's not how the show works. But, she'd like for him to meet her family and go from there. Which is how the show works. They both seem very happy with this, and eventually go up to the roof to watch one of those sunsets that Britt loves Iowa for.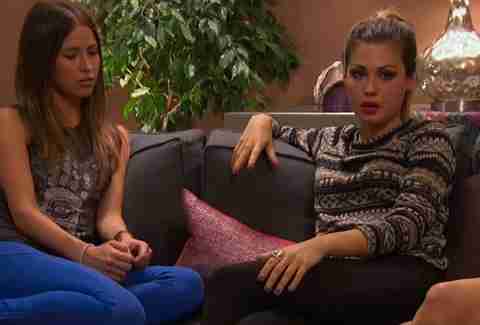 The cocktail party
There will not be one! Chris the Harrison tells us that Chris the Farmer has his mind made up, and Britt, who told the girls that she was going to leave, and is clearly lying because she did not leave, is freaking out. She was going to win him back by batting her eyes, which bat very often because they are weighed down by pounds and pounds of makeup and get very tired, but now she doesn't get to. This, like most other things, makes Carly want to sing showtunes.
 
The roses
They truck the girls off to Rollins Mansion, the mansion that Henry Rollins owns and stays in when he does a tour date in Iowa. Britt looks scared as hell. Jade has on lots more makeup than usual, making her look like she did in her Playboy shots that I definitely didn't Google. 
Just when Chris is about to get down to business, Britt of course grabs him and commences Operation Eye-Bat. She wants to know if he has anything to say to her regarding what she said to him regarding what he said to Kaitlyn regarding her being a liar, and he says it put him in a tough position, and that a lot of the girls have been saying things that lead him to question her honesty. Britt wants to know who. GIVE ME NAMES, DAMMIT, I WANT THE NAMES!!! But say that in your head like a Nazi interrogator who's slapping a person tied to a chair with their leather glove, because it's better that way. 
Chris does not give her the names, although he does give her his hand, and he helps her up, and... walks her to the door? And then they basically make out! But... she's leaving? I don't know if I missed something but this is actually pretty unexpected. Either she's giving up, or he just doesn't want to be around dirty liars who hate small Iowa towns, but either way, she's gone. Chris heads back to the other girls, while the always-aware Britt grabs her moment to make a play to be the next Bachelorette.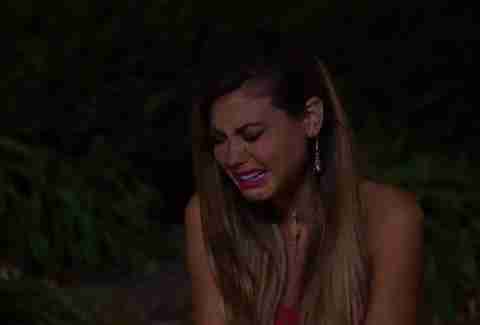 Out front, she makes a huge scene that Henry Rollins could NOT have been happy about, sobbing like Carly killed her dog (she might have), and rolling around in the leaves, and reminding everyone that 1) she is hot, 2) she is good TV, and 3) she is hot. In the end, she was like a way more boring, and way less calculating version of Courtney. Goodbye, Britt. Get back to not showering in LA because reading Infinite Jest for the seventh time takes up all the hours in a girl's day.
 
The roses, for real
Ok, so Kaitlyn already has one. One of these other girls is going home, and Chris will have zero awkward conversations with their sisters. First up... Whitney! Nice work, Whitney. And great work, producers, at killing every single bit of suspense we're supposed to be feeling here: we already know that Becca and Jade get hometown dates because they showed them in the previews. Which means that Carly is going home, as they don't have a need for cruise ship performers in Iowa, because it is landlocked. Goodbye, Carly. You were a fine foil to Britt, and will one day make a lucky deck-swabber very happy.
The Becca hometown
And we're going to Shreveport, Louisiana, home of Terry Bradshaw, noted chimpanzee sanctuary Chimp Haven, and also Becca. They meet in the playground of a local park, make out like wild near the teeter-totter, and eventually hop in a canoe to see alligators but see no alligators. Next it's off to her house, where we'll be kickin' it with: Mom Nancy, Sister Katie, her husband Jacob, a bunch of other people she doesn't mention, and her dad -- who is ALSO NAMED CHRIS. This might get confusing. 
Sister Katie spends the entire date doing everything she can to blow up Becca's spot. They've never seen her hold hands with a guy before! Normally if some guy put his hand on Becca's knee, Becca would've ripped it off because WHO KNOWS WHAT HAPPENS NEXT WHEN GUYS DO THAT. 
Mom gets at some of the same things in a slightly more tactful manner, spinning things in such a way that it doesn't seem like Becca is Rogue from X-Men and will suck your brain into her own if she makes out with you. She asks very kindly that he not break her daughter's heart, and Chris says, ok, sure, yeah, whatever.
Chris and Becca head outside, where she kisses him to prove that she is not Rogue from X-Men, and then Chris is like, you know what? We're going to Chimp Haven! But then he realizes it's late and Chimp Haven closes at 7pm (5pm on weekdays), and they head to the state fair instead, to ride the ferris wheel and make out more. Becca says some promising things about how she might be falling in love with Chris, and it seems like she's got a legit shot to make it to next week now, but more importantly, you can sponsor a chimp from Chimp Haven for as little as $25. I strongly recommend sponsoring Jeff -- he's "often seen carrying plastic toys in his mouth for days at a time"!!
The Whitney hometown
Today, Whitney is going to tell Chris she loves him! She swears she is. But before that, she brings him to her work, where she talks about combining eggs with sperm, and Chris calls her a professional, which is good, because you should never trust an amateur fertility nurse. Then she takes him to the room where the men do their half of the work, which has a really nice recliner, and a TV, and lots of Playboys full of Jade's pictures. 
Time to hit Casa Whitney, where we'll be doing some time with Sister Kimberly, Brother-in-Law Matt, Boisterous Uncle Johnny (whose shirts appear to have half the buttons they should), and Grandma. Chris tells Uncle Johnny that he and Whitney are looking for the same thing, which is an irrigation system that won't totally break the bank, and then Chris gets some time with Sister Kimberly. He comes right out and asks for her blessing of their potential fake marriage, and she's not budging: she doesn't want Whitney to be one of four girls, she wants Whitney to be one of one girls, so, Chris should call her when that's the case. 
Overall, the sisters in these Hometowns so far have been using the word "protective" to sub in for "jealous," and seem to want to ruin every chance their sister has at moving to Arlington, Iowa to wipe the sweat off Chris's brow after a long day of programming the farm robots that have taken everyone's jobs. 
But Whitney isn't having that. She gets some solo time with Chris, where she tells him that a while back, she was in Napa, and bought an expensive bottle of wine she could barely afford, with the idea that she would open it with the man she was going to marry. AND SO SHE'S GOING TO OPEN IT RIGHT NOW!!! In case you don't get it, she's implying that she is going to marry Chris. Also: she's totally falling in love with him! Woooo!! This generally seals up a Fantasy Suite date; nice work Whitney. The question of why Sutter Home Chardonnay is out of her price range is never broached. 

The Kaitlyn hometown O, Canada! Our home and native land. Which we refuse to live in when it's winter, so we go to Phoenix until it's not cold out anymore. This is the song that Kaitlyn's family sings every morning, and why we are going to Phoenix, and not Canada. This is bullcrap.
After meeting in an alley full of steamy dumpsters and broken dreams, Kaitlyn leads Chris to a recording studio, where they make a rap song, because she thinks watching people come up with rap lyrics is funny. 
Unlike Britt, I'm gonna be honest here: these hometowns are total BS so far. Usually we get a tour of the town, and they hit some local drawbridge where the girl used to work as a drawbridge operator, and say hi to people who have worked in the sandwich shop for 35 years despite not actually knowing their names, and you really FEEL something about the connection to the town, and learn about what it was like growing up there. So far, none of that stuff is happening here, and I hate it. 
Time to meet the family: Mom Leslie, Stepdad Rob, Regulardad Mike, Stepmom Cathy, and Sister Haley. Whichever of these people own this house also own the coolest table ever: it's basically a fire pit with a ring around it where you can put plates and giant glasses of bourbon for Chris. Kaitlyn's mom -- who is kinda a babe! -- informs Chris that Kaitlyn's last breakup was a pretty bad one, but thinks that her heart is ready for this now. Mom thinks Chris is a standup guy, and to prove her correct, he indeed stands right up and gives her a big hug. 
Remember when all the families were totally crazy and scared the crap out of the Bachelor? Oh you do? Me too. Let's cling as tightly as possible to those memories, because it apparently doesn't happen anymore, and these hometowns are more boring than watching the Jonas Brothers do a Sudoku. As if to prove my point, Kaitlyn takes Chris outside, where a giant billboard reads Kaitlyn <3 Chris. And they make out, but only a little. Kaitlyn is falling for him, too, and isn't even crazy anymore. This show has been totally homogenized, which is also what Chris likes to do to milk from his cows.
The Jade hometown
And after all those uneventful home visits, it's time for Jade to tell Chris that 3.4 million men worldwide have seen her implant scars. We're going to Nebraska! Gering, Nebraska to be exact, which, back in 2012 raised the fees for dumping stuff at the landfill, and in which nothing else has happened since. 
At Jade's house, it's revealed that everyone on this show's parents are divorced, as we meet Dad Larry (Laron?), Fiancé Tanya, Brothers Zack and Brighton (maybe?), and Mom Kim. Dad gets Chris first, and Chris tells him about how much he loves Jade's small-town values, and if Chris means that Jade's copy of Playboy is cheaper here than it is in larger metropolises, he is very correct. Dad tells him how Jade can be a little too much for some of her BFs, and that he wants her living happy and free, but also loved. For a guy whose daughter ended up tearing her clothes off in front of a video camera the second week she was in LA, Dad actually seems like a legit good dude. 
When it comes time to talk to Jade's brothers, one of them sits there thinking about the next time he's going to go to Hardee's, while the other calls Jade a "wild mustang" and implies that dude, she's not moving to Iowa, because she can't stand still long enough to be captured by the pornographic daguerreotypes that are considered the height of technology there. So, that's not great. After that it's time to go, but Jade still hasn't told him The Thing, so she asks for some more time and they head to Chris's hotel.
While there, he tells her the wild mustang thing, but says he thinks she's just a hot mustang, because he's never seen her wild side. After about a seven-minute run-around, she finally tells him the deal: she moved to LA, and someone approached her to pose for Playboy, and she did! Honestly, the way she was building it up, it seemed like she was going to be a hooker who only got paid in illegal semi-automatic Russian firearms; Chris might even be relieved by this.
Although he might not be relieved by this: she wants to show him the pictures. She'll go get her laptop right now! She's very oddly excited about this! They indeed pull them up, and scroll through the photos, which, again, I have not ever seen and sent to all my friends, and then she even shows him a video that I am just going to assume is 2 minutes and 38 seconds long, and again, she seems like she couldn't be happier about what was going down. After she's done ruining all the mystery of what her Playboy-worthy body looks like, Chris swears that this doesn't affect anything -- he's looking to fall in love with a person, not their career. He's incredibly sweet about the whole thing, and Jade just might have a shot!
 
The roses
Chris swears this is the toughest night of his life, aside from that time he told some punks in the local Ruby Tuesday that they had better "stop taking so many extra toothpicks from the hostess station, because somebody has to pay for those and they should have more respect for the hidden overhead costs of businesses."
First one through to next week is... Whitney! Damn Whitney. Not bad. Telling him you love him, especially considering his Iowa Complex, seems to have gone a long way here. After that... Kaitlyn! I said it in the last recap, but her accent is pretty remarkable. I honestly feel like they've maybe never even kissed each other, and that there is absolutely no hope for them beyond next week, but hell, you gotta credit her for her turnaround here. 
And it's down to The Virgin and the One Who Is Basically the Opposite of a Virgin. Will Becca be one step closer to being highly confused by field-plowing jokes for the rest of her life? Will Jade get the chance to spend the remainder of her days in Iowa, riding around topless on tractors after distributing binoculars to all the neighbors? WHO GETS IT?!?! Becca gets it. She's another girl who came out of nowhere, and is almost definitely going to face off against Whitney in the final. Two girls who right from episode one seemed sure to get the business in the Fantasy Suite are now gone. Chris walks Jade out, telling her that she's an amazing person, and that it wasn't about the pictures, and that she's been a gift to have in his life. He also kisses her on the way out -- Chris has turned into the Family Feud Richard Dawson of letting girls go -- and she goes the traditional cry as she drives away, but deep down, I think she knew this was how it had to be. Jade, we'll never forget you, mainly because we all have your pictures bookmarked on our computers.
 
Next week
They're going to Bali! Which Chris informs us is a long way from Arlington. I checked a map. He's right.