Pay Attention to These Sundance Breakout Stars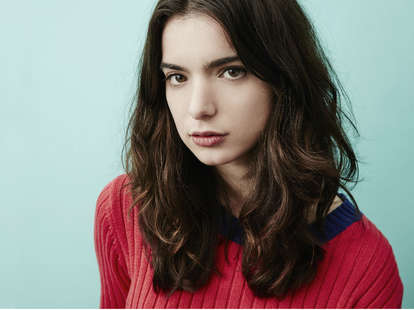 Maarten de Boer/Getty Images Portrait/Getty Images
Before Jennifer Lawrence became an Oscar staple, Peter Dinklage commanded Game of Thrones, Michelle Rodriguez co-owned the Fast and Furious franchise, and Elizabeth Olsen fought alongside The Avengers, they were the stars of Sundance Film Festival premieres, discovered talent waiting for their mainstream moment. Here are the 2016 performances that could follow in their footsteps.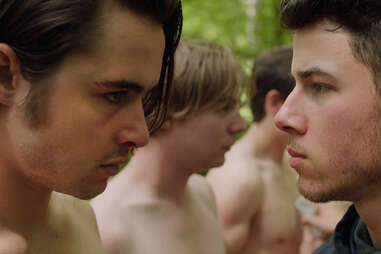 Ben Schnetzer, Goat
Schnetzer earns his Hollywood leading man status by taking the beating of a lifetime. Goat, from writer-director Andrew Neel and Pineapple Express director David Gordon Green, observes fraternity life from the trenches. Schnetzer is the soldier, whose fresh-faced freshman ambitions are shat upon by haze-crazy "brothers." If you think Leonardo DiCaprio had it rough in The Revenant, wait until you see the modern Hell Week drinking games.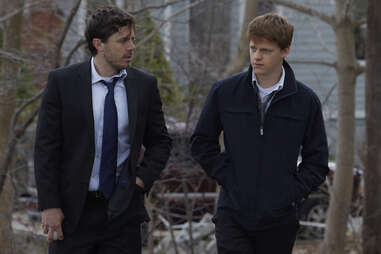 Lucas Hedges, Manchester By the Sea
The post-show buzz for Kenneth Lonergan's heavy new drama was all focused on Casey Affleck, who, in fairness, is astounding as a man dealing with a troubled past and the recent death of his brother. The crawl towards awards season will give Hedges his due. It's tough to play a teenager who doesn't suck. They're brash, opinionated, and hormonal -- easily overplayed. Hedges, as a son left stranded after the aforementioned death, naturally reflects that moment in life, weighing it against grief and holding his own against Affleck's brooding performance. It's Jennifer Lawrence in Winter's Bone all over again.
Dylan Gelula, First Girl I Loved
Coming-of-age romances are the red M&Ms of Sundance -- guaranteed and consistently gratifying. Greatness comes down to the actors. First Girl I Loved is a lesbian drama amplified by Dylan Gelula, funny, adorable, impassioned, and heartbreaking -- mostly in that order -- work as Anne, a gal dying to date who she wants to date. Gelula previously appeared as the angsty daughter on Unbreakable Kimmie Schimdt. She adds about 15 more layers to her high schooler persona in First Girl I Loved.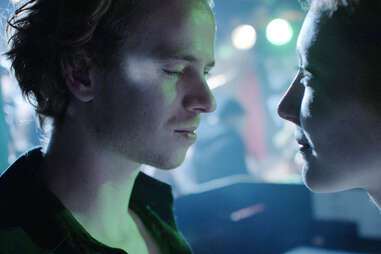 Stef Aerts, Belgica
Unless you've kept up with the last five years of Belgian television and movies, you're not too familiar with Aerts. Belgica, te propulsive story of two brothers who open their own CBGB-type rock club, turns him into a Euro-James Deen. With use of only one of his eyes -- yes, the squint's part of his character's backstory and entirely performed by Aerts -- the actor observes explosive, too-good-to-be-true success. The definition of cool, rarely found in the States today.
Richard Brake, 31
Horror movie acting goes criminally overlooked. Watching through your fingers tends to mask the skill involved. But it's an art. Though 31 is a raggedy, glib from genre aficionado Rob Zombie, Brake's take on "Doom-Head," an axe-wielding murderer-for-hire, is all about theatrics. He's an amped up version of Clockwork Orange's Alex DeLarge, a deliverer of beat poetry and death blows. You've seen Brake before -- he's the man behind the Night's King makeup on Game of Thrones -- but 31 lets him off the leash.
Michael Barbieri, Little Men
Kid acting can seem a little... forced. It's easy to spot the laser pointer commands that push the under-15 crowd to deliver. The opposite is true for Barbieri in Ira Sachs' New York tale. The actor pops on screen for the first time acting like a young Joe Pesci. You wonder if casting agents are pulling a Webster. Then his character, Tony, starts losing his footing in the world. Barbieri has the caution of a tween and the roar of someone three times his age. In the scene of the festival, he faces off with an acting coach -- he is a Brooklyn kid, after all -- in an exercise of bellowing proportions. He brought the house down, and will again when Little Men hits theaters.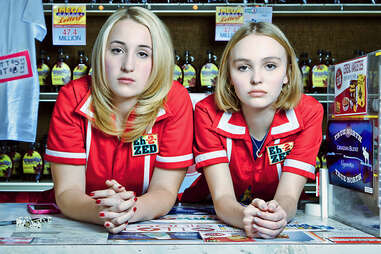 Harley Quinn Smith and Lily-Rose Depp, Yoga Hosers
Kevin Smith returned to Sundance with a bubblegum confection that amalgamates Bring It On, Scott Pilgrim, and Strange Brew. He entrusts the hair-brained scheme in his daughter, Harley, and her real life best friend, Lily-Rose, heir to the Johnny Depp throne. The movie's a mixed bag, but Smith and Depp rule as a pair of Canadian Heathers who find solace from our eyeroll-worthy world in yoga. Their one-liners are razor sharp, their musical numbers put Jem to shame, and they're pros at fighting monsters (or, in the case of Yoga Hosers, squashing Nazi bratwursts). An action duo in need of continued adventures.
And a few better-known actors who redefined their careers at Sundance...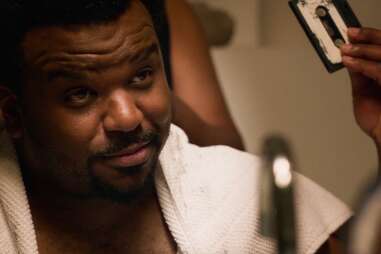 Craig Robinson, Morris From America
Known for comedic roles in The Office and and Hot Tub Time Machine, Robinson asserted himself as a Tom Hanks-ian everyman in this movie about fatherhood, alienation, and companionship. As Curtis, a single dad who relocates with his son Morris to a small town in Germany, Robinson proves parental wisdom and hip-hop cool are not mutually exclusive. Writer-director Chad Hartigan gives the actor two subdued, powerhouse moments that are up there with any performance currently campaigning for Oscars. I admit it: Robinson made me cry. Twice.
Rebecca Hall, Christine
Very little footage exists of Christine Chubbuck, the television news reporter who infamously shot herself during a live, afternoon broadcast. What did exist were anecdotes of work ethic and depression, two sides of a coin that would drive Chubbuck to her violent act. In Christine, Hall (Iron Man 3, The Gift) grapples with the journalist's final days. Her performance stands as one of the great illustrations of mental illness, riveting and humane until the very end.
Anna Gunn, Equity
Hollywood in a nutshell: Bryan Cranston followed Breaking Bad with a handful of prestige roles and an Oscar nomination for Trumbo, while Gunn, brilliant and often misunderstood as Skylar, segued to the unassuming cop show Gracepoint. Sundance's smoldering finance thriller Equity fixes that. Gunn's has the mouth of Gordon Gecko and the diligence of George Clooney's Michael Clayton. She's a force, aware of her business' gender tension, determined to demolish dissenters. An explosive moment, involving a chocolate-less chocolate chip cookie, feeds Gunn the line of the year: "Count the fucking chips!"
Sign up here for our daily Thrillist email, and get your fix of the best in food/drink/fun.
Matt Patches is Thrillist's Entertainment Editor. He previously wrote for Grantland, Esquire.com, Vulture, The Hollywood Reporter, and The Guardian. His performance as "man slipping on ice" went unfairly overlooked at Sundance. Find him on Twitter @misterpatches.