The Best Horror Movies on Netflix
You might want to keep the lights on while you watch these.
Looking for something other than horror? Check out the best movies on Netflix right now. 
The greatest horror movies of all time get under your skin with original conceits. They sharpen your paranoia to burrow down into your brain. They grab hold of your heart with iconic imagery -- you'll never forget Freddy's claws, no matter how hard you try.
Most of the major streaming services take spooky, scary dramas quite seriously, including Netflix. So switch off the lights, grab a blanket, and hold your nearest loved one -- these stream-ready horror movies are here to fill your head with nightmares. Have fun!
Warren Orchard/Netflix
Apostle (2018)
For his follow-up to his two action epics, The Raid and The Raid 2, director Gareth Evans dials back the hand-to-hand combat but still keeps a few buckets of blood handy in this grisly supernatural horror tale. Dan Stevens stars as Thomas Richardson, an early 20th century opium addict traveling to a cloudy island controlled by a secretive cult that's fallen on hard times. The zealous religious group is led by a bearded scold named Father Malcolm (Michael Sheen) who may or may not be leading his people astray. Beyond a few bursts of kinetic violence and some crank-filled torture sequences, Evans plays this story relatively down-the-middle, allowing the performances, the lofty themes, and the windswept vistas to do the talking. It's a cult movie that earns your devotion slowly, then all at once.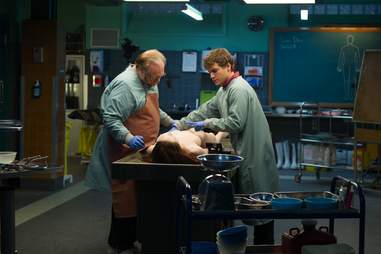 IFC Midnight
The Autopsy of Jane Doe (2016)
Brian Cox and Emile Hirsch play father and son coroners who -- with required suspense -- come to realize that the unidentified corpse on their table has a long and freaky backstory. To say much more would spoil the flick's numerous twists and turns, but this is a very crafty, brisk, and efficient horror movie from Trollhunter director André Øvredal.
Netflix
The Babysitter (2017)
One preteen boy's (Judah Lewis) fantasy about his babysitter (Samara Weaving) turns into a nightmare when it's revealed she and her hot friends dabble in human sacrifices. Director McG's self-aware spin on the babysitter slasher is more comedy than horror, delivering a bloody fun time in a stylish manner. Archetypes get turned on their heads, laugh lines punctuate almost every scene, and reality mostly ceases to exist while our hero tries to learn some sort of lesson. It's goofy mayhem in all the right ways. If you hit play, please don't ruin a good thing by taking it too seriously.
Netflix
Before I Wake (2016)
Though debated by genre purists, this one most definitely qualifies as a horror flick; it just happens to be a "soft" horror film with an actual heart that parents could probably watch with their kids. It's about a couple, played by Kate Bosworth and Thomas Jane, who adopts a kid (Jacob Tremblay) whose dreams become physically real while he sleeps. If you're looking for shocks and kills, you may want to skip this one for now, but Before I Wake is an impressive piece of work from the very consistent horror filmmaker Mike Flanagan (Gerald's Game).
A24
The Blackcoat's Daughter (2017)
Two young women are left behind at school during break... and all sorts of hell breaks loose. This cool, stylish thriller goes off in some strange directions (and even offers a seemingly unrelated subplot about a mysterious hitchhiker) but it all pays off in the end, thanks in large part to the three leads -- Emma Roberts, Lucy Boynton, and Kiernan Shipka -- and director Oz Perkins' artful approach to what could have been just another occult-based gore-fest.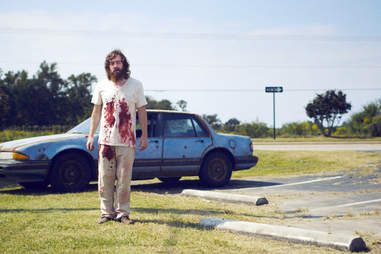 RADiUS-TWC
Blue Ruin (2013)
Before he went punk with 2016's siege thriller Green Room, director Jeremy Saulnier delivered this low-budget, darkly comic hillbilly noir. When Dwight Evans (Macon Blair) discovers that the man who killed his parents is being released from prison, he returns home to Virginia to claim his revenge. Things quickly spin out of control. Like the Coen Brothers' Blood Simple, this wise-ass morality tale will make you squirm. 
Lionsgate
Bullet Head (2017)
Remember the badass 1992 action flick Trespass? Ice Cube, Ice-T, Bill Paxton, and Bill Sadler. It's about a bunch of crooks hiding out in a warehouse while their recent heist falls apart. How about the 1993 sci-fi/horror movie Man's Best Friend, in which a killer dog makes trouble for Ally Sheedy and Lance Henriksen? Bullet Head is virtually the offspring of those two movies. A bunch of crooks (John Malkovich, Adrian Brody, Rory Culkin) find themselves trapped in a warehouse with a killer pitbull. It's that simple. While much of the film is darkly entertaining, it does (fair warning) contain some simulated dog violence that may upset some viewers, so beware.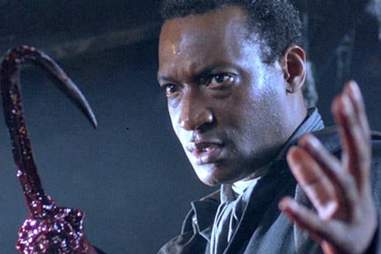 Tristar Pictures
Candyman (1992)
This is easily one of the finest adaptations of Clive Barker's work, partly because of fantastic performances from Virginia Madsen and Tony Todd -- and great choices from writer/director Bernard Rose -- but also because Candyman is a very well-made, audacious, and quietly disturbing thriller that goes to challenging places. If you want a "fun" horror film, look elsewhere. This one about a skeptical grad student who accidentally summons a one-armed legend manages to deal with racism, slavery, and oppression in a way that's bold and unique. Watch the original before the Jordan Peele-produced remake hits theaters. 
The Orchard
Creep (2014)
Patrick Brice's found-footage movie is a no-budget answer to a certain brand of horror, but saying more would give away its sinister turns. Just know that the man behind the camera answered a Craigslist ad to create a "day in the life" video diary for Josef (Mark Duplass), who really loves life. Creep proves that found footage, the indie world's no-budget genre solution, still has life, as long as you have a performer like Duplass willing to go all the way. 
The Orchard
Creep 2 (2017)
The first Creep proved to be a quietly compelling and calmly creepy story about a man who unwittingly befriends a real... well, creep played by Mark Duplass. Unfortunately, for online documentary filmmaker Sarah (Desiree Akhavan), the creep is back, as she'll soon find out, in various odd and unsettling ways. But what happens when the creep's potential victim refuses to be, well, creeped out? Akhavan seems to be a perfect foil for Duplass' quietly unhinged lunatic, and together they cook up an oddly satisfying sequel to a satisfyingly odd predecessor.
New Line Cinema
The Evil Dead (1981)
In one of his earliest projects, writer/director Sam Raimi (Darkman, Spider-Man) was able to create what's gone down as peak cult horror with The Evil Dead. While many would argue that the sequel (which is also sort of a remake at the same time) is better than the original, it remains a brilliant micro-budget masterpiece about a group of poor saps who awaken a bunch of demons. Although there's little more to the movie than that and it's all patched together by ancient effects, it proves it doesn't need much to scare you. Trust us, this classic is scarier than most blockbuster horror movies today. 
Netflix
Gerald's Game (2017)
Like his previous low-budget Netflix-released horror release, Hush -- a captivity thriller about a deaf woman fighting off a masked intruder -- Mike Flanagan's Stephen King adaptation of Gerald's Game wrings big scares from a small location. Sticking close to the grisly plot details of King's seemingly "unfilmable" novel, the movie chronicles the painstaking struggles of Jessie Burlingame (Carla Gugino) after she finds herself handcuffed to a bed in an isolated vacation home when her husband, the titular Gerald, dies from a heart attack while enacting his kinky sexual fantasies. She's trapped -- and that's it. The premise is clearly challenging to sustain for a whole movie, but Flanagan and Gugino turn the potentially one-note set-up into a forceful, thoughtful meditation on trauma, memory, and resilience in the face of near-certain doom.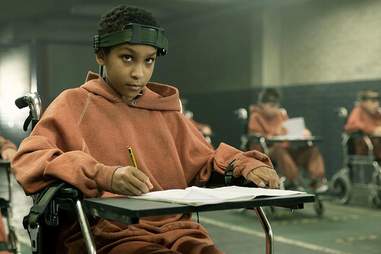 Warner Bros. Pictures
The Girl With All the Gifts (2017)
If you're fed up with "young adult dystopia," and equally over the zombie movie, The Girl With All the Gifts is good news. The movie combines both genres into one tasty combo plate that's unexpected at every turn. It's about a group of survivors who accompany a young zombie/human hybrid into the wilderness after their facility is invaded. A weird one, but it's also really quite good.
A24
Green Room (2015)
Green Room is a throaty, thrashing, spit-slinging punk tune belted through an invasion-movie microphone at max volume. It's nasty -- and near-perfect. As a band of 20-something rockstars recklessly defend against a neo-Nazi battalion equipped with machetes, shotguns, and snarling guard dogs, the movie blossoms into a savage coming-of-age tale, an Almost Famous for John Carpenter nuts.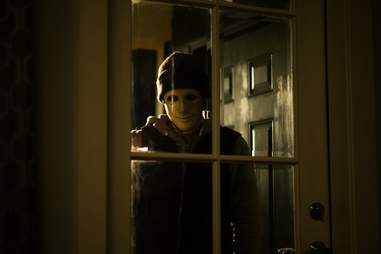 Netflix
Hush (2016)
While films like the classic Wait Until Dark and the recent Don't Breathe have wrung scares from blind heroes and villains, deaf characters haven't been placed at the center of many mainstream horror movies. Enter (very quietly) Hush, a low-budget home-invasion thriller about a deaf and mute woman (Kate Siegel) being terrorized by a masked home invader (The Newsroom's John Gallagher Jr.). This is the type of movie that can exhaust its premise in 20 minutes if the script doesn't deliver -- how long can two characters face off in a swanky cabin for, really? -- but luckily director Mike Flanagan and Siegel, who co-wrote the film together, have some well-timed twists (and many, many cross-bow arrows) up their sleeves. 
Netflix
I Am the Pretty Thing That Lives in the House (2016)
A meditative horror flick that's more unsettling than outright frightening, I Am the Pretty Thing That Lives in the House follows the demise of Lily, a live-in nurse (Ruth Wilson) who's caring for an ailing horror author. As Lily discovers the truth about the writer's fiction and home, the lines between the physical realm and the afterlife blur. The movie's slow pacing and muted escalation might frustrate viewers craving showy jump-scares, but writer-director Oz Perkins is worth keeping tabs on. He brings a beautiful eeriness to every scene, and his story will captivate patient streamers. Fans should be sure to check out his directorial debut, The Blackcoat's Daughter.
FilmDistrict
Insidious (2010)
Haunted house tales are nothing new in horror movies. Same goes for creepy kids. But when horror director extraordinaire James Wan (Saw, The Conjuring) and Blumhouse got their hands on these classic motifs, they reinvented them and launched an entirely new spooky franchise that stretches across four films and has earned more than half a billion dollars at the box office. The original installment follows a couple (Patrick Wilson, Rose Byrne) whose son falls into a coma after a strange encounter in their new home, and then, as you might expect, strange things start happening. 
Drafthouse Films
The Invitation (2015)
This slow-burn horror-thriller preys on your social anxiety. The film's first half-hour, which finds Quarry's Logan Marshall-Green arriving at his ex-wife's house to meet her new husband, plays like a Sundance dramedy about 30-something yuppies and their relationship woes. As the minutes go by, director Karyn Kusama (Jennifer's Body) burrows deeper into the awkward dinner party, finding tension in unwelcome glances, miscommunication, and the possibility that Marshall-Green's character might be misreading a bizarre situation as a dangerous one. We won't spoil what happens, but let's just say this is a party you'll be telling your friends about. 
A24
It Comes at Night (2017)
In this post-apocalyptic nightmare-and-a-half, the horrors of humanity, the strain of chaotic emotions pent up in the name of survival, bleed out through wary eyes and weathered hands. The setup is blockbuster-sized -- it reverts mankind to the days of the American frontier, every sole survivor fighting to protect their families and themselves -- but the drama is mano-a-mano. Barricaded in a haunted-house-worthy cabin in the woods, Paul (Joel Edgerton) takes in Will (Christopher Abbott) and his family, knowing full well they could threaten his family's existence. All the while, Paul's son, Trevor, battles bloody visions of (or induced by?) the contagion. Trey Edward Shults directs the hell out of every slow-push frame of this psychological thriller, and the less we know, the more confusion feels like a noose around our necks, the scarier his observations become.
A24
The Killing of a Sacred Deer (2017)
After surgeon Steven Murphy (Colin Farrell) takes to a teenage boy Martin (Barry Keoghan) whose father died when he was young (Barry Keoghan), it becomes evident that Martin blames Steven for his wrongful death from a botched surgery -- and either his wife or one of his children must die to make up for it. Yorgos Lanthimos' psychological thriller pulls its material from the Greek tragedy Iphigenia at Aulis, drawing disturbing stages of injury, a deteriorating will to live, and a pitch black mood that permeates throughout. Rather than a gore fest or paranormal disturbance, The Killing of a Sacred Deer is an art-horror movie that's as disturbing as any slasher flick, but for its mastery over its unnerving mood more than anything else.
Paramount Pictures
Paranormal Activity (2007)
This documentary-style film budgeted at a mere $15,000 made millions at the box office and went on to inspire a number of sequels, all because of how well its scrappiness lent to capturing what feels like a terrifying haunted reality. Centered on a young couple who is convinced an evil spirit is lurking in their home, the two attempt to capture its activity on camera, which, obviously, only makes their supernatural matters worse. It leans on found footage horror tropes made popular by The Blair Witch Project and as it tessellates between showing the viewer what's captured on their camcorders and the characters' perspectives, it's easy to get lost in this disorienting supernatural thriller. 
Netflix
The Perfection (2019)
The Perfection, Netflix's self-consciously sleazy genre provocation starring Allison Williams as a former child cello prodigy out for revenge, is like a cinematic endurance test. Grossed out by the creepy bug effects and horrifying depictions of self-mutilation? Keep streaming. For some viewers, the act of surviving each grisly twist and body horror scare in this thriller from Richard Shepard will be its own reward, because as shocking as this derailed story of vengeance from one deranged classic musician onto another is, that's all part of its sick fun.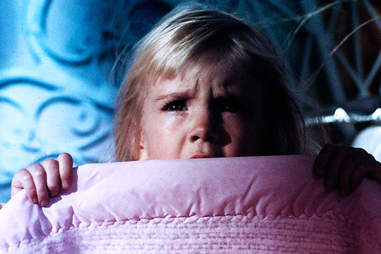 MGM/UA Entertainment Co.
Poltergeist (1982)
If you saw Poltergeist growing up, chances are you're probably equally as haunted by Heather O'Rourke as she is in the film, playing a little girl tormented by ghosts in her family home. This Steven Spielberg-penned, Tobe Hooper-directed (The Texas Chainsaw Massacre) paranormal flick is a certified cult classic and one of the best horror films of all time, coming from a simple premise about a couple whose home is infested with spirits obsessed with reclaiming the space and kidnapping their daughter. Poltergeist made rearranged furniture freaky, and you may remember a particularly iconic scene with a fuzzed-out vintage television set. It's may be nearly 40 years old, but the creepiness is timeless. 
Netflix
The Ritual (2018)
Four old friends travel into a foreboding forest and... yeah, yeah, yeah. You've heard this one before. So has everyone. Only this time, it's interesting. Suffice to say that these guys stumble across a freaky shack, unwisely opt to sleep in said shack, and then find themselves hopelessly lost. Also there may or may not be a mythologically inspired monster from Norse lore on their trail. The Ritual doesn't try and reinvent any wheels, plot-wise, but it's a very well-shot, -acted, and -conceived piece of horror filmmaking from David Bruckner (V/H/S).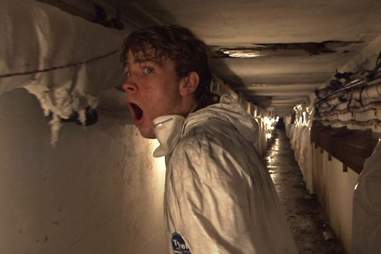 Universal Pictures
Session 9 (2001)
Few things are creepier than a real-life location that feels tailor-made for a horror movie. Director Brad Anderson found one in the Danvers State Hospital in Massachusetts (though the decrepit, abandoned asylum has since been torn down, so don't go looking for it). The endlessly eerie building is the stage for a group of asbestos-removal workers who stumble across not only a few unhappy spirits, but horrible secrets that threaten to infect their own minds. The scariest sequence involves an underground hallway, a rapidly dwindling light supply, and a very panic-stricken young man. Anderson nails it.
Orion Pictures
The Silence of the Lambs (1991)
The late director Jonathan Demme's 1991 film is the touchstone for virtually every serial killer film and television show that came after. The iconic closeup shots of an icy, confident Hannibal Lecter (Anthony Hopkins) as he and FBI newbie Clarice Starling (Jodie Foster) engage in their "quid pro quo" interrogation sessions create almost unbearable tension as Buffalo Bill (Ted Levine) remains on the loose, killing more victims. Hopkins delivers the more memorable lines, and Buffalo Bill's dance is the stuff of nerve-wracking anxiety nightmares, but it's Foster's nuanced performance as a scared, determined, smart-yet-hesitant agent that sets Silence of the Lambs apart from the rest of the serial killer pack.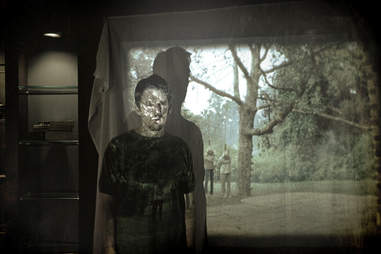 Summit Entertainment
Sinister (2012)
Horror-movie lesson #32: If you move into a creepy new house, do not read the dusty book, listen to the decaying cassette tapes, or watch the Super 8 reels you find stuffed away in the attic; they will inevitably lead to your demise. In Sinister, a true-crime author (played by Ethan Hawke) makes the final mistake, losing his mind to home movies haunted by the "Bughuul." It may be much to the dismay of Hawke's Ellison Oswalt, but it'll all be much to your enjoyment (and terror) because the scares are truly non-stop and frightening in this one.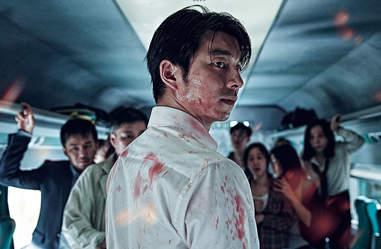 Next Entertainment World
Train to Busan (2016)
There are so many zombie movies and TV shows, it's hard to know what's actually good and what's garbage. But the South Korean import Train to Busan is one of the most novel, clever, and refreshingly entertaining zombie massacres to hit the screen in quite some time. It's about nothing more than a father and his young daughter who board a train from Seoul to Busan just as a very expeditious zombie virus has hit the area. Onboard the train, you'll find a colorful collection of amusing disaster movie archetypes, from a gruff bully and his pregnant wife to a teenage girl with a crush on a hunky baseball player, and Yeon Sang-Ho, in his debut, does a very nice job of ramping up the zombie insanity at frequent and regular intervals. (Watch Psychokinesis, Yeon's 2018 action movie with a heart, next.)
Film Factory
Veronica (2017)
Gotta love a horror film that'll do everything it can to remind you of why playing around with an Ouija board is probably not the best idea. The latest movie from Paco Plaza, director of the equally terrifying REC, sees a young girl named Veronica (Sandra Escacena) who conducts a seance with her friends in the middle of a solar eclipse. Her goal is to contact her dead father, but as it normally goes in films of the paranormal variety, that doesn't happen. Veronica instead ends up waking up some truly sinister forces and, well, you probably already know how this will end. Or not. And if that's the case, then you're in the same boat as all the other Netflix users who couldn't finish the movie because it's that scary.
XYZ Films/Vertical Entertainment
Under the Shadow (2016)
Set during the conflict between Iran and Iraq, a desperate mother and her horrified little girl find themselves haunted by the ghosts of wartime past. Tapping into history and the terror of true life bombardment, Under the Shadow is one of the smartest, saddest, and most eerily effective horror films of 2016. Writer-director Babak Anvari uses war as a metaphor as astutely as legends like Guillermo del Toro, and the setting is refreshingly novel for this type of supernatural story. The two leads (Narges Rashidi and Avin Mashadi) are nothing short of fantastic.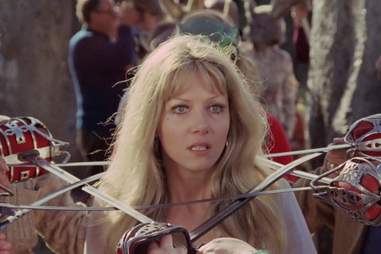 British Lion Films
The Wicker Man (1973)
A police officer visits a bizarre, isolated island community while looking for a missing girl, only to (slowly) realize that there's some super-creepy old-school witchcraft afoot. The Wicker Man is one of those "slow-burn" horror stories, and yes, you should definitely skip the goofy Nicolas Cage remake that spoiled some of the surprises for the original. This Christopher Lee-led mystery is a truly disturbing horror classic for those who settle in and pay close attention. 
A24
The Witch (2016)
This recent indie hit delivers everything we rarely see in horror today. The backdrop, a farm in 17th-century New England, facilitates a misty, macabre mood. The circumstance, a Puritanical family making it on the fringes of society because they're too religious, bubbles with terror. And the question, whether devil-worshipping is hocus pocus or real black magic, keeps each character on their toes and begging God for answers. The Witch tests its audience with its (nearly impenetrable) old English dialogue and the anxiety-inducing trials of early American life, but the payoff will keep your mind racing, and your face hiding under the covers, for days.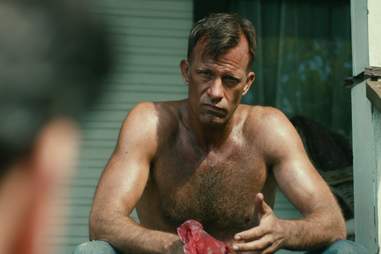 Netflix
1922 (2017)
With all the recent adaptations of Stephen King's celebrated novels, it's easy to forget that the wildly prolific horror writer also has a stockpile of untapped short stories for IP-hungry producers to choose from. 1922, a folksy riff on Edgar Allen Poe's "The Tell-Tale Heart" starring Thomas Jane as a farmer who kills his wife, draws its plot from a novella in the 2010 collection Full Dark, No Stars, but it's just as rich and complex as the more famous films based on longer King tales. Plus, there are so many rats in this movie. Seriously, watch out, Willard.
Need help finding something to watch? Sign up here for our weekly Streamail newsletter to get streaming recommendations delivered straight to your inbox.
Follow the Thrillist Entertainment editors on Twitter @ThrillistEnt.