Looking for something other than horror? Check out the best movies on Netflix right now. 
The greatest horror movies of all time get under your skin with original conceits. They sharpen your paranoia to burrow down into your brain. They grab hold of your heart with iconic imagery -- you'll never forget Freddy's claws, no matter how hard you try.
Most of the major streaming services take spooky, scary dramas quite seriously, including Netflix. So switch off the lights, grab a blanket, and hold your nearest loved one -- these stream-ready horror movies are here to fill your head with nightmares. Have fun!
Recommended Video
6 Badass Moments from 'Breaking Bad'
1922 (2017)
With all the recent adaptations of Stephen King's celebrated novels, it's easy to forget that the wildly prolific horror writer also has a stockpile of untapped short stories for IP-hungry producers to choose from. 1922, a folksy riff on Edgar Allen Poe's "The Tell-Tale Heart" starring Thomas Jane as a farmer who kills his wife, draws its plot from a novella in the 2010 collection Full Dark, No Stars, but it's just as rich and complex as the more famous films based on longer King tales. Plus, there are so many rats in this movie. Seriously, watch out, Willard.
Apostle (2018)
For his follow-up to his two action epics, The Raid and The Raid 2, director Gareth Evans dials back the hand-to-hand combat but still keeps a few buckets of blood handy in this grisly supernatural horror tale. Dan Stevens stars as Thomas Richardson, an early 20th century opium addict traveling to a cloudy island controlled by a secretive cult that's fallen on hard times. The zealous religious group is led by a bearded scold named Father Malcolm (Michael Sheen) who may or may not be leading his people astray. Beyond a few bursts of kinetic violence and some crank-filled torture sequences, Evans plays this story relatively down-the-middle, allowing the performances, the lofty themes, and the windswept vistas to do the talking. It's a cult movie that earns your devotion slowly, then all at once.
The Babysitter (2017)
One preteen boy's (Judah Lewis) fantasy about his babysitter (Samara Weaving) turns into a nightmare when it's revealed she and her hot friends dabble in human sacrifices. Director McG's self-aware spin on the babysitter slasher is more comedy than horror, delivering a bloody fun time in a stylish manner. Archetypes get turned on their heads, laugh lines punctuate almost every scene, and reality mostly ceases to exist while our hero tries to learn some sort of lesson. It's goofy mayhem in all the right ways. If you hit play, please don't ruin a good thing by taking it too seriously.
Before I Wake (2016)
Though debated by genre purists, this one most definitely qualifies as a horror flick; it just happens to be a "soft" horror film with an actual heart that parents could probably watch with their kids. It's about a couple, played by Kate Bosworth and Thomas Jane, who adopts a kid (Jacob Tremblay) whose dreams become physically real while he sleeps. If you're looking for shocks and kills, you may want to skip this one for now, but Before I Wake is an impressive piece of work from the very consistent horror filmmaker Mike Flanagan (Gerald's Game).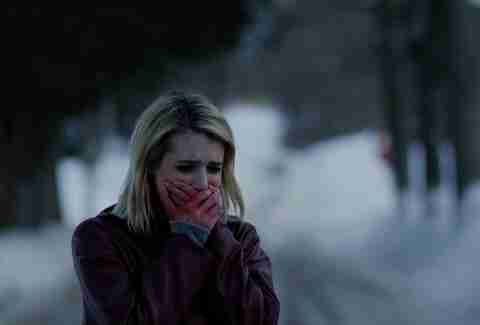 The Blackcoat's Daughter (2017)
Two young women are left behind at school during break... and all sorts of hell breaks loose. This cool, stylish thriller goes off in some strange directions (and even offers a seemingly unrelated subplot about a mysterious hitchhiker) but it all pays off in the end, thanks in large part to the three leads -- Emma Roberts, Lucy Boynton, and Kiernan Shipka -- and director Oz Perkins' artful approach to what could have been just another occult-based gore-fest.
Bullet Head (2017)
Remember the badass 1992 action flick Trespass? Ice Cube, Ice-T, Bill Paxton, and Bill Sadler. It's about a bunch of crooks hiding out in a warehouse while their recent heist falls apart. How about the 1993 sci-fi/horror movie Man's Best Friend, in which a killer dog makes trouble for Ally Sheedy and Lance Henriksen? Bullet Head is virtually the offspring of those two movies. A bunch of crooks (John Malkovich, Adrian Brody, Rory Culkin) find themselves trapped in a warehouse with a killer pitbull. It's that simple. While much of the film is darkly entertaining, it does (fair warning) contain some simulated dog violence that may upset some viewers, so beware.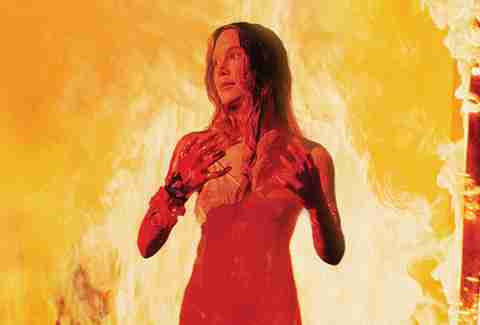 Carrie (1976)
Adolescence is horrifying. Having taught high school English and endured his own punishing awkward teen years, Stephen King channeled a lifetime of social anxiety, discomfort, and anger into his brisk, righteous first novel, which Brian De Palma then turned into a stylish bloodbath. Anchored by a vulnerable, complex performance from Sissy Spacek and a showy turn from Piper Laurie as Carrie's God-fearing mother, it's the rare horror film that works both as psychological portraiture and special-effects blowout. Skip the muddled 2013 remake and get your thrills straight from the source.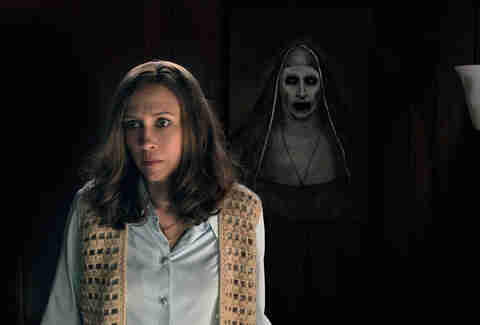 The Conjuring (2013)
James Wan scared the shit out of moviegoers and restored faith in horror films when he dramatized Ed and Lorraine Warren's haunted farmhouse visit for the big screen. As the two paranormal investigators (played by Patrick Wilson and Vera Farmiga) go head-to-head with a wicked presence, you'll find yourself audibly yelping and wanting nothing to do with the dark. The impeccably choreographed jump scares are damn good, but the Warrens' nail-biting heroics and the family's intoxicating paranoia woven throughout are even better -- proof that big-budget horror flicks don't have to suck.
Creep (2014)
Patrick Brice's found-footage movie is a no-budget answer to a certain brand of horror, but saying more would give away its sinister turns. Just know that the man behind the camera answered a Craigslist ad to create a "day in the life" video diary for Josef (Mark Duplass), who really loves life. Creep proves that found footage, the indie world's no-budget genre solution, still has life, as long as you have a performer like Duplass willing to go all the way. 
Creep 2 (2017)
The first Creep proved to be a quietly compelling and calmly creepy story about a man who unwittingly befriends a real... well, creep played by Mark Duplass. Unfortunately, for online documentary filmmaker Sarah (Desiree Akhavan), the creep is back, as she'll soon find out, in various odd and unsettling ways. But what happens when the creep's potential victim refuses to be, well, creeped out? Akhavan seems to be a perfect foil for Duplass' quietly unhinged lunatic, and together they cook up an oddly satisfying sequel to a satisfyingly odd predecessor.
The Devil's Candy (2015)
In The Devil's Candy, a pleasant family moves into a Texas farmhouse only to butt heads (repeatedly) with the home's former owner. It doesn't take long for the lean, mean stalker movie to erupt with terror. Is The Devil's Candy a haunted-house story, a psycho-dad story, or an occult horror story? Sort of all three, and the eerie ambiguity makes it so interesting. With tension that percolates for 60 straight minutes, this movie boasts a great Ethan Embry performance, a few well-crafted scares, and some ass-kickin' heavy-metal tunes.
Gerald's Game (2017)
Like his previous low-budget Netflix-released horror release, Hush -- a captivity thriller about a deaf woman fighting off a masked intruder -- Mike Flanagan's Stephen King adaptation of Gerald's Game wrings big scares from a small location. Sticking close to the grisly plot details of King's seemingly "unfilmable" novel, the movie chronicles the painstaking struggles of Jessie Burlingame (Carla Gugino) after she finds herself handcuffed to a bed in an isolated vacation home when her husband, the titular Gerald, dies from a heart attack while enacting his kinky sexual fantasies. She's trapped -- and that's it. The premise is clearly challenging to sustain for a whole movie, but Flanagan and Gugino turn the potentially one-note set-up into a forceful, thoughtful meditation on trauma, memory, and resilience in the face of near-certain doom.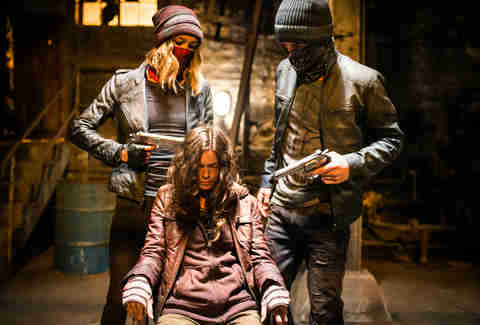 House on Willow Street (2016)
A few moments in this South African film about a kidnapping gone horribly -- like, really horribly -- awry are truly inspired horror. As usual, Sharni Vinson (You're Next) makes for a highly capable horror anti-hero, and it's her performance, plus a handful of clever twists, that keep this crime-thriller-turned-carnage-fest, about a group of ill-fated criminals bickering over what to do with the (plainly and perhaps supernaturally evil) young woman they've abducted, cooking.
Hush (2016)
While films like the classic Wait Until Dark and the recent Don't Breathe have wrung scares from blind heroes and villains, deaf characters haven't been placed at the center of many mainstream horror movies. Enter (very quietly) Hush, a low-budget home-invasion thriller about a deaf and mute woman (Kate Siegel) being terrorized by a masked home invader (The Newsroom's John Gallagher Jr.). This is the type of movie that can exhaust its premise in 20 minutes if the script doesn't deliver -- how long can two characters face off in a swanky cabin for, really? -- but luckily director Mike Flanagan and Siegel, who co-wrote the film together, have some well-timed twists (and many, many cross-bow arrows) up their sleeves. 
I Am the Pretty Thing That Lives in the House (2016)
A meditative horror flick that's more unsettling than outright frightening, I Am the Pretty Thing That Lives in the House follows the demise of Lily, a live-in nurse (Ruth Wilson) who's caring for an ailing horror author. As Lily discovers the truth about the writer's fiction and home, the lines between the physical realm and the afterlife blur. The movie's slow pacing and muted escalation might frustrate viewers craving showy jump-scares, but writer-director Oz Perkins is worth keeping tabs on. He brings a beautiful eeriness to every scene, and his story will captivate patient streamers. Fans should be sure to check out his directorial debut, The Blackcoat's Daughter.
The Invitation (2015)
This slow-burn horror-thriller preys on your social anxiety. The film's first half-hour, which finds Quarry's Logan Marshall-Green arriving at his ex-wife's house to meet her new husband, plays like a Sundance dramedy about 30-something yuppies and their relationship woes. As the minutes go by, director Karyn Kusama (Jennifer's Body) burrows deeper into the awkward dinner party, finding tension in unwelcome glances, miscommunication, and the possibility that Marshall-Green's character might be misreading a bizarre situation as a dangerous one. We won't spoil what happens, but let's just say this is a party you'll be telling your friends about. 
The Nightmare (2015)
The horror documentary interviews eight people coping with sleep paralysis, an unexplained phenomenon that immobilizes victims and, occasionally, causes them to hallucinate shadowy invaders. The twist: All of director Rodney Ascher's subjects all describe similar visions. Is it the result of crossed wires in the brain or... something more? Whatever the case, The Nightmare will make you paranoid about your own sleep paralysis vulnerability.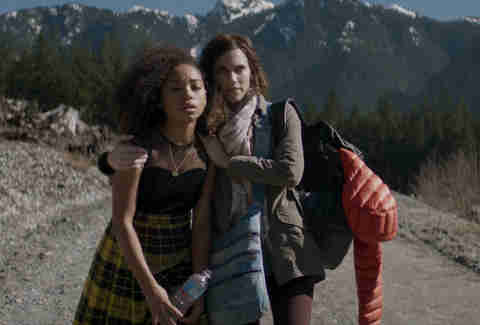 The Perfection (2019)
The Perfection, Netflix's self-consciously sleazy genre provocation starring Allison Williams as a former child cello prodigy out for revenge, is like a cinematic endurance test. Grossed out by the creepy bug effects and horrifying depictions of self-mutilation? Keep streaming. For some viewers, the act of surviving each grisly twist and body horror scare in this thriller from Richard Shepard will be its own reward, because as shocking as this derailed story of vengeance from one deranged classic musician onto another is, that's all part of its sick fun. 
Poltergeist (1982)
If you saw Poltergeist growing up, chances are you're probably equally as haunted by Heather O'Rourke as she is in the film, playing a little girl tormented by ghosts in her family home. This Steven Spielberg-penned, Tobe Hooper-directed (The Texas Chainsaw Massacre) paranormal flick is a certified cult classic and one of the best horror films of all time, coming from a simple premise about a couple whose home is infested with spirits obsessed with reclaiming the space and kidnapping their daughter. Poltergeist made rearranged furniture freaky, and you may remember a particularly iconic scene with a fuzzed out vintage television set. It's may be nearly 40 years old, but the creepiness holds up.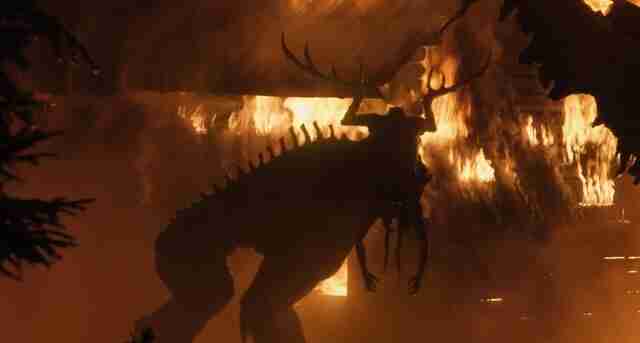 The Ritual (2018)
Four old friends travel into a foreboding forest and... yeah, yeah, yeah. You've heard this one before. So has everyone. Only this time, it's interesting. Suffice to say that these guys stumble across a freaky shack, unwisely opt to sleep in said shack, and then find themselves hopelessly lost. Also there may or may not be a mythologically inspired monster from Norse lore on their trail. The Ritual doesn't try and reinvent any wheels, plot-wise, but it's a very well-shot, -acted, and -conceived piece of horror filmmaking from David Bruckner (V/H/S).
Scream (1996)
Horror master Wes Craven subverts and parodies his own slasher filmography in this meta-whodunnit from The Vampire Diaries creator Kevin Williamson. While the opening scene -- Ghostface dialing up Drew Barrymore to ask, "Do you like scary movies?" -- became instantly iconic, the rest of the thriller, led by Neve Campbell and a who's who of mid-'90s stars, is a spine-tingling murderfest punctuated by jokes at the genre's expense.
The Sixth Sense (1999)
"I see dead people," is one of the most iconic lines in film, hailing from the eerie M. Night Shyamalan supernatural masterpiece The Sixth Sense with a twist at the end that shook the '90s. In it, a boy (Haley Joel Osment) is gifted/plagued with the ability to see and talk to the dead. To work through his terror, he's sent to work with a child psychologist (Bruce Willis) dealing with his own torment. While there may not be many jump scares here, the acting is superb and you'll feel a chill up your spine as if you can sense a presence from another realm, too.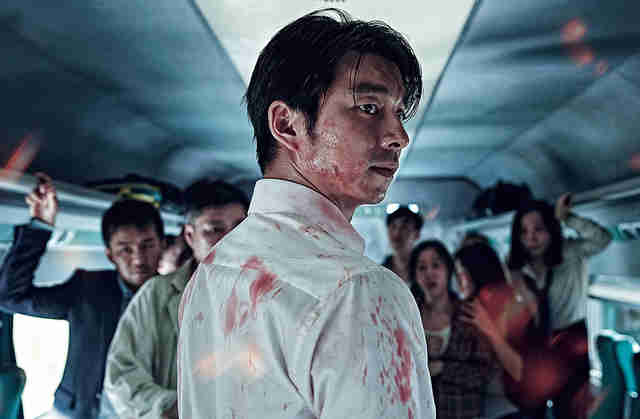 Train to Busan (2016)
There are so many zombie movies and TV shows, it's hard to know what's actually good and what's garbage. But the South Korean import Train to Busan is one of the most novel, clever, and refreshingly entertaining zombie massacres to hit the screen in quite some time. It's about nothing more than a father and his young daughter who board a train from Seoul to Busan just as a very expeditious zombie virus has hit the area. Onboard the train, you'll find a colorful collection of amusing disaster movie archetypes, from a gruff bully and his pregnant wife to a teenage girl with a crush on a hunky baseball player, and Yeon Sang-Ho, in his debut, does a very nice job of ramping up the zombie insanity at frequent and regular intervals. (Watch Psychokinesis, Yeon's 2018 action movie with a heart, next.)
The Uninvited (2009)
Stepmothers have gotten a bad rap in fiction, and The Uninvited leans into this nightmare of a fairytale trope with all of its weight. The movie centers on a young woman named Anna (Emily Browning) who returns home from a stint in the hospital following a suicide attempt after the disturbing death of her mother, only to find her father remarried her late mother's former nurse. Not only is she haunted by what feels like an entirely new home life, but she also sees visions of her dead mother yearning for her to uncover the truth of her death. The plot may be pretty predictable, but there's a handful of frights that will leave you just as freaked out as Anna in her own home.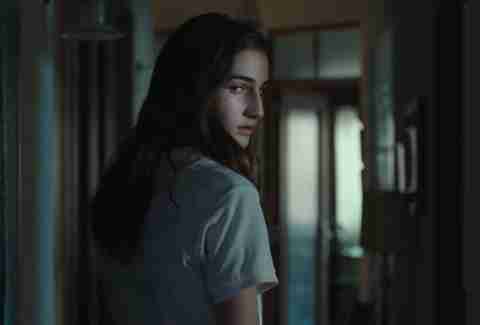 Veronica (2017)
Gotta love a horror film that'll do everything it can to remind you of why playing around with an Ouija board is probably not the best idea. The latest movie from Paco Plaza, director of the equally terrifying REC, sees a young girl named Veronica (Sandra Escacena) who conducts a seance with her friends in the middle of a solar eclipse. Her goal is to contact her dead father, but as it normally goes in films of the paranormal variety, that doesn't happen. Veronica instead ends up waking up some truly sinister forces and, well, you probably already know how this will end. Or not. And if that's the case, then you're in the same boat as all the other Netflix users who couldn't finish the movie because it's that scary.
The Village (2004)
In a village somewhere in rural Pennsylvania, an entire community lives in fear of what lurks in the woods just beyond their borders. What they refer to as "Those We Don't Speak Of" are some sort of inhuman creatures that have isolated the village's residents from not only other towns, but driven them to psychological terror. The horror flick comes from genre director M. Night Shyamalan and, of course, features a Shyamalan-esque surprise ending that will definitely throw you for a loop, but for what it's worth, the stacked cast of Joaquin Phoenix, Bryce Dallas Howard, Sigourney Weaver, and Adrien Brody, plus a very creepy score, will convince you something might attack any moment.
The Void (2016)
It's like someone threw Stephen King, H.P. Lovecraft, and John Carpenter into a blender, then splattered the results all over the hallways of a creepy, deserted hospital. Directing duo Jeremy Gillespie and Steven Kostanski know their way around satirical genre material (check out Manborg, Father's Day, and The Editor), but this flick earns unexpected points for (mostly) eschewing the humor in favor of suspense, tension, dread, carnage, monsters, tentacles, and more carnage in a story about a police officer (Aaron Poole) who experiences strange occurrences as the behest of a mysterious group of cultish figures after bringing a wounded man to the hospital.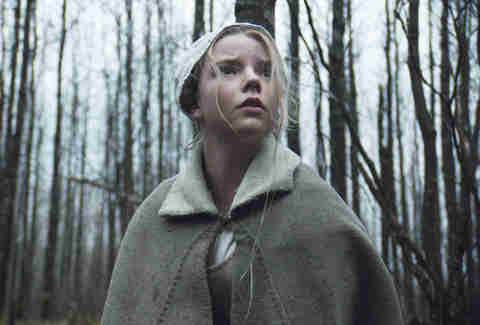 The Witch (2016)
This recent indie hit delivers everything we rarely see in horror today. The backdrop, a farm in 17th-century New England, facilitates a misty, macabre mood. The circumstance, a Puritanical family making it on the fringes of society because they're too religious, bubbles with terror. And the question, whether devil-worshipping is hocus pocus or real black magic, keeps each character on their toes and begging God for answers. The Witch tests its audience with its (nearly impenetrable) old English dialogue and the anxiety-inducing trials of early American life, but the payoff will keep your mind racing, and your face hiding under the covers, for days.