The Best Horror Movies on Netflix
You might want to keep the lights on while you watch these.
Looking for something other than horror? Check out the best movies on Netflix right now.
The greatest horror movies of all time get under your skin with original conceits. They sharpen your paranoia to burrow down into your brain. They grab hold of your heart with iconic imagery—you'll never forget Freddy's claws, no matter how hard you try.
Most of the major streaming services take spooky, scary dramas quite seriously, including Netflix. So switch off the lights, grab a blanket, and hold your nearest loved one—these stream-ready horror movies are here to fill your head with nightmares. Have fun!
Warren Orchard/Netflix
Apostle (2018)
For his follow-up to his two action epics, The Raid and The Raid 2, director Gareth Evans dials back the hand-to-hand combat but still keeps a few buckets of blood handy in this grisly supernatural horror tale. Dan Stevens stars as Thomas Richardson, an early 20th century opium addict traveling to a cloudy island controlled by a secretive cult that's fallen on hard times. The zealous religious group is led by a bearded scold named Father Malcolm (Michael Sheen) who may or may not be leading his people astray. Beyond a few bursts of kinetic violence and some crank-filled torture sequences, Evans plays this story relatively down-the-middle, allowing the performances, the lofty themes, and the windswept vistas to do the talking. It's a cult movie that earns your devotion slowly, then all at once.
Artisan Entertainment
The Blair Witch Project (1999)
The paranormal flick follows three student filmmakers who travel to an eerie forest in Maryland where they're determined to uncover the myth of the Blair Witch. It may be complete fiction, but it
paved the way for modern horror
, and if you allow yourself to believe in the "found footage" documentary style film, prepare to be terrified by this modern horror classic.
Netflix
The Babysitter (2017) & The Babysitter: Killer Queen (2020)
One preteen boy's (Judah Lewis) fantasy about his babysitter (Samara Weaving) turns into a nightmare when it's revealed she and her hot friends dabble in human sacrifices. Director McG's self-aware spin on the babysitter slasher is more comedy than horror, delivering a bloody fun time in a stylish manner. Archetypes get turned on their heads, laugh lines punctuate almost every scene, and reality mostly ceases to exist while our hero tries to learn some sort of lesson. It's goofy mayhem in all the right ways. When you're finished, jump to its sequel, which has Lewis's Cole running from another night of cult-y mayhem. If you hit play, please don't ruin a good thing by taking it too seriously.
Netflix
Before I Wake (2016)
Though debated by genre purists, this one most definitely qualifies as a horror flick; it just happens to be a "soft" horror film with an actual heart that parents could probably watch with their kids. It's about a couple, played by Kate Bosworth and Thomas Jane, who adopts a kid (Jacob Tremblay) whose dreams become physically real while he sleeps. If you're looking for shocks and kills, you may want to skip this one for now, but Before I Wake is an impressive piece of work from the very consistent horror filmmaker Mike Flanagan (Gerald's Game).
A24
The Blackcoat's Daughter (2017)
Two young women are left behind at school during break... and all sorts of hell breaks loose. This cool, stylish thriller goes off in some strange directions (and even offers a seemingly unrelated subplot about a mysterious hitchhiker) but it all pays off in the end, thanks in large part to the three leads—Emma Roberts, Lucy Boynton, and Kiernan Shipka—and director Oz Perkins' artful approach to what could have been just another occult-based gore-fest.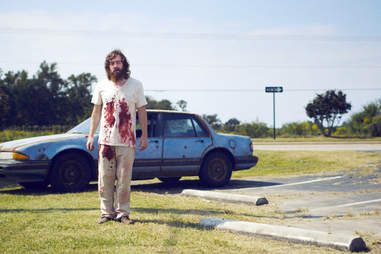 RADiUS-TWC
Blue Ruin (2013)
Before he went punk with 2016's siege thriller Green Room, director Jeremy Saulnier delivered this low-budget, darkly comic hillbilly noir. When Dwight Evans (Macon Blair) discovers that the man who killed his parents is being released from prison, he returns home to Virginia to claim his revenge. Things quickly spin out of control. Like the Coen Brothers' Blood Simple, this wise-ass morality tale will make you squirm.
Lionsgate
Bullet Head (2017)
Remember the badass 1992 action flick Trespass? Ice Cube, Ice-T, Bill Paxton, and Bill Sadler. It's about a bunch of crooks hiding out in a warehouse while their recent heist falls apart. How about the 1993 sci-fi/horror movie Man's Best Friend, in which a killer dog makes trouble for Ally Sheedy and Lance Henriksen? Bullet Head is virtually the offspring of those two movies. A bunch of crooks (John Malkovich, Adrian Brody, Rory Culkin) find themselves trapped in a warehouse with a killer pitbull. It's that simple. While much of the film is darkly entertaining, it does (fair warning) contain some simulated dog violence that may upset some viewers, so beware.
NAMKO/Netflix
The Call (2020)
Take a slice of the "people communicating across different time lines" premise from movies like Frequency and The Lake House—only this time one of the temporal communicators is a psychotic serial killer who is using the situation for very nefarious deeds. This unpredictable Korean export from Chung-Hyun Lee juggles more than a few tones and subtexts, and does it quite craftily.
The Orchard
Creep (2014)
Patrick Brice's found-footage movie is a no-budget answer to a certain brand of horror, but saying more would give away its sinister turns. Just know that the man behind the camera answered a Craigslist ad to create a "day in the life" video diary for Josef (Mark Duplass), who really loves life. Creep proves that found footage, the indie world's no-budget genre solution, still has life, as long as you have a performer like Duplass willing to go all the way.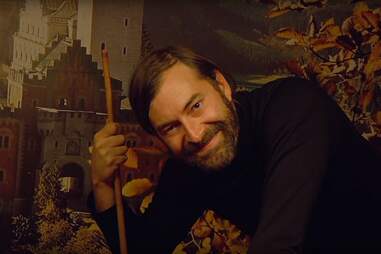 The Orchard
Creep 2 (2017)
The first Creep proved to be a quietly compelling and calmly creepy story about a man who unwittingly befriends a real... well, creep played by Mark Duplass. Unfortunately, for online documentary filmmaker Sarah (Desiree Akhavan), the creep is back, as she'll soon find out, in various odd and unsettling ways. But what happens when the creep's potential victim refuses to be, well, creeped out? Akhavan seems to be a perfect foil for Duplass' quietly unhinged lunatic, and together they cook up an oddly satisfying sequel to a satisfyingly odd predecessor.
Netflix
Gerald's Game (2017)
Like another one of his low-budget Netflix-released horror movies,
Hush
—a captivity thriller about a deaf woman fighting off a masked intruder—Mike Flanagan's Stephen King adaptation of
Gerald's Game
wrings big scares from a small location. Sticking close to the grisly plot details of King's seemingly "
unfilmable
" novel, the movie chronicles the painstaking struggles of Jessie Burlingame (Carla Gugino) after she finds herself handcuffed to a bed in an isolated vacation home when her husband, the titular Gerald, dies from a heart attack while enacting his kinky sexual fantasies. She's trapped—and that's it. The premise is clearly challenging to sustain for a whole movie, but Flanagan and Gugino turn the potentially one-note set-up into a forceful, thoughtful meditation on trauma, memory, and resilience in the face of near-certain doom.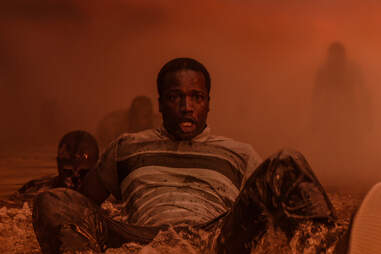 Aidan Monaghan/Netflix
His House

(2020)
Bol and Rial Majur, a married refugee couple newly fled from war-ravaged South Sudan, begin a probationary period of asylum in a London suburb, where they are given a shabby townhouse and a weekly stipend. Bol attempts to assimilate by going out into town, hanging out in pubs, using silverware to eat meals, and buying new clothes, but Rial still clings to their Dinka culture and the memory of the child they lost during their crossing. They see specters all over the house and begin to believe that a witch is haunting them. The power of
His House
comes not from the intermittent scares or constant building dread, but from the devastating, final-act reveal that forces its characters to reckon with the trauma they've suffered and the guilt that has consumed their lives. There is a particular flavor of horror that exists in experiencing shocking violence and then escaping into a world that makes it seem like nothing more than a dream.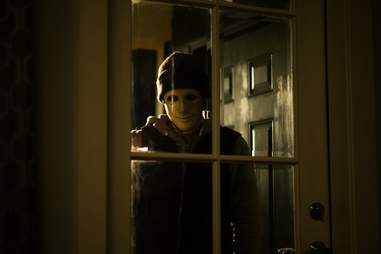 Netflix
Hush (2016)
While films like
the classic Wait Until Dark
and
Don't Breathe
have wrung scares from blind heroes and villains, deaf characters haven't been placed at the center of many mainstream horror movies. Enter (very quietly)
Hush
, a low-budget home-invasion thriller about a deaf and mute woman (Kate Siegel) being terrorized by a masked home invader (
The Newsroom
's John Gallagher Jr.). This is the type of movie that can exhaust its premise in 20 minutes if the script doesn't deliver—how long can two characters face off in a swanky cabin for, really?—but luckily director Mike Flanagan and Siegel, who co-wrote the film together, have some well-timed twists (and many, many cross-bow arrows) up their sleeves.
Netflix
I Am the Pretty Thing That Lives in the House (2016)
A meditative horror flick that's more unsettling than outright frightening, I Am the Pretty Thing That Lives in the House follows the demise of Lily, a live-in nurse (Ruth Wilson) who's caring for an ailing horror author. As Lily discovers the truth about the writer's fiction and home, the lines between the physical realm and the afterlife blur. The movie's slow pacing and muted escalation might frustrate viewers craving showy jump-scares, but writer-director Oz Perkins is worth keeping tabs on. He brings a beautiful eeriness to every scene, and his story will captivate patient streamers.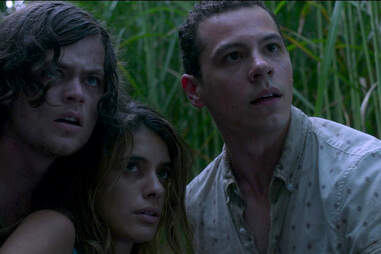 Netflix
In The Tall Grass

(2019)
This nasty, little novella from Stephen King and Joe Hill got the inevitable
movie treatment
; fortunately the producers thought to hire Vincenzo Natali (Splice), one of the most consistent genre directors around. Two grown siblings get lost within a sea of very tall grass, only to discover that this particular patch of land contains threats both mundane and, well, exceedingly freaky. Earns bonus points for consistently finding new ways to keep the location both visually compelling and subtly threatening.
Drafthouse Films
The Invitation (2015)
This slow-burn horror-thriller preys on your social anxiety. The film's first half-hour, which finds Quarry's Logan Marshall-Green arriving at his ex-wife's house to meet her new husband, plays like a Sundance dramedy about 30-something yuppies and their relationship woes. As the minutes go by, director Karyn Kusama (Jennifer's Body) burrows deeper into the awkward dinner party, finding tension in unwelcome glances, miscommunication, and the possibility that Marshall-Green's character might be misreading a bizarre situation as a dangerous one. We won't spoil what happens, but let's just say this is a party you'll be telling your friends about.
A24
It Comes at Night (2017)
In
this post-apocalyptic nightmare-and-a-half
, the horrors of humanity, the strain of chaotic emotions pent up in the name of survival, bleed out through wary eyes and weathered hands. The setup is blockbuster-sized—it reverts mankind to the days of the American frontier, every sole survivor fighting to protect their families and themselves—but the drama is mano-a-mano. Barricaded in a haunted-house-worthy cabin in the woods, Paul (Joel Edgerton) takes in Will (Christopher Abbott) and his family, knowing full well they could threaten his family's existence. All the while, Paul's son, Trevor, battles bloody visions of (or induced by?) the contagion. Trey Edward Shults directs the hell out of every slow-push frame of this psychological thriller, and the less we know, the more confusion feels like a noose around our necks, the scarier his observations become.
A24
The Killing of a Sacred Deer (2017)
After surgeon Steven Murphy (Colin Farrell) takes to a teenage boy Martin (Barry Keoghan) whose father died when he was young (Barry Keoghan), it becomes evident that Martin blames Steven for his wrongful death from a botched surgery—and either his wife or one of his children must die to make up for it. Yorgos Lanthimos' psychological thriller pulls its material from the Greek tragedy Iphigenia at Aulis, drawing disturbing stages of injury, a deteriorating will to live, and a pitch black mood that permeates throughout. Rather than a gore fest or paranormal disturbance, The Killing of a Sacred Deer is an art-horror movie that's as disturbing as any slasher flick, but for its mastery over its unnerving mood more than anything else.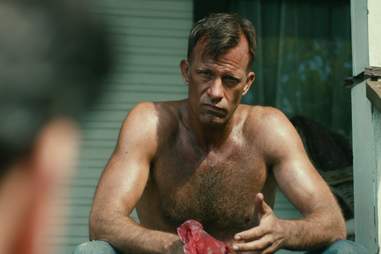 Netflix
1922 (2017)
With all the recent adaptations of Stephen King's celebrated novels, it's easy to forget that the wildly prolific horror writer also has a stockpile of untapped short stories for IP-hungry producers to choose from.
1922
, a folksy riff on Edgar Allen Poe's "The Tell-Tale Heart" starring Thomas Jane as a farmer who kills his wife, draws its plot from a novella in the 2010 collection
Full Dark, No Stars
, but it's just as rich and complex as the more famous films based on longer King tales. Plus, there are
so many rats
in this movie. Seriously, watch out, Willard.
Netflix
The Perfection (2019)
The Perfection, Netflix's self-consciously sleazy genre provocation starring Allison Williams as a former child cello prodigy out for revenge, is like a cinematic endurance test. Grossed out by the creepy bug effects and horrifying depictions of self-mutilation? Keep streaming. For some viewers, the act of surviving each grisly twist and body horror scare in this thriller from Richard Shepard will be its own reward, because as shocking as this derailed story of vengeance from one deranged classic musician onto another is, that's all part of its sick fun.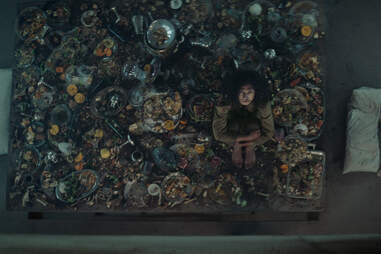 Netflix
The Platform (2020)
It's difficult to watch
The Platform
, a cannibalistic prison freak-out from Spain, and not imagine a producer sitting in a conference room or a coffee shop and musing, "What if
Snowpiercer
but vertical?" The debut feature from Spanish filmmaker Galder Gaztelu-Urrutia boasts an appealing high-concept premise, an oddly affable leading man in actor Iván Massagué, and a series of brutal twists that should intrigue anyone currently watching the news and thinking about the possible end game of rampant inequality. Instead of a train,
The Platform
takes place in a prison-like structure called the "Vertical Self-Management Center" where inmates live two to a floor. Those on the top get first dibs on a giant platform of food that descends from the ceiling everyday; those on the bottom get the scraps—or nothing at all. Dismantling the system of this socioeconomic experiment unravels through David Desola and Pedro Rivero's knotty, exposition-packed script.
Netflix
The Ritual (2018)
Four old friends travel into a foreboding forest and... yeah, yeah, yeah. You've heard this one before. So has everyone. Only this time, it's interesting. Suffice to say that these guys stumble across a freaky shack, unwisely opt to sleep in said shack, and then find themselves hopelessly lost. Also there may or may not be a mythologically inspired monster from Norse lore on their trail. The Ritual doesn't try and reinvent any wheels, plot-wise, but it's a very well-shot, -acted, and -conceived piece of horror filmmaking from David Bruckner (V/H/S).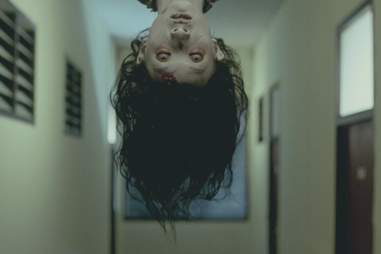 GMM Grammy/Phenomena Motion Pictures
Shutter (2004)
Shutter is one of the biggest horror movies to ever come out of Thailand. Not only was it a major hit there, it spawned four remakes abroad including a 2008 American version of the same name—and with its haunting original story and foreboding mood, you can see why. It may start off with a familiar premise, featuring a young couple who drive off after committing a hit-and-run, but it takes new turns after the incident when strange images start to appear in the photographer boyfriend's developed pictures, and the supernatural force refuses to go away without enacting some brutal vengeance. It's picture-perfect for horror fans who like to be at the edge of their seat: This one's full of jump scares and shocking twists to keep your heart racing until the final shot.
Universal Pictures
Sweetheart

(2019)
The indie horror film Sweetheart begins with a simple enough premise when a young woman survives a shipwreck and washes ashore on a deserted island. That's scary enough as is, but it turns out there's also a freakish sea monster that roams the beach at night looking for something to eat. Imagine sort of a gender-switched Robinson Crusoe story, only with the added threat of a sea monster, and you may enjoy this well-shot and gradually intensifying thriller.
Film Factory
Veronica (2017)
Gotta love a horror film that'll do everything it can to remind you of why playing around with an Ouija board is probably not the best idea. The movie from Paco Plaza (
REC
) sees a young girl named Veronica (Sandra Escacena) who conducts a seance with her friends in the middle of a solar eclipse. Her goal is to contact her dead father, but as it normally goes in films of the paranormal variety, that doesn't happen. Veronica instead ends up waking up some truly sinister forces and, well, you probably already know how this will end. Or not. And if that's the case, then you're in the same boat as all the other
Netflix users who couldn't finish the movie
because it's
that
scary.
XYZ Films/Vertical Entertainment
Under the Shadow (2016)
Set during the conflict between Iran and Iraq, a desperate mother and her horrified little girl find themselves haunted by the ghosts of wartime past. Tapping into history and the terror of true life bombardment, Under the Shadow is one of the smartest, saddest, and most eerily effective horror films in recent years. Writer-director Babak Anvari uses war as a metaphor as astutely as legends like Guillermo del Toro, and the setting is refreshingly novel for this type of supernatural story. The two leads (Narges Rashidi and Avin Mashadi) are nothing short of fantastic.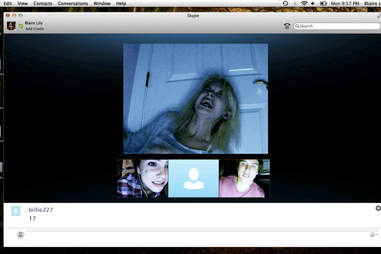 Universal Pictures
Unfriended (2014)
The Blair Witch Project popularized the found-footage genre, and Unfriended was the first to tap into the even more niche subset of the horror style—social media/computer screen found-footage. The first of its kind, the movie from Blumhouse isn't always a master of its craft and can feel more like being forced into peering at a screen from over someone's shoulder like you're waiting for your sibling's allotted screen time to wrap up, and is sometimes flat-out silly, but since we're addicted to being online, it is hard to look away. It follows a group of teenagers whose chatroom appears to be haunted by their friend who was recently bullied and died by suicide. Even when the scares are cheap, it's an interesting experiment that's worth logging into.
Saban Films
We Summon the Darkness (2020)
In Marc Meyers' (My Friend Dahmer) We Summon the Darkness, three fun-loving young women head out for a night of rock and roll, but their plans change ever so slightly when they meet a trio of goofy but slightly charming young men. Serendipitously, it turns out there's been a slew of occult-related murders in the immediate area. Will the three young couples run across something horrific? Yes. They will. And the result is a good gory time.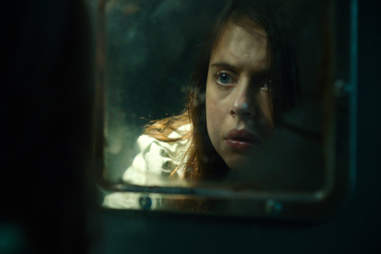 IFC Midnight
Wildling (2018)
A low-key but engaging horror story about a young woman (Bel Powley) who was raised under bizarre circumstances, only to deal with all sorts of problems when she's introduced to the normal world. "Problems," as in "she may actually be a supernatural monster" or it could all be in her head. Either way, things get pretty nasty in this feature debut from German filmmaker Fritz Böhm.

Need help finding something to watch? Sign up here for our weekly Streamail newsletter to get streaming recommendations delivered straight to your inbox.

Follow the Thrillist Entertainment editors on Twitter @ThrillistEnt.