The Best Movies From Sundance 2016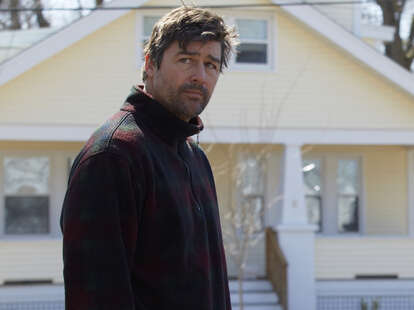 Courtesy of Claire Folger
Courtesy of Claire Folger
Fact: the Sundance Film Festival is a launching pad for the year's best movies. I'm sure Captain America 3 will be a-OK. Whatever Martin Scorsese cooked up for the year's end will satisfy, no doubt. But Sundance is where, each year, we're reminded that there's life outside of Hollywood, that great stories that don't need a $50 million gloss to entertain. Having survived Sundance 2016, here are the movies you will not want to miss when they debut in theaters and streaming services in the months to come:
12. The Birth of a Nation
36-year-old Nate Parker put his promising acting career on hold to bring the story of Nat Turner, the preacher behind a violent, 1831 slave rebellion, to screen. This is clear whether you know the backstory or not; The Birth of a Nation is singed by the fire of passion. Parker faces slavery's horrors and conducts the electric power of spirituality. Birth is a guttural film, and Parker summons its sounds. Here's a deeper look at the movie.
11. Nuts!
John Romulus Brinkley built an empire off goat testicles. You read that correctly. At the turn of the 20th Century, the "doctor" (he had no medical qualification) implanted hundreds of glandular extracts into male patients' scrotums, claiming the slivers cured impotence. With all the cash, he founded one of the world's most powerful radio station. Somehow, Nuts! gets wilder and wilder as it goes, director Penny Lane adding to Brinkley's bizarre history with amusing animation. It's like the best kind of This American Life episode come to illustrated life.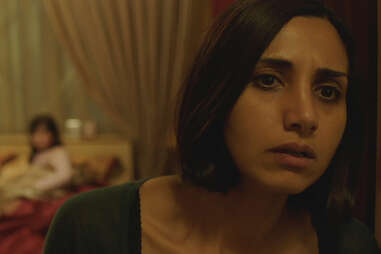 10. Under the Shadow
Compared fairly to The Babadook by buzzing Sundancers, this subdued horror movie, set during the final days of the Iran-Iraq war, has more on its mind than screaming "BOO" for two hours. After a missile blasts through an apartment complex, a cantankerous "djinn" takes up residence in one family's home. The spooky mayhem gives way to deeper themes of mother- and womanhood in the Middle East, a struggle that will get under your skin -- even if you can't identify.
9. Swiss Army Man
An extreme commitment to fart jokes made Daniel Radcliffe and Paul Dano's survivalist twofer the talk of Park City. A anarchical, whimsical take on male fears -- of love, of body, of sex, of death -- made it worth talking about. You've never seen a movie like Swiss Army Man, which smashes ideas, tones, and moviemaking styles like a Large Hadron Collider. Here's more on why the movie is peak Radcliffe and Dano.
8. Little Men
Everyone deserves a sharp-eyed director who makes movies about their hometown. As a New Yorker, I luck out with Ira Sachs, who previously tackled love and rent pricing in the must-see Love Is Strange, and returned to Sundance with the story of teenage pals making it in NYC. One's an introvert with art skills and the safety net of white privilege. The other's a loudmouthed, aspiring actor whose mother can barely afford the rent. The friendship isn't easy, even if falling hard for Little Men is. Here's more on newcomer Michael Barbieri, who slays in this warmhearted comedy.
7. The Greasy Strangler
There are the films of John Waters, there is the anti-comedy of Tim & Eric, there is the entire Transgressive art movement, and there is The Greasy Strangler, which blows kisses to shock cinema history as it careens off a cliff in a blazing fireball of WTF. Technically there's a plot: After a string of lubricated murderers, Big Brayden sets out to pin his dad, Big Ronnie, as the killer. But there's nothing straightforward about Greasy Strangler, which piles on exaggerated nudity, demented exclamations (the phrase "BULLSHIT ARTIST!" is uttered approximately 8,000 times), and gallons of grease. Not disturbing, just... disturbed. Take that as high praise.
6. Kate Plays Christine
Sundance played host to two movies about Christine Chubbuck, the television reporter who committed suicide during a live news broadcast. Christine took a conventional, dramatic route (and actress Rebecca Hall did a tremendous job piecing her persona together). Kate Plays Christine wonders why anyone would think to adapt Chubbuck's story. Blending documentary and narrative tactics, the movie follows actress Kate Lyn Sheil as she researches and inhabits the journalist's life. Gun control, mental health, celebrity culture, and exploitation all wind up on the table as director Robert Greene descends deeper and deeper into the creative process. After Kate Plays Christine, you'll never watch movies the same way again.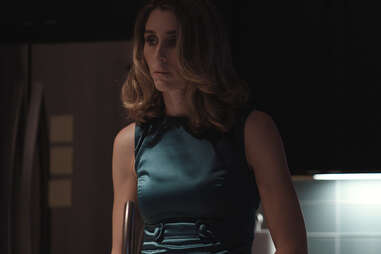 5. Equity
A great movie only needs is a simple subversion. Equity revitalizes the finance thriller by casting brilliant women and analyzing corporate America's glaring gender inequality. Starring Anna Gunn, piercing and powerful as a cutthroat investment banker sheperding a Facebook-esque IPO, the movie slithers through the murky waters of white collar crime. When the share prices and f-bombs start dropping, Equity is edge-of-your-seat material, like David Fincher's best. The ensemble moves like clockwork, but it's Gunn, who deserved just as much praise as Bryan Cranston after Breaking Bad if we want to get real for a second, who swings like a pendulum. (Full disclosure: I once took a college class taught by the screenwriter of Equity, which didn't sway me, but is a nice little cherry on top of loving this movie.)
4. Holy Hell
Will Allen joined Buddhafield, an "enlightened community," in 1985. His dedication made him the perfect assistant for Michel, the group's charismatic guru, and his photography skills earned him the de facto role of documentarian. What Allen captured through his video camera lens terrifies him today; though no one recognized from the inside, Buddhafield was a cult, festering with ego and sexual misconduct. Michel, like an L. Ron Hubbard by way of Liberace, enslaved the emotionally vulnerable. It took Allen 22 years to break what he claims was brainwashing. Holy Hell condenses his footage into a riveting two-hour documentary, a jaw-dropping peak into cult life.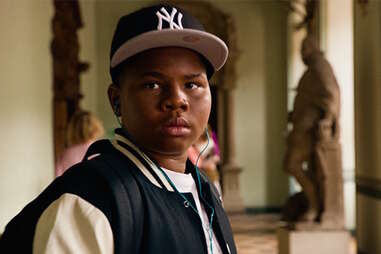 3. Morris from America
Moving from the U.S. to Germany is a culture shock. Moving from the U.S. to Germany when you're a 13-year-old black kid who loves hip-hop is pretty much the end of life as you know it (Germans: not getting Jay Z since 1996). In Morris from America, the title tween tries to rap his way into favor as his father, played with hilarious and sensitive specificity by Craig Robinson, hustles in parallel. A total crowd-pleaser -- and one that doesn't take a single shortcut.
2. Manchester By the Sea
Those in need of a good cry owe it to themselves to see dramatist Kenneth Lonergan's latest. Casey Affleck stars as Lee, a handyman who heads home when his brother passes away, leaving his teenage son behind. Lee has his own baggage -- two tons of it -- and Lonergan takes his time to unpack it. Affleck, laser-focused on brooding, and young Lucas Hedges, a revelation, find devastation and levity in grief. The movie's jagged construction dares to make life, that sprawling ol' topic, even more dizzying. It all clicks in the microcosm of a coastal Masachusetts town, which seems to represent everywhere and everything. Manchester By the Sea is an epic of intimate proportions.
1. Wiener-Dog
The premise of Wiener-Dog sounded cute, revolving around people "inspired or changed by one particular dachshund, who seems to be spreading a certain kind of comfort and joy." Aww. But Welcome to the Dollhouse director Todd Solondz's definition of cute is not the masses' definition of cute. Stringing together four vignettes, Wiener-Dog reminds us of everything we invest in pets, and everything we lose when they disappear from our lives. "What happens when they put Wiener-Dog to sleep?" asks one innocent child. You enable Solondz's vicious wit and keen observation, that's what. Wiener-Dog has Julie Delpy describing dog sex, Greta Gerwig kidnapping a pup, Danny Devito failing man's best friend, and Zosia Mamet trying to understand why her grandma would name a dog "cancer." It's delightfully odd, deeply profound, and Sundance 2016's one true masterpiece.
Sign up here for our daily Thrillist email, and get your fix of the best in food/drink/fun.
Matt Patches is Thrillist's Entertainment Editor. He previously wrote for Grantland, Esquire.com, Vulture, The Hollywood Reporter, and The Guardian. He barely slept during Sundance. Find him on Twitter @misterpatches.