The 12 best things about Hotel Thrillist San Diego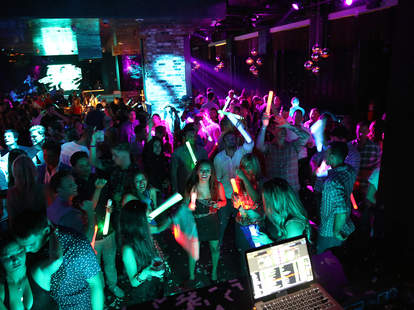 On September 19th–21st, we took over the Hard Rock Hotel in San Diego for three days of fun-tastic fetes that spanned from the roof (sun-soaked pool shenanigans) to the club (a late-night dance-off like no other). And because we're in the sharing mood, we pulled together a few pics of our favorite moments, from beach ball water dancers to cinnamon roll breakfast sandwiches to trumpet-helmed dance parties.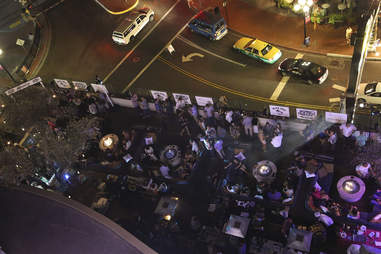 M.A.
There was an epic feast to kick things off
What better way to welcome people to the kick-assingest weekend of their life than with an absolute truckload of super inventive grub from the best SoCal chefs? Just check out the feast recap for a closer look at the mouth-watering delectables. And because food goes great with libations and lyrical accompaniment, there was also a whole beer garden of craft suds courtesy of the San Diego Brewers Guild and some stellar live music from Good Graeff. It was a... rocking good time (sorry).
M.A.
The mornings started off right
After a night of food (thanks San Diego!), cocktails (thanks Malibu Rum!), craft beers (thanks San Diego Brewer's Guild!), and rug-cutting after parties, the Saturday morning meal was pretty substantial. We made sure folks were covered with local roasts from Bird Rock Coffee and sandwiches with cinnamon rolls for buns(!) from Sea and Smoke. Now that's a balanced breakfast worth waking for.
Anthony Humphreys
There were so. many. activities.
Sure, the weekend was full of parties, but Hotel Thrillist was so much more than that. For instance, our pals at Lululemon put together a mid-morning paddle-boarding excursion on Saturday, complete with fresh new threads, expert paddle instructors, and more than a few embarrassed faces after the inevitable falls into Mission Bay. 
Anthony Humphreys
The pool parties were off the hook
Hotel Thrillist's Saturday was anchored by a full-afternoon pool party at Float (the Hard Rock San Diego's rooftop pool lounge). There was a friendly crowd of party animals taking a dip (both in the pool and into six tasty Malibu Rum cocktails), a bunch of nitrogen oxygen ice cream, also from Malibu, and more than a few sunburns. But we can't forget that… 
Anthony Humphreys
The live music was definitely on point
We brought in the spinning talents of World Music Award-winning Havana Brown (you probably know her from the super danceable "We Run The Night" featuring Pitbull), to keep things moving all throughout the afternoon. And DJ Skee brought things home later at the Saturday night club scene, complete with trumpeter Rico DeLargo to add a little fanfare to the evening.
Anthony Humphreys
There were water dancers inside beach balls
Any bozo can throw a pool party with a ton of beach balls. Our version? Giant translucent globes with water dancers busting crazy acrobatic moves inside.
Anthony Humphreys
There were giant bouncehouse chairs
And when you needed to take a load off (and somehow weren't into the hundreds of super comfy lounge chairs that pepper Float's roof), we blew up a massive bouncehouse-style lounge station perfect for photo ops and reliving all those inflatable obstacles courses from your childhood -- though this adult version involved sitting and chilling, rather than racing.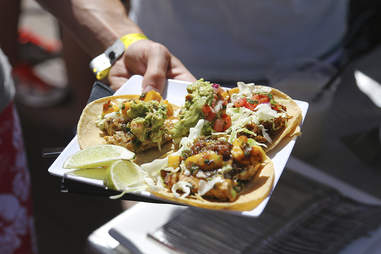 M.A.
Mealtime was any time
The gluttony wasn't just reserved for dinner and breakfast. As expected of a Thrillist gathering, there was plenty to nosh on pretty much every waking hour of the day, from make-your-own taco stations to straight up deep-fried frog legs.
M.A.
There were feats of strength and nature's perfect hydration
You already know about the delicious cocktails and local brews, but we also called on Malibu Rum again to hook us up with nature's finest hydration: super tasty milk straight from the coconut. As an added bonus, folks actually got to hammer the tropical spheres open themselves (with proper supervision from burley bearded men, of course).
Anthony Humphreys
There were photo booths to capture all the fun
Because sunny insanity and well-paired pool party attire deserve only the best immortalization, we turned to our friends at Jaguar to hook us up with photo booths for the whole weekend. And as proof, right up there is our best photo of a strip of photobooth photos. So meta.
M.A.
There was so much free stuff
Because the best party involves goodie bags (like your 5th birthday!), we hooked everyone up with a weekend-sized Lululemon tote full of excellent (and pretty useful) stuff like Skyn Condoms, futuristic water bottles from S'well, flavored refreshment from Hint Water, liquid energy from Red Bull and SK Energy Shots, delicious snacks from Pretzel Crisps, Halfpops & KIND Bars, plus necessary breath refreshment from Eatwhatever, and even more goods to get through the wildest weekend ever.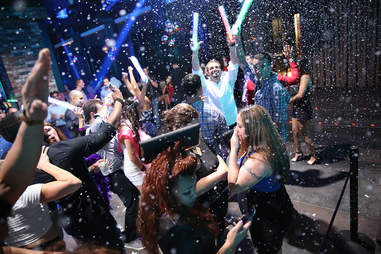 Anthony Humphreys
The clubbing felt like it would never end
And, like any legendary weekend, ours ended with a late-night dance-off marathon helmed by DJs (complete with that delightful trumpteter), go-go dancers, more summer-y beverages, a ton of budding new dance floor friendships, and probably a week's worth of "why is there still confetti in my hair?!" Thanks to everyone who came out and made this weekend one for the books.