If You Could Move Anywhere in the US, Where Would You Go?
Jennifer Bui/Thrillist
Jennifer Bui/Thrillist
A magical genie just appeared before you and said he'd grant you one wish -- you can move instantly to any city in the US! Before you ask him for infinite wishes with that one wish, where would you choose to move? Would you go to a big city or a small one? Maybe even move to the country? Your life would undoubtedly be different there. You'd get to throw off the shackles of your current life and start anew... somewhere.
A bunch of Thrillist writers and editors asked ourselves the same question. We're going to tell you where we'd move. But where would you go? Tell us in the comments where you'd want to settle down and we'll publish the best responses in a future story. Bon voyage!
Austin, TX
Current city: Chicago, IL
I'm a Midwesterner through and through born and raised in the Chicagoland area. I spent a few years in Boston and while it was not without its charms, it wasn't a place I longed to stick around. I was tempted to say Milwaukee, because it's a truly underrated city and just an hour from Chicago, of which I am quite fond. Also, my family would be close by and I am almost as fond of them. But that felt against the spirit of things.
The one other American city that's really given me that 'hot damn I could move here in a second' feeling was Austin. Is this just about barbecue and Tex-Mex? No. Is it 75% about barbecue and Tex-Mex? Possibly. Brisket and queso dip seem like a good spiritual stand-in for Italian beef and cheese fries. But I also found the people to be friendly, the social scene to be dynamic, and the weather to be pleasant. Of course, I was there in April and not August. But every city should have one season that makes you miserable because it builds character, which is why San Diego also feels like cheating. - Matt Lynch, deputy editor
Bozeman, MT
Current city: Portland, OR
Bozeman, MT's always been a dream location, not only because it shares some qualities with my current home of Portland, but also because it shares them while remaining the polar opposite of Portland's approach. Bozeman's got great beer. It's just that the people, you know, sometimes shut up about it, and don't talk down to you if you want to fire back a Banquet on a hot day. It's a small city that's located in the middle of some of the most gorgeous naturescapes the country has to offer, but enjoying it is seldom a huge production to set into motion. Also, I'm pretty sure they shoot hipsters on sight.
There's great food and artisan everything out of necessity. Mostly, though, it's beautiful. A small town by most standards, but a big one for Montana, a place where you can know everybody in town if you want, or do your own thing. And if you want to go apeshit, yell, build a lean-to, and behave like a feral beast from time to time under a blanket of stars, well, you go right ahead. Just make sure you do it in your own yard. - Andy Kryza, senior editor
Charleston, SC
Current city: New York, NY
I was pretty damn skeptical of Charleston. Everyone babbles about this muggy Carolinian oasis. Especially vocal are the food/drink industry folks, for whom the peninsular city of 125,000 represents a sort of Southern promise-land full of strong cocktails and cheap(er) square footage. Like a summer blockbuster that doesn't live up to its hype, I expected the Holy City to be a swampy mirage -- maybe one that resembled the paradise people claimed, but surely not an accurate embodiment.
Of course, I was wrong. Charleston is every inch a dream, home to an offbeat mix of grown-up SEC bros, transplanted restaurateurs/barfolk from NYC & SF, and the kindest, least cranky local contingent I've met anywhere. Must be the Southern hospitality, or something. Whatever it is, I want to be a part of it someday. I want to buy a house on James Island, right outside the city proper, where I can actually afford unattainable NYC luxuries like a BBQ grill and a yard for a dog. I want to stare at Fort Sumter at dusk from the Battery's palmetto grove. I want to shoot GrandMa at Rarebit, guzzle gueuze at Edmund's Oast, and pound PBR at the Recovery Room, a truly glorious roadside dive that claims to be the nation's single largest purveyor of the stuff. I've done all that -- but I want to do it whenever I damn well please, and that sort of freedom only comes with residency.
So I'm moving to Charleston. That's it and that's all. I'll pack up my measly NYC life and take the drive down 95 to the lush strip of Carolina lowland poking out into the Atlantic. How? I'm not sure yet. But if you give me a few years to figure it out, I promise I'll send a postcard. - Dave Infante, senior writer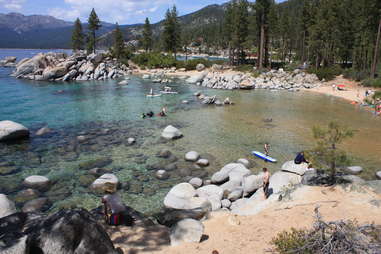 Lake Tahoe, CA
Current city: San Francisco, CA
When you're a pale, white redhead who grew up in the 120-degree heat of Palm Springs, CA, you pretty much immediately rule out anywhere with a ridiculous summer since you've already done that (sorry Austin), and anywhere with a ridiculous winter since you're not sure you could do that (sorry entire East Coast/Midwest). That basically left me with the West Coast and -- after passing on Portland (because rain), San Diego (because people in board shorts at nice restaurants), LA (because TRAFFIC), and Seattle (because Seattle) -- I settled into the only place on the West Coast I could stand being more than a week or two: Lake Tahoe. I've spent good chunks of my summers (and even a few winters) for the last decade-plus playing in and around the second deepest lake in the US, drinking along its shores (Chambers Landing might be my favorite place to have a beer on the planet), and getting in on all kinds of outdoor awesome from snowmobiling and hiking to paddle-boarding and golfing.
Whereas almost every other city I considered fake-moving to had something missing (nature), wrong with it (tornadoes), or that I couldn't get past (TRAFFIC), Tahoe kinda has it all. It's walkable enough, it's more like a whole bunch of cities because every nook and cranny of the lake is really different (North Lake > South Lake), there's award-winning food, there's everything you could ever possibly want outdoors-wise, and -- most importantly -- there's America's only ski-in, ski-out Starbucks. - Grant Marek, senior cities director
Los Angeles, CA
Current city: Chicago, IL
Droughts, Scientology, Gwyneth Paltrow: there's a litany of reasons to not live in Los Angeles, yet the city intrigues me even with its blemishes -- they can be lasered away anyhow. That's how that works, right? I have to admit, when it's June 1 in Chicago and I'm still running my furnace (true! Also, sad!) I think about how novel it would be to live in a place where meteorologists are dispatched with gloves to report on 40-degree weather.
Having been spoiled by living in a mega city, I certainly can't downgrade in population. I need instant access to great burritos, comedy shows, and underground late-night turtle racing. I think LA might be the only place that has that covered. Plus, watching NFL games in the morning has to be euphoric, I'm a sucker for Tiki bars, and, can it be, that some small semblance of a craft brewery scene has developed? Maybe it'd only take a sighting of Larry David and Arnold Schwarzenegger and I'd be smitten. - Sean Cooley, senior editor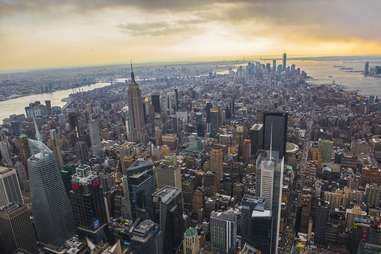 New York, NY
Current city: New Orleans, LA
About six weeks ago, I moved (back) to New Orleans from New York City. I spent three years desperately missing front porches, humidity's warm embrace, and being able to get drinks with friends without planning three months in advance. I'm incredibly happy. But moving from New York on the third weekend in April is a horrible, stupid decision. If you asked a New Yorker to pinpoint the first weekend in spring, seven out of every 10 would say that weekend. And New York City in the spring is like the moment in a Disney movie where the forest animals dress the princess and everyone sings together and the world becomes a brighter place. It's unrelentingly, stereotypically lovely.
Also, did you know there are 334 restaurants, bodegas, and wine shops that are currently available for delivery to my old East Village apartment? You didn't know because that would be odd, but it's an important fact: 334! You have never experienced first-world problems until you've woken up on a Saturday with the kind of piercing pain in between your eyes that renders you unable to move and THEN been hit with the painful realization that you cannot have one of the best burgers in America delivered to your bed in 30-45 minutes. (Dear Brindle Room: I miss you.)
"Lessons learned: I am fickle, Seamless is almost as beautiful a thing as Tompkins Square Park in the spring, and, if someone invented high-speed transportation between NYC and NOLA, I'd opt for a bi-coastal life. I'd just bring Domilise's with me on every trip. - Liz Childers, senior editor
Current city: Austin, TX
"New York, just like I pictured it," says the beginning of that Stevie Wonder song. Then it makes New York City sound like a terrible place. I make it a point not to argue with Stevie Wonder (except about God and stuff), even though it costs $50 to eat in any NYC restaurant, they've got this awful thing called 'winter,' and the city is the polar (!!) opposite of my laid-back home in Austin, TX. We have limitless wide-open spaces in Texas, but New York has as much crap as you can possibly cram onto an island. The breadth of experiences you have on a morning walk is equivalent to roughly a week in Slacker time. Also, they have decent barbecue now, so I can finally picture myself living just enough for the city. - Dan Gentile, staff writer
Philadelphia, PA
Current city: New York, NY
I hope this isn't a cop-out, but I would probably move to Philadelphia -- partly to stay close to my friends and family on the East Coast. I went to school in West Philly and did a horrible job of exploring the rest of the city at the time, but some places like Fishtown and Northern Liberties are on that perfect balance of developing/developed hipstertown -- certain spots feel like fresh, less crowded versions of my favorite Brooklyn neighborhoods. There's a Barcade and a Fette Sau BBQ and great bars, so it's got kind of a Williamsburg thing going on, except I could probably afford to patronize them all daily because rent there wouldn't zero my account balance every month. I went to visit my friend recently, and he lives in a reasonably priced spot with a roof patio AND a backyard AND it's across the street from some sort of combination CSA/hippie collective/APIARY (that's a house for bees, son!) where you could get artisanal hot sauces and see a pig and chickens and actual live grass. Also, I miss 2am Pat's cheesesteaks. - Tyler Beckwith, editorial project manager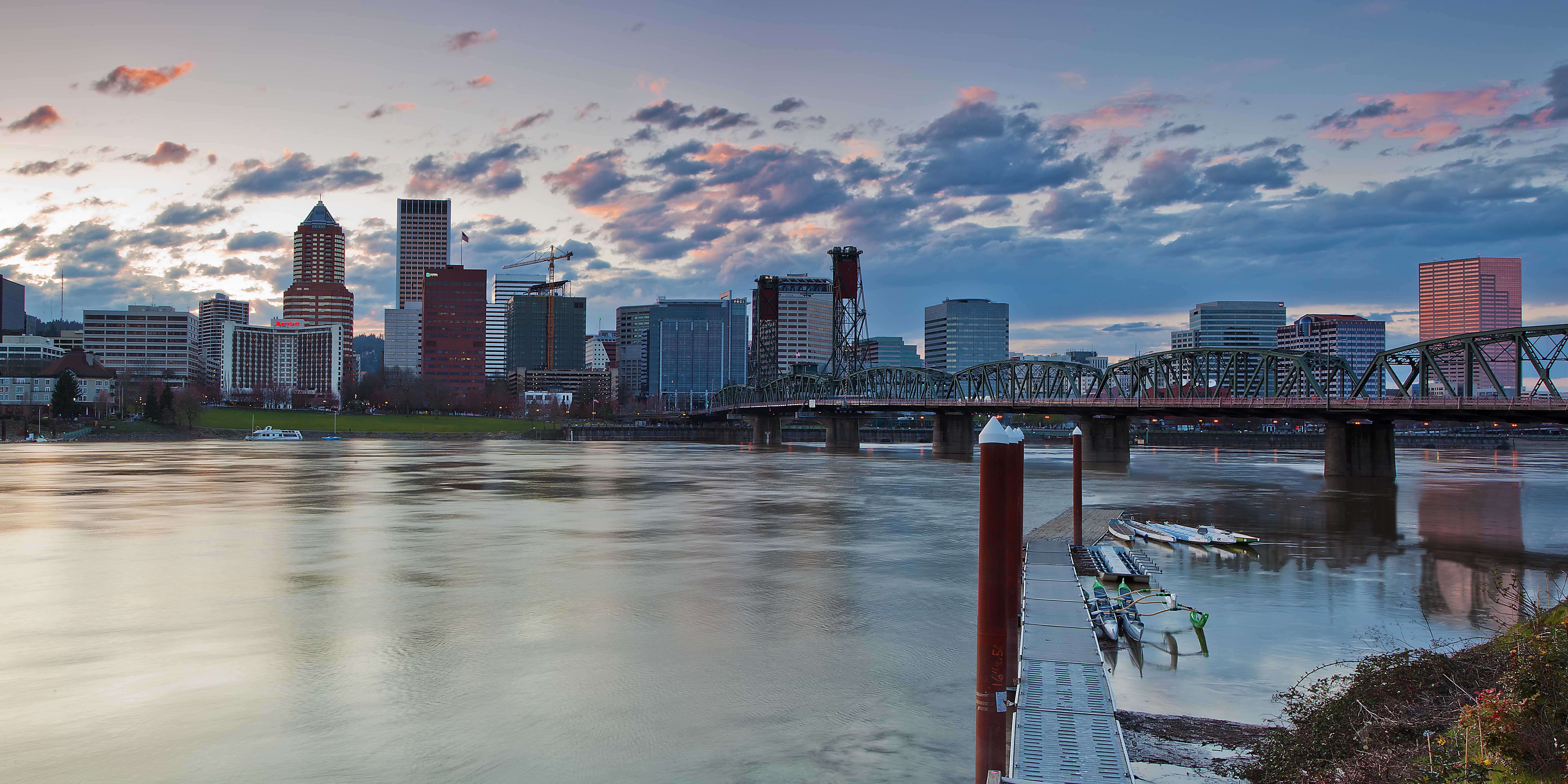 Portland, OR
Current city: Boulder, CO
"Portland's full of hipsters!" says the straw man, who complains about Portland and who I just made up. You know where else is full of hipsters? Every city with any amount of culture in these United States. And hipsters aren't bad. They made donuts and ice cream better, after all. Most importantly, I'm convinced Portland is the best city to eat and drink in in America. I'm not alone. Besides, a city with a wide selection of food and drink options is more important to me than dumb things like 'livability' and 'whether or not the city has a cool science museum' (though it is livable, and the Oregon Museum of Science & Industry is fantastic).
Let's not forget that we named Portland our best beer city in America. I've spent days drinking my way through its basketball-themed beer bars and eating my way through falafel food carts and restaurants that only serve chicken and rice. I've yet to have a bad meal that didn't somehow also cost less than a mediocre meal pretty much anywhere else. And yeah, everything's damp for most of the year, but when you've got plentiful, cheap craft beer, happy hours that seemingly stretch forever, and killer donuts and ice cream, what more do you need? - Lee Breslouer, senior staff writer
St. Louis, MO
Current city: New York, NY
With apologies to Asheville, Missoula, Eugene, OR, and other intriguing cities where I've never been, my favorite American city I've visited is St. Louis. The entire town is seemingly made of attractive red brick, and St. Louis' enormous, beautiful Forest Park is hands down the best city park I've been to -- that includes you, Central Park -- with a surprisingly impressive (and free!) art museum, and 1,371 acres of lovely green space. St. Louis has good enough food and drink to get you by, a great baseball team, interesting history, and the people seem generally free of major hang-ups. - Bison Messink, managing editor
Whitefish, MT
Current city: South Hadley, MA
Having finally escaped the grind of urban life after 20-plus years in big cities, I can't even fathom trading the quiet solitude of small-town Western Mass for another major metropolitan area. Which is why, if forced to relocate -- by either zombie apocalypse and/or this assignment -- I'm still keeping it small with Whitefish, Montana.
Not only is it a quaint Western town close to my wife's family (did somebody say free babysitting?), but it's steps from Glacier (one of, if not, the country's most gorgeous national parks), Big Mountain, and Flathead Lake. Outdoor fun: all. the. time. Plus there's tasty beer (The Great Northern Brewing Company), delicious breakfast (Buffalo Cafe), and, even though I swear nobody believes me, the fastest Internet I've ever used anywhere in the country. Ever. Also, if small-town Montana is good enough for NBA-coaching legend Phil Jackson, then it's good enough for my kid. - Dave Baldwin, senior editor