The 12 Best Small Music Venues in America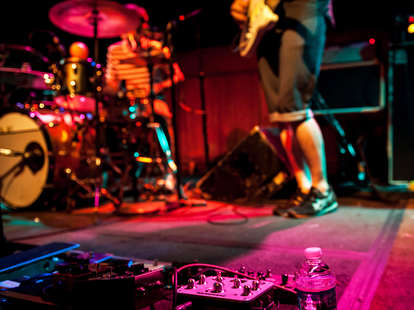 <a href="http://www.flickr.com/photos/uajamie/9388817100" rel="nofollow" target="_blank">Uajamie/Flickr</a>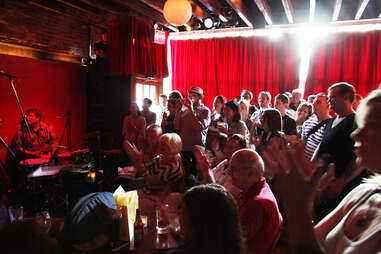 Rockwood Music Hall
New York, NY
New York's premiere venue for roots-oriented music, this Lower East Side space hosts around 300 music fans and is roughly the size of a dorm room. But it also features three intimate stages and has played host to popular local acts and pre-fame up-and-comers like Lady Gaga. It's also one of Gotham's go-to spots for rowdy concert after-parties for megastars like Mumford and Sons.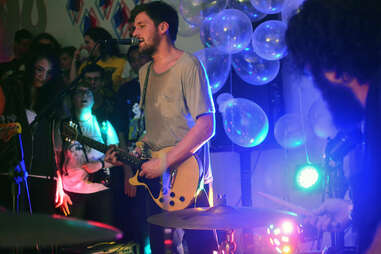 The Silent Barn
New York, NY
If you miss the raucous, chaotic days of CBGBs, this Buswhick venue delivers the best simulation of those heady, late-70s evenings in NYC. This out-of-the-way space looks like a deserted fallout shelter but it books the best under-the-radar punk and indie-rock acts. Silent Barn is also home to a residency and housing program for artists working on music and other projects (indie-pop wunderkind Shamir is an alum).
Le Poisson Rouge
New York, NY
With astronomical rents forcing out tenants of the city's coveted Greenwich Village neighborhood, it's amazing that such an arts-driven space even exists. But since 2008, this multi-level "art cabaret" has kept the spirit of '60s counterculture alive with unconventional, left-leaning programming and more mainstream music bookings: only at LPR can you take in an art gallery while checking out a set from singer-songwriter Jack Garratt.
The Smell
Los Angeles, CA
One of the few reasons to venture to seedy Downtown Los Angeles: this all-ages, alcohol-free hole-in-the-wall, where the nation's best punk and experimental bands perform for little more than a $5 entry fee.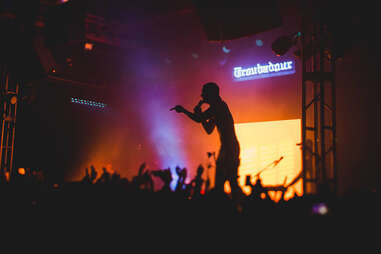 Troubadour
Los Angeles, CA
There's a reason Guns N' Roses picked this West Hollywood institution to kick off their 2016 reunion tour: since 1957, the 500-person-capacity room has been one of LA's most intimate venues. It's also crazily historic: Lenny Bruce was arrested in '57 for obscenity charges, the Byrds performed "Tambourine Man" for the first time in '65, and icons like Miles Davis, Elton John, Bruce Springsteen, Billy Joel, and scores more have all graced its stage over the years.
Schubas Tavern
Chicago, IL
This historic landmark, which fits less than 600 people, is the Windy City's most easy-going venue for grabbing a bite and scoping out artists on the rise. Dave Matthews, Neko Case, Norah Jones, and others all used Schubas as a launching pad for huge careers. They also get bonus points for a delicious gut-busting menu that includes cheese curds battered in beer.
Metro
Chicago, IL
During the rise of grunge and alternative in the '90s, many of the midwest's best acts (Smashing Pumpkins, Liz Phair, Urge Overkill) kickstarted their careers at this downtown venue. And while it has the capacity for over 1,000 concert-goers, it still has that intimate feel you're looking for. While it boasts many of the bigger acts, it is still an accessible must-visit for up-and-comers like Parquet Courts as well as New Wave pioneers like Gary Numan.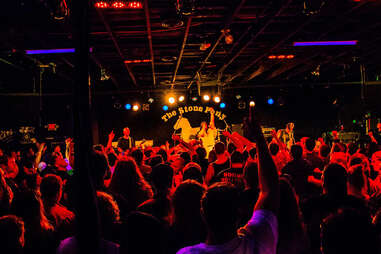 The Stone Pony
Asbury Park, NJ
Local Jersey Shore acts still populate the stage of this beachside venue, but it's an essential pilgrimage for one reason only: Bruce Springsteen found his voice at this low-key bar. He may not be a fixture anymore, but The Stone Pony is the Jersey Shore's essential destination for rowdy bros looking to hear the best amped-up punk rock.
The Ryman Auditorium
Nashville, TN
Since World War II, country fans have flocked to the Carnegie Hall of the South to see the genre's greats perform in this former church. But even though the Grand Ole Opry has moved on from its hallowed halls, it remains a Mecca for seeing Nashville's biggest talents. It's also a preferred pit-stop for non-country acts like Adam Lambert and Foo Fighters. Those seeking an adrenaline rush might also want to take note: the ghost of Hank Williams is rumored to have been seen in the venue's back alley way.
Bluebird Cafe
Nashville, TN
If the Ryman is Nashville's most gilded venue, the Bluebird is the city's most low-key and intimate. Since 1982, this 90-seat venue has been a preferred performance space for the country industry's most revered songwriters and studio pros, while TV fans may want to take note: ABC's hit series Nashville has filmed in this space.
Wild Bill's
Memphis, TN
Perhaps the only place in America where you can get a taste of true Delta blues, Wild Bill's is the nation's last surviving juke joint. It's the best venue equivalent to hanging in a buddy's dilapidated basement, complete with plastic table-coverings, photos capturing its epic history, and a tiny space in the room's corner for the band.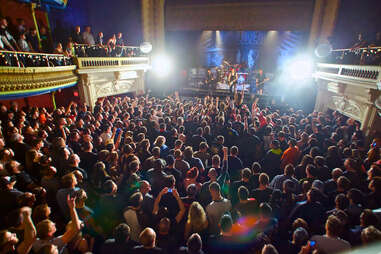 The Trocadero
Philadelphia, PA
Once a popular spot for vaudeville, burlesque, and movies, this downtown venue is the city's best destination for the hottest punk and indie acts. And they've held on tight to their roots: Movie Mondays at the Balcony shows screenings of everything from Beerfest to Indiana Jones.