Everything We Know About 'The Book of Boba Fett'
After 40 years, Boba Fett gets his due in the post-credits scene of 'The Mandalorian' Season 2 finale.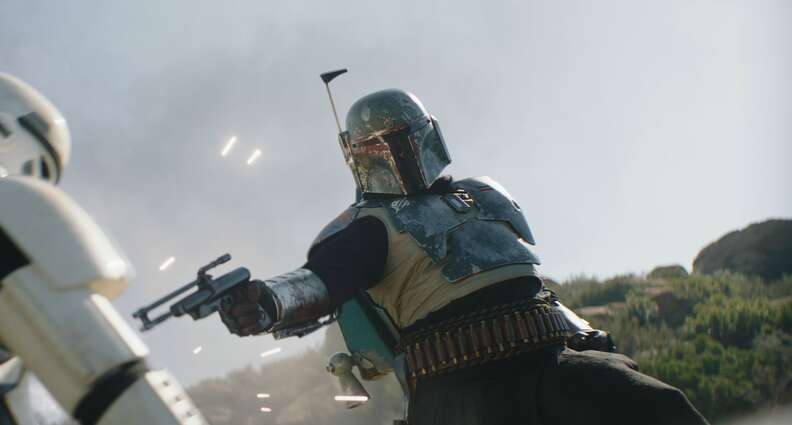 There's no denying it: Boba Fett is cool. He was cool in The Empire Strikes Back, where he did nothing, and he was cool in Return of the Jedi, where he got eaten by a sarlacc. But he's super cool in the second season of The Mandalorian, in which he actually gets to say more than a few lines and crack some Stormtrooper heads—so cool, in fact, that he's finally getting his own show.
If you stuck around past the credits of The Mandalorian's Season 2 finale "The Rescue," you got a little treat. We fade in on the double suns of Tatooine, and pan over to Jabba the Hutt's palace, which, far from vacant, has been taken over by Jabba's second-in-command. Yes, that's right, it's the much-hyped return of yet one more fan-favorite character from the original Star Wars trilogy: Bib Fortuna! Bib has become quite a large boy in the years since his master was unceremoniously choked to death, and has taken over Hutt's palace for himself. But not for long, as deadly assassin Fennec Shand (Ming-Na Wen) and bounty hunter Boba Fett (Temuera Morrison) step onto the scene, guns blazing, to relieve him of his throne and all of his ugly minions.
Boba takes a seat in the big chair and Fennec tips back a well-deserved slosh of spotchka, and the teaser ends with an announcement that The Book of Boba Fett is coming December 2021. The announcement confirms a rumor about a Boba Fett spin-off that had been floating around but was mysteriously not addressed during Disney's 2020 Investor Day presentation. Now we know why!
When will The Book of Boba Fett premiere?
As stated at the end of The Mandalorian Season 2 finale, the show will start airing in December 2021, but there's no exact date yet. As it's still in production currently, Disney will probably wait a little longer to announce, but we're probably safe in assuming that it'll begin near the start of the month and air new episodes through January 2022. Brilliant detective skills (ability to read a calendar) at work.
We have no idea what the plot is or who else will be in it, but it sounds like a fun, classic adventure-of-the-week bounty hunter show. All aboard Slave I in exactly one year.

Does The Book of Boba Fett have a trailer yet?
Not yet! It's likely we'll have to wait to see any footage, as, again, they're still filming it.
When will The Book of Boba Fett take place?
There has been some confusion around this topic, mainly due to remarks that it would connect to The Mandalorian, or be congruous with The Mandalorian Season 3, or replace The Mandalorian Season 3 altogether. None of these things are true, as The Book of Boba Fett is planned to be its own standalone spinoff series. It could meet back up with the timeline of The Mandalorian eventually, but it's likely that it won't focus too much on that. Boba's got plenty to deal with as it is.
In an interview with Rotten Tomatoes, star Temuera Morrison said that the show would reveal what his character had been up to since his ignominious "end" in Return of the Jedi: "Well, we can't say too much, but we're going to see his past and where he's been since The Empire Strikes Back. Somebody pointed out he's been kind of stuck in this one place, and now's the time to actually go back in time and check out his journey and find out more about him."
Who is in the cast?
Temuera Morrison will reprise his role as the bounty hunter Boba Fett, and Ming-Na Wen will also be back as his sidekick/partner, the sharpshooter Fennec Shand.

Who else is involved?
Director Robert Rodriguez, who directed the absolute hell out of his action-heavy Mando Season 2 episode "The Tragedy" that introduced Boba Fett back into the Star Wars universe, will be an executive producer on the show along with Jon Favreau and Dave Filoni, and will also direct a few episodes.
Emma Stefansky is a staff entertainment writer at Thrillist. Follow her on Twitter @stefabsky.