Oren Aks/Thrillist
Oren Aks/Thrillist
The Box: How a Forgotten TV Network Changed Music and Predicted the Future
Back in olden times, there was a thing called The Box, and it offered a simple proposition: you called up a 900 number on your landline, punched in a four-digit code corresponding to a music video you wanted to see (ideally something banned from mainstream media for obscenity), and incurred a charge of between $0.99 and $2.99. When your selection aired on your TV about 20 minutes later, you sat there, or danced, or sang along, or quite possibly masturbated to it. Maybe all four at once if you were talented and your parents weren't home.
While every single thing about The Box (1985-2000) seems hilariously dated now (landlines! taboos! paying for content! not enough porn!), it once represented the cutting edge of media and technology. "The Box doesn't have its proper place in the history of music, if not television, because it was so ahead of its time," says its former executive vice president, Les Garland, who, prior to joining The Box, was a hugely influential executive at MTV.
Obviously, he's biased. But that doesn't make him wrong. The Box was an unprecedented entertainment delivery system, a proto-YouTube showing the pre-internet world what a democratized mass media looked like (for good or ill). It opened up floodgates for audiences aching for music they weren't seeing or hearing elsewhere -- especially hip-hop, which The Box helped vault from subcultural curiosity to global pop juggernaut. And it was just about only way to see 2 Live Crew's "Pop That Pussy" in broad daylight without having to buy a bootlegged VHS copy off some kid at school. "We pushed the envelope more than anybody in history," Garland recalls, "and I say that with a lot of pride."
In the beginning or: How Heavy D took Jacksonville
During cable television's shambolic, experimental early-'80s, John Robson returned to Miami after a few years producing news segments for MTV. Hunting for his next gig, Robson encountered a group of developers tinkering with local ad intersection software. (Ever wonder how commercials for mom and pop businesses wind up airing during nationwide broadcasts? Local ad insertion software is how.) As it happened, the team, headed by Box founding investor Steve Peters had forged a mechanism that allowed local audiences to curate a TV channel through their landlines.
"We actually did some prototypes for real estate listings, classified ads. We played around with other concepts," says Robson, who would eventually become The Box's VP of international programming. It could've easily evolved into an early model of Zillow or Craigslist, but then either Peters or one-time Miami cable executive and current Texas-based country singer Bill Stacy (accounts vary) hatched the notion for an all-request video channel.
"At that time, music videos were still relatively new," says Robson. "MTV had only been on the air for a couple of years. And whereas MTV plays a video and everybody in the country sees it, our concept was whatever people wanted to see in Miami, they would see in Miami, and what people wanted to see in Jacksonville, they would see in Jacksonville."
They called it the "Video Jukebox Network," and took it live in Miami. During the closing weeks of 1985, Apollonia 6's "Sex Shooter," the inaugural viewer request and an omen for what was to come, appeared on small screens throughout the Magic City. Within two years, VJN launched its second station in Jacksonville. Its impact was quickly felt. Robson remembers MCA Records crediting VJN for a local sales spike of Heavy D and the Boyz' otherwise unmarketed 1987 single "Mr. Big Stuff." That was another omen.
Rock 'n' roll accounted for the bulk of The Box's early catalogue, same as with MTV. But before long, a potent and long-neglected market made itself heard. "Because we allowed people to select what they wanted to see, we very rapidly became a channel that was dominated by hip-hop," recalls Robson. "They couldn't get it anywhere else -- or, couldn't get it when they wanted it. Nobody was serving that hip-hop need."
For reasons that none of my sources would say had anything to do with racism, even though really I tried to get them to, MTV didn't get into hip-hop until it became financially irresponsible to ignore it any longer. So as the music television station of record dispensed more Mötley Crüe and Wham! than any viewer could be reasonably expected to consume, VJN (which became "The Box" in 1990), doled out Run-DMC, Grandmaster Flash, The Fat Boys, and whatever else rap connoisseurs ordered -- years before Yo! MTV Raps debuted in 1989. Even after MTV started playing rap videos, an instant classic could suffer because they refused to play it during the day. (Meanwhile, The Box's most requested artist through 1996 was 2 Live Crew.)
The ease of access to obscure and sometimes salacious videos was thrilling to some, disturbing to others. Alvin Carter III, innovation director at the Harvard Hiphop Archive & Research Institute, remembers having to go to his cousin's house in Stamford, Connecticut, to make Box requests because his parents refused to shell out $1.99 so he could watch a music video they'd just as soon he never see, anyway.
"At the time," he says, "The Box might've been perceived as a bit more 'real.'"
The ascension or: Our bad on Vanilla Ice
The Box expanded steadily from Jacksonville -- broadcasting out of nine cable systems and a pair of low-power TV channels by 1988, according to The New York Times. By 1990, according to TheToledo Blade, VJN had swelled to more than 115 US stations. In 1993, Island Records founder and real estate mogul Chris Blackwell -- who once made a very respectable profit off a $4,000 contract with an obscure reggae singer named Bob Marley -- had joined the company.
Putting an exact number on how many eyeballs The Box was beaming into at any specific point gets tricky. But Garland figures that combining the Box affiliates on cable, low-power TV stations owned by the Box, low-power stations not owned by The Box, and the Box's satellite iteration, places its reach at roughly 30 million households by the mid-90s.
While incapable of matching MTV's scope of influence -- that network was in about 70 million homes at the time -- The Box forged a reputation as a testing lab for barely known performers. In '95, a Jive Records rep gave The Box specific props for R. Kelly's prominence, which nobody questioned was a good thing at the time, and Atlantic Records attributed Brandy's early success to hefty amounts of airtime on The Box. Most important, American Records told Billboard that "Baby Got Back" was and is revered as a timeless, unfuckablewith classic because The Box gave Sir Mix-A-Lot a chance when MTV had no idea what to make of him.
Mix-A-Lot had some mixed company. "There was a record company called Ichiban out of Atlanta, and they had signed this Miami kid," says Garland. "We put him on in four markets, and this thing blew up. (sings) 'Ice, Ice, Baby.' We were like 'Holy cow!' Then we put it in another 50 markets. Same thing. This thing was going crazy everywhere. My friend who was running EMI at the time, goes, 'Garland, are you playing a song by a guy named Vanilla Ice? Is that a hit? I've got a chance to pick that record up.' So I go, 'I think you should grab it.'" For better or worse, "Ice Ice Baby" rose to the apex of the Billboard Hot 100 soon thereafter.
Hip-hop videos weren't the only Box staples that probably gave Tipper Gore agita. Though tame by today's standards, Madonna's "Justify My Love" was rejected by MTV in 1990 and picked up by The Box. "When we added it, we didn't say a word," says Garland. "We didn't make any promos going 'MTV banned it!' We notified every one of our cable partners that we were going to put this on, and if we got in trouble with FCC, which we might have, or in trouble with who-knows-who, our position was going to be that we don't play the videos, we merely make them available. If you've got a complaint, take it to the people making the requests. We're just the curators of the art museum."
Predictably, "Justify My Love" aired five-to-six times per-hour on Box stations nationwide.
Then prudes and (maybe!) racists ruined it
The Box, which, it should be said, also helped break underground rock acts like Green Day, had hit-making clout. And because the company took such a freewheeling approach to edgy material it had cache, working as a divining rod for the underground. But still, in the first half of the '90s, things got shaky. Viewership was growing, but a share of Box stock worth $10 in 1989 went for $.50 by 1992, the same year the company hemorrhaged $5 million, according to Billboard.
The problems ran deep. "One-to-two dollars for each song selection offered a steady stream of income but it wasn't enough," writes Alan McGlade, who became CEO in 1995, of the reportedly six million requests annually dialed into Box stations. "Our [new] challenge was to drive distribution, build a bigger audience, and then sell to advertisers."
Easier said than done. While viewers loved The Box's democratic taboo-smashing approach, cable distributors (who stood to earn between 5 and 7 cents per video) did not. "I think the popularity of hip-hop actually hindered our distribution goals, even as it increased our viewership goals," says Robson. "As we got a reputation for playing hip-hop, a lot of cable systems weren't necessarily thrilled about having us."
"I won't name the market, but it was in the south," recalls Garland. "We went to visit a cable operator, and he said, 'Mr. Garland, I know who you are and I have great respect for you, but we're smack dab in the Bible Belt here. You're asking me to put Hustler magazine in with the Sunday morning newspaper, and I can't do that.'
"I was stunned. Like, you're comparing my network to Hustler? We're so far apart here, I don't know how we can get on the same page. I think, ultimately, he did put us on, but I faced stuff like that all the time."
"As ridiculous as it might sound, some people were afraid of the content," says Garland. "I heard people, even in our company, complain about things that sound pretty horrible today. Like, 'That music is too black.' What the fuck does that mean? Yet they were talking about the most popular videos on the network."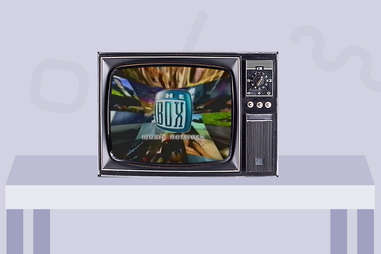 The Box's stunted growth made its board of directors nervous. At one point, the programmers even enlisted none other than Luther Campbell -- the frontman of 2 Live Crew, who happened to be present at The Box offices for unrelated reasons -- to explain his genre's relevance to a room full of hand-wringing stockholder reps.
"Here's a guy who went to the Supreme Court and won," recalls Robson. "He went into this board meeting and explained why hip-hop was America's music for kids. It was a priceless situation. They had no idea he was coming in, and he's a very, very smart guy."
But while The Box had the support of the only man on earth who has ever convinced a federal judge that a song containing the lyric "suck my asshole" doesn't fit the legal definition of obscenity, a creeping puritanism began to take hold at the company. In 1995, Billboard publicized The Box's supposed initiative to reign in or outright eliminate overtly "booty"-related clips from its lineup. "We no longer show the 'booty' videos," newly appointed program director Frankie Blue, an alternative rock radio vet told the mag. "We had that reputation before, and when we sat around and talked about it, it seemed a little dated."
Garland doesn't remember the article in question, much less a company-wide agenda to defang itself, claiming such a move would be contrary to the democratic spirit of the network. But whether the change was real or a hollow marketing gimmick became a moot point.
MTV bought The Box in 1999, more to gain access to their network of 30 million homes than to take advantage of the viewer-request software. Investors "fared extremely well," in the transaction, says McGlade, declining to cite numbers, but the company itself was headed for the slag heap. Not quite a year thereafter, MTV announced that Box stations would all be usurped by the nascent and distribution-starved MTV2 -- an attempt to revitalize the "music" aspect of the MTV brand as its flagship station switched to a primarily reality TV format. Garland wanted the Box to continue as its own brand, but, "I think a lot of the people who were in control were anxious to get out," he says. "There was a lot of bickering." He was ultimately voted down by the board. The Box was dead.
But was it?
It was, yeah. Even without MTV, or booty videos, or the industry-extinction-level event that was Napster, The Box was probably not long for this world. "The curation was up to the people, and what the people wanted, and what music executives wanted might've been different," muses Carter. "True democracy can often be at odds with the white dictatorship that is the entertainment industry. It was just a little bit too innovative for its time."
"I heard this word 'revolutionary' all the time back then," says Garland. "It bothered me. This wasn't revolution, it was evolution. In the old days, radio shifted from AM to FM formats. Then the same thing happened with MTV -- it was a radio station on television. Then comes interactive, then the internet. There's a path here."
If humanity's journey down that path continues, soon enough, we'll all be able to program Die Antwoord videos directly into our dreams. And when that magical day comes, we'll owe a chunk of gratitude to The Box for paving the way. Or blame. But probably gratitude.

Sign up here for our daily Thrillist email, and get your fix of the best in food/drink/fun.
In the '90s, Barry Thompson -- a writer in Boston whose work has appeared in
Paste
, Esquire.com, and other publications -- was also too edgy for MTV. He tweets @barelytomson.